277 Parrot Street, San Leandro, CA  94577 | 510.357.6600 | website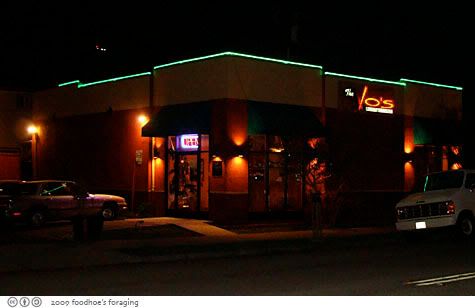 When we first moved to San Leandro, we were excited to learn that The Vo's Vietnamese Restaurant had opened a sister location to their downtown Oakland restaurant.  But when we checked it out we thought it was overpriced, especially for the quality of the food and never returned.  However, recently I was unable to resist a promotion on Restaurant.com, which was selling $25 gift certificates for $3, and picked up a couple for our local Vo's.  Good, I thought, now we can afford to eat there… and talked Mr. K into returning  – promising him a more affordable dinner, especially if we stuck with just ordering pho.  Boy was I wrong.
The key thing about using Restaurant.com is reading the fine print, of which there is plenty.  Once I had printed the restaurant.com certificate, I noticed that there was a $50 minimum purchase, so I thought to myself, ooh we'll order drinks!  It was almost empty when we got there around 7 pm on a Thursday.  The decor was definitely upscale for a Vietnamese restaurant, and the lighting was pretty dim, so we decided to sit in a little nook near the front which seemed secluded and meant I could use the flash on the dishes if necessary.  The bad thing was that we were not in view of the servers so whenever we needed anything, we had to walk to the back of the restaurant to flag someone down.  We ended up having to do this more than a few times during the meal…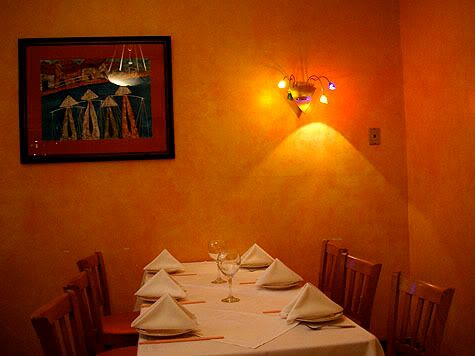 Normally we would just have ordered noodles, but since we now had a $50 minimum, we decided to start with Harvest Crispy Rolls Cha Gio (7) which were filled with minced chicken and shrimp, carrots, and served with the classic Vietnamese diping sauce Nuoc Cham.  I ordered a glass of wine (Ravenswood Zinfandel $8) and Mr. K got a beer ($5).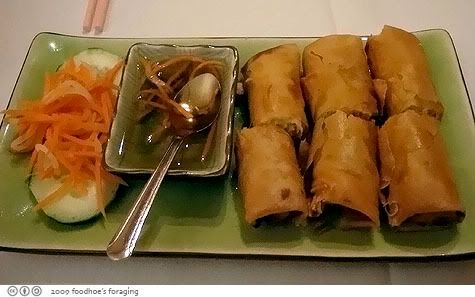 These were of the thin skin variety and resembled egg rolls more than the Vietnamese Imperial Rolls that we had anticipated and seemed pretty much like they were of the frozen variety.  But, they were hot out of the fryer and the filling was liberally dosed with garlic and black pepper and we were hungry, and so managed to finish off the plate between the two of us.  However, in the grand scale of things, these couldn't compare with the rolls at TuLan…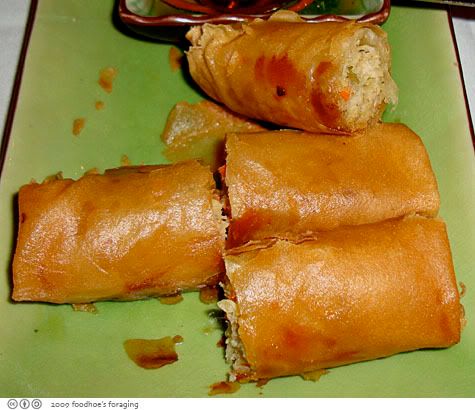 My interest was piqued because after reading numerous posts about a Vietnamese noodle dish called Bun Rieu on the epic and adventurous foodblog mmm-yoso!!!,  I saw Bun Reiu ($11) noodle soup with dungeness crab meat and shrimp in tomato broth on the menu.  I admit that I figured that the flavors would probably be toned down here as there were no Asians in the restaurant and it looked like most of the patrons were from a nearby retirement home (i.e. wheelchairs and walkers).  The Bun Rieu was served in a gigantic white bowl and the surface shimmered with globules of fluorescent orange spicy oil.  It smelled fantastic, and was full of big prawns, and glistening curds of cooked crab that maybe was bound with eggs and shrimp paste.  It was pungent and smelled strongly of the sea.  The flavorful broth was enhanced with fried shallots and sliced green onion and came with a fork and no spoon to sip the delicious brew.  It was heavenly and I'd actually think of coming back here to order this again.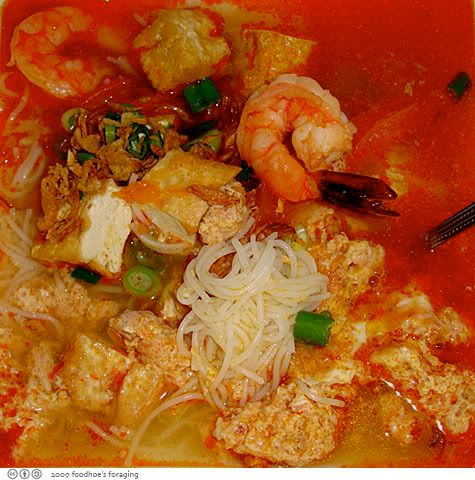 Mr. K loves his Chicken soup ($9) Pho Ga, which he ordered with egg noodles, but received the standard rice noodles.  It was chock full of carrot slices, broccoli and mushrooms – yep they are definitely catering to the American palate with this bowl of chicken soup… Both of our noodles came with a fork, but no soup spoon and the bowls were really humongous so you couldn't reasonably try to hold it up and sip it Japanese style…  we had to walk over to flag down our server to ask for hoisin sauce, sriracha chili sauce and soup spoons.  No greens such as basil, cilantro, mint, or bean sprouts were served either.  Mr. K liked his chicken noodle soup but said the chicken was very overcooked and tasted like it had been previously cooked, refrigerated and then boiled again as it was tough and tasteless.  Jeez, compare this to the dish he had enjoyed at Pot de Pho for the same price…
Our server advised us that beverages were not applicable for the Restaurant.com certificate, and since we were short of the $50 minimum, suggested that we order some food to go for lunch tomorrow. Mr. K thought the  Golden Tofu and Spinach ($10)  stir fried with grated ginger and garlic slices sounded good.
And also got an order of Chicken curry ($11) Cari Ga chicken with potatoes and carrots in a light yellow curry coconut base. I enjoyed that for lunch the next day, it was light and bright tasting and fragrant with lemongrass and was delicious over the steamed rice.   But I could have found the same for half the price in Chinatown…
When she dropped off our to-go packages, along with the bill, she mentioned that they only accept cash for parties using the Restaurant.com certificate.  I surreptitiously looked at the certificate I had brought along with me, and indeed this was all in the fine print, along with the fact that an 18% gratuity would be included in the total – dang, how could I have I missed so many vital details!  What burns me is that we had to spend more in order to use the $25 gift certificate, and so we in fact did not really save money…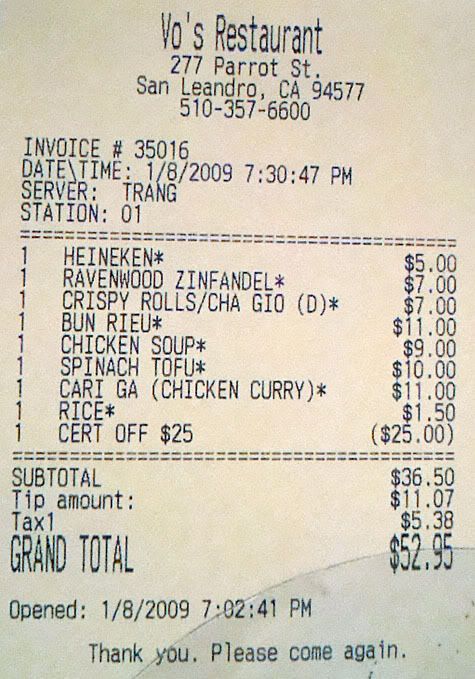 I think you know by now that I generally am not a penny pincher and don't mind handing over the bucks for good food, but we genuinely felt ripped off at the end of this meal.   The food was good, but the dishes were overpriced for the quality of the ingredients.  Despite this, I still consider Vo's to be one of the decent restaurants in San Leandro, they just are trying to be more than what they are.  There's nothing about them that ranks their food in the same category of The Slanted Door, Bong Su or even Le Cheval, other than nicer than average decor.  I don't think I'll be able to convince Mr. K to return, but I might go back just for that Bun Rieu and definitely won't be using that other coupon…
I bought quite a few of the $3 restaurant.com coupons thinking it was such a deal, but after this learning experience, I think it's cheaper for me to just take a loss on the whole thing!  I got most of them for ethnic restaurants in my neighborhood (San Leandro, Hayward, Oakland, a few odd ones in the city), so if anyone thinks they can use these gift certificates, let me know. I can send you a list…