Mr. K's little sis Connie and her husband John came out for a long weekend sans kids and mother nature certainly put out the red carpet to welcome these visitors in from the cold.  I reckon that the 100 degree difference between the 30 below weather they left behind and our balmy fall-like 70's was a nice change.  We took a walk out to the golden gate bridge to work up an appetite, as we planned to go out for a San Francisco treat, the Sunday night crab feed at Nettie's Crab Shack in the marina.
2032 Union St., SF, CA  | 415.409.0300 | website | crabfeed on sundays 5-10pm

They have a nice dining area in the front but you can't order the crab feed outside, which is a shame, but understandable – just imagine the mess and the racket…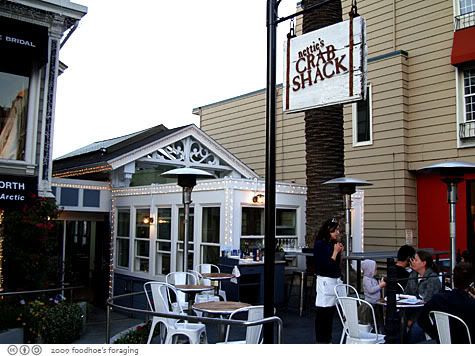 I remember when this was Cafe de Paris l'Entrecote and used to love coming here for the burgers, frites and to people watch.  The building is long and narrow and filled with tables surrounded with weathered ladder back chairs.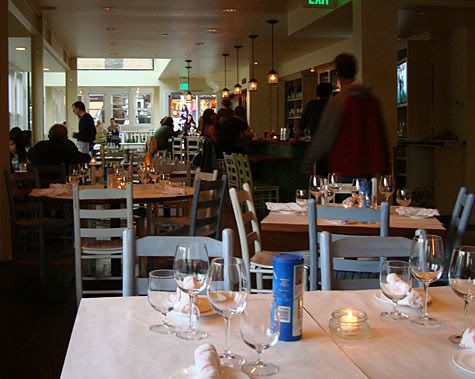 There's a cozy casual beach house kind of feel and bright sunlight floods in from the many windows.  I like that the tables are placed randomly, it makes it feel casual and unfussy.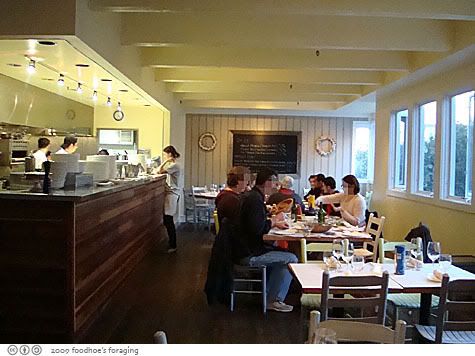 We sat at a big sturdy table near the rear where we could see many buckets of steamed crab being picked up for table delivery.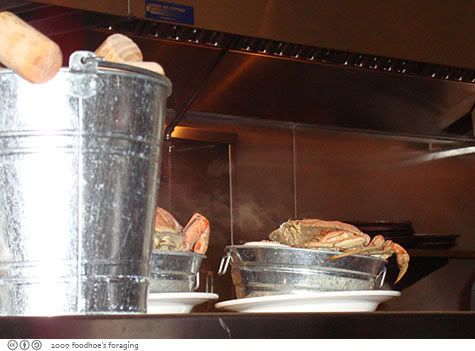 We all worked up a healthy appetite on the urban trudge and fell on the crusty sourdough wheat bread served with butter with great enthusiasm.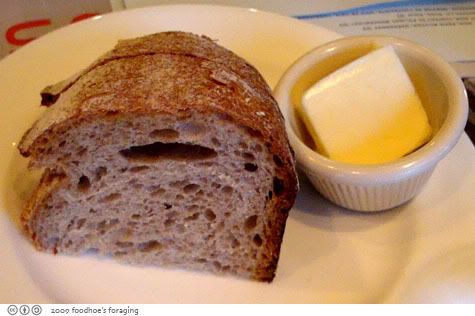 Next came big wooden bowls filled with a simple salad of mixed greens with thin slices of radish tossed with a lively Banyuls vinaigrette.  There was enough for seconds, but I was saving room for the crab.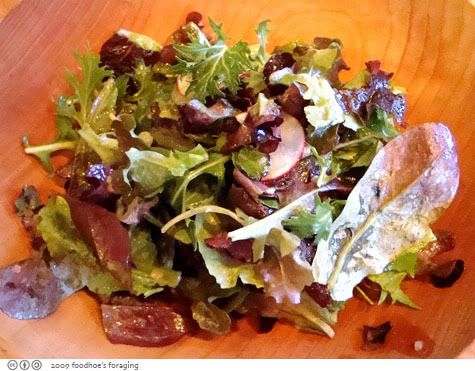 For the crab feed ($40 pp) we each got our own bucket topped with a freshly steamed dungeness crab, a tub of melted butter, which came equipped with a wooden mallet and a metal cracking device.  Inside of the bucket was a steamed artichoke, a couple of  creamy yellow potatoes and a large slice of skillet cornbread.
The crab came cooked but completely untouched otherwise.  Our server explained how to pull the top off and remove the gills, goo and weird stuff and advised us to split the body in half.  It was very, very messy, and a good thing that they tied protective plastic bibs on us.  Each bucket came with a wedge of lemon and when we asked for more, we only got a few pieces… kinda weird they were so skimpy on the lemon, maybe they were running out.  Anyways, here's my crab, basically cleaned and ready to start cracking…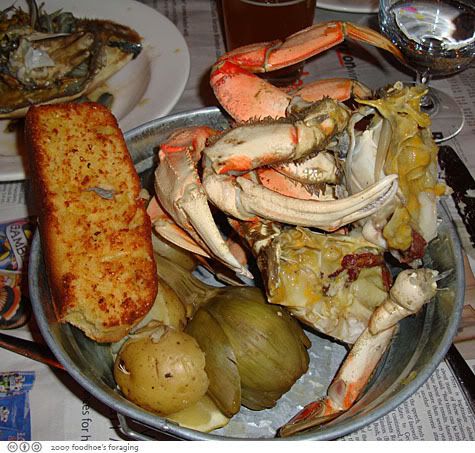 The first half of the crab I mostly picked out of the shell and ate directly, but then I decided to concentrate on pulling the meat out on the remaining half.  It yielded a nice pile of crabmeat, which was cooked perfectly.  It was delicious plain, with fresh lemon squeezed over it, but of course best when dipped into the melted butter.  The artichokes were small and tough to eat and I hardly touched the potatoes or the cornbread.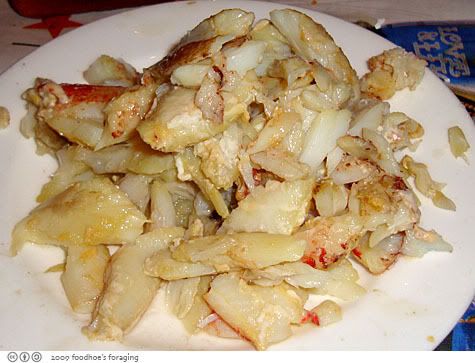 The dessert plate included Butterscotch pudding topped with crumbled toffee bits and a peanut butter, oatmeal raisin and a chocolate krinkle cookie coated with powdered sugar.  The puddings were served in small cups, that were the perfect size and everything was delicious.
This was better than I had even hoped it would be! But then the chef Brian Leitner worked at Chez Panisse for five years as well as at working with Gordon Drysdale at the MOMA cafe and later at Gordon's House of Fine Eats.  The restaurant is named after the other owner Annette Yang, who we saw running buckets of crab out to tables and generally overseeing things.  Mr. K said he still thinks it is easier to cook and eat these at home because you can wash your hands as often as you want, but the flip side is that you have to go out to procure the live crabs, cook them, dispose of all the shells, and then clean up the mess.  Plus, I don't know how to make butterscotch pudding…