640 Jackson St.  San Francisco 94133 | 415.982.0618 |  8 am – 9 pm daily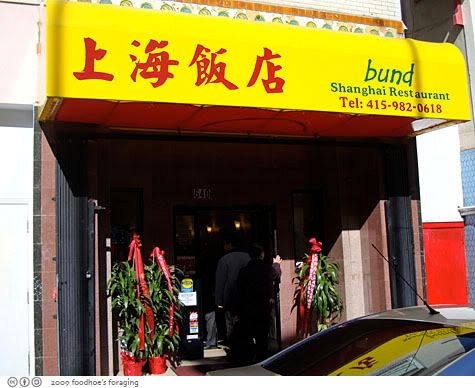 We were still pining wistfully about the fried bread from Hing Lung and driving in circles around Chinatown looking for parking which was even worse than usual because of Chinese New Years.  Well the driving around in circles sometimes is a good thing because it brought us outside of our normal lunchtime foraging radius. Our co-worker Jay thought of a new restaurant where we could get freshly fried bread with the sweet hot soy milk and we were soon parked in the Portsmouth Square Garage and walking towards the restaurant.  Apparently this opened within the last month and seemed already to be popular with the locals and we were able to get the parking validated!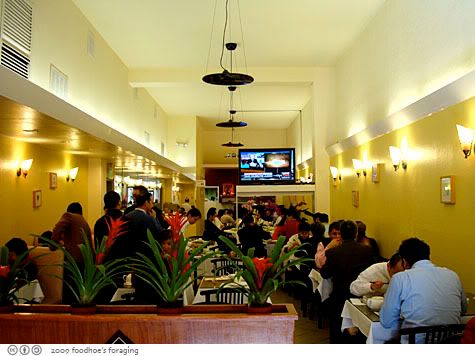 We started with a couple of orders of Youtiao ($1.50) the  long Chinese donuts, served with warm sweet Soybean milk ($2).  These are a classic breakfast combination that felt like pure glucose running through my veins.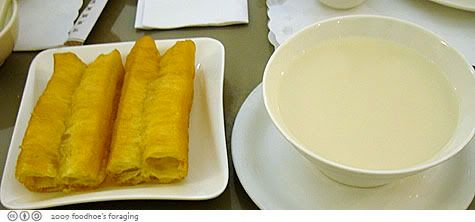 The youtiao were flakey and croissant-like with big airy pockets which quickly got soggy in the hot soymilk.  I can't believe that this was the first time I had ever had it, it was the exactly like coffee and donuts but kind of backward and I liked it even better.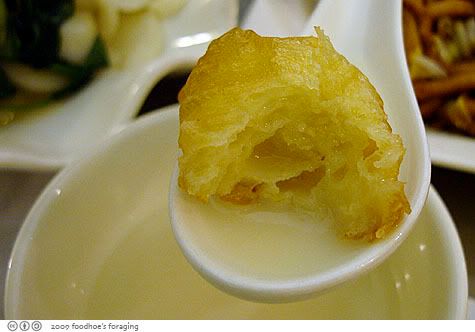 We split one Chinese Donut wrapped in Rice xian fan tuan (2.50) which was very interesting.  Inside is one of the crunchy fried donuts and fluffy, salty shreds of pork floss, some crunchy pickle bits which was wrapped in a layer of pressed sticky rice.  Wow, this was another first, I didn't know there was Chinese sushi.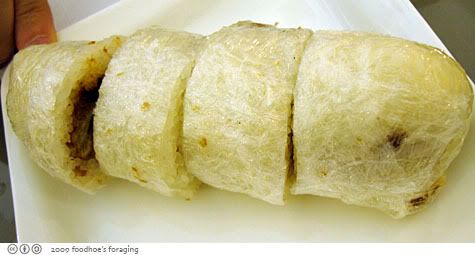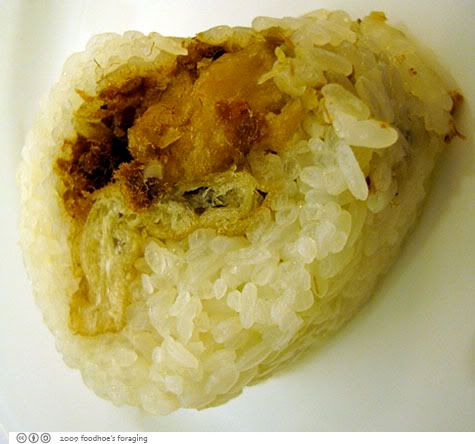 We had to try the Xiao Long Bao which is a famous Shanghai delicacy also known as Soup Dumplings.  The delicately pleated dumplings are filled with pork (8/$6.95) or minced crab (12.95) and contains a sip of rich soup and are served with vinegar and shredded ginger.  If done correctly, the experience is like eating matzoh ball soup inside out…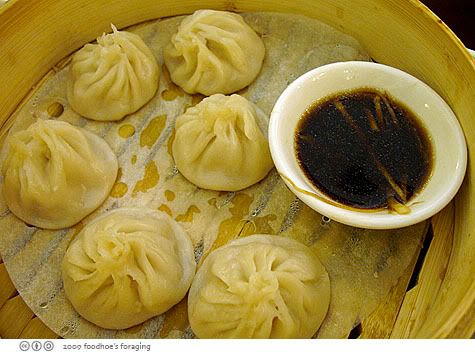 A common way of eating the Xiao Long Bao is to place it in a spoon first, then bite the top off, suck all the soup, then dip it in vinegar before eating.  Since we did not each get our own dipping bowl and we are only co-workers after all, we did not place our lips on our dumplings first before dipping into the vinegar…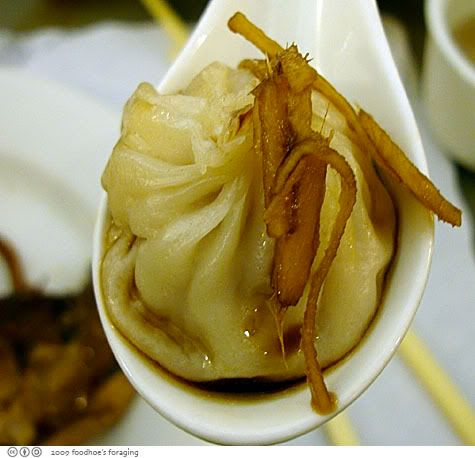 Between two separate visits, we tried two versions of their noodles, which were very similar.  Soy Sauce Beef Noodle (7.95), the noodles are thick and hearty – firm and malleable with a resistance that I found addicting. The noodles were well coated with soy sauce and oil, stir fried with tiny slices of beef, napa cabbage and a few leafy greens, it was simple and fresh tasting.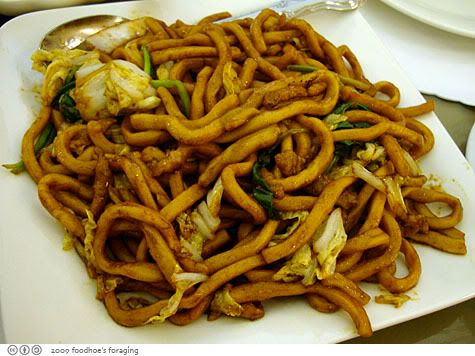 Shanghai Chow Mein (6.95) was darker and more complex, the flavor reminded me vaguely of Lea & Perrins steak sauce and had the same thick noodles, slices of cabbage and pork.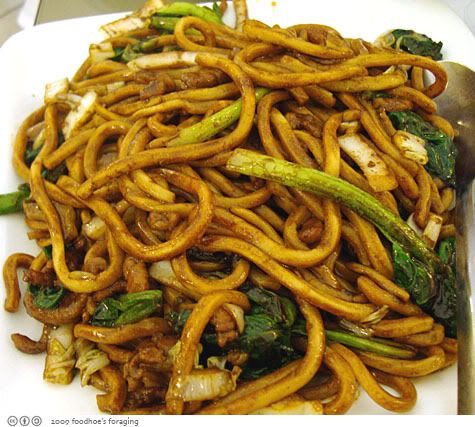 Rice Cakes nian gao with pork and spinach (7.50).  These rice cakes are dense and chewy, you can't put too many in your mouth or your teeth might get glued together, and if you don't chew enough you might choke.  Additionally, from many years experience eating Japanese mochi, these will continue to expand in your system for hours after you eat them, promising a long period of food coma afterwards.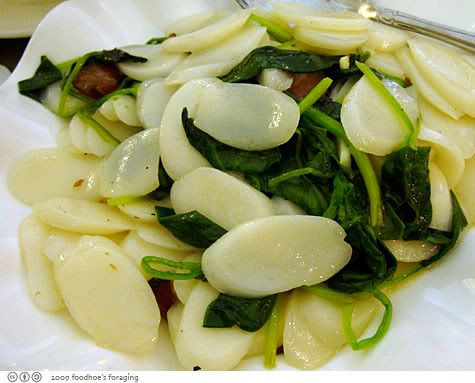 Closeup of the bacon, which was chewy and mild in flavor.  This was heavy and filling, its the perfect dish to eat with a nice bowl of soup – which unfortunately we did not have…
Yang Zhao Fried Rice (8.50) was a smaller portion than what you usually get in Chinatown, but with all the noodles we ordered, we survived.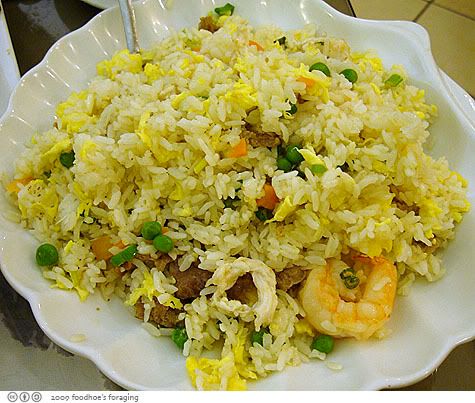 Jay ordered the Sweet and Sour Pork Ribs (8.95) which are were braised until tender.  It was very unlike the standard version of sweet and sour pork, which is generally battered and fried and in a bright red sticky sweet gloopy sauce.  Instead this was dark and mysterious, savory and sweet with a bit of tang, a complex mixture of spices including anise and ginger.  It was like an adult version of sweet and sour pork…  The succulent meat fell off the bones and was delicious with the slurpy sauce.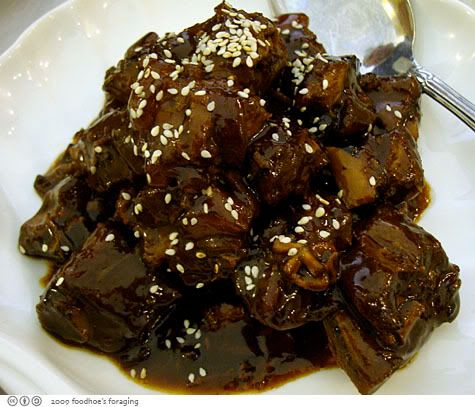 My favorite dish between the two visits was the Soy Braised Upper Leg, which is in my opinion, well worth the cost (13.95). The server advised us that it would take about 15 minutes, but it actually only took a few minutes, as the kitchen had just heated a batch.  When he walked up with the dish, it looked like a shiny coiled sausage that jiggled slightly, but underneath it was massive hunk of tender shank braised in a mixture of  oil, sugar and soy sauce which is then reduced until the sauce caramelizes and coats everything with a glistening sheen.  It was garnished with spinach leaves that added bright contrasting color and a nice fresh flavor.
We cut into it and admired the fatty layers concealing mounds of tender meltingly rich pork that was like heaven in the mouth.  We were rendered speechless and enjoyed eating in reverent silence for a time.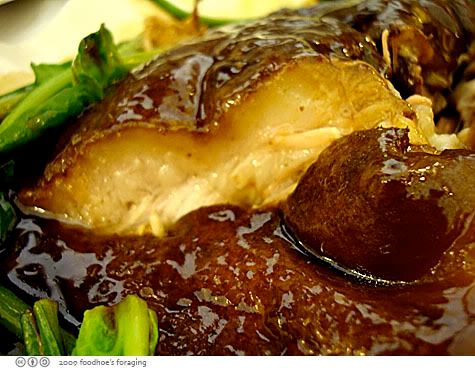 Alexson chose this particularly flabby piece, half of which he was unable to consume…  This cracked me up to no end as I have seen him gobble his way through mountains of fat!  The meaty parts were so good that we had to focus on that, with just a guilty bit of the fat as garnish.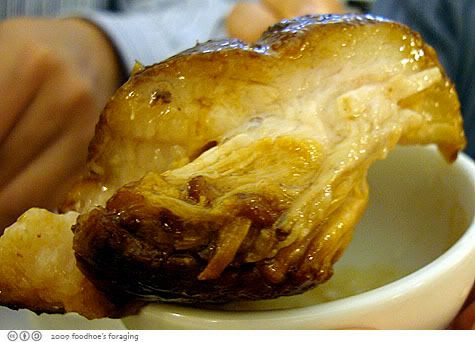 At last the Pan Fried Bun sheng jian bao (5/6.95) arrived, at the end of our meal which we decided must be because they needed time to pan-fry them.  Although the menu said bun, I didn't expect such bready buns!  I had drooled while reading  about these at the mmm-yoso!!! and eat.tanspace blogs, and based on the pictures I had expected something less bunlike and more dumplinglike, bursting with soup in the filling, but it wasn't quite the same thing as I had imagined…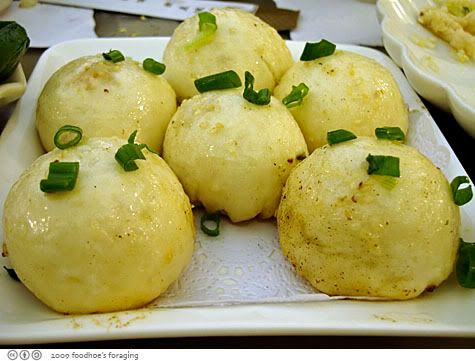 This was one of the more griddled bottoms, most were slightly golden.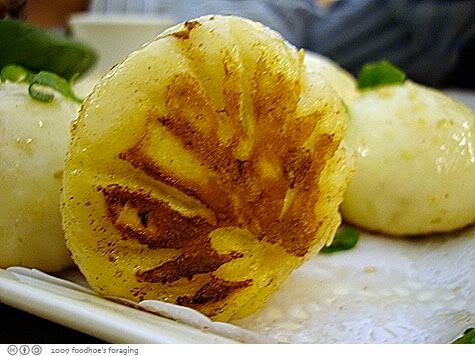 The bread was on the dry side, which absorbed any of the juices from the succulent porky filling.  Philistine that I am, I spooned some of the delicious sauce from the braised upper leg into the bun, which really seemed just destined for this use…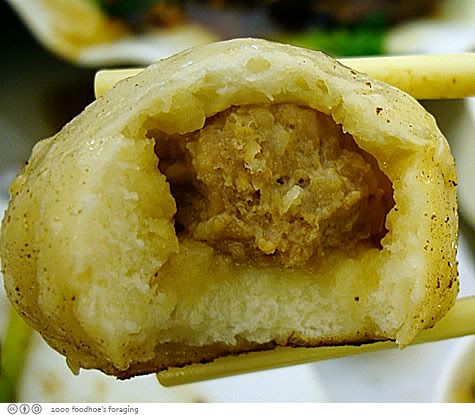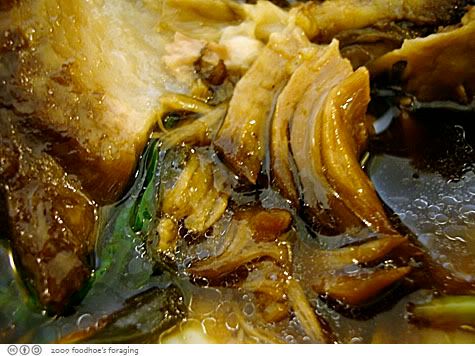 We asked the owner, a dapper gentleman dressed in a camel hair coat, about the name of the restaurant and he pointed to this picture of the Bund hanging on the wall.  He explained that it is one of the most famous tourist destinations in Shanghai, it was the center of Shanghai's politics, economy and culture hundreds of years ago, where European, American and Japanese built their banks, trading houses, consulates and hotels, which explains the variety of different architectural styles.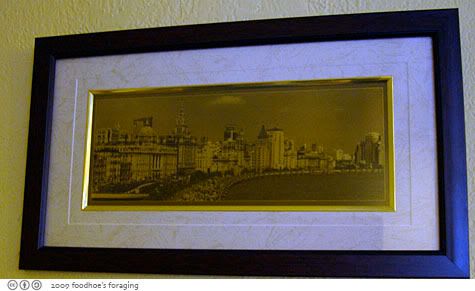 I would go back in a minute for more of that braised upper leg of pork and also want to try more of the dim sum items.  I was also very intrigued by the pork and bacon soup…  The really nice thing about the restaurant is that it was recently renovated so it felt clean and fresh inside and they are open for breakfast.  It's not exactly on my way to the office, but I might have to alter my route once in a while…