Lung Shan Restaurant 2234 Mission St, SF CA | Thurs & Sat*, 6pm-midnight | website

cash only | no reservations | $5 corkage | subsequent visit 3.22.09
Have you heard about Mission Street Food? For those of us who are obsessed with exploring our delicious local foodscape, the name is certainly buzzing on all the wires. Chef Anthony Myint embarked on this brave new world of alternative restauranteurship while working as the lead line cook at the wildly popular Bar Tartine.  What started as him subletting a taco truck serving Late Night Gourmet on Thursdays at 21st and Mission, has expanded to him renting out Lung Shan Restaurant, a nearby divey Chinese restaurant on Thursday nights. The indoor format provides shelter from the elements and now they can serve beer and wine.
The premise as posted on their website: this will be part of an indie cooking movement that will let talented cooks reach the public without the risks of opening a conventional restaurant—and let the public enjoy great food without the costs of dining at a conventional restaurant.
The menu is clearly influenced by the restaurant's taco truck origins as the plates are small and portable and most are priced below $10.  It's all so proletariat and focused on the food which is made even more meaningful because the proceeds after cost go to various charities and organizations benefiting underserved causes. Yes, we like this very much indeed…  and obviously, the word is getting around judging by the crowd that was already there when I arrived 30 minutes before they opened.  Fortunately, I was meeting food blogger Single Guy Chef who was already there right up near the front of the line.  You can read his very informative post about our meal here.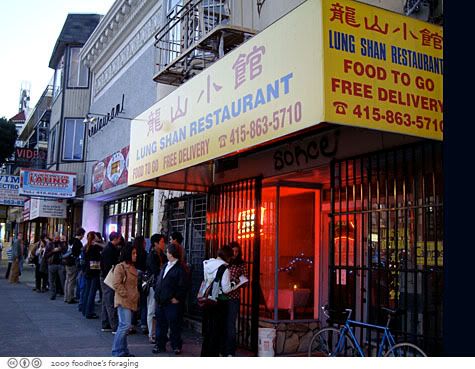 Last Thursday, the guest chef was Leif Hedendal, slow food culinary artist, formerly of Greens Restaurant and chef for Noise in My Kitchen, The Secret Cafe, and other underground restaurant projects.  The vegetarian menu featured seasonal produce from local farmers and a portion of the proceeds went to the local Food Not Bombs, an all-volunteer global movement that shares free vegetarian meals as a protest to war and poverty.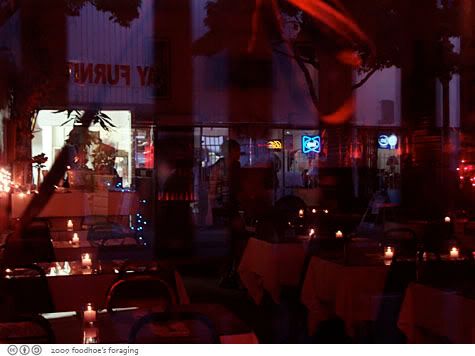 Oh dang, I thought as I peered into the restaurant, it's rather dark inside (bad for picture taking).  But it's either that, or the harsh overhead fluorescent lighting that is typical of Chinese restaurants.  We like the festive mood that the christmas lights strung around the room creates.  Since the Single Guy and I both brought our cameras to try to take pictures of the food, we elected to sit in one corner that seemed a little brighter as it was decorated with a strand of white lights, rather than pink ones.  And so, in the spirit of keeping the clubby and underground ambience, we did not use our mood-killing flash, especially since we shared our table with two guys, one who had been a regular at the infamous Antojitos truck and appeared to be a very enthusiastic devotee.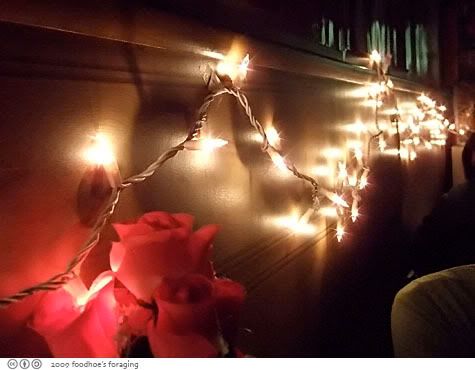 We decided to split a bunch of dishes and started with Castelvetrano Olives (vegan) 3.5 which were big, plump and buttery and had a brilliant green color.  I remembered having these at Ubuntu last Fall, but I liked these much better, the texture was firmer and I think I ate the bowl myself…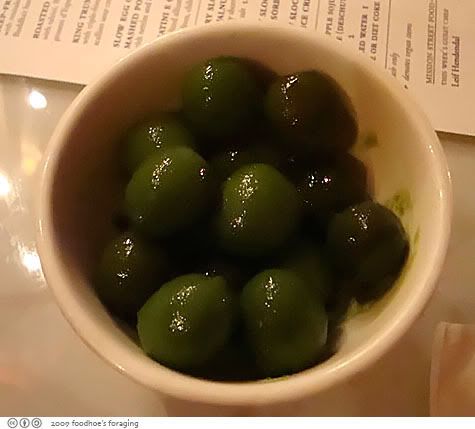 We had to borrow our neighbors knife in order to split the flatbread topped with King Trumpet Mushrooms, triple-fried potatoes, garlic confit, and a flavor packed charred scallion sour cream (6).  The bread was a thick and chewy with a nicely griddled crunchiness – lots of nice textures and range of flavors.  It was served on a little paper tray like the kind served at taco trucks….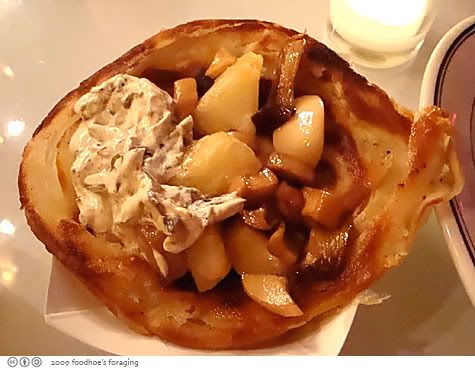 Poached Egg on Mashed Potatoes with nettles and fresh herbs (8).  This was a soft soothing dish that contrasted nicely with the herby greens.  I could have had one of these by myself… the rich golden egg yolk oozed out of its custardy eggwhite cocoon, creating a scandalous texture with the creamy potatoes. As you can see the portions are not big, but a good size so you can try a few things.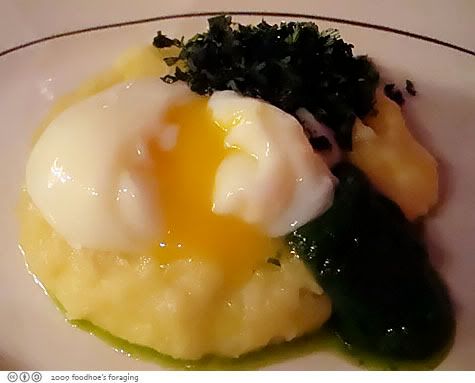 Roasted Cauliflower with tahini, Recchiuti chocolate 85%, piment d'Espelette (vegan) 6.  Chocolate?  Yes indeed it was pure dark chocolate shards melted on the soft cauliflower flesh.  It coated my tongue with its rich bittersweet chocolate flavor.  It was a very interesting paired with the smoked paprika and cauliflower.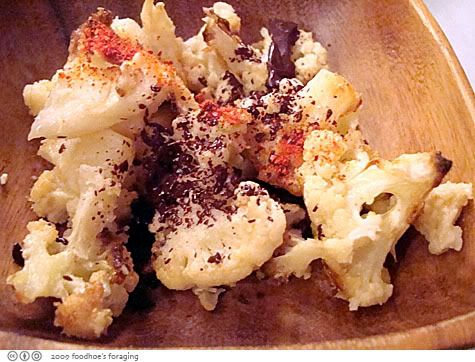 We split one more dish, Bucatini e cavolo nero: the pasta was thick hollow strands topped with fried sage, toasted almonds, capers, olives, chiles, brown butter (9).  It was not a cohesively saucy kind of pasta and rather plain, but I loved the bits of fried sage and picked them off the plate.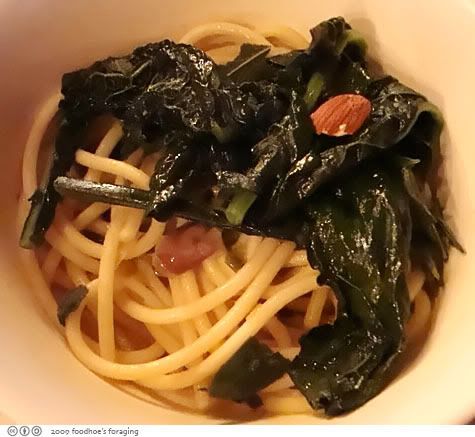 I took this picture of our neighbors deep fried yuba package with maitake mushroom, mustard greens, leek, miso, Buddha's hand, matcha salt (vegan) 7.   It looked good but was rather small to share between two guys, and I wasn't really invited to share in their meal – ah well, what can you do?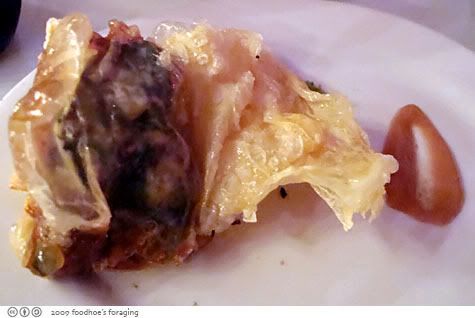 The dessert menu was a selection of Humphry Slocombe ice creams.  We had a plate of ice cream and cookies (5.5), which came with a scoop of maple walnut ice cream that had been drizzled with olive oil and sprinkled with Murray River salt served with two rosemary shortbread cookies.  I could not really taste maple, maybe just in my mind, only a mildly sweet salty flavor.  Underneath were thin slices of very firm pear.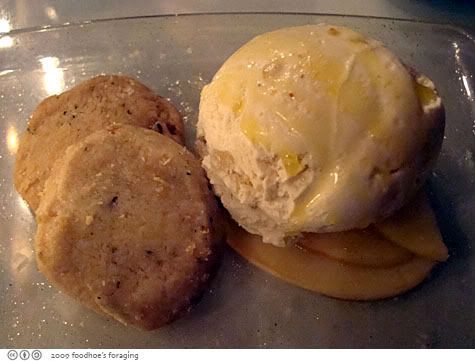 I liked the oolong ice cream very much (3.25/scoop).  The floral tea flavor was infused each creamy mouthful.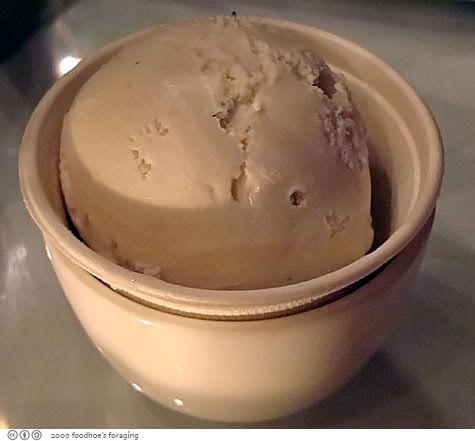 Because we could see people's faces anxiously peering into the restaurant, we didn't dawdle and asked for our check.  We were directed to pay at the cashier located at the rear of the restaurant which was illuminated by a tangle of blue christmas lights.  It was pretty dark and I imagine it would be difficult to try to count out change in that kind of mood lighting, but we managed just fine and I was a bit shocked to pay around $20 for such fantastic food and a beer in San Francisco. For Dinner.  And dessert too, mind you.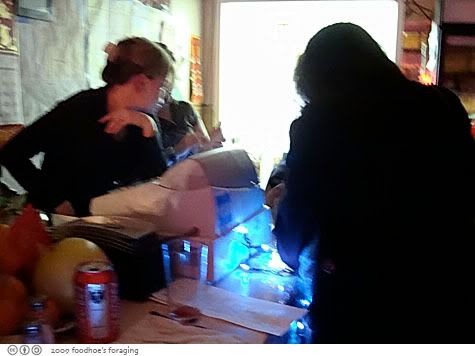 According to this article from the SF Chronicle, Chef Myint is leaving Bar Tartine to pursue Mission Street Food full time, which is very good news.  I can't wait to go back.  In the meantime, they post information on who the guest chef is and the menu early each week on their blog*.  We walked out around 7:30 or so, and there was quite a crowd lined up outside, ahh savoring the anticipation…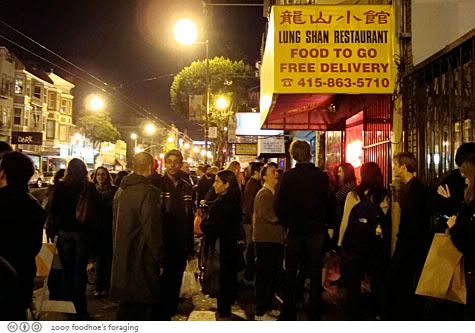 * Update since I posted yesterday – according to their blog, they are going to also open on Saturday nights!