1699 North California Blvd, Walnut Creek CA 94596 | 925. 935.3795 | website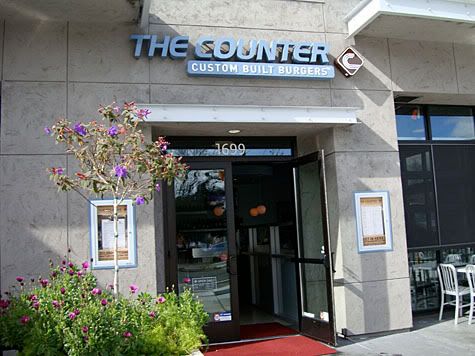 Mr. K works in San Jose near Santana Row which seems to get new chains sooner than we do up in the City, perhaps they have less red tape and more open space…  Anyways, he told me about The Counter, a new chain where you can order a burger to your exact specifications. They have one out in Walnut Creek, so we took my parents out for lunch there recently.  Once seated, everyone is handed a clipboard with an nicely organized order form describing an extensive list of ingredients that allow you to customize your own personal fantasy burger.   The form begins with type of meat (beef, turkey, veggie, grilled chicken); size (1/3 lb, 2/3 lb. 1 lb) bun (indicate type of bread) or in a bowl (salad); then choice of cheese, type of toppings (if ordering salad, you can specify type of greens and veggies) and finally, sauce.  It's an exhaustive list of 10 cheeses, 18 regular toppings, 10 premium toppings, 18 different sauces and 3 different types of buns to choose from.  You can also choose from a list of standards like a cheeseburger, BLT, grilled chicken or a taco turkey burger…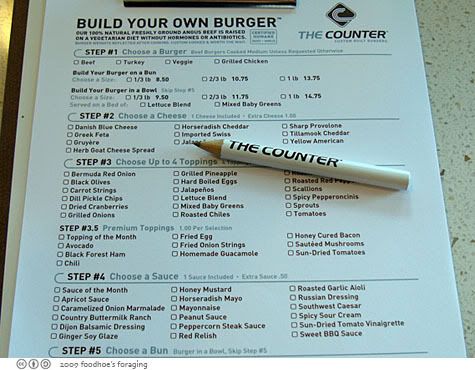 The Counter is a chain that is mostly in California, although according to their site they have locations across the U.S. as well as in Australia and Ireland, all presumably burger loving countries… The interior feels like a high tech garage with expansive ceilings, all painted a soothing icy cool blue and filled with shiny brushed metal retro style furniture.  There's a sunny patio out front with tables outside too for dining alfresco and watching the traffic whizz by, or if you have a dog or unruly children.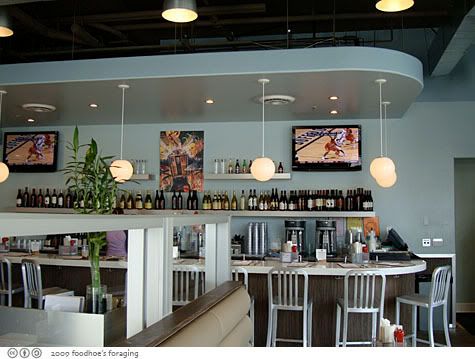 They have a great variety of fried sides, including fried pickle slices!  We decided to go with the Trio of Fried Onion Strings, Sweet Potato Fries and plain old Fries,  which came with three different dipping sauces: ranch, chipotle mayonnaise, and bbq.  We debated just getting the onion strings and regular fries, but our server said that getting the combination of three was the best deal.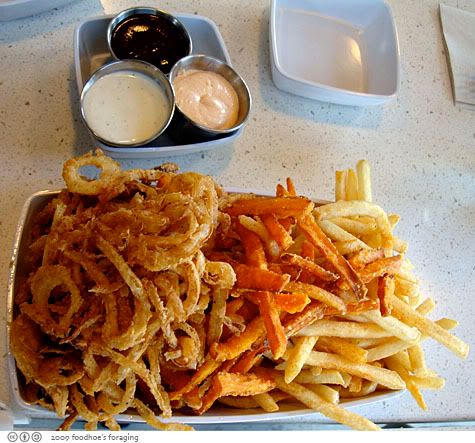 My Dad ordered the monthly special, which was a  gigantic Crab Cake (somewhere around $12, which seems pricey but that was a lotta big chunks of crabmeat), which came topped with coleslaw, and lots of fresh lettuce, slices of tomato and onion and a big tub of tartar sauce.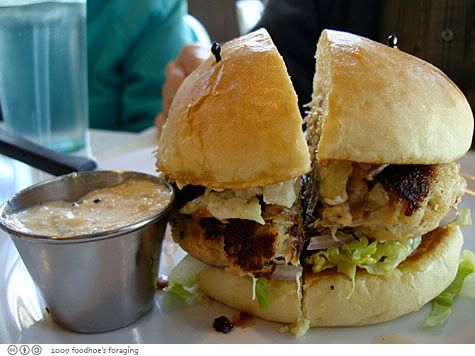 It was full of big meaty chunks of crab and really good, quite the show stopper.  I noticed that the current burger of the month is an Ahi Korean BBQ and is described as: Ahi Tuna Topped with California Kimchi, Fried Pineapple and Mixed Baby Greens.  Served on a Hamburger Bun with Authentic Korean BBQ Sauce.  Wow, their monthly specials are quite creative!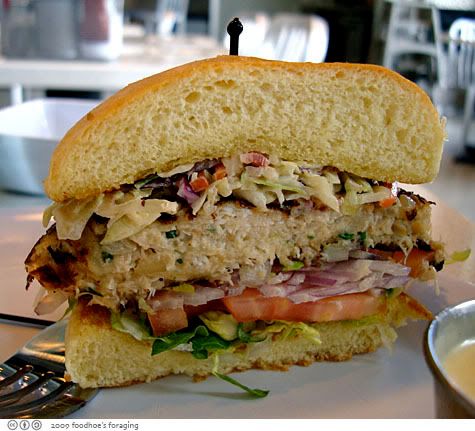 My mom had the Grilled Chicken Sandwich, which included gruyere cheese, some greens, tomato slices and coarse grainy honey mustard.  My parents split the two sandwiches and both liked the crabcake the best.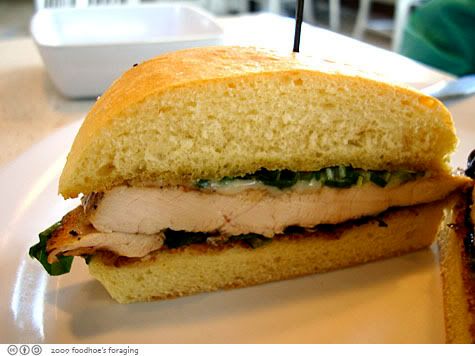 I couldn't resist ordering the Mini-Cheeseburgers (6.95),  which were served on griddled buns that reminded me of Hawaiian sweet bread.  Each mini burger was served on top of a slice of dill pickle, sprinkled with bits of fresh red onion and was served with a tub of thousand island style sauce on the side.  They were charred and chewy on the outside but soft and juicy inside.  I finished these off pronto!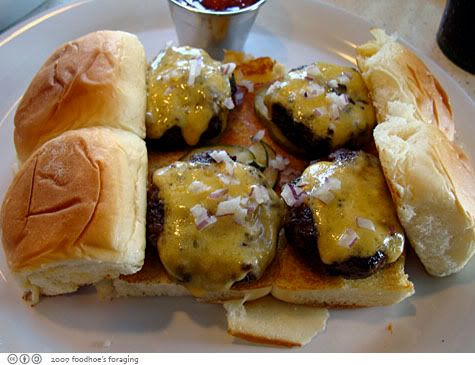 Yum.  I took one of the grilled onions from Mr. K's monostrosity below and a nice dollop of the special sauce.  Those soft buns were so heavenly.  I grew up eating burgers in the era of Wonderbread and Homepride and just love burgers on pillowy soft squishy buns, and these were nicely crisped on the inside.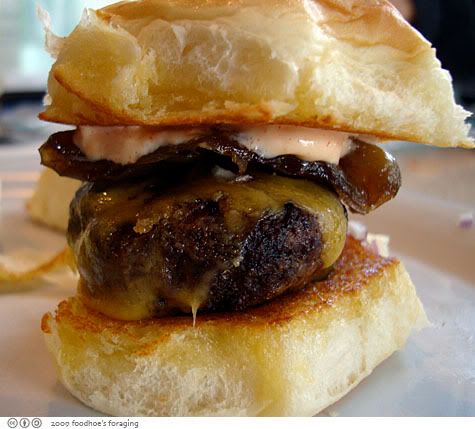 Now, Mr. K. having been here before, knew exactly what he wanted, a 1/3 lb burger with provolone and spicy hot jalapeno slices ($7.95).  Which is basically what he was served, except for the mass of slimey marinated grilled onions that was piled on top of everything. He said he had no idea where those onions came from… he ended up chucking them all, claiming that they added a foul funk to the entire burger.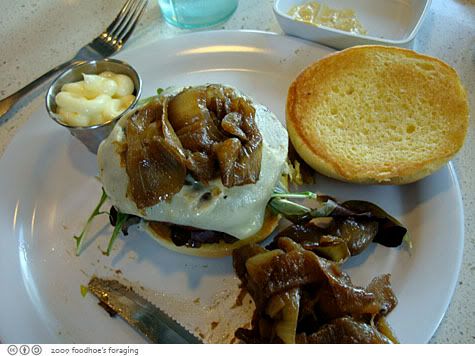 To finish things off, we split the chocolate chip cookie.  This was no ordinary cookie, but a platter sized beast topped with bittersweet chocolate chips and served warm.  They asked us if we wanted ice cream, which we declined and came to regret just cuz those bittersweet chocolate chips were screaming for vanilla ice cream…   
Kinda pricy, but the food was excellent.  We'll definitely be back, especially when they have that crab cake burger as the monthly special.