42 Columbus Ave, San Francisco, CA 94111 | 415.421.2540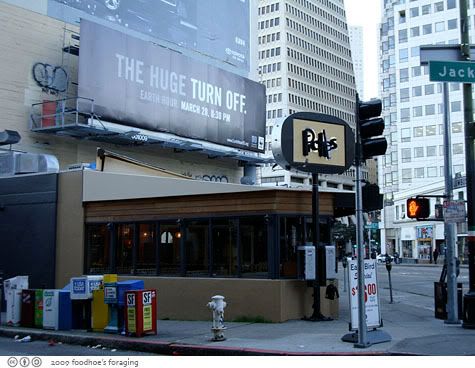 Last year, Tom Duffy one of the owners of the now defunct Myth Restaurant and Cafe, bought Clown Alley and renamed it Pickles.  At the time they said they planned to remodel and upgrade the facility, but put up a temporary sign and just left everything as it was to get a feel for the crowd and the space.  Then they closed down last Fall for a serious facelift and finally reopened a couple of weeks ago, sleek, modern and definitely spiffed up.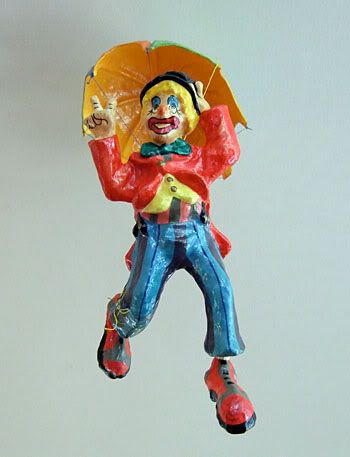 The original Clown Alley has a colorful history and was known for its very colorful decor and myriad smiling clowns hanging from the ceiling.  It was opened by flamboyant San Francisco nightclub impresario Enrico Banducci in the 1950s along with Enrico's, San Francisco's first sidewalk cafe on Broadway. Banducci is most known for his legendary hungry i nightclub/comedy club where the likes of Phyllis Diller, Lenny Bruce, Bill Cosby, Woody Allen and a young Barbra Streisand performed.  Clown Alley was the hamburger stand where late night revelers would refuel after a night on the town.  Apparently, they plan to keep the late hours once they start serving dinner, so it will be open til 3 am on Friday and Saturday nights.  It is a great spot to sit out on the patio to enjoy the food and the busy financial district people whizzing by at lunchtime.  They have overhead heaters and a fireplace to ward off the winter chill.
They've completely revamped the menu, which is much pricier, reflecting the fact that it now features Prather Ranch organic meat for the burgers, dogs and even the chili is made with Brisket from the Ranch. I read that they were going to offer mini corndogs as a side dish, but was told that they no longer are serving those due to some technical issues…  They have a serve yourself soda bar and domestic beers on tap are only $2.75.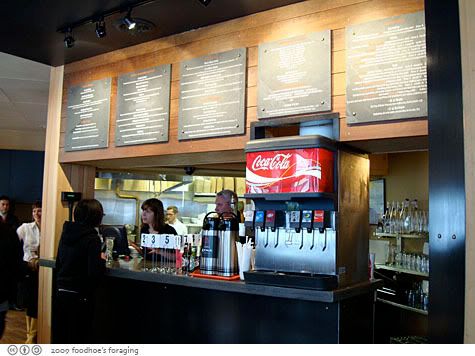 While it looks fancy and upscale, you still need to stand in line at the walk up window to place your order, then you are given a number to place on your table so the servers know where to bring your food.  The line got pretty long during the lunch bunch rush.
Each table has a fine assortment of condiments, rather than the serve yourself pickle/condiment bar of old.
We shared the Pot of Pickles (6.95) which was a large bowl of housemade pickled vegetables, including cauliflower, tiny pearl onions, beets, whole baby carrots, a hard cooked egg, a handful of picholine olives and some dill pickle slices that they said were the only item not made in house.  I of course forgot to ask where they came from.  Also on the plate were two buttered slices of grilled ciabatta bread and a knob of duck rillette.
I wasn't sure what duck rillette is and expected something like a nice fatty pate, which is often served with cornichon, but this had a consistency that was like a tuna fish spread.  I looked it up and a rillette is a preparation of finely shredded duck meat and duck fat that does not contain liver.  It was quite tasty.  This plate by itself was pretty filling, a nice accompaniment to a stout beer, definitely not what we expected.
We also split an order of the Beer Battered Onion Rings that had a thick dense batter coating, in the manner that I'm not very fond of.  I like a thinner bread crumb coated ring personally… 
And this is precisely why: I looked over and said, ooh where's the sauce?  and P told me that was uncooked batter that spurted out when he cut into the blob of fried batter.  Ewww….  that was pretty disgusting.   Not only that, but that was a thick slice with at least 4 or 5 layers of onion packed in batter, which explains why the batter in between the layers of onion didn't cook. 
Hand-cut French Fries ($3.50) seemed rather small in comparison to the other sides…  But they were rustic, well seasoned and not exactly hot out of the fryer….
I also ordered the Deep Fried Brussel Sprouts, that were a lovely surprise, dusted with shaved parmesan and parsley and the outer leaves were fried to crisp translucency.  They were small enough to pop into your mouth, and had a pungent cabbagey taste with a dense chewy texture.
I split an order of Sliders ($10.50) with StevieB, the mini burgers were rather large (3 oz), each one is basically about half the size of a regular burger, and I was full after just one…. and all those sides!   I asked for lettuce and tomato with the mini burgers cuz even if they are mini, they still are burgers on a bun.  This is a good dish to split.
Since they didn't have the mini corndog side dish, I had a Prather Ranch Hot Dog (6.95) instead.  They had a couple of different styles on the menu, one was a Chicago style served with tomatoes and relish, and the other had chili on it.  I like my hot dogs pretty plain, and asked for just some chopped onions on it.  Here's how it arrived… What a beast!  Anyways, there were lots of onion slices that came with the burgers that other people ordered on the table so I just helped myself.
P got the Bacon Cheeseburger ($10), which was topped with delicious brown sugar glazed bacon.  He said it was very good.  The burgers were all perfectly cooked.
DDR had the Slider Salad, which had three of those rather large slider burgers served over baby romaine leaves, sweet grape tomato halves, a hard boiled egg, crunchy ciabatta croutons tossed in a garlic tarragon dressing and topped with shaved grand padano cheese.  She said she really liked the croutons….
The kitchen is run by a chef who worked with the owner at  the now closed Myth Restaurant and more recently at nearby Zinnia.   It's certainly lost all traces of its former greasy dive ambience.  Out on the patio they have a retractable top and a lovely fireplace which would be a nice spot to hang out to watch the world whizzing by…  I also read that they won't be open for dinner until April and are only serving lunch until then.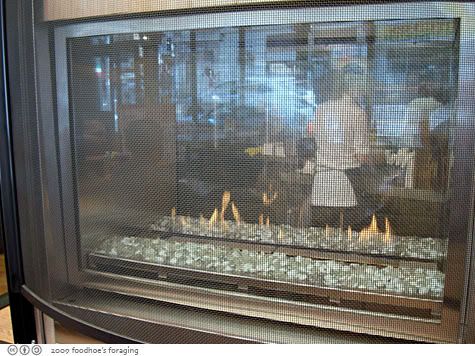 In homage to its roots, there is one remaining clown left on the wall although it is relegated to a dark corner near the back…