1638 Post Street, San Francisco, CA | 415.440.4959   | website
No, there aren't any sword wielding performance teppan-yaki chefs here, but the chef exercises precise and deadly force with his knives…  The name of the restaurant can be loosely translated to mean warrior cuisine or samurai dining, which is more a reference to the term Bushido, or the samurai code of conduct than a historically accurate type of meal.  Chef Waka serves up French California Fusion within a distinctly Japanese frame of reference.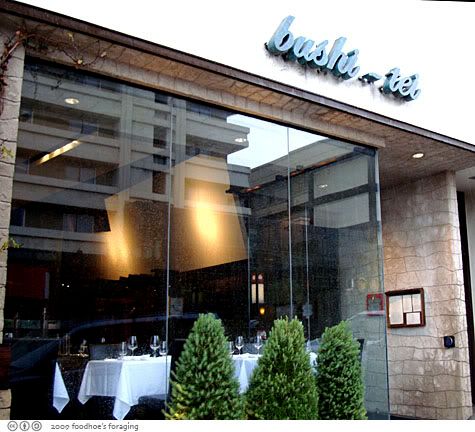 I remember that the twinkling candles and brilliantly lit display of glass vases caught my eye once while passing by, but I had kept on walking after looking at the menu which featured an $85 omakase and fancy sounding French entrees in the $30+ range… When my good friend JT dined there recently she gushed on and on about the food, but when she mentioned that they serve a $25 twilight two-course dinner from 5:30-7 (a euphemistic way of saying early bird special), the clouds suddenly disappeared from overhead and I changed my mind.  Many reschedulings later, I met her and Cherie on a night when San Francisco was deluged by a torrential downpour, reminding me of the Japanese movie Rashomon, which opens with a scene set in pouring rain. The walls are paneled with old recycled wood from Nagano prefecture in Japan which imbues the dining room with a rustic elegance which is balanced against crisp white tablecloths and sleek, modern furnishings.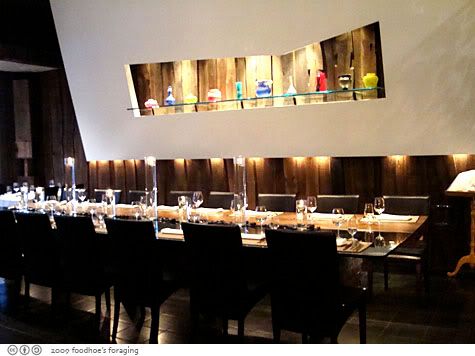 I love coming early to dine, they told me to sit whereever I liked!  I found a cozy booth that had floaty hangings that gave the impression of having our own little private dining room.  I was very taken by the silverware and utility rest that had clear indentations marking where to place each piece.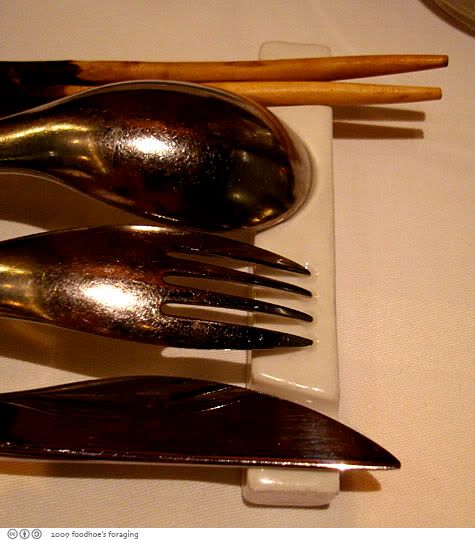 I had a particularly bow-legged pair of chopsticks that required frequent adjustments otherwise both tips would point away from each other and were like using trick sticks. Eventually I ended up using the fork.  The bread plate came with two pieces of sliced baguette that were unusually soft and chewy and impaled with jagged pieces of crispy flatbread dusted with seeds.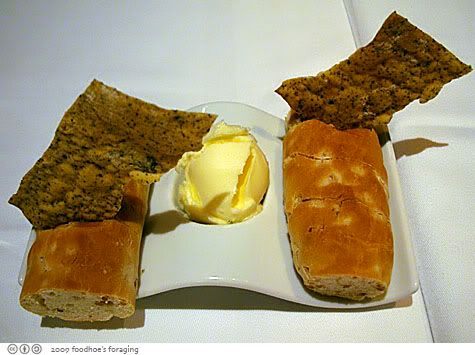 Next came a delicious Amuse Bouche of seared big eye tuna served on a very crisp cracker that was topped with a whiff of something rich and creamy.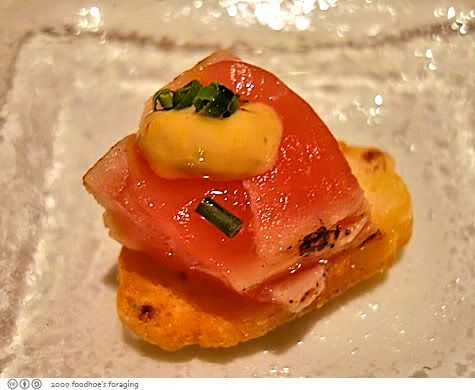 Since it was chilly out we split a bowl of Potato Ginger Soup ($6), which was rich and creamy with no hint of dairy, just some puddles of golden olive oil drizzled on top with chopped fresh chives and a light dusting of spicy shichimi togarashi.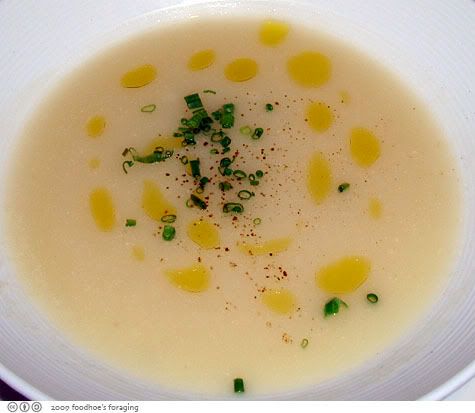 Cherie and JT ordered the Twilight Two-Course Dinner, which had selections from the regular menu but not the ones that I wanted to try.  We decided to try to leverage our meal by sharing everything and each of us ordering two courses, alternating between first and second courses and dessert.  This is the first course of the Twilight dinner, Anise seed marinated Arctic char, asparagus, fennel, dried tomato chutney ($18) which was sprinkled with tiny little crunchy rice crackers that our server called a-rah-ree (teehee).  The fish was very fresh, mild with a lush velvety texture, I'd never had it raw and I wonder why it doesn't show up at sushi bars more often… but then maybe it's called something else. 
The tomato confit was thick and dense, bursting with the sweet flavors of reduced tomato, an excellent partner with the crisp fennel and slices of asparagus and the occasional little pop from the crunchy rice cracker.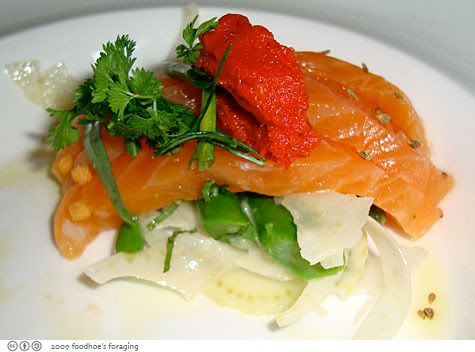 The Lobster and Crab, Chrysanthemum leaf, papaya, bacon, ginger cream, curry oil ($18) was  a frilly salad of delicate young chrysanthemum leaves tossed with ginger cream and curry oil to bring out the natural sweetness of the lobster and crab.  It was an interesting combination of bitter, tart, savory and punctuated with sweet pieces of fresh papaya and tied together with curry….  I liked it all right, but it's the char that I'd like another serving of right now!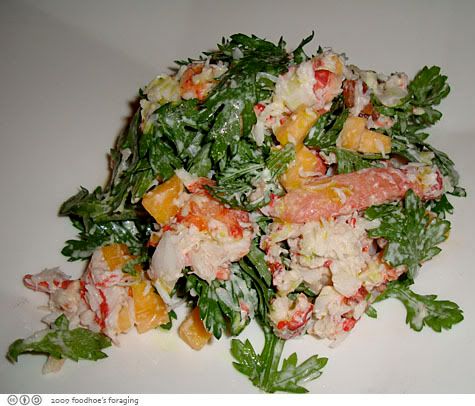 Both JT and Cherie had the Kurobuta (Berkshire pork), which was two chubby chops served with coco blanc beans and bacon apple-ginger relish ($32)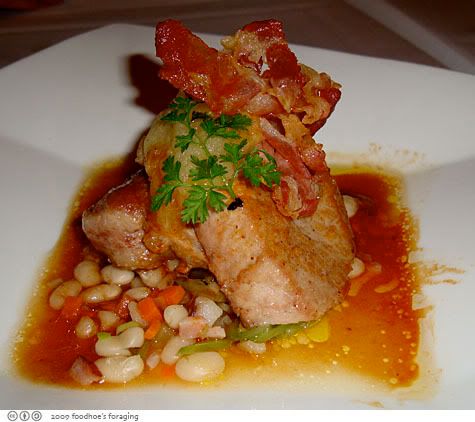 My main course was a juicy Sonoma duck breast, served over baby mizuna, drizzled with mascarpone-mustard and sprinkled with dried chutney ($28).  The chutney was a crunchy zesty topping with bits of dried fruit that provided a vibrant textural sensation that was very lively.  I liked it very much, but at times I wished it was a little less vibrant and that it had come with a rich and savory sauce…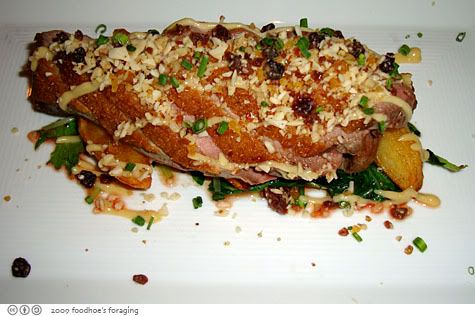 We split a couple of desserts starting with Epice Chiffon Cake with Yuzu mascarpone mousse.  That is not a typo, I think that is the french spelling for spice…  This was a very interesting take on a spice cake made exotic by use of Chinese 5-spice mix.  It was a fluffy spongey cake, something that my dear granny would have loved.
The clear favorite was the Black Sesame Blancmange, which is made with rich nutty ground black sesame in a creamy gelatin based scoop and topped with a coconut milk reduction and pineapple salsa.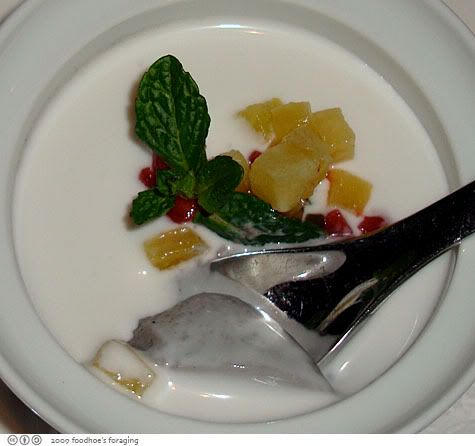 Oh, and I must mention that they have one of those oh so refreshing Toto Washlet toilets, which had me trying out all the settings.  Ooh the seat is heated and I'm wondering how can I possibly convince Mr. K that we need one of these?  I took my time exploring the technology and felt slightly giddy as I walked out back to the table…  to find yet more food!  They had dropped off a final plate of tiny cakes speared with cookie sticks and rich chocolate rolled in chopped toasted nuts.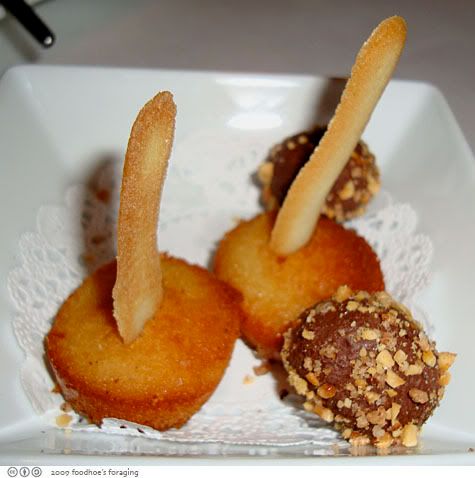 And I finally was able to successfully use one of those $50 restaurant.com coupons, so that we each ended up paying about $40 for our delicious meal, which included a glass of wine each.   The twilight 2-course meals combined with the coupon make for a surprisingly affordable dinner in a posh and swanky restaurant with excellent and professional service.
Oh and lastly, here is a link to an interesting series of recipes posted by Chef Waka on hokubei online.