275 Joaquin Ave, San Leandro, CA  |  510.895.3234 | website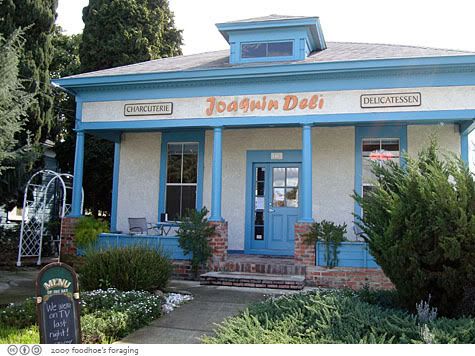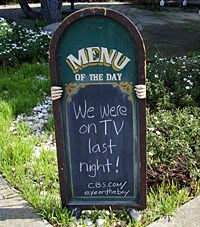 A couple of years ago, one of my co-workers left to pursue her dreams of owning her own business.  And so Rennie and her husband Joe purchased Joaquin Deli in San Leandro, which was formerly Vartran's Flying Sausages.   I have to confess that it wasn't until I read an article in the local paper San Leandro Times, about Joaquin Deli being  profiled on CBS Eye on the Bay for having one of the best sandwiches in the Bay Area, that I made it over for a visit.  They recently expanded their hours to include Saturday, which means that Mr. K and I finally are able to enjoy their sandwiches on the weekend.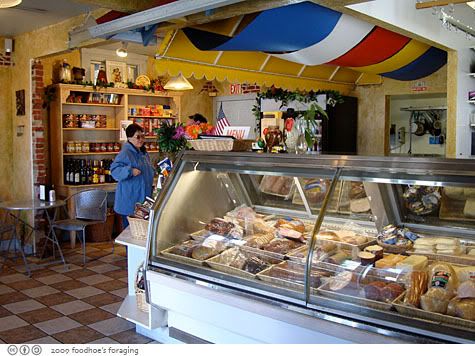 The inside of the well appointed deli is charming with old world romance, brightly lit and clean.  The building is in a residential area a couple of blocks away from downtown and feels like an oasis of delicious calm.  We sat outside on the porch where there are a couple of tables, which was delightfully quiet as there is very little drive-by traffic and just the odd neighbor out walking their dog.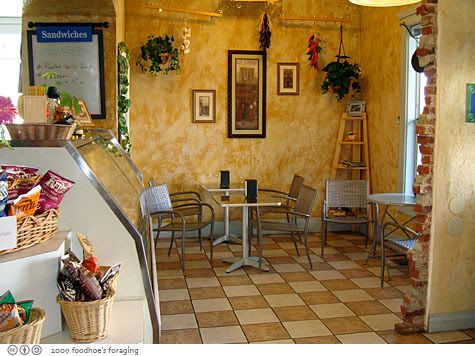 The first time I visited, they had just been featured on CBS for their signature Pulled Pork sandwich ($5.95), a slow-roasted pork shoulder that is mixed with a tangy homemade barbecue sauce and served on a chewy ciabatta roll.  I ordered this and to be honest, my toes curled in ecstasy when I first bit into the sandwich.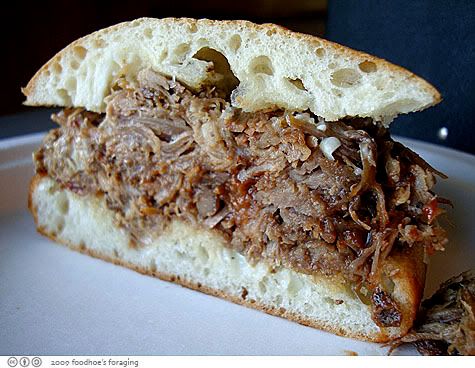 The pulled pork was fantastic.  The meat was succulent and tender and mixed with the perfect amount of tangy barbecue sauce to offset the fatty richness of the pork.  The ciabatta roll was soft with a dense chewy texture which Rennie said she has only one source for in the entire area.  The sandwich had a perfect balance of bread to meat and condiment.  Too often this sandwich is ruined by soggy bread and too much sauce.  But this was as good as you could hope for.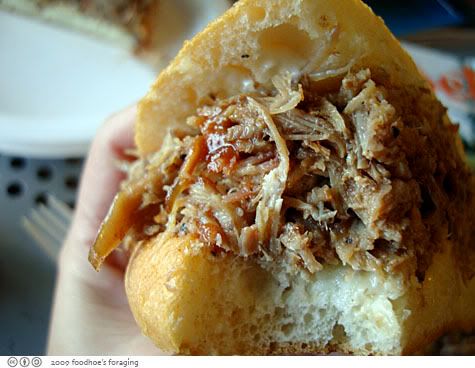 I loved their German Potato Salad which is spicy and tart with mustard and does not have any mayonnaise or sugar added – just the way I like it.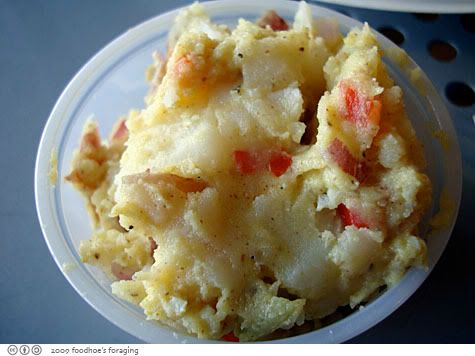 A couple of days later, I dragged Mr. K along because I just knew he was going to love this place.  Have I mentioned that we are sandwich freaks?  Or perhaps you have already noticed that I have rigid standards for sandwiches, especially when it comes to adjacency of the ingredients and proportions.  Mr. k and I have endless conversations about how a sandwich should be made and ruthlessly dissect and re-arrange when necessary. Mr. K had the Grilled Chicken with Basil Pesto ($6.95) with sun-dried tomatoes, spinach, provolone, roasted bell pepper spread on a ciabatta.  Rennie told us that they grill the chicken out in the backyard daily and make all of their sauces by hand, which really makes a difference in the quality of the sandwich, which was amazing.  The chicken was tender and juicy and you can see how the garlicy spread filled up the pockets in the ciabatta bread which went so well with the thick layers of crisp fresh romaine lettuce.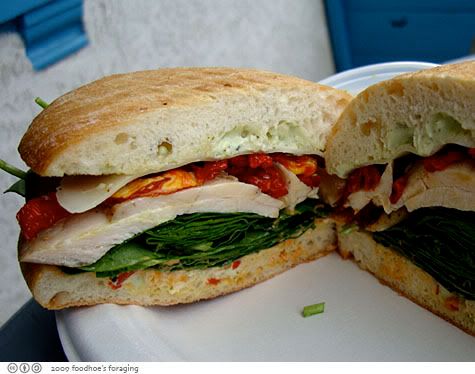 I had a craving for something salty and so ordered the Muffaletta ($6.95) provolone cheese, genoa salami, moradella and black forest ham with olive mix spread.  Of all the sandwiches I had, this one was good but not amazing.  Perhaps I was thinking more of a dry salami, which has substantial and chewier texture that was missing in this sandwich.  The olive mix tasted like a chopped pickled vegetable spread more than one made with olives, and tasted very astringent.  I would have preferred a good dose of that delicious and garlicky aioli, something rich and unctuous to pull it together.
We came back the next weekend and split two sandwiches.  Mr. K ordered the Grilled Chicken with Asparagus ($6.95) with aioli, spinach, sundried tomatoes on Ciabatta.  The grilled chicken was delicious again and had a smokey flavor that went really well with the garlicky aioli.  The asparagus was cooked perfectly, just past crisp but was still firm and fresh tasting.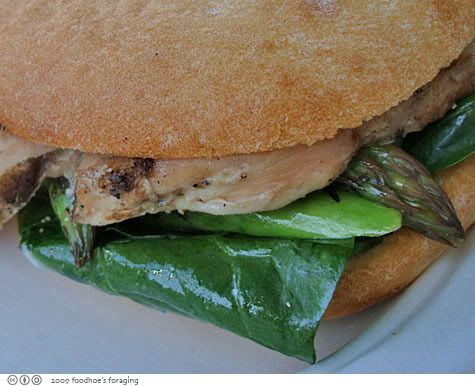 Look at the layers and how artistically arranged everything is.  It also did not fall apart as we expected with so much stuff on the inside.  This was Mr. K's favorite of the bunch, although it was hard to decide between this and the BLT below.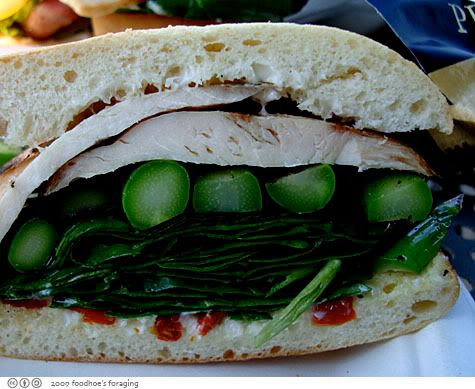 I had to try the BLT Magic ($6.55), which is three styles of bacon, aioli, tomato, lettuce on Ciabatta Bread.  In addition to thin slices of regular crispy bacon, there was Hunter's bacon that is a leaner, meatier cut and thick sliced and fatty slab bacon that was like a combination of regular and canadian bacon.  Can you imagine – three different kinds of bacon!  This was really good.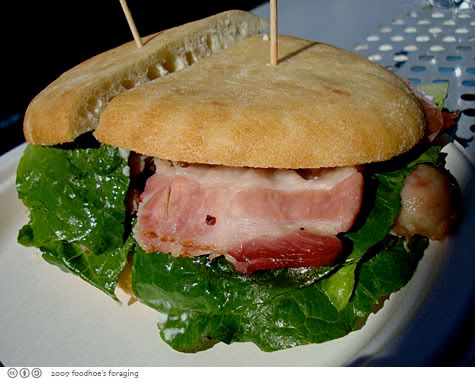 Usually when you split a couple of sandwiches, you like one more than the other.  I liked both sandwiches equally well.  I don't think that has ever happened to me before!  Anyways, I was very happy and enjoyed sitting out on the porch in the warm sun eating my two delicious sandwich halves.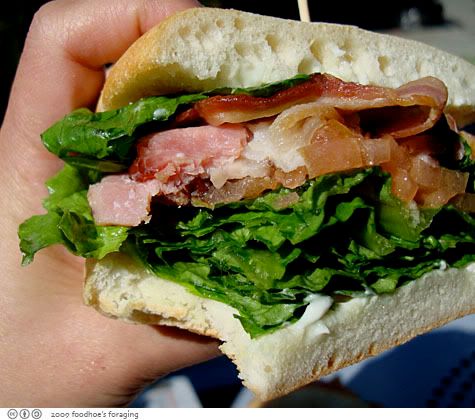 Here's Rennie, hard at work splitting those delicious Ciabatta rolls.  She seems so happy doing her own thing, and it really shows in the quality of her food.  We are so happy too, Mr. K said he thought these are the best sandwiches in the entire Bay Area and we are so lucky that Joaquin Deli is located so close to our neck of the woods.