710 Montgomery Street (@ Washington & Kearny), San Francisco | 415.982.2622 | website
see previous posts: 3-16-07| 4-14-07 | 7.05.07
Many restaurants are trying to entice patrons by offering wallet friendly menus, and I practically ran over when I read that nearby Bocadillos was now serving a happy hour with $2 pintxos.   We got there soon after opening and they didn't really have any of the $2 bites ready yet, but they did have a few specials on the menu that were in the approximate price range.  On the left was the Boquerones wrapped Olive with a bit of artichoke and mushroom (2), a Chilled Prawn wrapped around a Guindillas Pepper served over a Deviled egg (3), and a skewer of Kiwi, Sweet Potato and jicama (2).  Hmmm, some of these look more like a garnish to me…
They were dusted with paprika and chopped chives
After a time, we noticed an already picked over tray of the  $2 pintxos sitting on the counter, so we grabbed a few.  These looked like the kind of hors d'oeuvre that you'd see waiters carrying around on platters to serve at fancy parties.  $2 each.  I'm not sure how they keep track of who gets what either, it seemed to be kind of an honor system.  This is beef or lamb with caramelized onion.
Blood Sausage with a slice of apple, the sausage was laced with garlic, dense and meaty.  It took me several savory and deliciously crunchy bites to finish.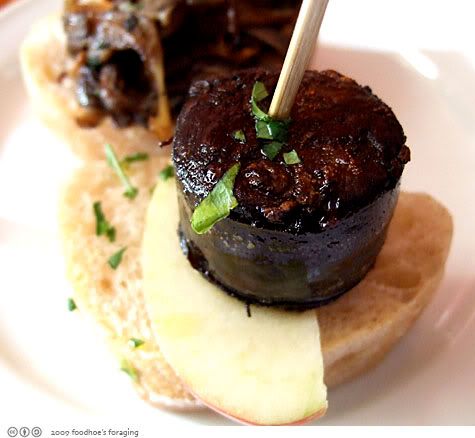 The Sauteed Mushroom wafted fumes of garlic and presented a cheery aspect.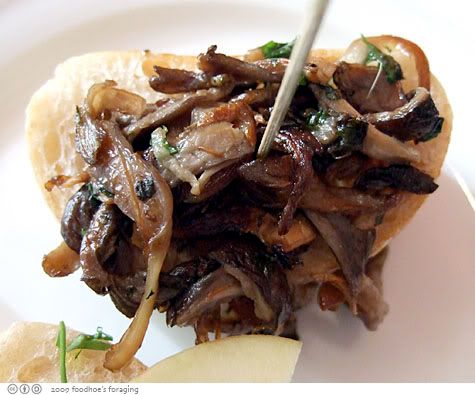 We sat near the entrance which was far away from where the tray of the happy hour pintxos were being served, and it just fell out of our radar…  Since the platter of pintxos seemed to be slow on replenishing we decided to order from their regular tapas menu.   I have rhapsodized about the serrano ham before and so we got a small plate of the 18 month Serrano Ham ($16) served with fruity olive oil in a charming little cruet.
The olive oil swathed the already opulent sheer slices of melt-in-your-mouth flesh in sleek luxury
A Selection of Artisinal Cheese ($16), which had a slice of stinky blue cheese and a creamy sheeps milk from Sonoma.  There was a small cube of membrillo or quince paste, a few almonds, and a square of dried figs.  Yes, that's correct.  5 almonds, 2 bits of dried fruits and a couple skinny knobs of cheese.  For $16.  Ah but it did come with three rolls of rustic crusty bread.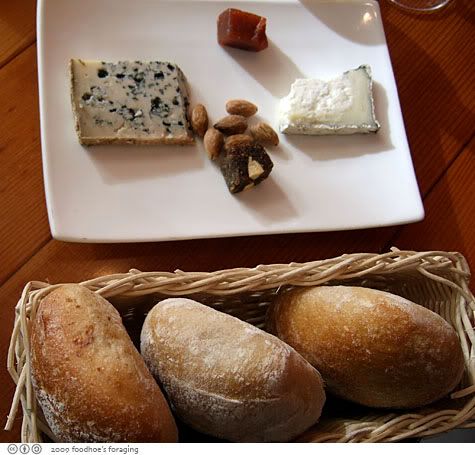 Crab Cakes with a bit of avocado relish (15).  These were tasty but small, slightly larger than the size of a quarte, each cake was small enough to finish in one bite.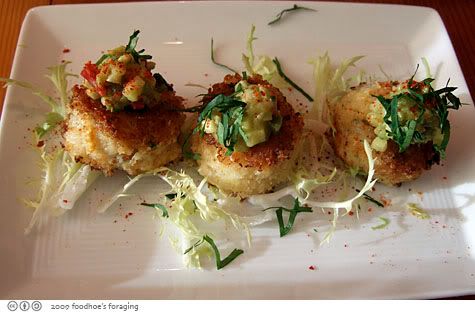 To finish off our fine repast, we had the Kefir Yogurt with Strawberries, Honey and Black Pepper (7).  This was really good, the yogurt had been strained of liquid so it was thick like cream cheese and very very tart.   There was just a hint of sweetness when you bit into the honey drizzled strawberries.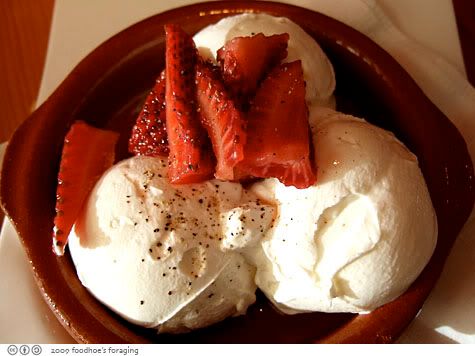 Lessons learned: if you are trying to dine on a budget and come for the cheap happy hour, order from the happy hour menu.  Since we strayed onto the regular tapas menu, and when at a happy hour one must order drinks… a glass of Chef Hirigoyen's personal label wine, a wine flight… we paid close to $40 each… hardly what we were expecting with a $2 pinxtos menu!  However, we had a lovely time and ate very well, just not as much on the cheap as expected.