Ferry Building, San Francisco | 415.391.7117 | website
previous visits 2.17.07; 7.26.07; numerous posts about the oysters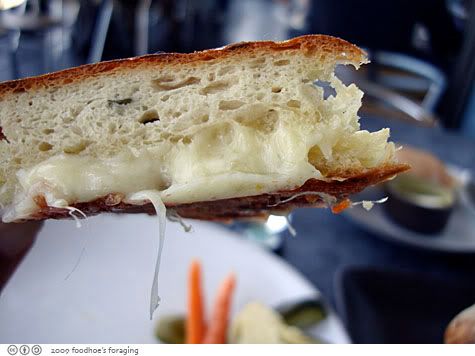 Does the milk taste good? asked her grandfather.

I never drank such good milk, said the child.

Then you must have more, said he, and filled the mug again quite to the top, and placed it before the child, who was eating hot bread, spread thickly with the hot cheese, which was like butter from the heat and tasted delicious.  She now and then drank her milk and looked meanwhile perfectly happy.

except from Heidi, by Johanna Spyri published in 1915.
This was one of my favorite books as a child growing up, containing action, adventure, sublime drama and some of the most glowing descriptions of simple meals ever.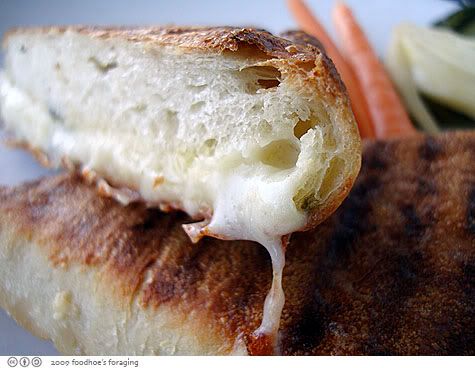 I had a predictably pavlovian response when I heard that it's National Grilled Cheese Month, which I guess some marketing firm decided was a good sensible meal to push during the first two weeks of April because those who owe money for taxes have to send off the dreaded payment, leaving the coffers bare and so we must dine on comfort food, and cheap too.  Everyone loves grilled cheese sandwiches, and Kraft is offering the chance to win a free pack of Kraft Singles. Visit iheartgrilledcheese.com to tell the world why grilled cheese makes you smile and you're entered. Each week, 500 winners are chosen at random. Talk about marketing, they're even sponsoring the 2nd annual Grilled Cheese Invitational later this month in L.A.
Mister K makes a mean grilled cheese sandwich which I am compelled to have accompanied by a bowl of Campbell's tomato soup, but I was at work when the craving hit.  Fortunately, I am walking distance to the Ferry Building, which offers every possible delight for a hungry person.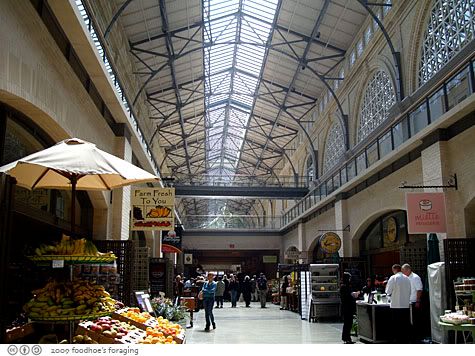 I had the most satisfying lunch ever at Hog Island oyster bar (menu), which serves an awesome grilled cheese sandwich!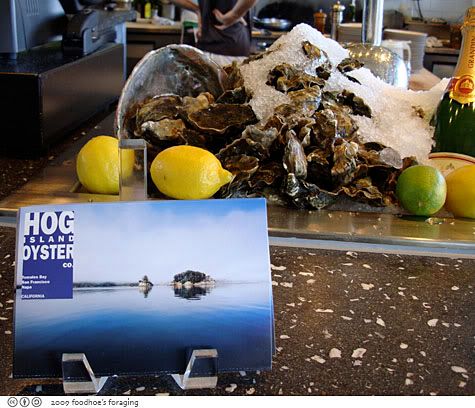 The version served is more like the Swiss Raclette, and you have to at least look at this post to get what I mean, unless you are Swiss and know about it…  I found a recipe here, although when I saw the amount of cheese and butter, I decided it's better to get this at a restaurant where we can claim we don't know what goes into the sandwich, just that it tastes good.
Grilled Cheese Sandwich with Fromage Blanc, Mezzo Seco & Cave Aged Gruyere served with house made pickled vegetables ($12). The cheese is mixed with fresh herbs and oozes out of the perfectly crusty Acme ciabatta bread.  I loved the acidity of the crisp pickled spring carrot and crunchy fennel that had a hint of cumin.  It was a delightful combination, the only thing missing was a bit of mustard maybe…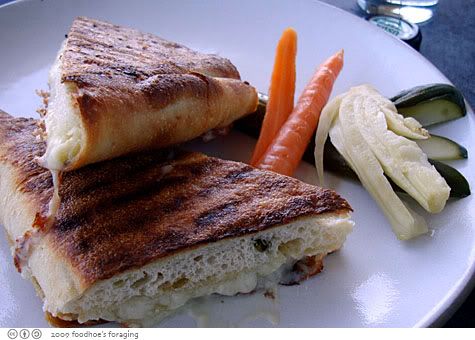 Since I had to go back to work, I didn't have a nice glass of wine or beer, but I should have asked for a hot herbal tea to help warm me up rather than the iced tea because it chilled me to the bone and I could have suffered from cheese balls!  According to fxcuisine, Valaisian parents tell their children that 'If you drink something cold with raclette, it will turn the cheese into a hard ball in your stomach and you'll be sick.  Alcohol prevents the formation of the ball in your stomach'.  At this time of year, the outside dining area was still in shade and a little bit on the cold side.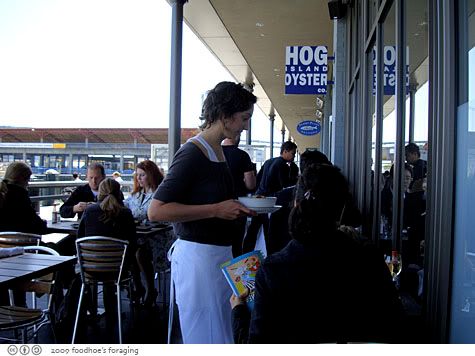 But the walk back to the office along the water was in the bright spring sun and I enjoyed it very much.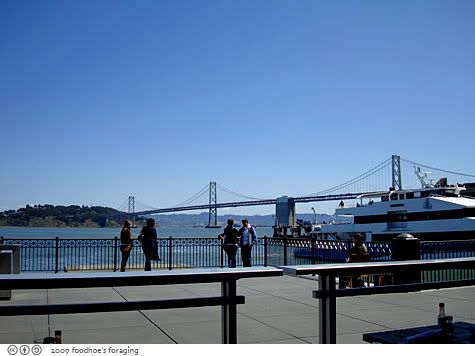 In parting to my ode to the grilled cheese sandwich, I'd like to include a link to the infamous Food and Wine article about the cheese sandwich blog and the bloggers response for your entertainment.