40 Battery St (between Bush St & Pine St) SF, CA 94111 | 415.434.4634 | website
I have been following the Kogi Taco Truck frenzy going down in SoCal with great interest, the media is buzzing and people are waiting in line for hours for a kalbi taco crafted by Chef Roy Choi.  The Kogi truck hasn't made its way up here yet, but I noticed this sign in the window of a tiny convenience store on my way to work and the word kimchee caught my eye.   Mmmm, bulgogi beef and kimchee burrito…. that'll do.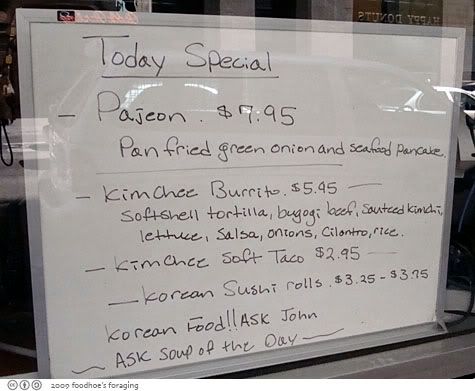 Yup, it looks like a burrito, but it doesn't smell much like a burrito.  It smells like korean bbq and kimchee!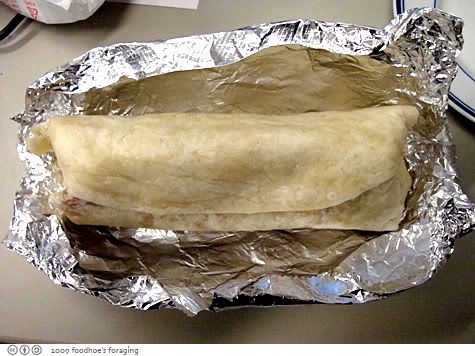 I know, the very concept brings to mind the dreaded wrap… but this is not one of those half-assed fusion fluffy things… No, this is a Korean burrito, and most definitely not a wrap.  The kalbi is sweet but tempered by the soy sauce and the sharp pungency of the garlicy kimchee and surrounded by sticky glutinous rice that is mixed with chili paste and sesame oil, reminding me of a bibimbap roll.  There's a little bit of melted gooey cheese for richness along with a smattering of fresh tomato, green onion and cilantro and pickled daikon.  I munched away wishing that I had picked up the little baggie of crunchy rice crackers on the counter as a side.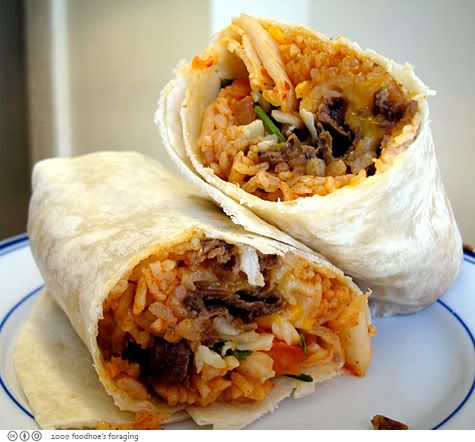 The burrito was quite delicious, very competently cooked and assembled, my only complaint is that the tortilla was a little dry and tough, as it lacked either the steam treatment or grilling that I'm used to on a burrito.
I love Korean food.  It's like Japanese food amped up on steroids, there's nothing restrained about it with the fiery chilies, liberal use of garlic and pungent kimchee.  The owner John's mother cooks a variety of daily specials including  Pajeon Seafood pancake, Mandu dumpling Soup, Chapchae noodles, Soondubu tofu soup, Bibimbap for slightly under $10.  Besides the Korean food, they also have a variety of japanese foods from Suruki's in Oakland: inari sushi, california roll, nigiri, potato croquette, musubi, even oyako donburi and edamame.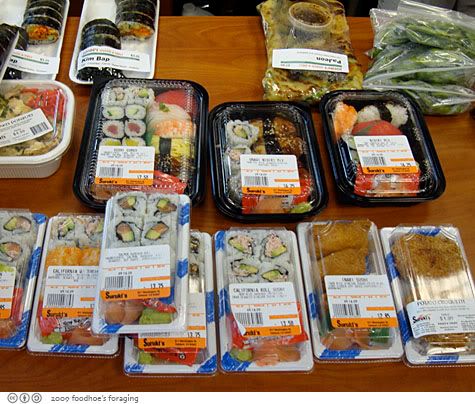 I have just recently been introduced to Kimbap sushi which is a Korean fast food derived from Japanese futomaki, but with a distinctly Korean perspective.  It is flavored with sesame oil and filled with carrots, pickled daikon, cucumber, tofu and maybe a bit of kimchee (vegetarian, possibly even vegan).   This is John's mom's specialty and they make 3 other variations bulgogi beef kimbap, kimchi kimbap, or spam kimbap for $3.75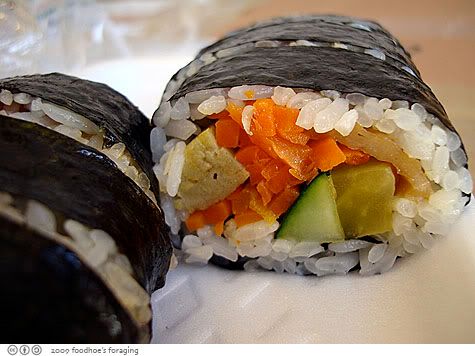 Here's the owner John, proudly displaying the variety of Korean specialties that can be made to order, cooked by his mom (in the background).  It's not ironchef prepared or organic, but it tastes pretty good.  They also sell home made kimchee!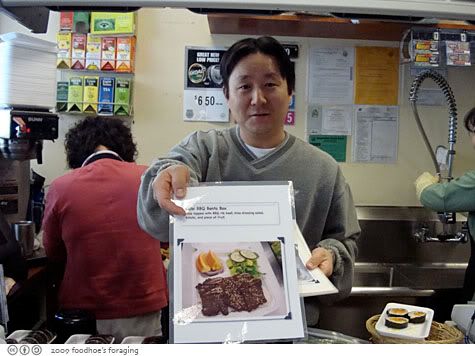 Aside from the chain Sorabol in the Rincon Center south of Market, I don't think there's any other place selling Korean food in the entire financial district.  If anyone knows of one, please let me know.