Last weekend, we were invited to a beach blanket bbq in Point Reyes to celebrate my co-worker BG's birthday.  We packed the car with picnic and beach gear and headed out on the 2 hour drive to what feels like the end of the world for a feast to remember…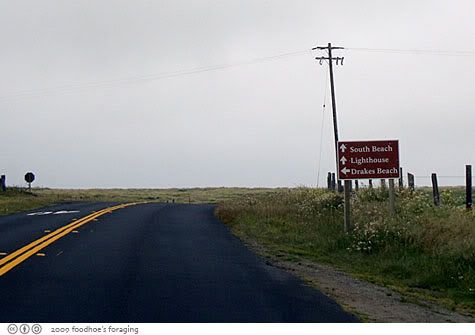 We started off early in order to stop off first at the Hog Island Oyster Farm to pick up some of our favorite oysters.  We got there slightly  before lunch and I was surprised that there was such a long line, glad that I had called my order in to reserve 200 oysters!  Also, they now have full restrooms with sinks that have hot and cold running water, a much needed and very welcome upgrade.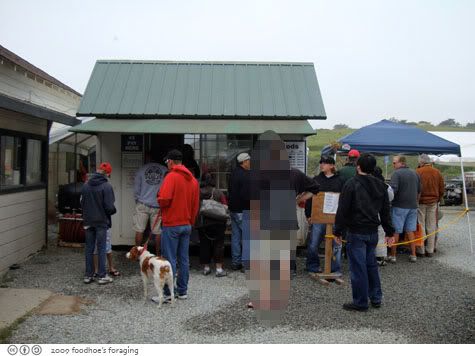 Hog Island Oysters is not exactly on the way, but as my many posts on the subject of their kumamoto oyster can attest, we love them and will gladly travel the distance for them.  It added at least another hour on our way out, but we stopped off at Cow Girl Creamery in Point Reyes Station for some cheese and Marin Sun Farm butcher shop along the way.

View Larger Map
The beach is long, flat and narrow, facing southeast and stretching for miles directly below sandstone cliffs.  We got out of the car and put on our jackets as the wind was blowing rather hard. The tall cliffs provide shelter from the winds and Liz had found the sweet spot that was completely protected and even felt warm enough to shed jackets and wish we had worn shorts.   It was surprising as the winds were cold and clammy everywhere else.  Also, there is a visitor center with civilized facilities (flushing toilets and hand dryers that blow comfortingly warm air), a cafe and a memorial to Francis Drake, the first european explorer who landed here.  I could hear the sound of bagpipes coming from the men's room, and later saw a park ranger in pursuit of a kilted figure out to the parking lot.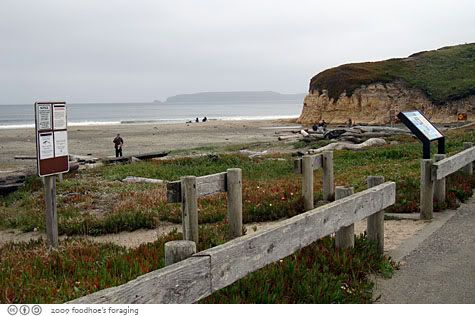 Liz and BG were taking chicken wings off the grill as we walked up.  They were delicious – crispy, chewy skin with juicy flesh that almost burned our fingers and mouths, but we couldn't put them down.
There was a continuous stream of items on the grill throughout the day.  These marinated vegetables were very good piled into sandwiches.  I was busy shucking oysters and somehow missed pictures of the salads, potato salad, green salad, fruit salads and doubtless much more as there were quite a few tables and people kept arriving…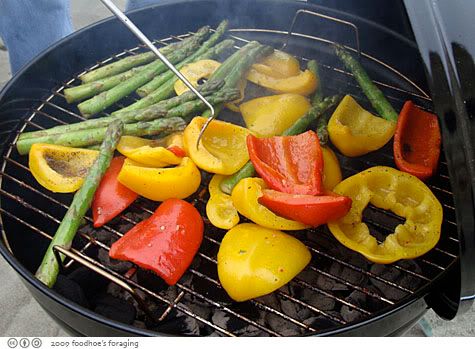 This bag of ceviche was gobbled up as soon as it was poured into a bowl.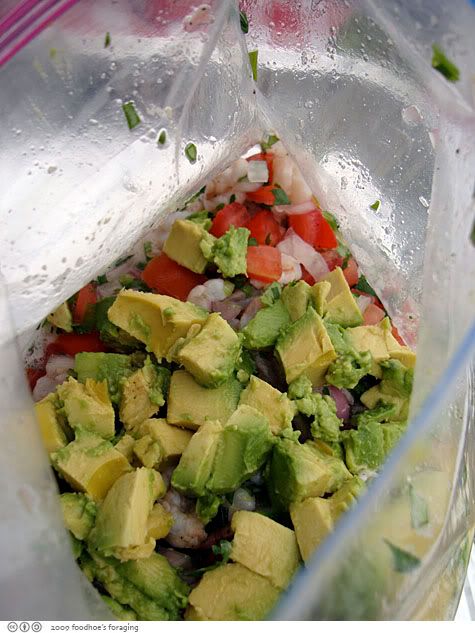 The next round on the grill was some garlicky Kalbi, which is korean style short ribs.  These were left on the heat until they developed nicely blackened edges and the fat had been rendered out.
We fell upon the Kasper's hotdogs that were just about bursting out of their casings and had a nicely crisped skin.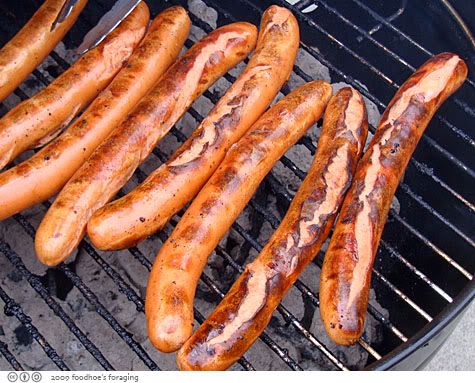 Now if you are familiar with the area, Drake's Bay Oyster Farm is much closer and on the way to the beach, but they only have one size, which is gigantic.  The shells are big as bananas and no one wants to eat one of these bad boys raw, so onto the grill they went.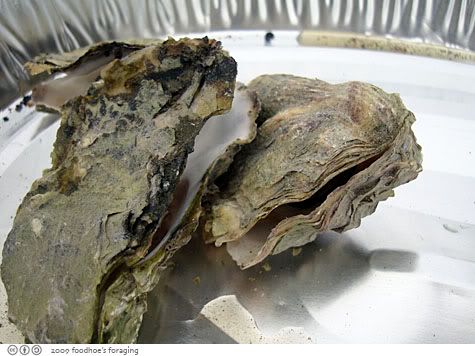 We had an assortment of extra small and medium sweetwater oysters from Hog Island on the grill that I prepared simply with a dollop of fresh herb butter and a squeeze of fresh lemon juice.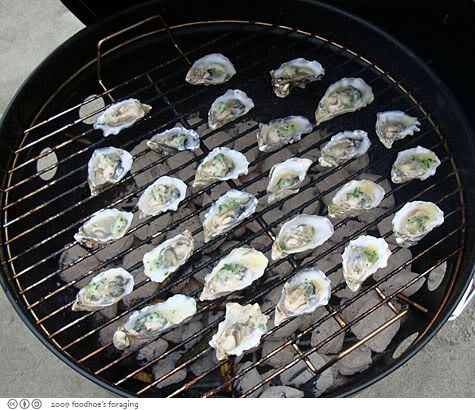 That's a really simple and delicious way to enjoy these delicate beauties.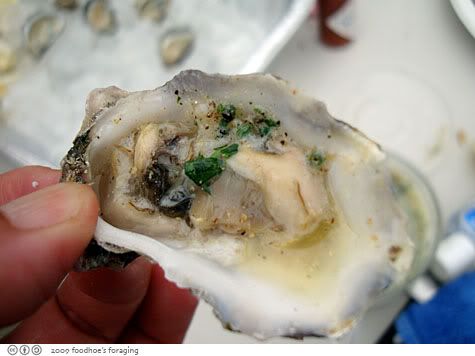 Kumamotos served raw over ice, we brought a jar of hogwash, which is everyone's favorite garnish.
Grilled mini cheeseburger on a soft fluffy King's hawaiian sweet roll.  Brennan mixes in onions and fresh herbs into the hamburger patty before cooking.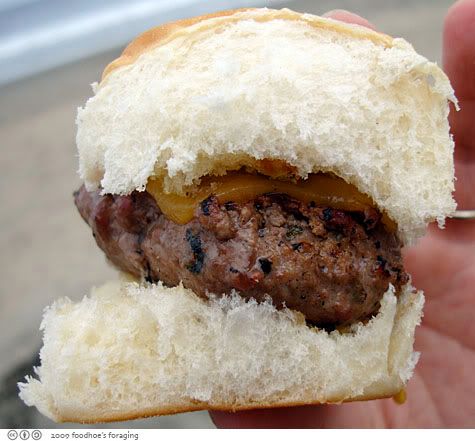 He also roasted a pork shoulder that they shredded for pulled pork sandwiches that they heated up on the grill.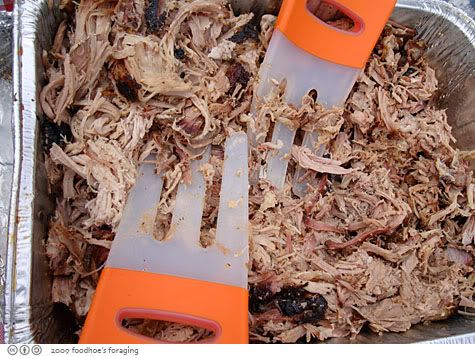 Served with spicy hot Everett & Jones bbq sauce on a sesame seed bun.  The pork was succulent and moist and the zesty sauce had a spicy kick which made my lips burn and tongue numb.
Liz's father made Pork Adobo.  If I hadn't been so full, I would have had a big bowl of this too.  The pork was very tender and cooked with the bold flavors of garlic and vinegar and mysterious spices.  I wished for some steaming white rice to put this on…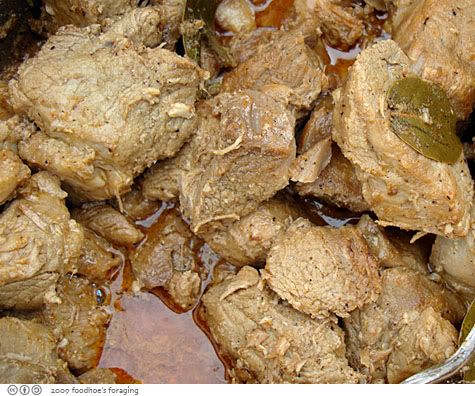 Someone's Mom's Red Rice.  It's very red, no?  I was curious about this dish and found that it is a Guamanian dish called Chamorro Red Rice.  The beautiful color is from the achote seed.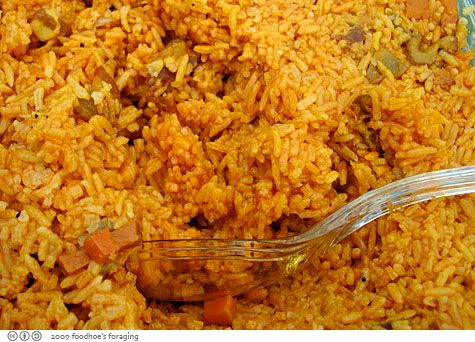 Another co-worker Francois made these muffin top treats.  They were buttery and tasted like caramel.  Mmmm, I need a muffin-top pan, because like everyone else, my favorite is the crusty top part of the muffin.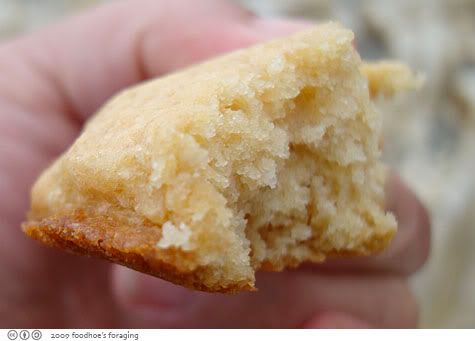 I was busy running around in the morning and forgot to take a proper picture of the Cocoa Pebble Marshmallow Treats that I made.  I used the same recipe for Rice Krispy Treats, but I used  Cocoa Pebbles instead. There were chocolate chip brownies too for dessert.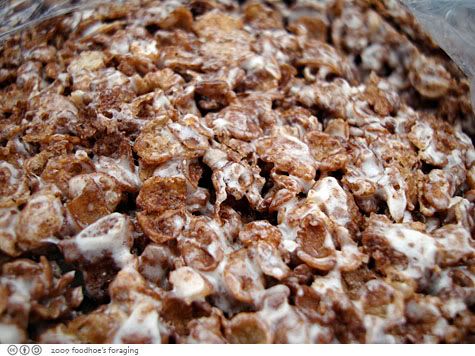 Someone began cooking a big pot of clam chowder on a coleman gas stove, but we were stuffed and left while it was still light out.  The group partied on and had a huge bonfire on the beach and made s'mores, which I am sad to have missed.  Along the road back we passed a few historic cattle ranches and I made Mr. K stop to take a picture of these friendly little cows who were hanging out by the fence.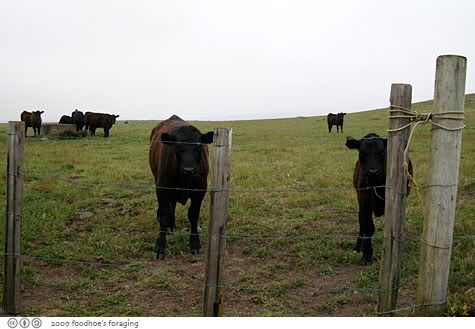 Coordinates:
Latitude: 38.0275
Longitude: -122.9606