4721 Telegraph Avenue, Oakland CA | 510.652.2900  | website is SF-centric but the menu is about the same
I was glad to learn that Burma Superstar had expanded to the east bay by opening a branch in Alameda last year, and then couldn't believe my luck when they opened another one in the exciting Temescal area of North Oakland.  I began plotting a visit to the Oakland location after reading about it on Cooking with the Single Guy.  At last the planets aligned and I was able to corral my extended local family and Cousin J who was visiting from SoCal so that we met here to sample the menu and get caught up on everyone's lives.  It was surprisingly quiet in the restaurant, which was wonderful for us as we had excellent service and the place practically to ourselves.  I'm not sure why the restaurant was so empty, the line going outside of Bakesale Betty's was halfway down the block.  Maybe people just don't know about it.  The sign is not obvious and I think we all commented that we missed and drove past it the first time around.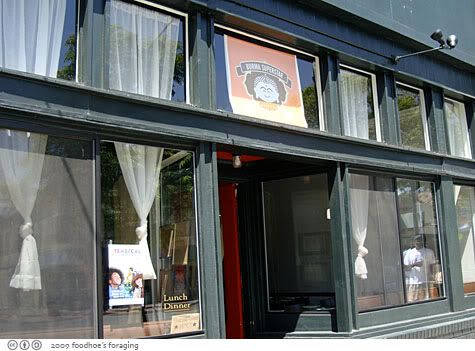 The interior is sleek and modern with tall windows that allow the room to be bright without artificial lighting, but it is austere in comparison to the original location which is a hodgepodge of charming carvings, gently smiling buddhas and exotic textiles that makes you feel as if you have been transported to far off lands.  The setting here is less distracting, so you can focus on the food.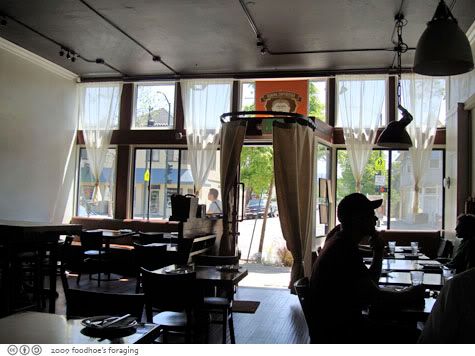 We began with the Tea Leaf Salad which was the standout dish in my memory from my last visit to the Richmond location.  The dish arrives with the ingredients all arranged neatly on a platter and our server pointed out each item before mixing it up with a generous squeeze of fresh lemon juice.  The salad features imported Burmese tea leaves resting on top of chopped romaine lettuce, surrounded by chopped tomatoes, dried shrimp powder, crispy fried garlic slices, sesame seeds, peanuts, chopped bell pepper, and split yellow peas.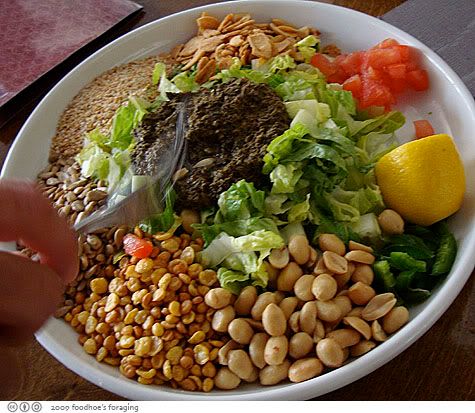 The freshly tossed ingredients create a complex variety of crunchy and crisp textures and bright zesty bursts of flavor from the  fermented tea leaves, this is one of my favorite salads ever.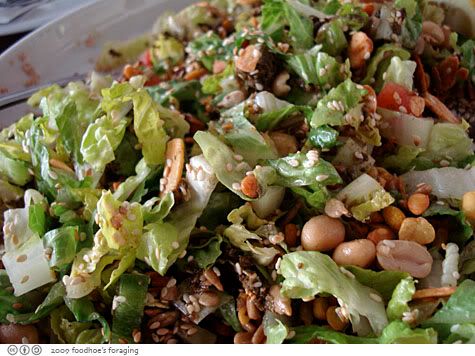 But let me tell you, the Rainbow Salad (10.25) really gives it a run for the money.  This salad is made with 22 different ingredients. Four types of noodles (some sort of bean thread vermicelli, thin rice noodles, thicker wheat noodles, another type of rice noodle and strips of crispy fried wonton wrappers), green papaya, tofu, onions, dried shrimp and a tamarind dressing.  Well that's not all 22 ingredients, but let's not get carried away…  There were thin crispy fried shallots that I found myself seeking out because they added a robust smoky sweet flavor counterpoint to the tangy tart dressing.
The flavors and texture of this salad were distinctly different from the tea leaf salad, the tamarind dressing with fish sauce and housemade onion oil, reminded me of the flavors of Thailand.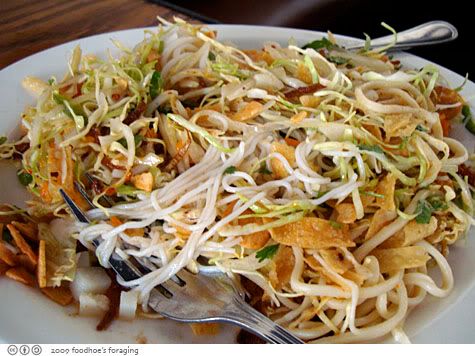 Salt and Pepper Calamari were plump meaty chunks of calamari steak in a thin crispy batter dusted with ground pepper that make your lips tingle slightly, along with aromatic fried bits of garlic, green onion and slices of jalapeno.  Very good with or without the vinegary spicy sauce.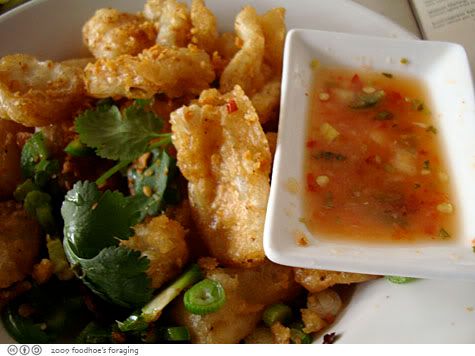 We had great hopes for the Fiery  Tofu (9.50) which was stir fried tofu, string beans, red bell peppers, and basil in house five spice sweet heat sauce.  The tofu was extra firm and had a chewy meaty texture but it wasn't quite spicy enough for Mr. K and Mank.  I liked it just fine.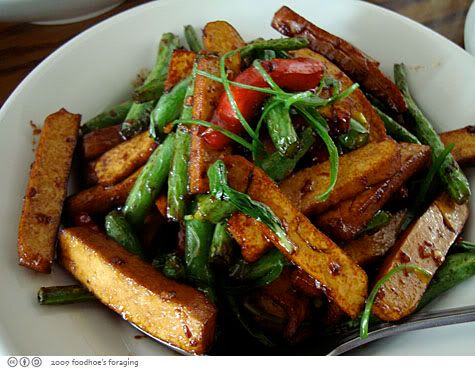 But all they had to do was ask for some hot sauce…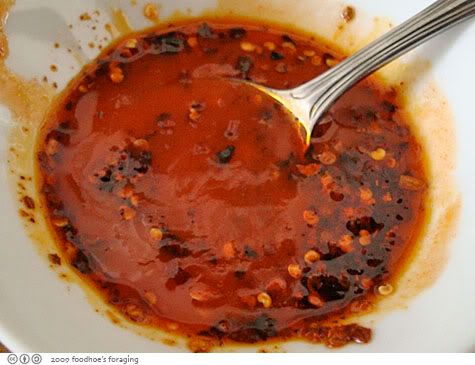 The Burmese Style Shrimp Curry was excellent, the shrimp were cooked just so they had a succulent pop when you bit into them, but the flesh was supple and tender.  This is one of their specialty dishes and the thick oily curry sauce was delicious spooned over the coconut rice.  We liked this so much that we had another order.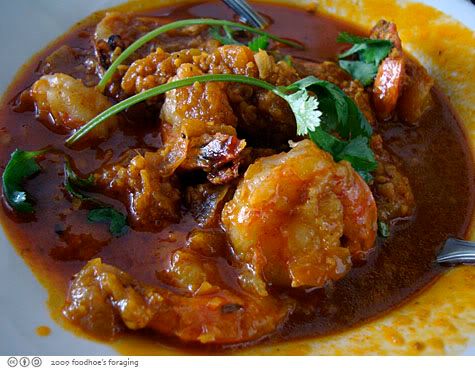 Coconut Rice, aromatic jasmine rice cooked with coconut milk was the hands down favorite.  Definitely order this instead of the plain rice.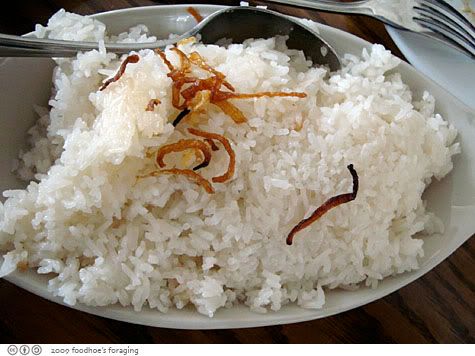 We gobbled the SuperStar Noodles, which had an interesting combination of linguini-like noodles tossed with tofu, julienned slivers of cucumber, potatoes, dried shrimps, cabbage in a sweet, spicy tangy dressing with chili sauce.  This was similar to pad thai but less sweet and sour.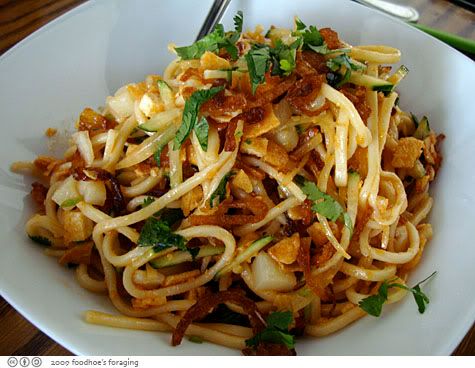 The Classic Burmese Chicken Casserole with Cardamom Cinnamon Rice (15.75).  The menu described this as braised chicken and shrimp baked with biryani rice, raisins, and nuts.  It was very fragrant and kind of like biryani curry casserole.  Good in small doses, wouldn't want to have this whole plate as my lunch…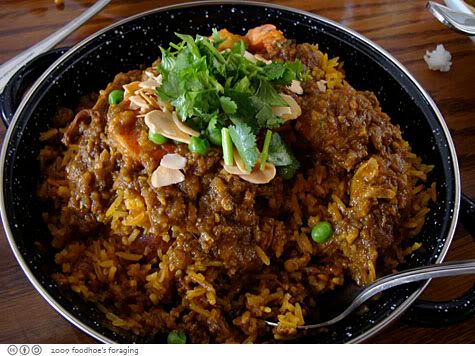 Dried Fried String Beans (7.75) Stir fried string beans, garlic and chili sauce.  This had a deep smoky chili flavor, but surprisingly not very much heat.  The beans were cooked so that the outsides were lightly blistered but still crisp and juicy inside.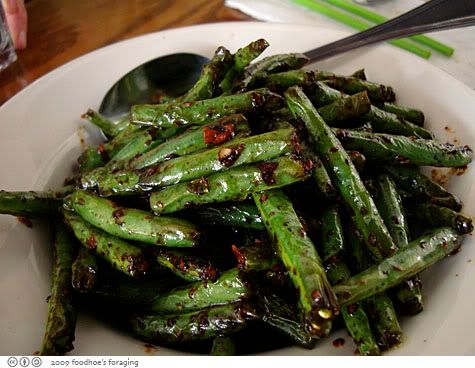 I was slightly disappointed with the Lemongrass Salmon, which was pan fried with basil, lemongrass, and chili peppers because it was a bit on the bland side.  The salmon was gently cooked til it was tender and flaky but so succulent that you could have eaten the dish with a spoon.  It was very good as long as you had some sauce on it, even better with some of the spicy curry sauce from the aforementioned shrimp dish…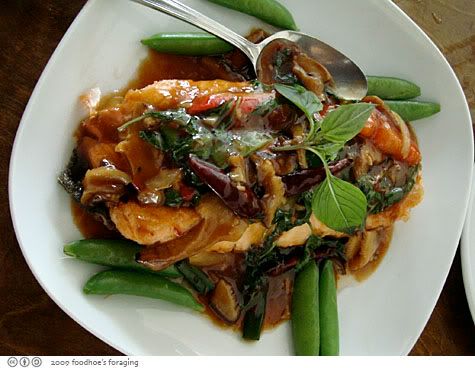 Pea Shoots were crisp and garlicky, very refreshing as a side dish.  These go with everything.
We decided to split a couple of desserts and had the Black Rice Pudding (8.50) which was made with black sticky rice infused with coconut milk and topped with a scoop of coconut ice cream, toasted almonds and fresh strawberries.  I loved the chewy nutty texture of the rice, it absorbed the rich coconut flavor and was topped with sweetened condensed milk and sesame seeds.  It was rich and chewy and combined nicely with the crispy almonds and tart bits of strawberry.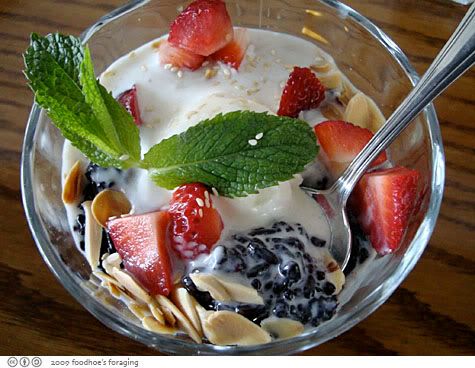 Coconut Pudding Fritters with Coconut Ice Cream and fresh strawberries.  Mmmm, the batter was fried to a delightful crisp and the insides were filled with soft and squishy coconut cream.  Good, but I liked the textures of the pudding better.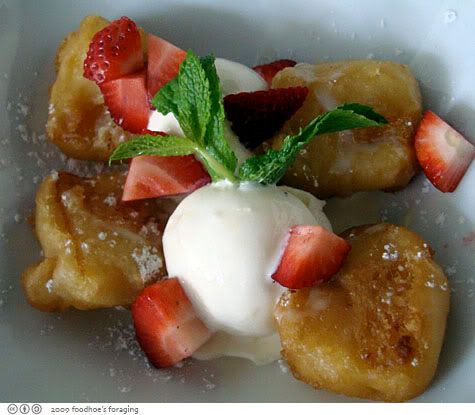 It was an epic feast, and I feel that we made it through more of the menu this time around, although it seems like the prices have made a rather dramatic jump from what I remembered. However, I'm madly devoted to those salads and would come back for either of those two dishes alone.  I'm glad that Burma Superstar is in the hood and can hardly believe that we could walk in and be seated without a wait.