500 Hartnell St, Monterey, CA 93940 | 831.373.1110 | website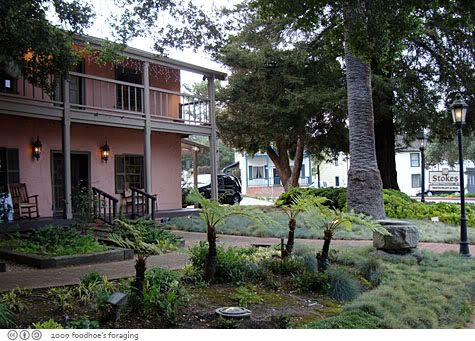 We finished our trip to Monterey with dinner at Stokes Restaurant, which was recommended by one of Mr. K's co-workers.  Built in 1833 it is a landmark in the historic Monterey area, a rustic peach hued adobe building surrounded by wide gardens, with weathered hand carved doors in the entry.  This trip we spent more time in the historic area, which retains a bit of the spirit of the wild west.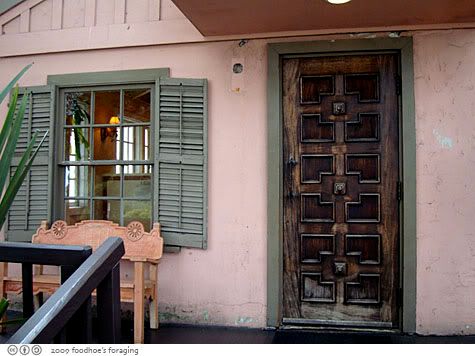 We got there early and were walked through the whimsically elegant rambling structure that is broken up into cozy and separate dining areas.  This is the bar, which has an open balcony where diners on the 2nd floor can watch the action going on at the glowing wood fire oven.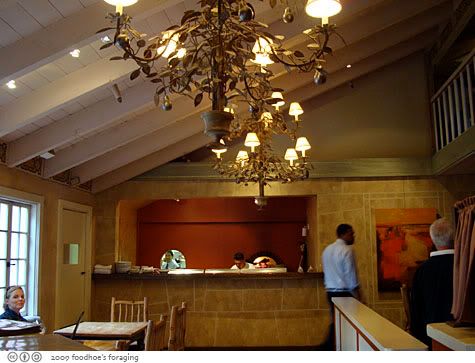 We were seated in a large dining room with mexican pavers on the ground and rustic hand carved chairs and tables with crisp white tablecloths, surrounded by bright paned windows that looked out into the surrounding gardens.  We settled in and my eyes were drawn to the elaborate gold leaf designs running throughout the room.  Wow, it's amazing and gorgeous!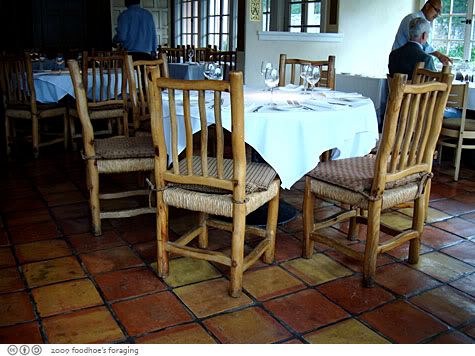 The stenciled design and decorative painting were completed by artist Daniel Peterson add an elegance to the rustic structure. His "distressed renaissance style of ornamental painting" bathes the building in the gold, sun-drenched warmth of an aged European villa (sounds good eh?  I believe I snipped that sentence from their website).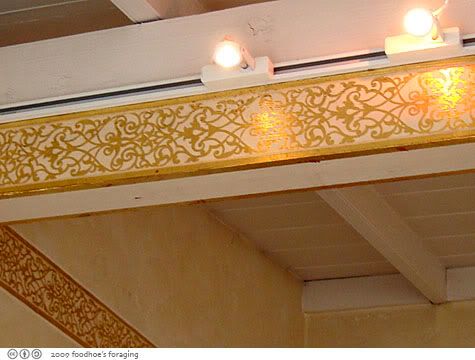 Former sous chef Brian Christensen was trained at the Campton Place in San Francisco under michelin starred Daniel Humm, and has taken over running the kitchen after Brandon Miller left earlier this year.  It will be interesting to go back and see what refinements he brings to the menu, which features locally sourced Northern Mediterranean-California fare.  We enjoyed a basket of warmed focaccia sprinkled with sea salt and herbs.  It came with a little bowl of fruity olive oil and a smaller bowl of salt.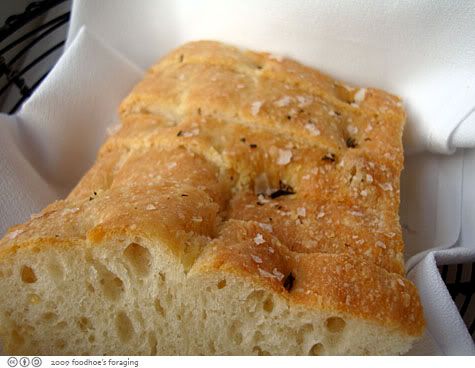 We started with a couple items from the Small Bites section of the menu, which we were told are literally just a few bites, in the spirit of tapas. My eyes were drawn to the Bacon Wrapped Medjool Dates with Morbier (4.75)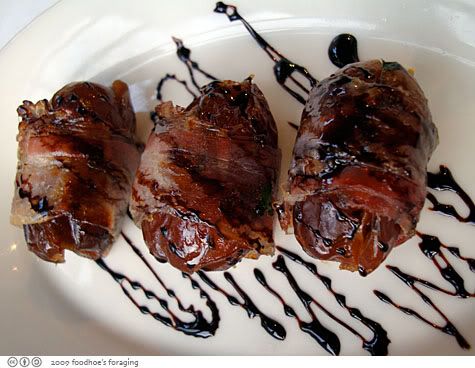 It was a surprisingly delicious combination; salty cheese within the sweet sticky date and wrapped up by a thin crisp chewy strip of bacon and drizzled with a sweet and tart balsamic reduction.  Since Mr. K has been transitioning into the less meat, more vegetables philosophy of Mark Bittman, I took it upon myself to finish two of the three… heehee…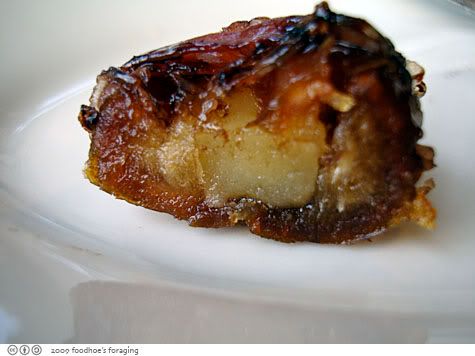 Duck Prosciutto with Tangelo (4.75)  This was a very interesting combination, much more vibrant than the usual melon with prosciutto.  But perhaps the vivacity of the duck calls for a livelier fruit.  I liked the burst of sweetness from the viscous balsamic drizzled over the salty prosciutto against the larger mouthfuls of the bright citrusy tangelo.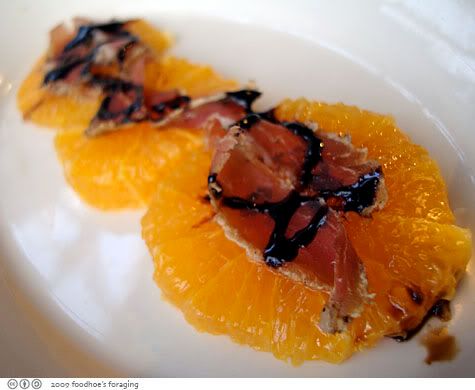 The next were from the Small Plates section of the menu, which are more like appetizers. Mr. K loved the Hearts of Romaine Salad with Brian's Caesar Dressing, Croutons and Spanish Anchovies (7.75)  The dressing was rich and pungent but with a thin consistency that coated the leaves lightly, just the right proportion of dressing to lettuce and our server liberally cranked out the black pepper as requested. The croutons were light textured and completely toasted so that they shattered when we poked them with the fork.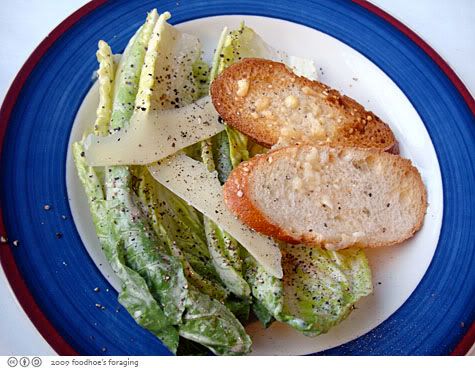 It was cold and clammy out so I ordered Roasted Carmel Valley Organic Cauliflower Bisque with White Truffle Oil (8.25).  The soup  was full bodied with a rich silky texture and at first I left the truffle oil floating on top of the soup because it exuded such a bewitchingly earthy aroma…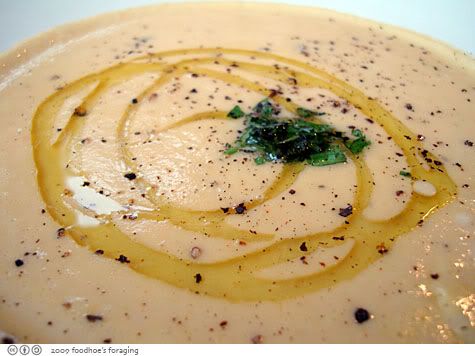 It lent glamour to each bite and I slurped the bowl of fragrant bliss.
Wood Roasted Pizza with Three Mushrooms, Tomales Bay Teleme Cheese and Smoked Chili Flakes (15.50)  I don't know if it was because I was already so infused with the heady aroma of truffles from the soup, but the mushrooms on the pizza seemed to waft the same earthy smell.  This was a very fine pizza, the crust was thin but had some bready heft to it.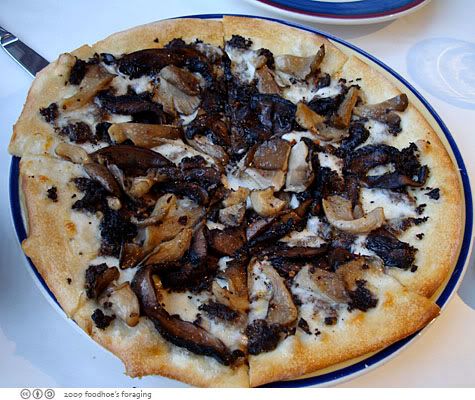 Mmmmm.  The mushrooms were chewy and meaty and sprinkled with red chili peppers.   I like the sauceless pizza very much!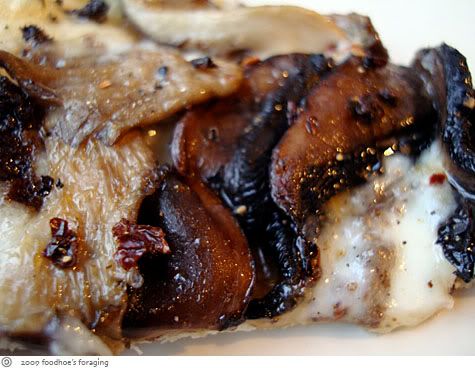 We finished the meal with Chocolate Gelato from Double Rainbow with Cookies.  Hmmm, it tasted like ice cream to me and the cookies were like a combination of an oatmeal cookie and biscotti.  I should have had a hot beverage because I felt chilled and couldn't finish the ice cream.  And then those poor cookies were all covered with melted ice cream, so I couldn't really tuck them into my purse for later… a shame, really.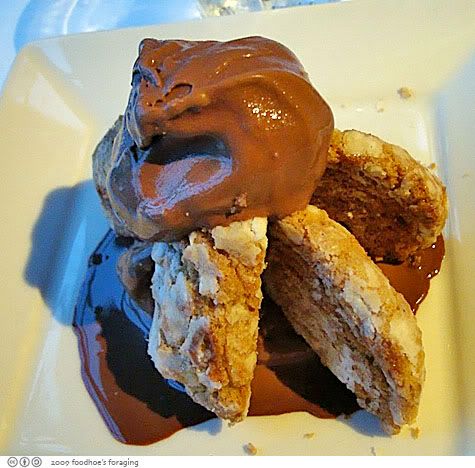 The best thing was that the tab for all this bounty including several cocktails, was a very modest $70.  I'm glad we found another good spot to add to the rotation, although there are still a lot of unexplored restaurants in Monterey. Behind the restaurant this rustic gate leads to the parking area, it's all so picturesque…