20 Yerba Buena Lane, San Francisco CA 94103 | 415.744.5000 | website
Last week the online community Foodbuzz held a local bash to celebrate reaching its millionth post.  This is one of the many perks I have benefited from by signing up with this SF based food enthusiast network, although I must admit that I just haven't spent that much time connecting…  But when I received the invite to the Press Club with appetizers prepared by the much celebrated chef and restauranteur Michael Mina, I had to at least check it out.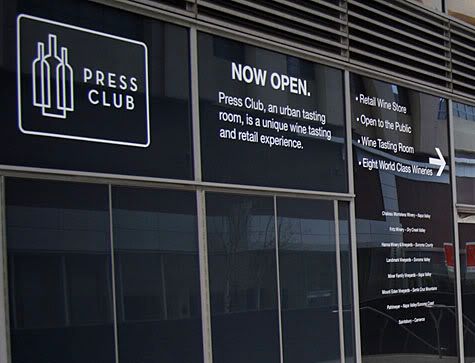 The Press Club is not a place where journalist gather, it is a tony wine bar that is tucked away in a wide breezeway between hi-rise buildings and is set well away from the bustle of Market Street. The signage on the building would not entice me to wander in, especially because the retail element in front doesn't really give you a good idea of what to expect inside.  There were foodbuzz signs indicating where to enter and I was greeted by some enthusiastic staffers who signed me in, handed me a foodbuzz passport for some wine tastings, and a nametag label to place on my person. Once ready, I was bustled down a some stairs leading into a large underground area.  At first glance, it looked like a bar, but the space continues back and opens into a separate tasting bays where you can sample an exclusive array of wines direct from eight of Northern California's most acclaimed wineries.   It's sleek and modern with groovy lighting.  Once I got downstairs, I wandered through at least 3 other tasting areas with comfy lounge areas that encourage you to be social and sip.
The passport entitled me to two tastes from each winery, so I took a quick walk around and was compelled towards the back area where I had a sample of the Miner Sauvignon Blanc and wandered to a nice cushy seat where several  large platters of cheese were set out.   This was where the real action was, servers were coming in and out of a door to the side, like ants carrying trays through a doorway at the back of the space.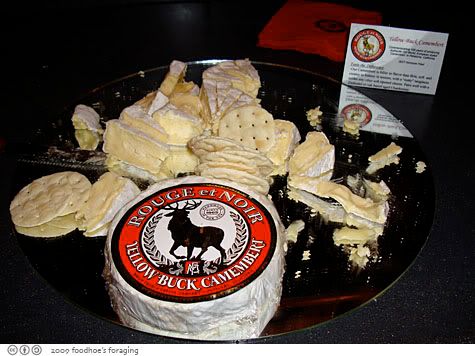 I noticed people had begun lining up so I got in place and waited.  Notice the ratio of food to people…  The traffic in this room did not move very quickly as we all loitered around waiting for the empty platters to be refreshed.
The name tags showed our first and last names in large bold letters followed by our blogname in much smaller print.  I really had to squint and sidle up close to try to actually read the blognames on the tag, but maybe that was the intent…  Plate in hand, I wandered back out and decided to hunt down the Pahlmeyer tasting area where suddenly I saw a friendly face, fellow blogger Passionate Eater, who had just arrived.  Big sigh of relief, I'm really a wallflower at heart so I was very happy to have a comrade to pass the time with.  We enjoyed a glass of viognier from Miner Vineyards and I finished up my plate.  We ended up back by the cheese plates, where we ran into Grumpy Glutton, then talked to a representative from the Rouge et Noir cheese for a while before we noticed that there was no line for food!  This time we loaded up our plates with petite bites of tuna nicoise with tomato and a tiny quail egg half, pork rillette, steak tartare, duck confit cassoulet and another one of those panna cottas.
Same food, same excellent exquisite tiny little bites.   We walked back to the Pahlmeyer tasting area where I got a glass of Jayson chardonnay and Passionate Eater had a glass of the Proprietary Red.  Very good wine, both of them.  Here's a shot of the full platter which I made everyone wait for while I snapped a photo… the oysters were plump and briny. super fresh tasting and awash with the strong flavor of garlic.  The menu described this as an Island Creek Oyster with pickled ramp granita and Indonesian peppercorns.   Sweet and delicious, this would have been just as good plain!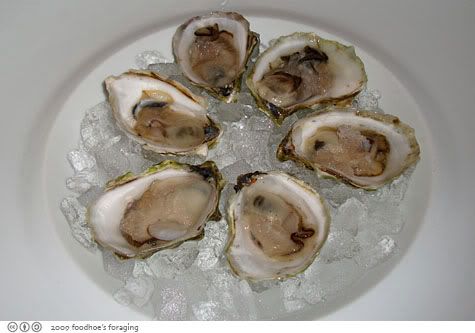 And what foodhoe post would not be complete without at least one closeup shot.  Here's that most delicious White Shrimp on Horseradish Pannacotta.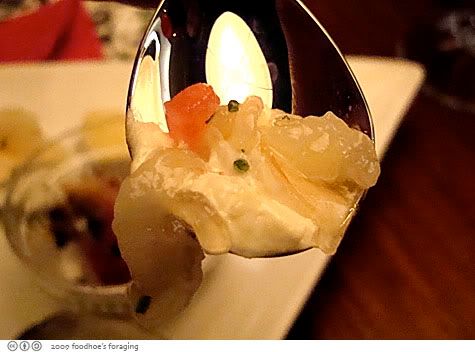 So, yeah the food was fabulous but really tiny…  what can only be described as tastes and a tease.  We all left to go home for dinner.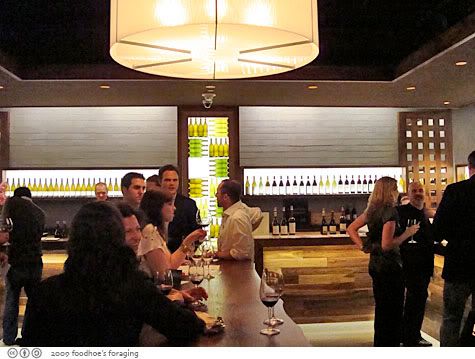 The wine that I sampled was excellent and I'd really like to go back to check out the regular menu. I'm not so sure that I would have ever found this on my own, so thanks Foodbuzz for putting this on!