1555 Bonanza St, Walnut Creek, CA 94596 | 925.944.3474 | website
I've driven by this before and remembered thinking what a silly idea to have a pretend yacht club in the middle of Walnut Creek.  This is seriously non-coastal and interior territory that is surrounded by land.  However, I kept hearing that this was one of the better restaurants in the Creek, especially because Executive chef Kevin Weinberg's brother in law owns Osprey seafood in San Francisco, which means that you can expect the seafood to be sparkling fresh and of superior quality.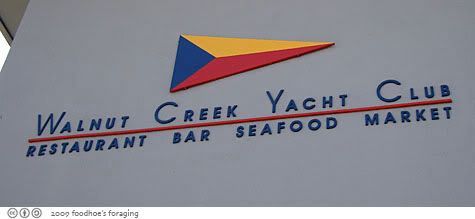 The owners have gone full tilt with re-creating the atmosphere of a day on the Bay in landlocked Walnut Creek, especially since it can get so dang hot out there during the summer with the surrounding hills all oppressively brown and crisp.   It is a refreshing change to go to the yacht club, which is festooned with brightly colored semaphore flags and decorated with a great nautical flair.  A gigantic fake shark presides over the bar and the cozy booths are separated with pressed glass in the shape of cool swirling waves, but I think that most people come here for delicious fresh seafood.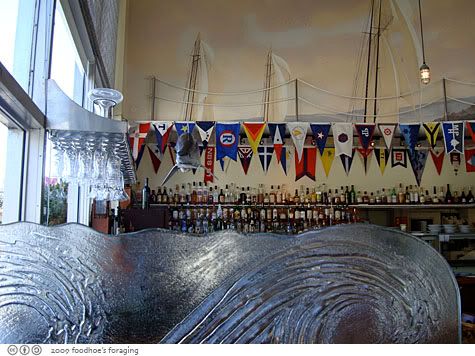 We elected to sit in the outside patio which continues the maritime theme with murals of oceans and lighthouses and blue sailcloth lined cabinets.
We started with the Pacific Snapper Ceviche (9), which showcases the quality of the fresh fish, which is marinated with citrus juice, and served with thin slices of cucumber, Serrano chile, a rather bland salsa fresca and crispy tortilla strips.  The bite size pieces of fish were very tender but firm with an exciting effervescence which may be a result from the citrus curing the snapper.  Our server hooked us up with a special house made Habanero hot sauce that Mr. K liked very much.
I had the grilled fish and chose the only local option, Halibut from Half Moon Bay (24.).  You decide how you want it cooked, grilled, blackened or sauteed with various buttery sauces.  I selected two sauces: ginger soy and sesame and wasabi cream, from a list that included citrus scallion butter, lemon aioli, fruit salsa.  Since I have recently been indulging on a giddy bonanza of bad food that you will never read about here, I decided to go with some local asparagus, no fries, no mashed potatoes or gratin – sigh…  That halibut was amazing - the flesh was tender and moist and cooked just right.  I cleaned my plate, wishing I had ordered a salad too.  Normally, I tend to over-order and have been trying to behave… what was I thinking?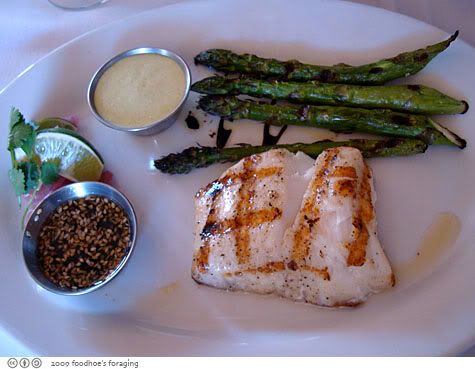 Mr. K had Fish Tacos (9.50), grilled mahi mahi, shaved red cabbage, cilantro and cumin cream, avocado salsa.  This was from the appetizer section, a strange thing no?  These are kind of big to be considered appetizers and kind of small to be an entree by themselves.  Which meant that Mr. K displayed an unusual interest in sharing my very delicious halibut…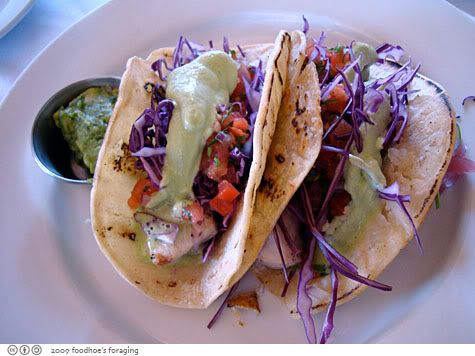 Both of my parents ordered from the Downwind section of the menu and split the two dishes, which were both big plates of food.  They agreed that they liked the  Louisiana Catfish Po'Boy (12.50) best.  The soft rolls were stuffed with large fillets that had been covered with cracker crumbs then slathered with creole remoulade, topped with shredded iceberg lettuce, and served with both coleslaw, potato salad and a dill pickle on the side.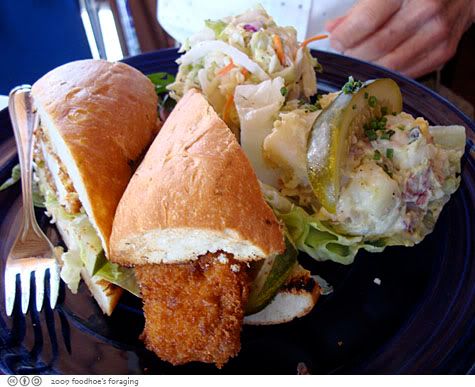 Spaghetti and Clams (18.50) garlic white wine, oregano, pancetta, cream, crispy bread crumbs and parsley.  The presentation looked like something I would do, plopped on the plate.  The bread crumbs looked messy too, strewn about willy nilly in a messy manner, but they had a nice crunchy texture.  The manila clams were tender morsels that we plucked from the shells which were coated with the garlic parsley infused buttery sauce.  My mom cracked me up because she obstinately believes that all noodles must be eaten with chopsticks (she keeps a pair at the ready in her purse) and was really having a difficult time with the long strings of al dente noodles.  Ah well, old habits…
We ordered the two chocolate desserts from the menu, because my Mom is a chocolate fiend.  The Dark Chocolate Ice Cream (6.50) was a very generous three scoop serving.  It had a thick creamy consistency and vibrant chocolaty flavor.  It's from a local producer, The Latest Scoop, in Berkeley which specializes in gelatos with very little air content, resulting in a much richer, creamier taste than ice cream.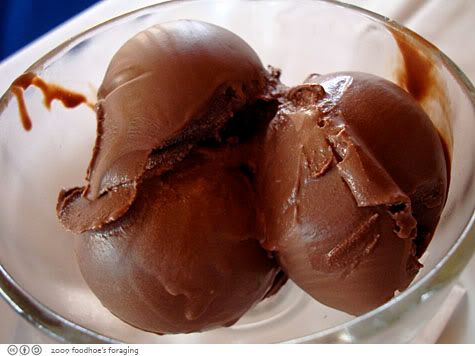 This is the Chocolate Dessert (7) a pot de crème made from guittard bittersweet chocolate, topped with chantilly crème, spiced cocoa dust and chocolate dipped espresso shortbread cookies.  It kind of looked like a coffee…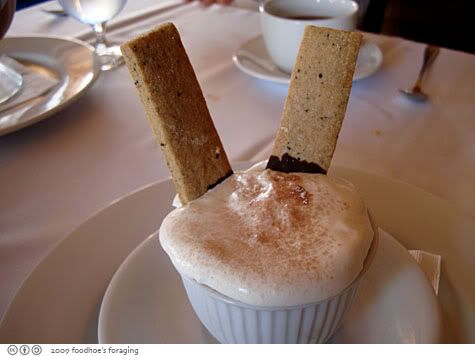 Underneath the soft peak topping was the chocolate pudding.  The bite I had was very dense, thick and slightly grainy, like a sticky pudding cake.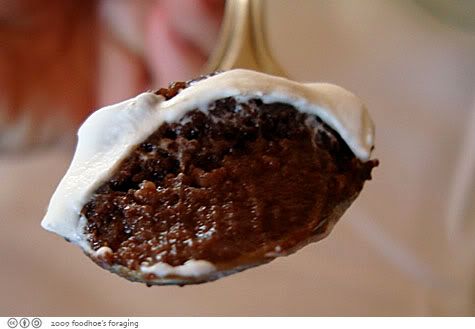 We were pleasantly surprised to find such fresh and delicious seafood out beyond the waters of the bay, although truth be told the quality is definitely reflected in the price.  Lunch was about $40 per person and we had nothing from the bar beyond iced tea and diet coke.  But if you are out in Contra Costa county with a craving for some incredibly fresh seafood, this is a good spot.