3640 Sacramento St. (near Spruce) SF | 415.931.5100 | website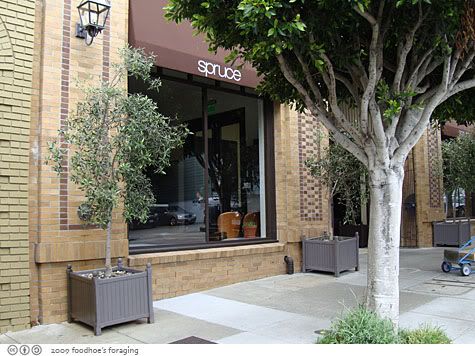 Another Dine About Town whizzed by and I was only able to squeeze in one meal during the short two week window.  This restaurant has been on my list mainly because it was designed by Stephen Brady for Williams-Sonoma Home and I was curious to see what it looked like.  Spruce is in swanky neighborhood in a 1930's era brick building that was previously an auto shop.  It has a spacious courtyard entrance that is big enough to drive through with high ceilings and elegant limestone floors.  The entrance is flanked by spacious front rooms, one with an oversized fireplace that looks like a cozy and intimate private dining room.  Lovely isn't it?  The other room has a takeout counter selling delicious looking pastries and coffee.  We were seated near the front where we were assailed by gorgeous smells of fresh brewing coffee.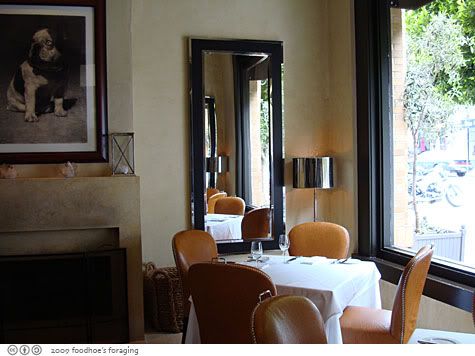 It is handsome and masculine inside, and I was excited to recognize a WS Home lamp on the bar that I had picked up at a sample sale some time ago.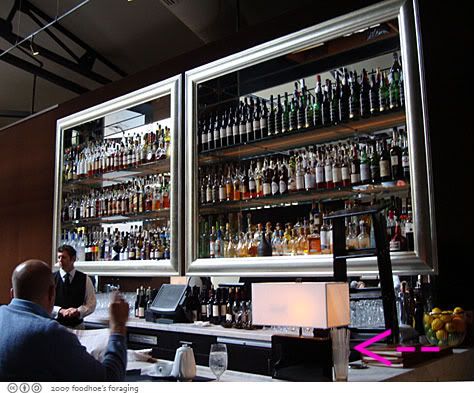 We enjoyed ourselves at a wide comfortable table where I got to sit in the cushy velvet wing back sofa and my friend TK sat in the faux ostrich chair.  Bless her, she tolerates my weird compulsion about getting the seat with the best light…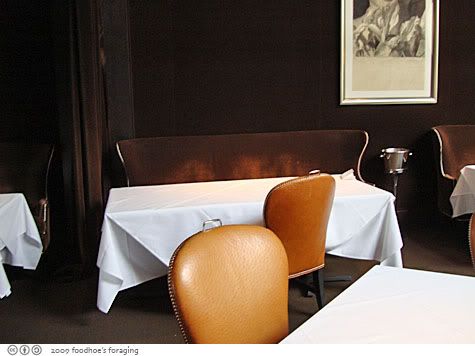 There's an interesting peekaboo window that separates the dining room from the bar.  It accentuates the lofty heights while letting in bright natural light from the skylight above.  I took almost as many pictures of the restaurant as I did of the food, can you tell I liked it?  Secretly, I think that elegant surroundings with dramatic lighting like this make everyone look better.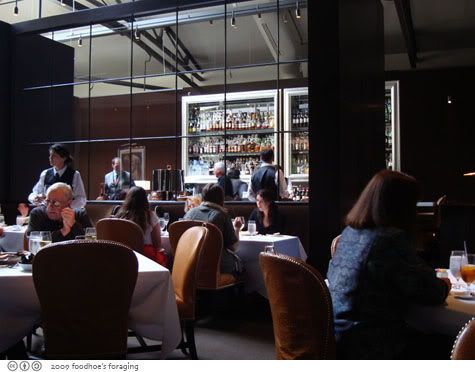 The restaurant is run by Bacchus Management Group which also owns the Village Pub in Woodside, the Mayfield Bakery and Cafe in Palo Alto and the Antica Pizza chain.  Much of the produce comes from the Bacchus farm in the Santa Cruz Mountains; most other products come from local, sustainable farms and the farm's delivery truck is supposedly fueled by the restaurant's recycled cooking oil.
I had the Dine About Town menu ($21.95), which began with Tokyo Turnip Soup, trumpet mushrooms and truffled carrots.  It was thick and creamy and I loved the radishy kick which was well balanced with the sourdough crouton topped with tart, crunchy carrot relish.  I didn't catch any truffles in this dish, but there was a lot going on flavor wise.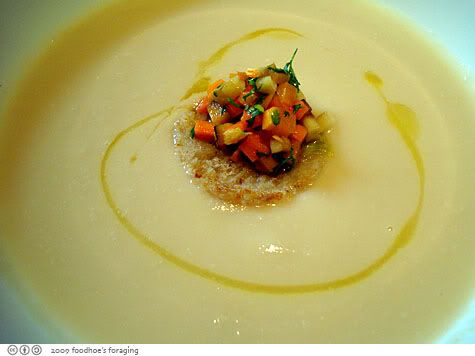 Grilled Ocean Trout, saffron risotto, favas, morel butter.  The trout was a bright rosy pink color with a rich fatty texture similar to salmon and topped with a mound of grainy mustard, that added a pungent acidity, just what it needed.  Again, I wonder why in the world do chefs think that foam is appetizing?  Is it supposed to mimic seafoam?  I would so much rather have a nice creamy sauce…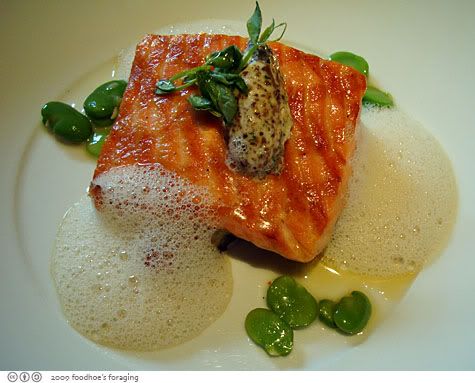 Underneath the trout was a very delicious cake of a griddled risotto with a crisp chewy crust.  It was similar to hash browns but better.  I cleaned my plate, leaving just the foamy residue…
My dessert was a Lemon Pain de Genes, cherries, vanilla ice cream.   A simple slice of cake made with almond paste topped with a raft consisting of sticky meringue-like cheesecake-y tubes and topped with delicious glazed cherries.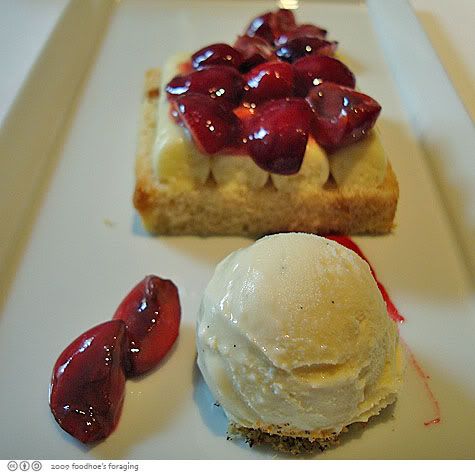 Now my friend TK did not have the set menu and instead ordered a salad of fresh spring vegetables garnished with curls of a mild buttery cheese.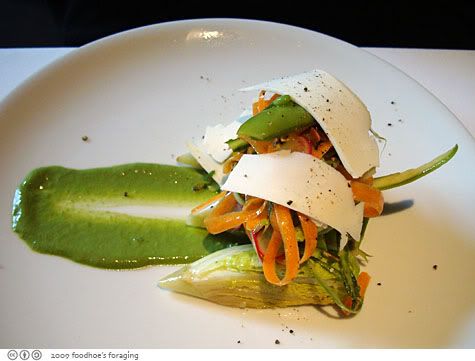 She also enjoyed the Spruce Burger with fries ($14), although she said it was one of the messiest burgers she ever encountered.  Those fries were delicious, rustic and crisp on the outside and soft and creamy inside.  The burger was served with housemade pickles and standard garnishes.
For dessert, she ordered the Beignets that were served with creme anglais and a bittersweet chocolate sauce ($9).  They looked exactly like donut holes and were dusted with a spiced sugary coating.  I thought that I took a picture, but find no such image on my memory card…  Instead I can only show you the two sauces… but I'm sure that you already know what donut holes look like!
If only this were in my neighhborhood… I would definitely be back, although I'd be happiest hanging out in the bar ordering smaller plates and exploring the famous house made charcuterie and dessert menu.  According to their website, they offer fifty different wines by the glass as well as many fortified wines and over 160 German rieslings.