Van Ness Avenue, San Francisco, CA | 415. | website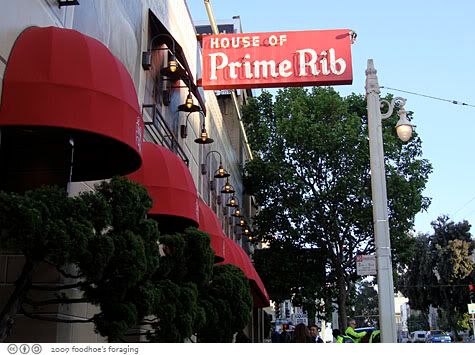 We came here to celebrate my good friend JT's (the bonvivant) birthday recently.  I was excited when I heard we were going to the House of Prime Rib, which I have wanted to try for a long time.  It's an old fashioned restaurant with very few choices to be made:  beef or fish; how much meat do you want; loaded baked potato or mashed potatoes and gravy.  There are few variations on this most basic menu, but their speciality is prime rib after all.  They've been serving it up since 1949, that's 60 years…   The restaurant has a hodge podge of styles that mostly comes off as frumpy and old fashioned, but I like that the building is broken up into five separate dining areas, some with fire places.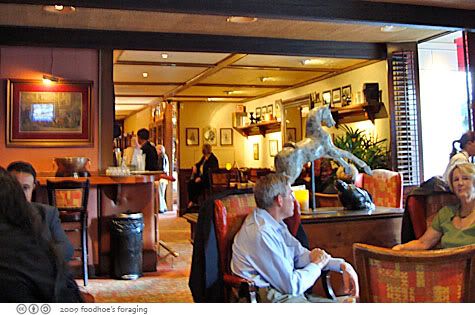 The room we were in was dark and felt like we were in a hut framed with rustic wood and chunky stucco walls.  It was dominated by a bulbous shiny metal cart near the entrance.  I was on the far end of our long table against the wall and wasn't able to see any of the legendary tableside service, but I did manage to capture a little bit of action in the picture below.  Way behind the cart on the right side, you can see a vested waiter pouring the salad dressing into the bowl with theatrical flair.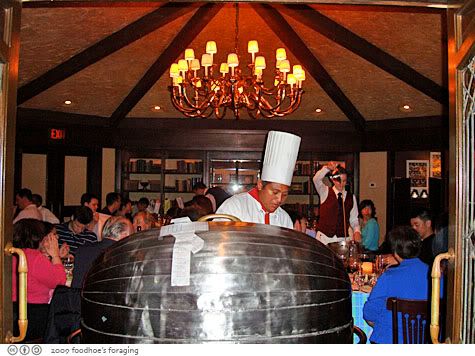 The Salad Bowl.  Apparently they spin the bowl and do some other tableside abracadabra, but then, it's basically an iceberg lettuce salad with sliced beets and some cheese tossed with the house vinaigrette.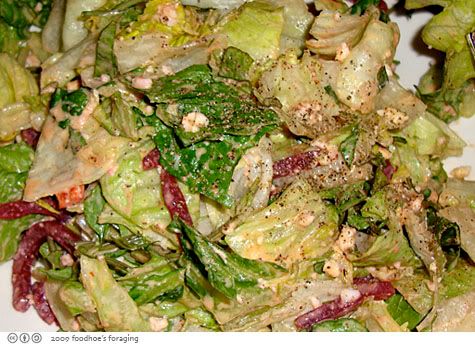 The prime rib is cooked using an old English method of blanketing the rib in coarse rock salt. This insures that the roast comes from the oven with all of its fragrant natural essences sealed in.  Apparently, the roasts are carved to each individual order from the carts and served tableside, but  the meat cart in our room stayed by the doorway during the course of our meal.  I walked over to check it out and there was quite a variety of prime rib.  Some had bones, one looked very rare and it looked like the chef was cooking some pieces for those who like theirs well done.  The menu offers four types of carving ranging from:  Henry VIII – an extra-generous, thick cut  for king-size appetites (about $40), the House of Prime Rib, the English Cut – thinner slices, but more of them, and the City Cut – the smallest for around $35.   Now, the thing about this place is you can ask for seconds, it really is all you can eat.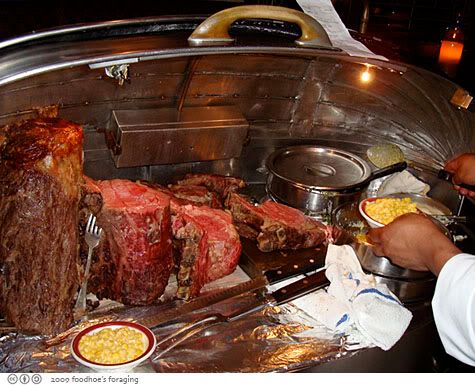 I ordered The City Cut $34.45, described as a smaller cut for the lighter appetite, medium rare.  Here is my plate with a serving of Creamed Spinach, swimming in beefy au jus.  The meat was tender and cooked just how I liked it with a nice rosy pink glow.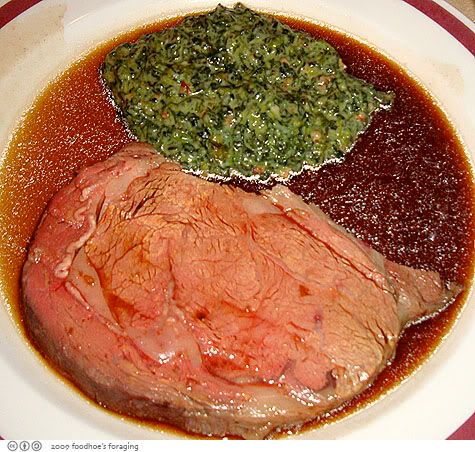 I was greatly anticipating the Yorkshire Pudding, which is buttery, flaky and crusty and soaks up the au jus to be transformed into a rich and savory pudding.  It reminds me a bit of soggy stuffing and I love it.  The  House of Prime Rib does a fine job of getting these heavenly puffs to the table in the perfect state to be dunked into the au jus…
Here is the baked potato spread, it's a good one. Notice the two bowls next to the potato fixings of green onion, sour cream and bacon.  Those two bowls are the horseradish sauces, the left one is mostly horseradish and will singe your nostril hairs.  The right one is mellower and blended with more sour cream.  I got a bit of both, which mixed up perfectly.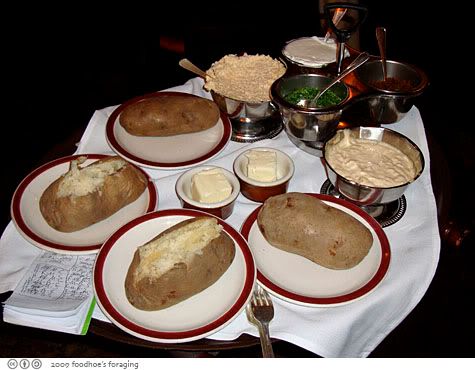 I sat next to Amelia, who doesn't eat red meat.  I believe that she had grilled sea bass, which came drenched in a creamy sauce over mashed potatoes.  She said it wasn't exactly what she had envisioned. Well, the menu does state that they only do one thing very well.  It actually looked pretty good, but I was focused on my own plate of food for once.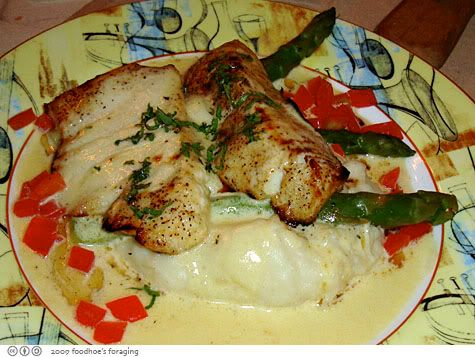 No one really was interested in dessert, but our serving crew came by with a parfait glass piled high with mango sorbet and topped with a twinkling candle to serenade JT for her b-day.  We all joined in for a rousing and slightly off key chorus, happy birthday JT!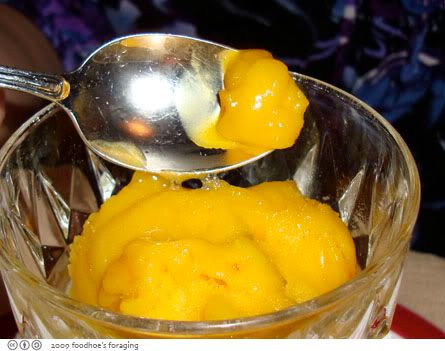 The atmosphere of the place is hectic and clamorous, I noticed that the restaurant was packed when I wandered off to find the restroom, which was down a hall and at the end of yet another dining room. I had a near miss head butt face smash with a waitress who came whirling around a blind corner and then almost backed up into yet another meat cart.  The $35-40 for all you can eat prime rib is clearly a crowd pleasing San Francisco favorite and meat lovers mecca.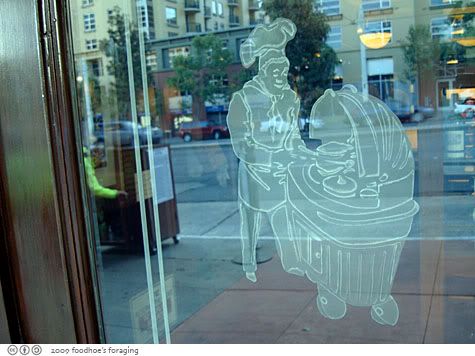 The service, while friendly, was rushed and a bit rough.  While I wouldn't consider this a fine dining experience, the entire package was very satisfying.  And best of all, I can check off another one off the list of 100 things to eat before you die….