2790 Harrison St (btw 23rd & 24th St) SF, CA 94110 | 415.550.6971 | website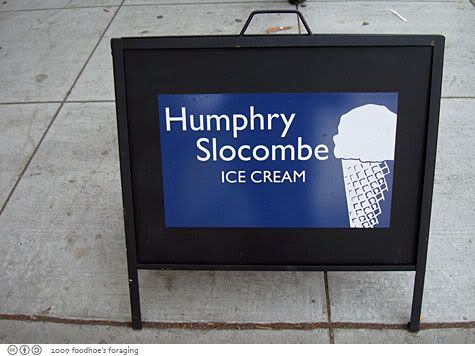 There has been quite a lot of hooha about Humphry Slocombe Ice cream, which is run by mad genius punk rock pastry chef, Jake Godby, formerly of Coi (he also worked in the kitchens of Boulevard, Fifth Floor and the now closed Tartare).  Apparently he is so mad about ice cream that he has 31 ice cream cones tattooed on his arm.  Gourmet Magazine has proclaimed that he has reinvented ice cream with such palate challenging flavors like salted licorice (gotta love that dubbelzout), government cheese, pistachio bacon, foie gras and prosciutto.  The descriptions alone had me drooling.  I'm following them on twitter (@humphryslocombe) so that I know the very moment that they announce the next batch of foie gras ice cream sandwiches. BTW, there is no Humphrey Slocombe, the name is an homage to Mr. Humphry (I'm free!) and Mrs. Slocombe, characters in the bawdy, over-the-top British sitcom Are You Being Served? The NYT 2009 Summer Travel article says that chef Godby artfully marries ingredients that have no business hooking up in ice cream. But people love it. We came here after a fine repast at La Palma Mexicatessen.  The front of the shop looks bright and welcoming with tiny tables outside.
But as you look around, you can see a twisted sense of humor…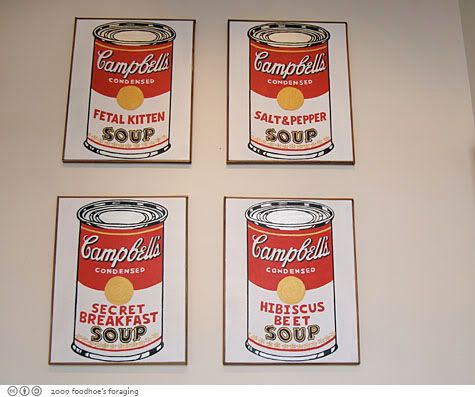 The case has footnotes with attitude.  The two ice cream dudes were very patient and let us sample as many flavors that we wanted.  I was excited to see Peanut Butter Curry, a flavor combination that I had enjoyed when I ordered crazy peanut butters from PB Loco.  I knew right away that I would have to come back to order that in a sundae with chocolate sauce on it but on another occasion.  They generally have 10-12 flavors available at a given time from their list of 50-odd flavors and I wish they would put a daily menu up on their website hint hint…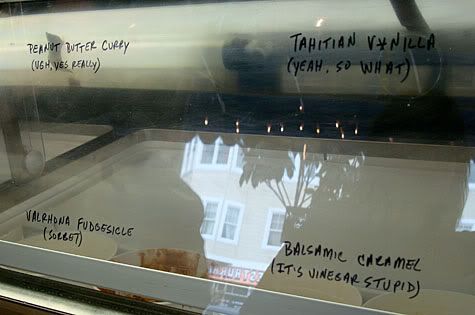 And look, they have eco-friendly metal spoons for sample tasting and all of the cups and eating utensils were of the compostable type.
I made a beeline for the counter because part of the reason I came was to check out the not-ice cream treats.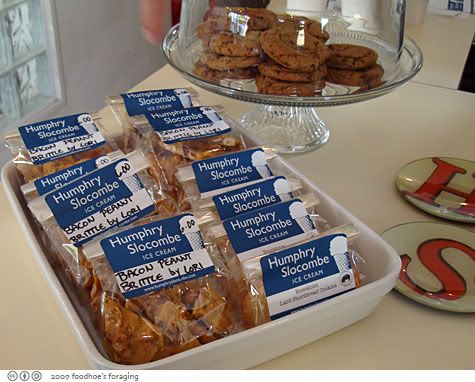 The Boccalone Lard Shortbread Cookies were delightfully crumbly and left a light film of grease on my fingers. I could detect a faint whiff of rosemary and flecks of the herb within the lumpy interior.  I took a deep breath, inhaling the rich aroma.  An acquaintance said that the aroma drove her cat crazy and that it tried to steal the cookie from her!  DebbieG thought it was disgusting…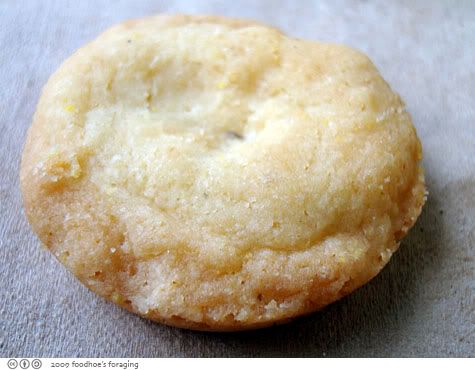 Lori's Bacon Peanut Brittle.  Ahhhh, golden crisp sugary brittle surrounding crunchy peanuts and salty pieces of chewy bacon.  Exactly how I wished that my failed attempt had turned out.  But with no candy thermometer in the house, it resulted in bacon peanut caramels.  $6 for a nice sized baggie, get two or you'll regret it…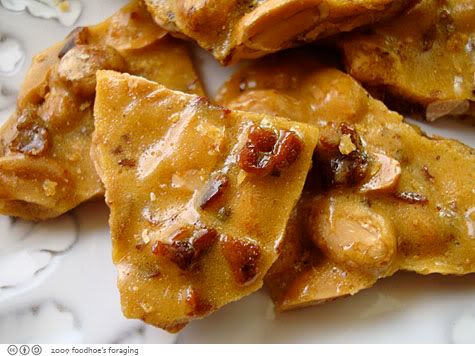 I first tried their ice cream at Mission Street Food, where I sampled on several occasions, delectable scoops with the intriguing flavors of Blue Bottle Vietnamese coffee, Oolong Tea and McEvoy Olive Oil. The Double is $4.50 and can include 3 flavors.  The ice cream dude recommended this combination:  Secret Breakfast (bourbon, cornflakes), Vietnamese Coffee, from local favorite Blue Bottle, and Balsamic Caramel.  I had tried a Caramel Balsamic Gelato at Ochame last June and this seemed pretty similar in taste, a tart vinegary flavor with rich salty caramel.  It was just sweet enough.  The coffee is very aromatic, I could easily have a scoop of this in the morning along with my cuppa joe.
Liz had Sour Cherry Yogurt, Tahitian Vanilla and McEvoy Olive Oil Ice Cream.  The olive oil ice cream provoked a lot of commentary mostly because we thought it tasted lemony but it was hard to say that it was specifically olive oil flavored.  Now I'm going to have to go to the Ferry Building to sample McEvoy olive oils…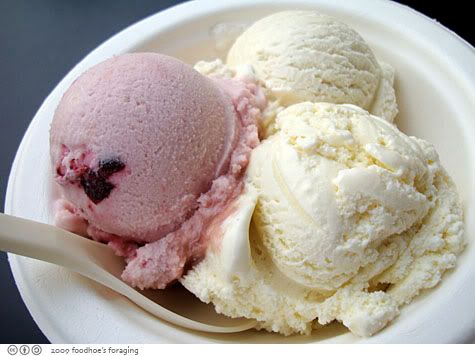 This is a single scoop, which really means two scoops of 1-2 flavors ($3.25).  DebbieG had the Balsamic Caramel and Secret Breakfast.  Our friend Shirley had Chocolate Tamarind and Coconut Ice Milk Sorbet, but I can't find the picture…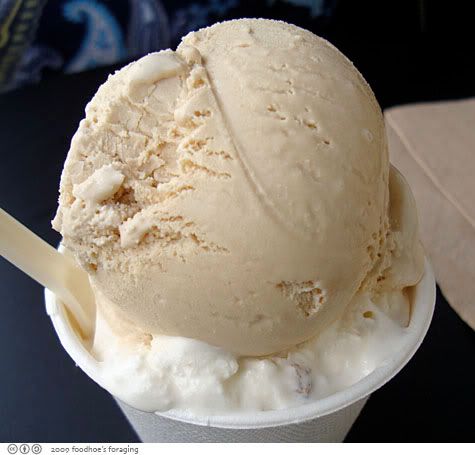 When we first walked up, I thought that was a struesel in the window, but upon closer inspection it was a block o'bacon, along with some chocolate, what must be their famous frosted peanuts and some cans of curry powder.  Quite a tableau, I wondered if this was always the case.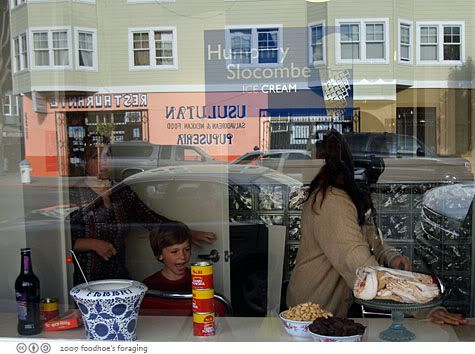 Later on, we saw it was a photo shoot, so no that bacon display was special for us.
I love the localness and the quirky menu of tastebud tantalizing taste sensations.  It's in an area chock full of delicious little neighborhood restaurants that I must come back to explore and I can't wait to try some more exotic ice cream.