1517 Shattuck Ave, Berkeley, CA 94709 | 510.548.5049 | website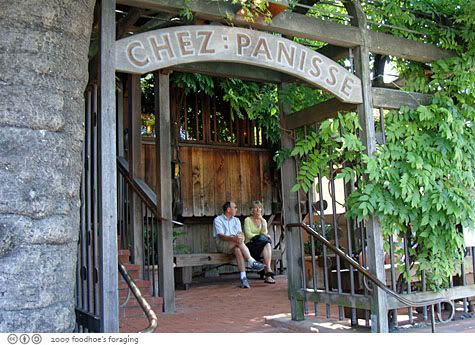 Our visiting dignitaries from Minnesota, Miss M and Nephew E, wished to make the pilgrimmage to the revered temple of foodliness, Chez Panisse.  It's amazing how many famous chefs have worked there, Joyce Goldstein, Judy Rodgers, Suzanne Goin, Mark Peel, Paul Bertolli, Jeremiah Tower and David Lebowitz to name a few.  There's too many to list here, but I found an interesting online map showing the Chez Panisse family tree.  You can see how influential it has been in shaping the delicious culinary landscape of the Bay Area and beyond.  We lunched in the upstairs Cafe which is more casual and you can order off the menu ala carte.  The upstairs has its own kitchen, which is the first thing you see as you enter the room.
We scored a table in a private little nook located at the front of the restaurant that had windows all around.  It was as if we were in a treehouse with lush greenery surrounding us.
Chez Panisse was an early advocate of using local/sustainable sources and filters their own water, serving it sparkling or still in beautiful, etched carafes.
Although the menu is only one page long, it took us a while to look it over and decide.  They dropped off a nice chunk of crusty rustic bread and butter than wasn't quite soft enough to spread.
then we shared a plate of olives ($3.5)
Here is the Cannard Farm rocket with sheep's milk ricotta, roasted figs, and mint ($10).  Rocket (eruca sativa) is also known as arugula and is potently aromatic with warm, penetrating, peppery flavors. I've never had roasted figs before and they were so delicious, especially in this combination of sweet, savory and tart.
The noble fig, made even better by roasting.  I heard an interview once where a fellow confided that he blushed the first time he ever bit into one.  Roasting seems to bring out both the sweetness and juiciness.
I couldn't help myself and just had to order the quintessential Chez Panisse dish, Baked Andante Dairy Goat Cheese with Garden Lettuces ($10) which to me is one of the classic dishes of California Cuisine.
The warmed goat cheese is fresh and light and covered with toasty bread crumbs and herbs.  The two pieces of cheese are placed to the side of impeccably fresh dressed greens, which taste as if they were just plucked from the garden.  I took my time, savoring every bite.
Miss M had the Roasted tomato and new garlic soup with grilled bread ($8) for her first course.  It was nicely robust and rustic with a lot of fresh vegetables and drizzled with olive oil.
She zeroed in on the Orecchiette pasta with Cattail Creek Ranch lamb ragu, peas, and pecorino ($19) when perusing the menu.  Orecchiette, she explained to us, means little ears, which describes the shape of the pasta.  The pasta had a springy supple texture and was tossed in a light savory sauce with pieces of tender lamb that was infused with the subtle flavor of tarragon.  She enjoyed the fresh peas tucked here and there and cleaned her plate with great enthusiasm.
Casey had Grilled Soul Food Farm chicken al mattone with fried spring onions, broccoli and black olives  ($18).  Al mattone means to be cooked under a brick and is a traditional Tuscan cooking method that results in incredibly crispy skin and intensely flavorful meat. Weighting the chicken ensures that each part of the chicken is approximately the same thickness, so it cooks quickly and evenly. The weight also causes the fat under the skin to render and melt out, leaving the skin deliciously crisp. I found that description in the recipe on Sur La Table's website.  The onions were battered and fried and similar to onion rings but shaped differently.
Our server came over with a small bowl of an olive relish that she said had been omitted from the dish, so Casey scooped it over the remaining chicken.  The skin on the chicken was cooked to a transluscent crisp that made Nephew E's eyes go round and glazed when she fed him a morsel.
I had the Local fish and shellfish cakes that were served with the most delicious corn, spinach, and cherry tomato relish ($23).
The plump cakes were filled with crunchy vegetables and bits of seafood, battered and panfried to a deliciously crisp crust that crunched in a very satisfying manner when you bit into it..  They were very rich and went well with the bright acidity of the fresh veggie relish.
Nephew E had a custom ordered Pizzetta with tomato sauce ($14) that he proclaimed to be very good and gobbled it up.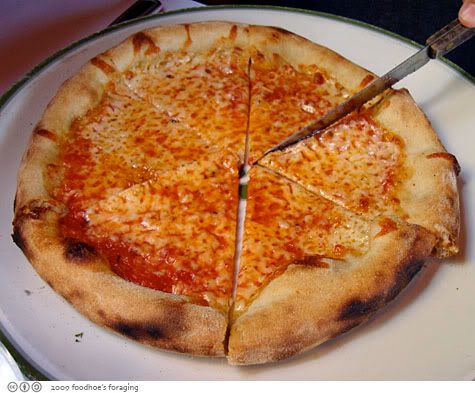 We shared dessert, the Cognac ice cream with roasted Bing cherries and bittersweet chocolate sauce ($8.50).  It was good, the artistic drizzles of sauce looked elegant, but was a bit restrained for my tastes (I like lots of sauce).  I also like fresh cherries better than roasted cherries, which seemed rubbery to me.
We settled our bill and walked downstairs through the dining room and into the kitchen.  The downstairs restaurant is only open for dinner, with two seatings each night serving a single set menu that is published weekly online.
We followed the young food acolytes into the inner sanctum of the kitchen where we watched the chefs bent over their tasks working with total concentration. I was surprised to see that the kitchen is little larger than a lot of home kitchens, but it looked very meticulous and well ordered.  A woman was pounding something in a large stone mortar and pestle, making a rhythmic plink plink plink sound that echoed throughout the warm room.  It was very quiet and calm as everyone was busy prepping food for the evenings meal.  I'm sure it has a completely different look when the stoves are on fire and food is being plated for hungry diners.  Miss M gazed wistfully back as we left the restaurant…  It was a very fine  lunch.
I've been to Chez Panisse several times and love the atmosphere in the elegantly refurbished craftsman bungalow.  The food is meticulously prepared with and the service is friendly and professional, so you can't really begrudge the 17% service charge that is included in the bill.  There is something special about eating at the legendary restaurant of Alice Waters who has done so much to promote using fresh, local and sustainable ingredients and mentored so many great chefs.