680 Clay Street, SF, CA 94111 | 415.981.7438 | website | cash only
6:30 – 9:30pm by Reservation Only | open for lunch too – hours unknown
*closed Thursdays*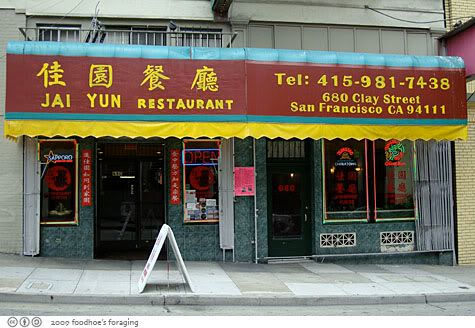 Jennifer 8 Lee, who wrote the Fortune Cookie Chronicles, places Jai Yun in her list of the best Chinese restaurants in the world, of which only 5 are from North America.  The reservations only and expensive chef's menu format has proved to be a hard hurdle to overcome when there are so many bargains to be had in nearby Chinatown slinging huge platters of greasy chow mein and sticky sweet lemon chicken.  People expect big portions in this land of supersize me and with prices ranging from $45 to $150 per person for a multicourse dinner, the portions served at Jai Yun seem ridiculously small although you may be served 29 plates.  Chef Nei' has had to fend off criticism of his unusual format and includes this statement on their un-menu and website in his defense.
Ten reasons for not having a menu:
All ingredients are hand picked every morning to ensure the highest quality
Your dining experience will be unique and full of surprises
Menu items change accordingly to meet the best nutritional benefit and blanace
Wide variety of dishes.
Quick and convenient to meet your lunch hour need
Selections change according to market availability and seasonal changes
Efficient way of lowering operation cost in order of maintain low price for customers
Specialty Chinese regional cuisine
Creative dish planning and preparation
No menu will be offered due to the above reasons.  Thank you.
I was at a training class last month and stopped in my tracks when I saw that the new location of Jai Yun was literally just around the corner.  And it had a sign out that it is open for lunch!  It's hard to believe it's already been two years since the Single Guy and I had been for Chef Nei's famous and epic tasting menu.  They accept walk-in diners at lunch but still only serve the chef's multi-course meals.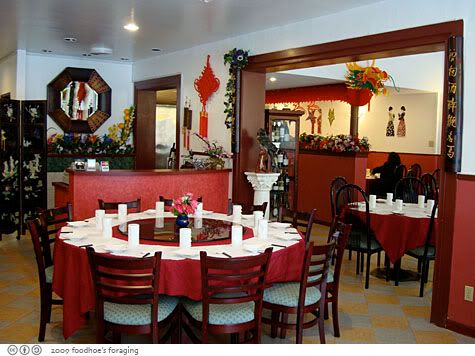 Last year, chef Nei' opened a less expensive place called Flying Pan Bistro at this location on Clay Street, but he ended up closing it and relocating Jai Yun there. The new location is much larger with wood accents and red wainscotting but still looks like any other Chinese restaurant.  I like that it's closer to my work and especially that it is open for lunch.  The decor is typical of a Chinese restaurant, full of symbols of good fortune and luck.  The modern white tableware is very cool, but the paper place mats with the bric-a-brac trim and paper napkins make it look a little frumpy.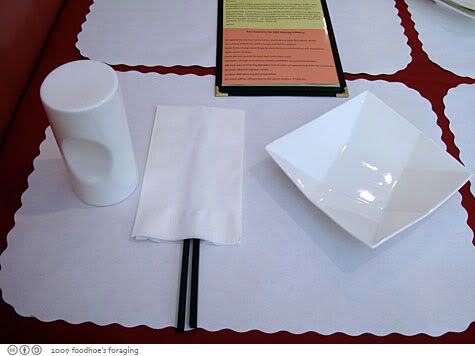 The feng shui fountain with the dry ice kept me occupied trying to capture the odd tendrils of fog while I waited for my food.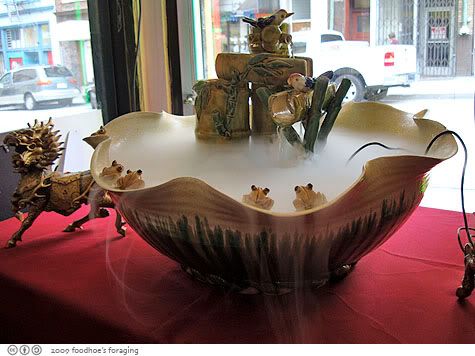 The un-menu had a price range of 18/25/35 with a hand written 9 added in the front.  I was open to suggestions and my server recommended the $9 course since this was my first visit for lunch.  She returned with two small plates of cold appetizers.  One was a pile of enoki mushrooms, whisper thin slices of red pepper, a few strands of chewy tripe tossed with a light savory dressing and fresh cilantro.  It is very satisfying and refreshing.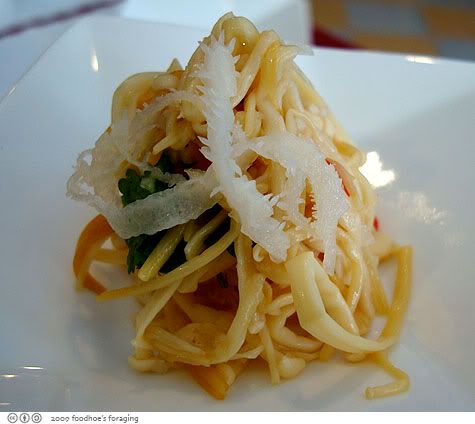 The other plate held a stack of folded layers of bean curd in a silky smooth sauce.  This had a nice chew and tasted of star anise.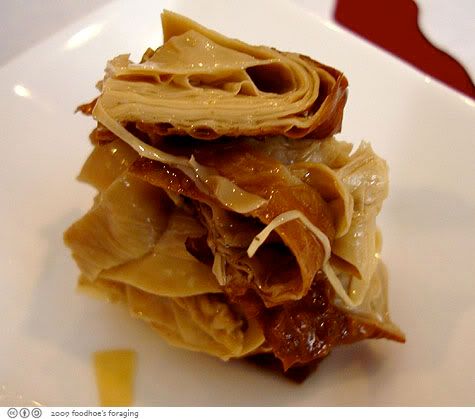 Next she brought out a plate of their famous Crispy Eggplant with Scallions (#65 on the The Big Eat SF list).  This really was good.  You can see the edges are slightly charred, the flat edges were crispy but the inside was creamy and firm.  It had a light coating of a garlic-chili glaze.  Yes the reputation of this dish is valid.  Even a small little lunchtime taste.  This was worth the trip alone!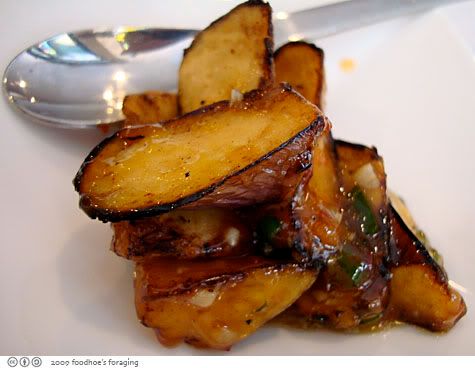 My entree arrived.  A bowl of noodles piled with chopped meat, green scallions, bean sprouts and red chilies. It smelled delicious.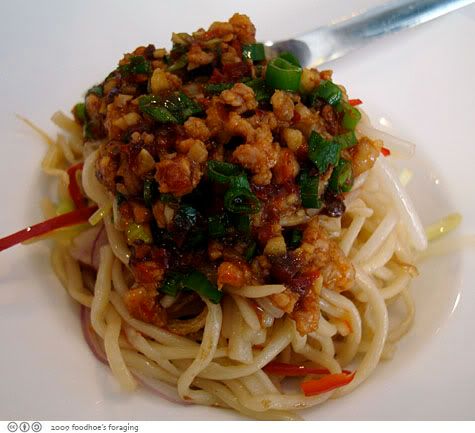 I mixed it up and proceeded to inhale the bowl.  There was just enough of the spicy sauce to lightly coat the noodles which had an addictive bouncy texture.  The spice level had my lips tingling and I sought out little twiggy bits that had a compelling chewy texture.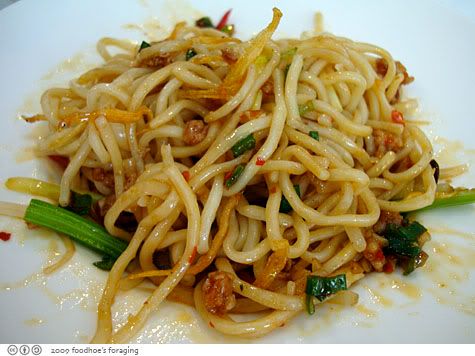 Upon close inspection, I saw little beady eyes – they were tiny dried fish.  Mmmm, extra protein.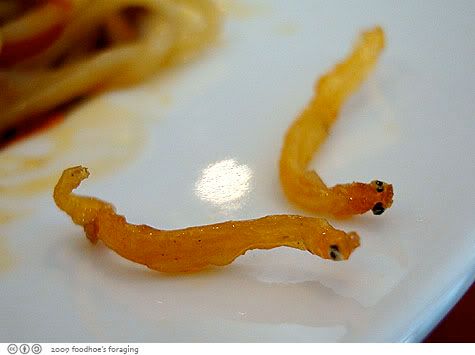 I finished off each plate and can't wait to go back to try some of the other more elaborate offerings.  I hope they keep the lunchtime service and especially the $9 option on the non-menu, since I was only one of a few diners eating there at noon (but wasn't it like that at night too?).