Starting last week, the Ferry Plaza Farmers Market features some new street food vendors serving up delicious hot specialty dishes on Thursdays from 10am to 2pm.  There are lineup of vendors so far: Cap'n Mike's Holy Smoke, 4505 Meats, Tacolicious, Namu: Korean BBQ tacos, Pizza Politana, Roli Roti Sandwiches, Scream Sorbet, Gobba Gobba Hey and Blue Bottle Coffee Co.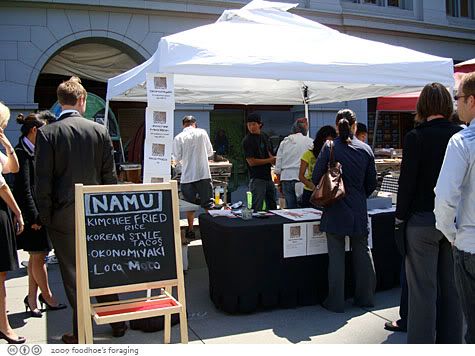 I sampled a few things from Namu, which along with Tacolicious next door, had the longest lines.  These guys were busy cranking out plates of steaming hot food, cooked to order.  Kimchi fried rice, okonomiyaki, loco moco and tacos.  I ate at their restaurant for dinner last year and I just knew this was going to be good.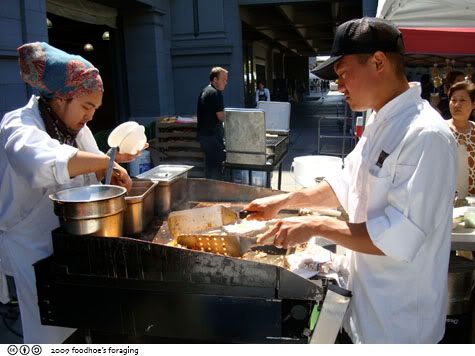 Loco-moco ($9), when I read their twitter description of the gravy alone (just finished the best gravy ever… beef bones, dashi, garlic, soy, mirin, butter, love, extra love, goodness….) I knew what was for lunch.. They finally called my name and here is my lovely bulbous bowl covered with quivering gravy sprinkled with brilliant crimson flecks of dried chili and green onion.  The smells rising from the plate made me very impatient to find a spot to sit down and dig in.  There's a nice little group of tables in between the stalls where we found seats in the shade.
Underneath the gravy is a fried egg and a grilled Niman Ranch patty served over sticky koshihikari rice.  It was indeed Oiisheee!  The one thing I missed was a bottle of Sriracha sauce….
I had to try a Korean Taco ($2.5 ea; 2/$4) ssam style, seasoned rice, kalbi shortribs, daikon and kimchi salsa, kimchi remoulade and housemade teriyaki that is folded into Japanese and Korean toasted seaweeds (yum, the crispy kind that is brushed with sesame oil).  The portion is pretty small and I would consider these great for an accompaniment or as a first course.  That crispy seaweed wrap was brilliant!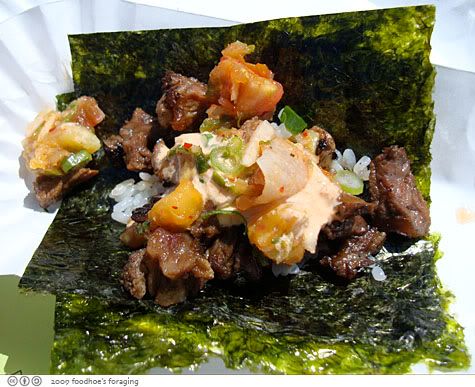 P picked up an Okonomiyaki for Daisy who was stuck at her desk….  beautiful isn't it?  People call it Japanese pizza, but it's basically a fritter made with chopped cabbage mixed in a savory pancake-like batter, and additional meat if you want it.  I've never seen it with a fried egg on top and the drizzles of kewpie mayonnaise and bulldog sauce are artfully rendered.
I had to made a beeline over to the 4505 Meats booth which had a dazzling array of their famous chicharrones.
At last long last, me and the chicharrones!  How I have longed for these after drooling over Sam's beautiful photo at Beck's and Posh. I really do think that due to the light and airy nature of these puffy pleasures, zero gravity equals zero calories!
oh yes it's airy fairy stuff, like fine gossamer, translucent and delicate lacy tendrils coated with a sheen of sweet and fiery chili pixie dust that makes you keep reaching for another piece.  It's a good thing the bags aren't very big.   I enjoyed these very much and loved how they would snap like pop-rocks if you happen to let one of the crunchy clouds sit on your tongue for a second.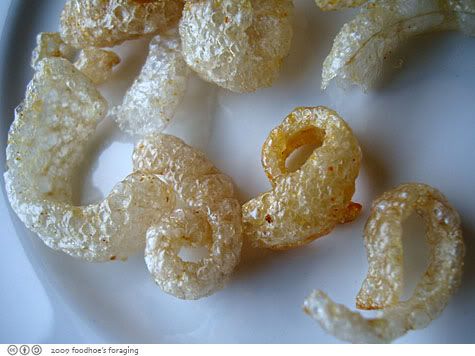 I read Ryan Farr's post on making homemade hot dogs and have been trying to chase one down for awhile.  I was helped by his wife, who was working at the booth. She told me that it takes three days to make them.  But they are so worth it!  P let me sample his Golden Dog ($5)  It was like no other dog I've eaten.  The texture was fatty and luscious and all meat, no squishy fillers with little pockets of rich fatty spicy stuff that splurts into your mouth in a very satisfying manner.  Next time I'm getting the zilladog which comes with the chicharrones on top and will also be on the prowl for the bacon brownies as mentioned here.
Brennan picked up a Roast Beef and tongue sandwich ($6) from the Roli-Roti vendor.  The meat on the sandwich was juicy and tender.  Apparently, they had fries catching the drips under the rotisserie ($3), but he got this pert and fresh looking corn salad for $4.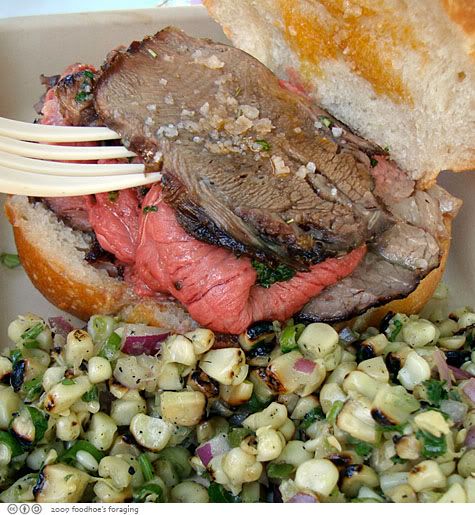 I picked up an Orange Cardamom with Saffron Cream Gobble from Gobba Gobba Hey who was sharing the booth with 4505 meats.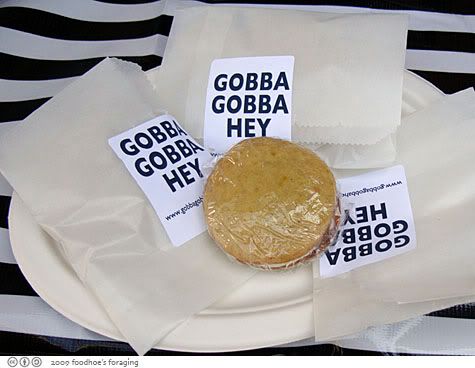 You can follow them on twitter, because they are mobile and frequently send out updates on the daily flavors and where to get them.  Part cupcake, part cookie.  Ground cardamom, orange zest, threads of fresh ginger and saffron and a whole lotta cream in this two-bite version of the original gob.  Delicious!  It was a little bit gummy from being stored in the plastic wrap, but I loved the small size.  Reminded me a little of the delicious whoopie pie they used to make at the long-gone Myth cafe.  As I paused before finishing this delectable morsel, I seemed to recall the fellow telling me that these are vegan…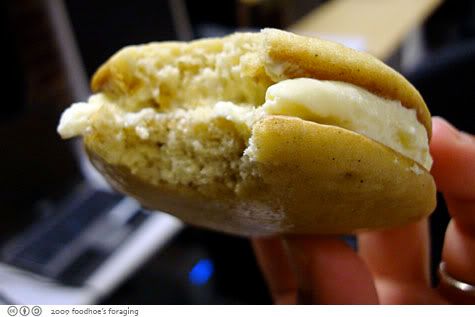 Wow, what a great addition to our lunch rotation!