1570 Stockton St, (at Union St), SF, CA | 415.835.9888 | website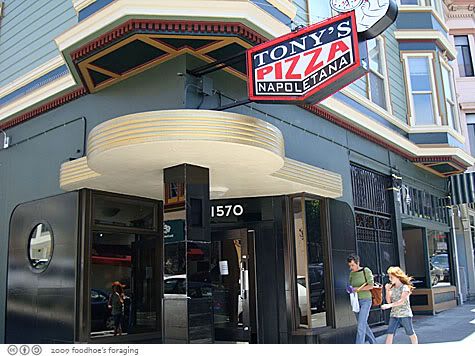 Early in July, 9 time world pizza champ Tony Gemignani, opened up a sleek restaurant /international school of pizza in the heart of North Beach.  How lucky am I to live near his original pizzeria Pyzano's in Castro Valley, and work walking distance to his pizza academy/restaurant!   It's a shame that he wasn't able to get approval to run the wood-fired oven in Alameda county, but North Beach seems obvious and perfect.  It took very little convincing to get Daisy and P to go over to check it out.  The restaurant has a sleek art deco elegance with gleaming dark wood floor and white carrera marble counters and tabletops.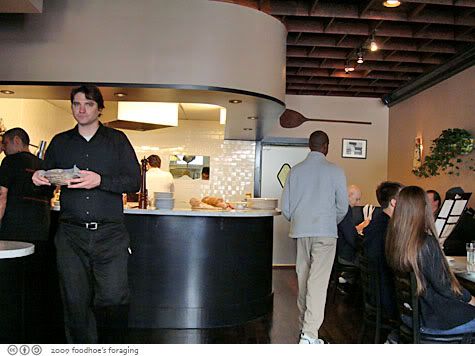 The wood burning Cirigliano oven is imported from Italy and is striking to behold.  It is mesmerizing to watch the glowing flames.  The menu offers four different styles of pizza:  STG Pizza Napoletana from the 900 degree wood fired oven, Classic Italian from a Domed Brick oven, Classic American from a NY Flat Top Brick oven, and Teglia/Sicilian style from a Italian Brick Oven.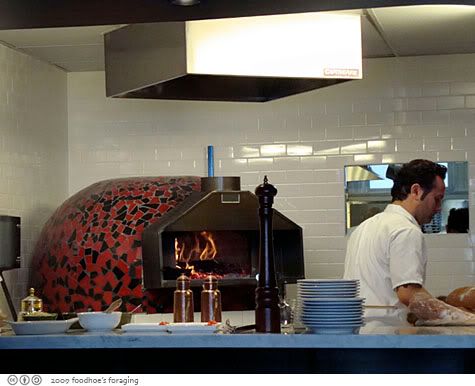 Many of the ingredients are from Italy, even our server sounded like he was Italian.  We began with an assortment of focaccia and sliced bread that was served with olive oil, drenched roasted peppers and a garlic and parsley mixture.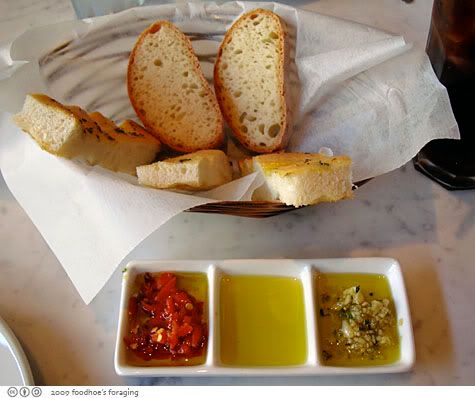 After reading Foodnut's review about the Fried Ravioli ($7) from the kid's menu, I begged and cajoled our server to let us order it.  He hesitated and said he had to check with the boss, since we had no kids at the table…  We got the go ahead and ended up with this plate of regular ravioli that is available on the regular menu.  It was good, but not the decadent crunchy appetizer we had in mind.  I normally wouldn't order pasta as an appetizer…  Anyways we were lame because Tony later came by with a complimentary serving of roasted Green Beans and asked us how everything was, and we smiled and bobbed our heads in unison that everything was great…  Somehow it just didn't seem right to crap about the ravioli as he was handing us the lovely treat.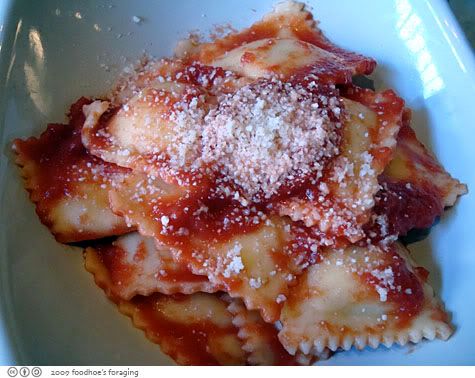 Ah well, I digress… The green beans were deliciously charred and coated with olive oil and sea salt.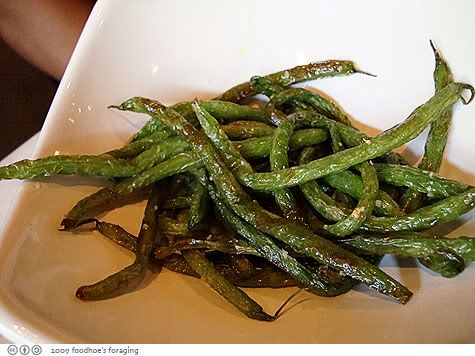 Of course, we had to order the award winning Margherita ($18), which is limited to 73 per day.  According to the website, this limit is because of a superstitious numerology thing.  Marking the date of Tony's win, 6/13, add the numbers 6 and 1 together, keep the 3; and you are left with 73.  This is made on the rustic medium crust recipe that won the 2007 World Pizza Cup in Naples, Italy.  The round pillowy rim belies the micro-thin crust under the sauce.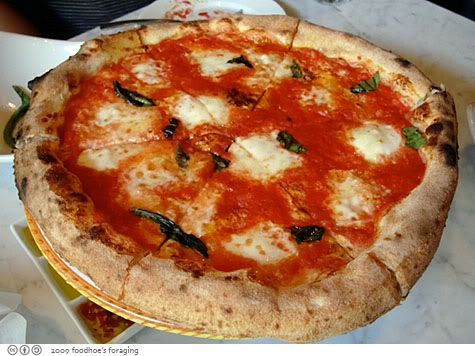 The award winning pizzas are served on these beautiful hand painted platters.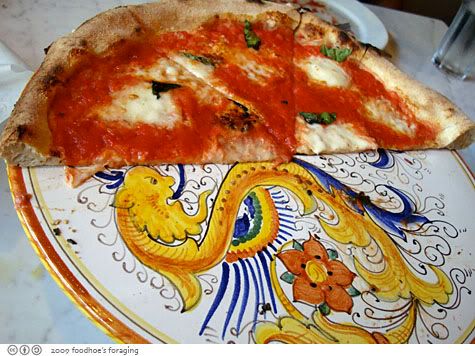 This is a really well constructed pizza. The dough is mixed by hand using San Felice flour, topped with a simple sauce made from San Marzano tomatoes and sea salt, lacy thin mozzarella Fior di Latte, fresh basil leaves, and drizzled with extra virgin olive oil from Campania.  It's simple but really well balanced and each component contributes to make for a very satisfying pizza.  The crust is very thin but remains supple and breadlike, it's not brittle or crispy and the bready rims are addictive and filling.  They do not supply the tables with either chilies or extra parmesan cheese, and I noticed Daisy sprinkling salt over her pizza slices.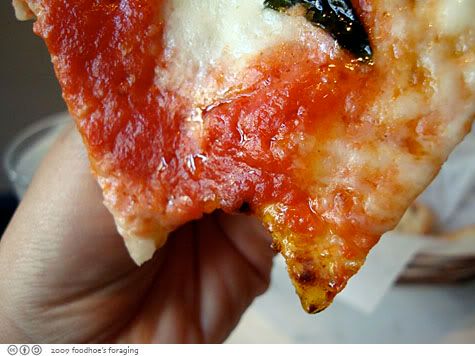 We also split a Sausage Pizza $13 from the Classic Italian section.  P enthusiastically said it was as good as any pizza he has enjoyed in NYC.  I have never had pizza in NYC, so I will take his word for it.  It was really good.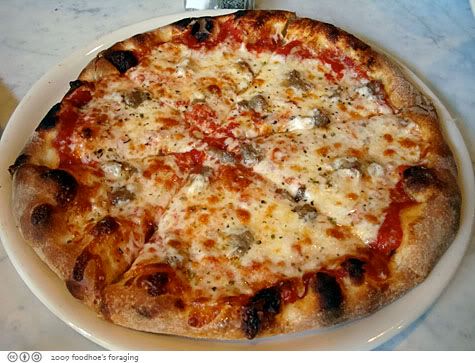 It had a much more substantial crust and I felt like I could relax around this pizza, without worrying that the super thin crust will get soggy.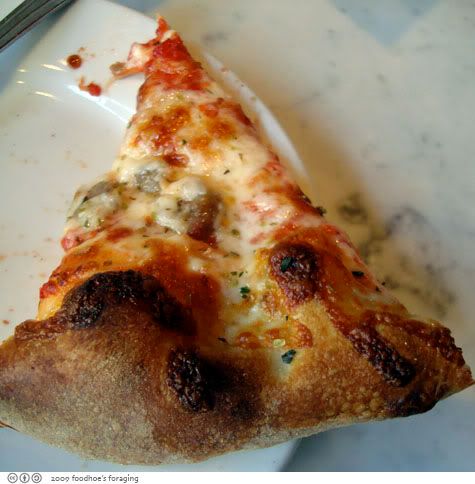 I'll definitely be back for the delicious pizza, and want to try the the calzone and stromboli too.  Besides the professional pizza chef courses, I noticed that they have some classes for the home chef which I am tempted to look into.  Just imagine being able to do this at home…