Because I can no longer run to my mom or grandmothers for instructions on the fine arts of Japanese cooking, I decided to join the Washoku Warriors an online group whose aim is to cook their way through Elizabeth Andoh's cookbook, Washoku, recipes from the Japanese home kitchen.  I have had the cookbook for over four years and I am a little embarassed to admit that this is the first time I have ever cooked from it. The calligraphy for wa (和) is used to refer to things indigenous to Japanese culture and translates to harmonious and peaceful.  It is also the first character of my family name – a sign for sure.  Shoku (食) relates to just about anything that deals with eating or food.  Washoku translates literally to the harmony of food, which is a way of thinking about what we eat and how it can nourish us.  The recipes don't occur until page 91 as the author begins by introducing the reader to the five principles of washoku, the washoku pantry and then the washoku kitchen.
This month's challenge is to make Pork and Wakame Dumplings or Wafu Gyoza with Edamame Rice.  This is one tablespoon of wakame which is a dried sea vegetable.  It looks like tea doesn't it?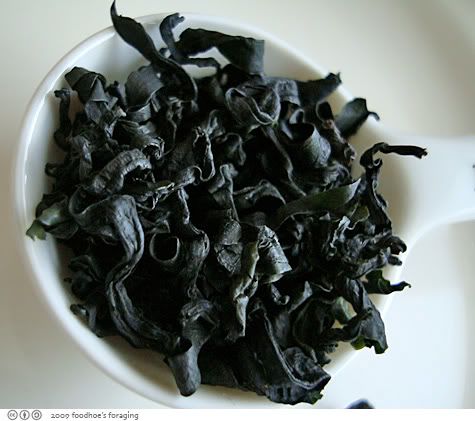 Ahhh,  Andoh Sensei… your recipe sounds bland to me, no ginger or garlic?  Unable to control myself, I decided to split the mixture and make half using the original recipe and the other with the flavors I like.  I mean if I'm going to go through all the effort anyways, right?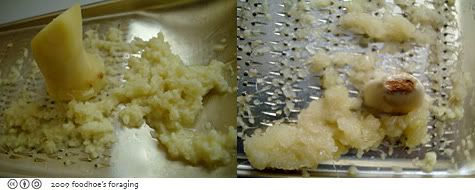 and then added lots of fresh cracked black pepper to what I refer to as the spicy batch…  I might as well admit that I substituted ground turkey for the pork and also added minced raw shrimp to the spicy batch!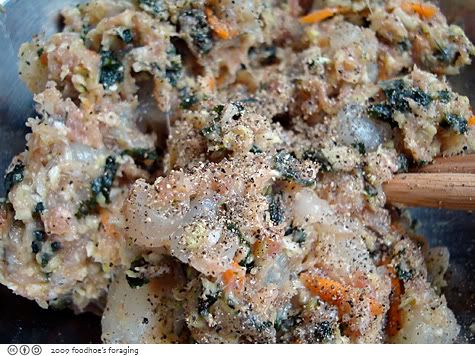 I did try making the wrappers by hand as well since I'm always going on about how much I love fresh pasta… The suggested recipe says to mix up the flour and water with chopsticks…  I should have paid attention and looked at fujimama's post first which clearly shows the proper texture.  Then maybe I would have figured out that my dough was too sticky.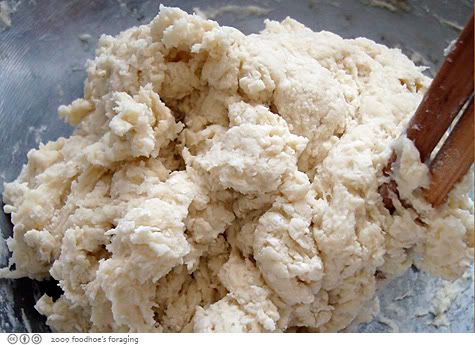 I rolled a lot of wrappers and following the instructions, coated with flour, stacked and placed in a plastic ziplock so that they wouldn't dry out.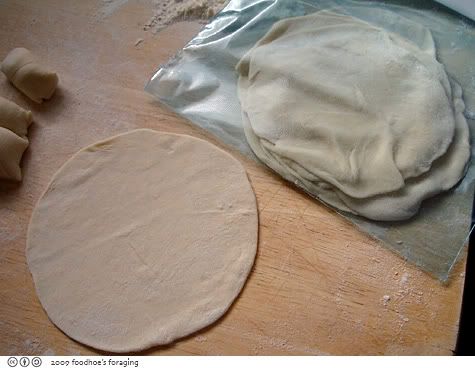 Well, I needn't have worried about them drying out.  The stacks of wrappers melted and stuck together stubbornly, and I was only about to salvage enough to make the half of the gyoza with the plain turkey filling.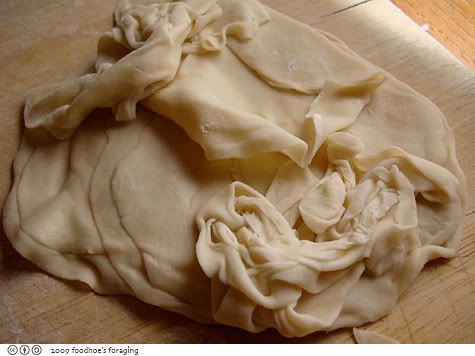 Not only that, I made the wrappers too thin, they were difficult to work with!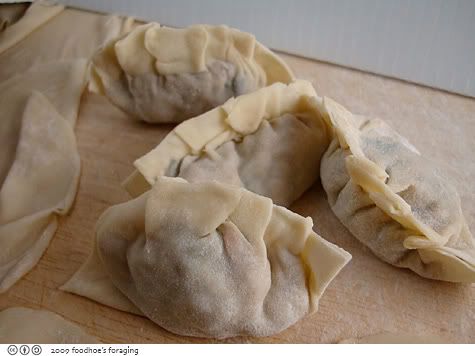 And so I went to the store and picked up a package of commercially made wrappers.  They were only $2 and I will never hesitate to purchase these in the future… 3 hours of my time is certainly worth more than $2!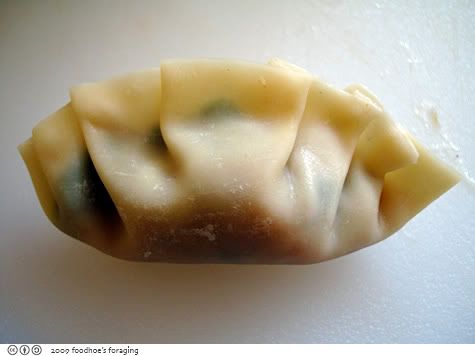 Once the gyoza were wrapped and resting, I began working on the Edamame rice.  The recipe calls for 2 cups of dashi and I used a commercially prepared dashi-bag full of kombu and dried bonito flakes that my kittycat thought smelled delightful and tried to run off with…
While I steeped the dashi-bag in hot water, I toasted the black sesame seeds in my stove top spice roaster, then mixed it in with some gorgeous Malden sea salt.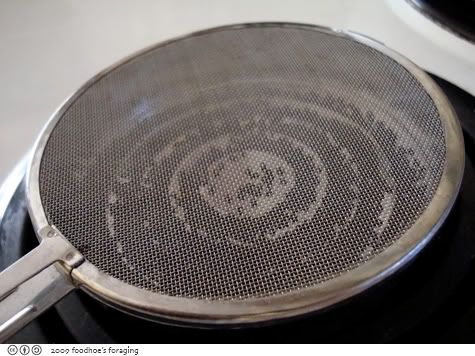 Meanwile, I placed all of the rice ingredients in my super duper fuzzy logic rice cooker and 45 minutes later, the rice was done. Then I cooked the gyoza following the instructions for mushi yaki or steam searing, which ensures that the pork is thoroughly cooked, yet remains moist and succulent.  I was surprised to use sesame oil in the skillet to cook the dumplings rather than mixed in with the dip, but I loved how it infused the wrapper with the nutty rich flavors.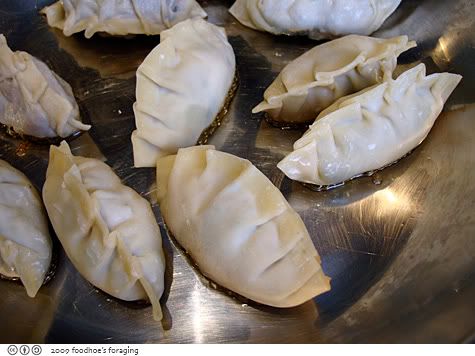 The dumplings were delicious and the fragrant rice topped with black sesame salt made a grand field on which to lay them.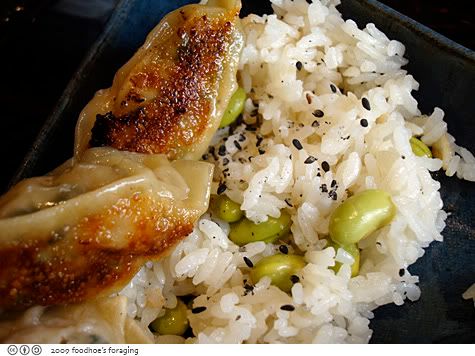 The dipping sauce was a simple mixture of soy sauce and rice vinegar, which I added a dab of chili sauce to.  Mr. K had a distinct preference for the spicier potstickers, and I felt a deep affinity for the wafu dumplings made with my homely and lumpy handmade wrappers.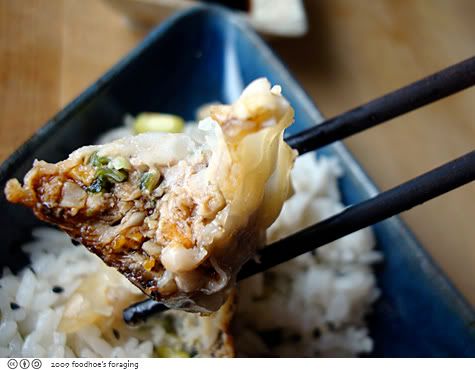 I have made potstickers before on numerous occasions and still this kind of kicked my ass.  But now I know how to make gyoza, which is distinctly Japanese and quite different from potstickers.  Whew, I survived my first Washoku Warriors challenge, with one day to spare…