I went on my first cruise ever through the Inner Passage of Alaska with Mr. K and my parents.  I loved being out in the middle of the ocean surrounded by endless water and the gentle swaying of the ship as it made its way through the sea.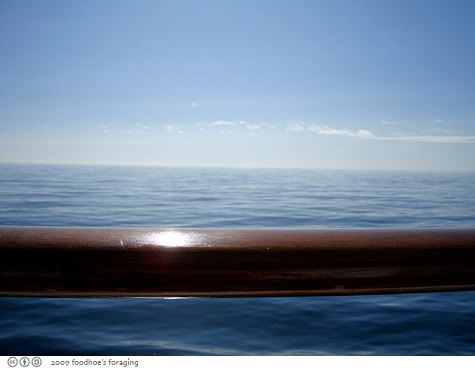 At night, we wandered the upper decks where we could watch the moon rise over dramatic coastline. We even saw a variety of whales along the way.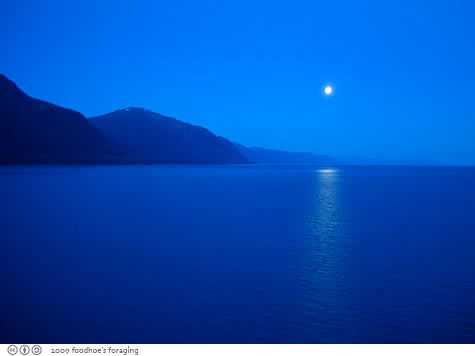 We splurged and booked a room with a balcony which had a very good view and offered sanctuary where we could get away and relax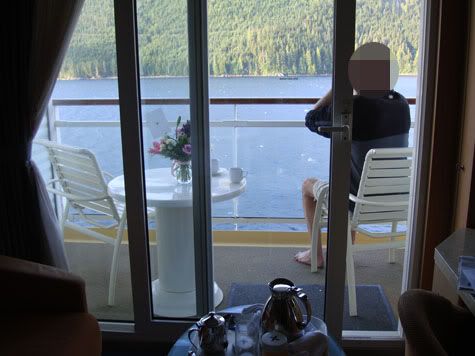 One of the perks of the concierge class stateroom is being greeted by a complimentary bottle of champagne along with a fresh fruit plate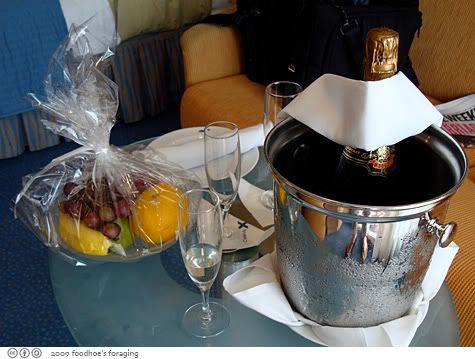 but the fact remains that you are on a floating behemoth that caters to a certain type of traveler.  The set that travels to Alaska is a notoriously older group and I know that just along our particular hallway, I counted one electric motorcart and three wheelchairs. There's something odd about this mode of travel where you unpack your bags and the destinations seem to come to you.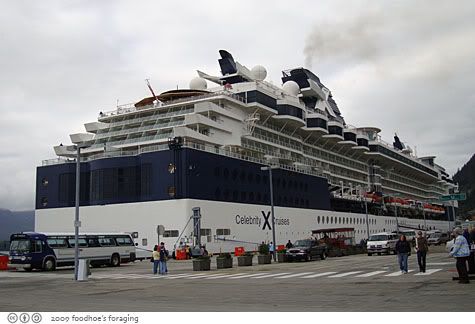 The ship offers a variety of dining options, and since we knew that there are approximately 2000 passengers on board, I didn't set my expectations very high…  somewhere around wedding banquet level quality dining at best.  The main dining room, the Trellis restaurant, is two levels with 1170-seats and a grand staircase.  It was an elegant affair where you could get breakfast and lunch with open seating but we had an assigned table for dinner with an early seating at 6:15.  There was a more casual dinner buffet in the lido deck, but most everybody seemed to eat their dinners here in the Trellis dining room. The servers were from all over the world and had to kick butt to keep up with the demands of the crowds but all were very capable and entertaining.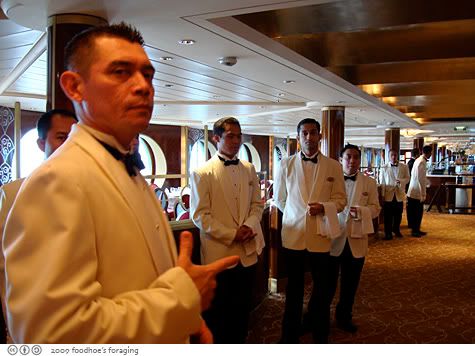 The table settings were a bewildering excess of silverware that seemed extravagant for a four course meal.  We ate here twice, but found that the food was mass produced and uninspired.  There was also a very long wait in between courses.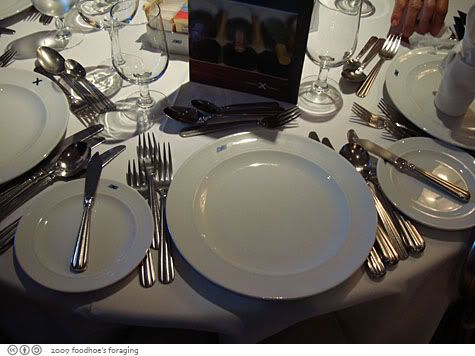 They also had a grand buffet lunch and an elegant afternoon tea in the main dining room which I enjoyed very much.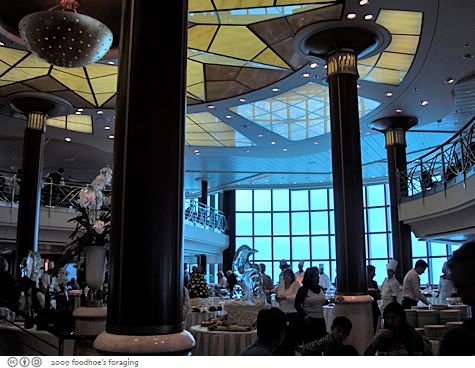 The single item on the cruise that Mr. K and I couldn't get enough of was the Gravlax.  The fish was all locally caught and they served salmon for every meal, but this was by far my favorite…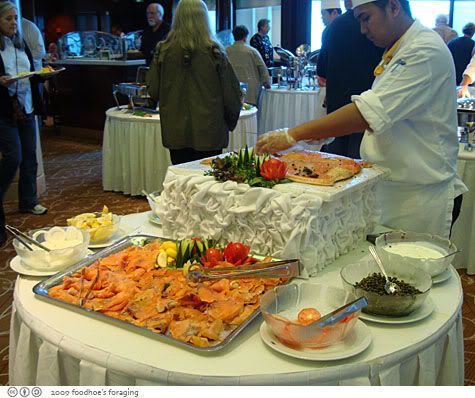 The server was slicing it up  and piling it on the platter along with fresh lemon, slices of onion and tomato, capers and sour cream.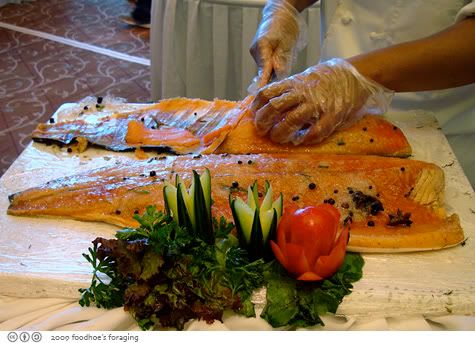 I am still thinking about that fish… in fact, Mr. K and I are obsessed.  We've been back one day and we picked up a salmon fillet that is curing in the fridge right now, with salt, sugar and fresh dill.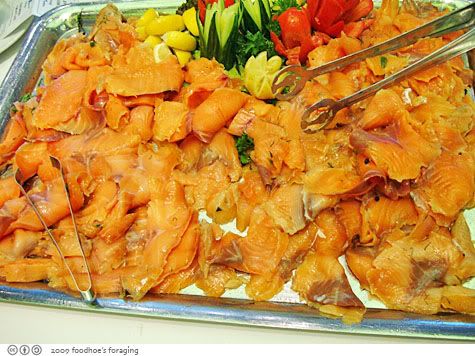 I went crazy over the fresh Alaskan King Crab legs too.  I grew up in the Bay Area eating dungeness crab, which is fabulous in its own way, but the fresh King crab legs are meaty and rich, almost like lobster.  In fact, I loved it with fresh lemon juice squeezed on it and then dipped in melted butter.
The midnight dessert buffet was madness, as if all of the overfed patrons needed to stuff themselves in the middle of the night after feeding all day long at the buffets… The entire perimeter of the Constellation Lounge was lined with tables stacked with platters of sweets.  There were baskets of beignets, chocolate fountains with fresh fruit kebabs, syllabub and trifles, a variety of creme brulee and parfaits, petit fours, cookies and ice cream.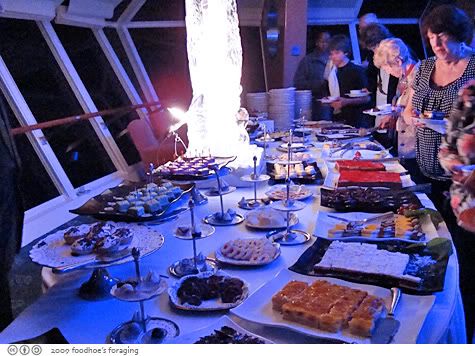 There were a couple of other alternate dining areas, the Oceanview Bistro was much more intimate and casual and the food is cooked to order.  Since there was an additional cost of $2 per person, the restaurant was pretty empty – which made for a relaxed and enjoyable dining experience. The white tablecloths gave it a dressy atmosphere and the views were incredible. One night the entire dining room was entertained by pods of whales spouting off in the distance.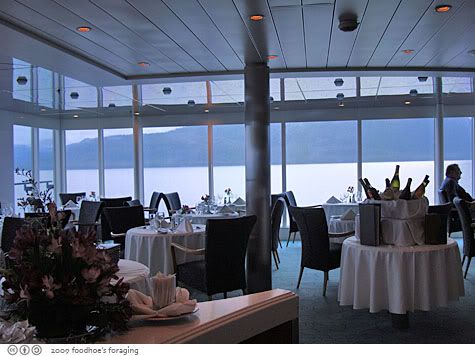 The menu features local seafood that was very fresh and served hot from the grill.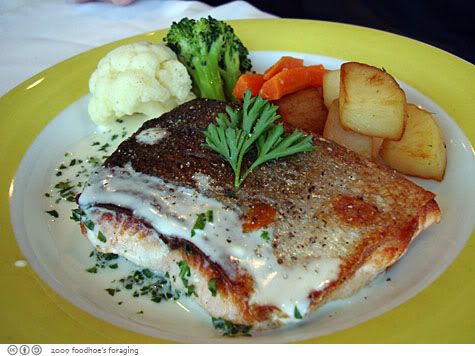 We are not morning people and found the buffet lines and eating in the cafeteria not to our liking.  We tried to go early, then we tried to go later, but that buffet was always so busy and crowded.  Then we found the key… room service!  Unless you order an alcoholic beverage to start your day, you can have a lovely breakfast brought to your room for no additional cost and the food arrived hot and freshly prepared. The only downside was the coffee, which tasted like it had been sitting in the thermos for a very long time.  The coffee in general was not very good, but there was one cafe on the boat where you could get a good freshly made cup but have to pay an extra $3.50.  I admit that I broke down and made my way over to the cafe every day…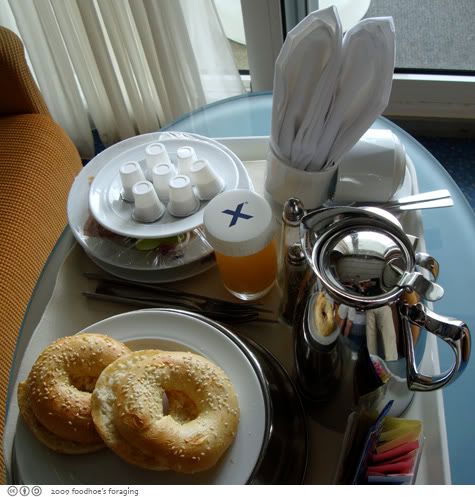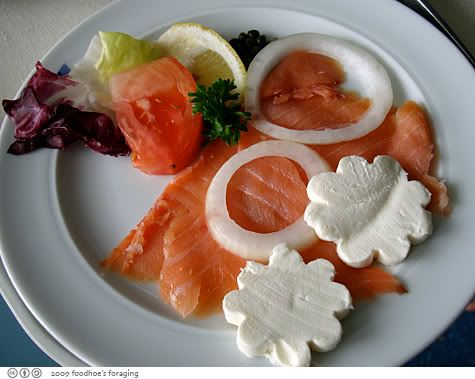 However, I did find that the line at the Asian breakfast buffet was virtually empty and they offered a variety of congee every day.  Now the line for the pancakes, waffles and bacon was an entirely different matter.
Another benefit of the concierge class stateroom, is that they bring you afternoon canapes, which we found to be surprisingly good.  Cantaloupe with prosciutto, brie dusted with tiny curls of shaved Parmesan, that amazing cured salmon with a tiny dollop of sour cream and a caper.  We actually looked forward to these each day…
When we passed by the Hubbard Glacier, the decks were lined with spectators.  The sight of the immense glacier was stunning and beautiful and it sounded like thunder when pieces of it sheared off and fell into the water.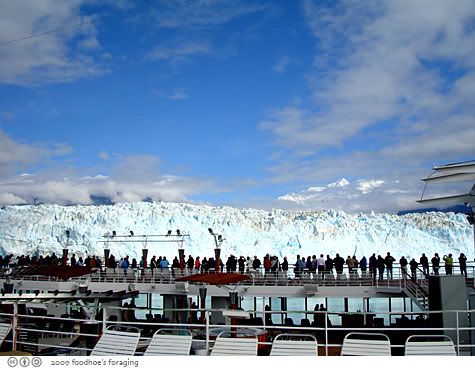 Mr. K and I went down to our stateroom where we had a pretty good view of the glacier from our private balcony
At night and at sea, the upper decks were largely empty because it was so cold and windy.  We liked sitting in the hot tubs after dark when we had it to ourselves.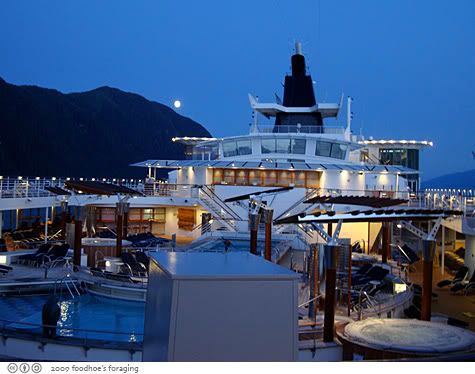 There were quite a few cozy nooks where you could sit and read or just enjoy the view.  I spent a couple of afternoons here which was also a wireless hot spot, doing some research on where to eat on our shore excursions.  More on that later…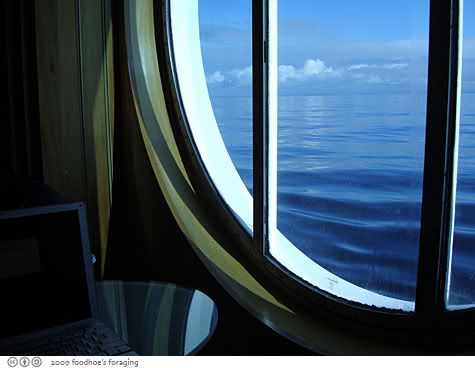 Overall we enjoyed the experience, although I'm not really into traveling in a herd and would think about going on a smaller ship if we ever do it again.   And you never know, this may be the way for us to travel to far lands (… in a few decades).