112 north 3rd street, minneapolis, minnesota 55401 | 612.343.7696 | website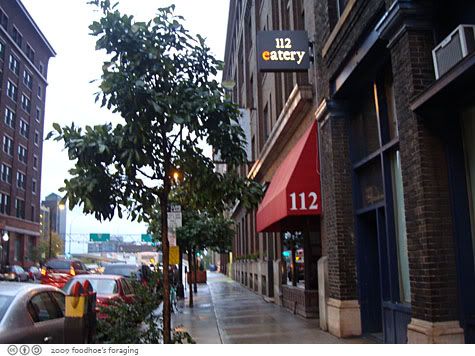 When we were planning the trip out to Minnesota, I made sure to schedule in one nice dinner for Mr. K and I while we were in town.  I wanted something good, but not fancy so I made reservations at 112 Eatery which has a convivial atmosphere and excellent friendly service.  It was walking distance to our hotel and we enjoyed exploring the artsy warehouse district.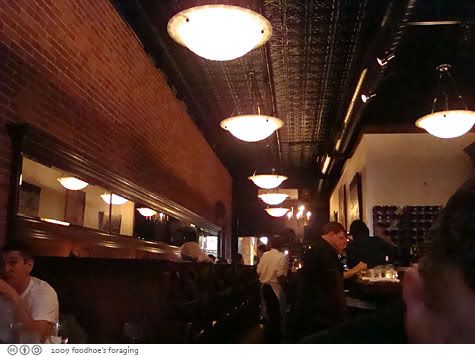 We were seated by the window, and our very efficient server brought bowls of sweet spiced nuts and olives to nibble while we looked over the menu.  There were many intriguing dishes borrowing flavors from europe (stringozzi with lamb sugo and dishes containing foie gras, gougiere, gnocchi, or chorizo) and asia (veal tongue with soba noodles, duck pate banh mi, nori encrusted sirloin with ponzu, chinese fried eggs).  With so many delicious choices, I was glad to see that many of the entrees were available as either a half or full order.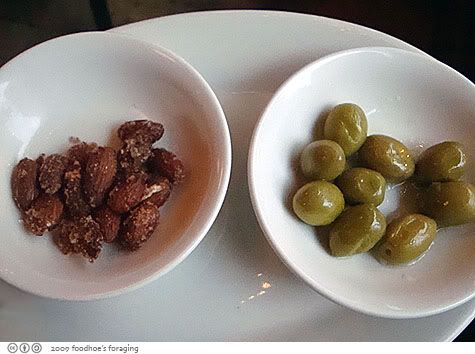 And I must comment that the pours were quite generous.  Because it began to get dark, I decided to play around with using high ISO settings on the camera, which made the pictures look like I used a stylized filter, but it's just me not knowing how to work with the advanced settings…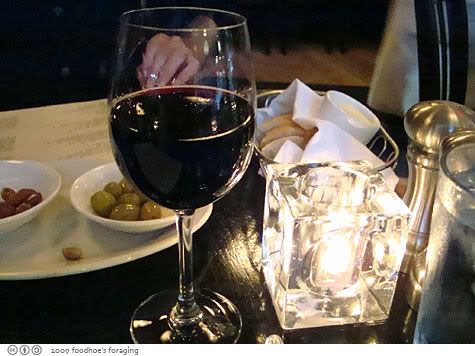 The executive chef, Isaac Becker admits that he is obsessed with the side dishes and making a meal out of a few small things is encouraged so each item needs to stand out on its own.  I like this concept very much, and we ordered a series of small plates that we shared.  Our server recommended the Duck and Radicchio Salad ($8), which was served split into two plates.  It was a boldly flavored salad topped with a hard cooked egg sprinkled with crunchy breadcrumbs.  Underneath, the vegetables were lightly tossed with a miso based dressing which was delicious combined with the rich and savory duck.
Lamb Scottadito with goats milk yogurt ($12) was our favorite dish of the evening, the chops were pounded out into palm size lollipops that we dipped into the deliciously tart and delectable pesto infused sauce. Scottadito means scorched fingers, although I think I scorched my tongue with my first enthusiastic bite!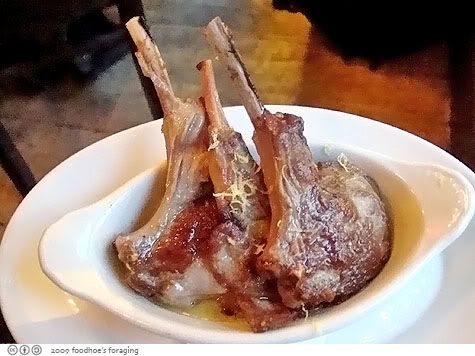 The well seasoned meat was crispy and caramelized on the outside and bursting with juicy flavor that was even better when dragged through the rich pesto yogurt.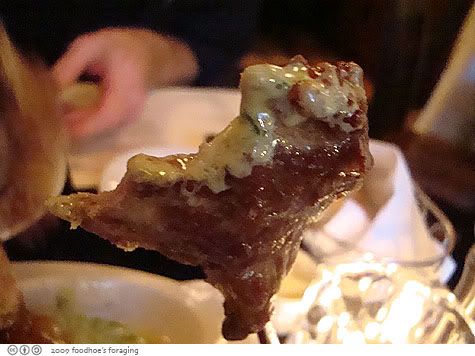 The Mussels with Guajillo Sauce ($10) was a large bowl filled with a fantastically spicy broth that was a little too salty, but I slurped spoonful after spoonful of the deliciously flavorful soup.  It was spicy, smoky and the best mussels I have ever eaten.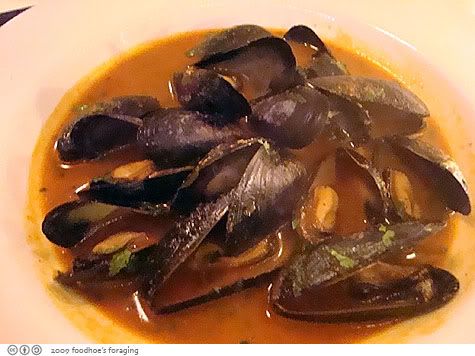 Half-order of Tagliatelle with foie gras meatballs ($11), was a perfect size to share, and was again served split so that we didn't have to fight over the rich fluffy meatballs.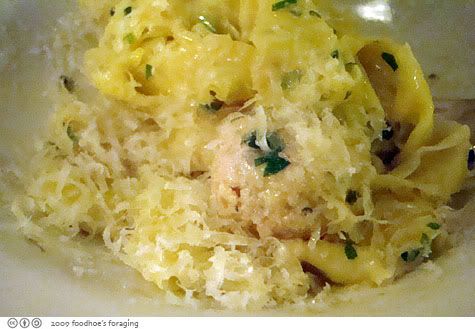 For me I was most drawn to the handmade noodles, which were ethereal and thin as paper with a marvelous springy and chewy texture.  They were coated with a light but rich sauce and fluffy tendrils of shaved cheese and fresh herbs.  The meatballs are made from a mixture of ground chicken with foie gras that are poached which gives them a luscious silky texture which goes perfectly with the delicate pasta.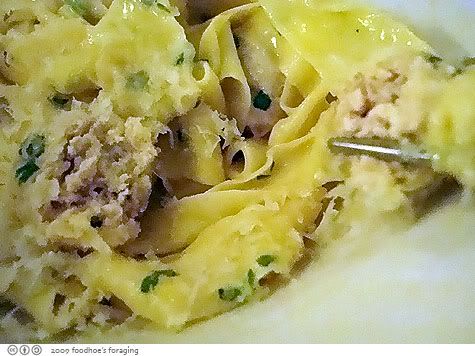 By this time we decided to go with a side dish of Country style pork ribs with salsa piccante ($5) rather than the entree.  I really enjoyed the bold flavors of the thick piece of meat which was coated with a deliciously spicy piquant salsa that made my lips burn.  This dish was also a bit oversalted, but had an intensely seared crust that crunched when you bit into it.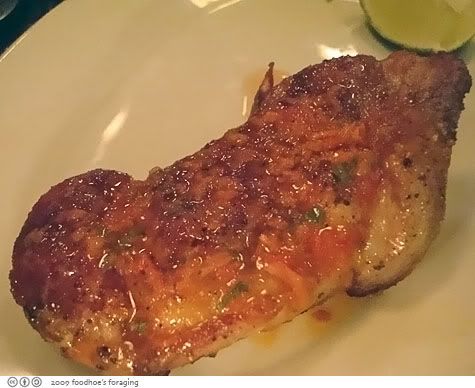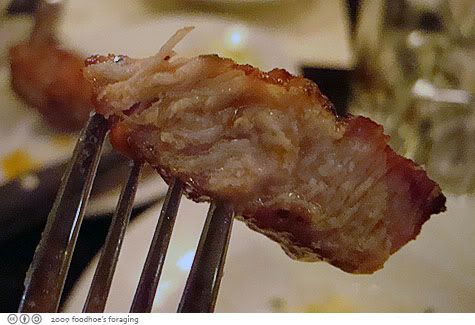 The Chocolate pot de crème ($7) was large, very thick and very rich.  It was lovely alternating bites of this with the caramel ice cream.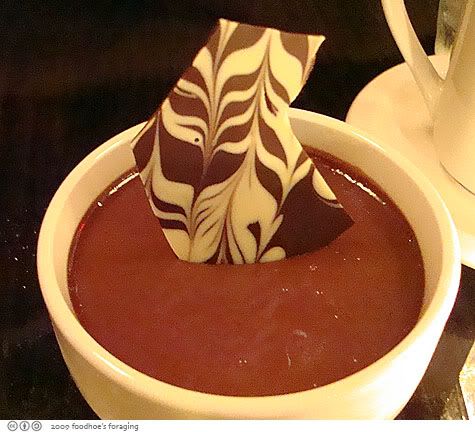 The scoops of Salted Caramel Izzy's Ice Cream ($4) seemed too salty after the rather salty meal!  But a bite of this, a bite of the chocolate creme, a sip of the characteristically weak Minnesotan coffee was a fine way to end a delicious meal.  Note, our server said that he wouldn't charge us for the coffee if we didn't like it.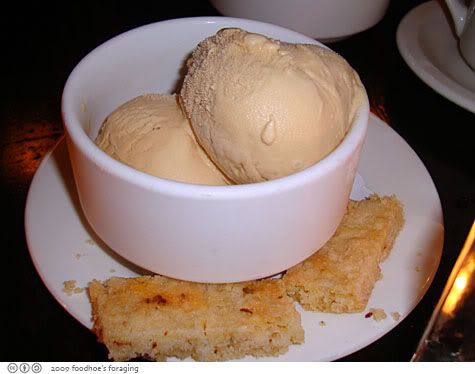 It's no wonder that everything was so delicious, Chef Issac Becker was a finalist for the James Beard Best Chef Midwest award in 2008 and 09.  It is said that he finds joy in making the simple dish spectacular… and that is what makes the menu at 112 eatery so good.  And did I mention that the prices are extremely reasonable?  This fine feast including cocktails was under $100.  I just wish they'd offer juicy lucys or walleye…