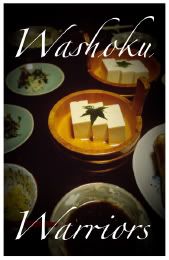 For the Washoku Warriors 4th challenge, we were assigned to cook Tangy Seared Chicken Wings from Elizabeth Andoh's cookbook  Washoku: Recipes from the Japanese Home Kitchen
where the vinegar acts as a tenderizing agent.  I was expecting something more like crispy fried wings based on the title, but while the recipe calls for pan-frying the meat until it's crispy, you are supposed to braise it for 20 minutes with sake, rice vinegar and dashi until it is fall-off-the-bone tender.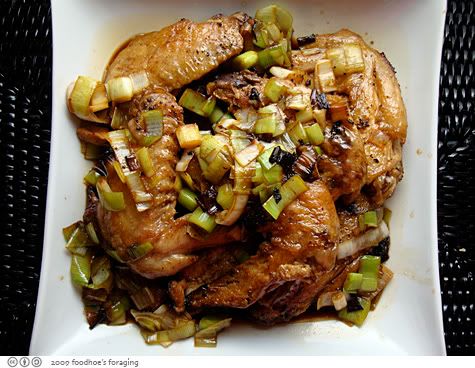 The chairwoman of the Washoku Warriors, fujimama, threw down the challenge of some additional dishes, which included Sweet-and-Sour Sauce, Kelp & Mushroom Relish, Red & White Radishes, but I chose the Tart Miso-Mustard Sauce which Andoh sensei says is great on seafood and/or (cold poached) chicken or as a salad dressing for greens.  It is a simple concoction of sweet miso, rice vinegar and Japanese mustard that I grew up with, although I usually add a bit of sesame oil, ginger, some green onion and lots of fresh cracked black pepper.  Initially I thought this would be too plain, but it has a classically Japanese taste that was improved with just a few drops of soy sauce and a bit of dashi.  In fact, that sauce sings with nutty bright vibrant flavors and really pulls the tip of your tongue up and makes you notice the deliciously sweet, tart, umami flavors.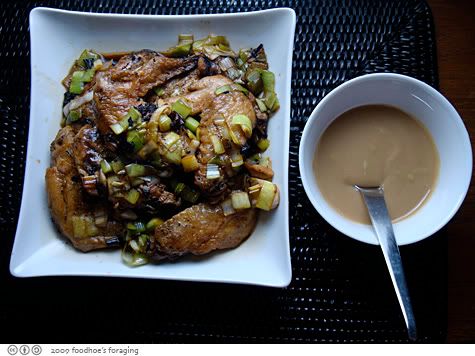 It really perked up the chicken dish, which seemed bland without it.  I must admit that the instructions said to check the braising every five minutes, and that I became distracted at some point so that when I ran back into the kitchen, the pan was making alarming popping sounds and that all of the liquid had evaporated and the bottom of the pan was black…  I have to say that this recipe is rather forgiving and that even though I burnt the hell out of it, the dish was still remarkably edible…  especially with the deliciously tart miso-mustard sauce.