It's funny how small changes can really disrupt your daily routine.  For me, it's all been one big cluster: new job, getting used to driving in a herd pattern on crowded highways, the holidays, family visits… but the one thing that really messed me up is that I had to return my beloved macbook when I left my previous employment.  So I acquired a tiny little netbook, thinking that would be a viable option, but it's a toy really, and I already broke the keyboard.  Yes, I have a new laptop from my new employer, but it's a huge beast (and runs bloody vista) that doesn't fit on my old laptop desk so my previous methods of keeping up with my favorite blogs, not to mention typing up my own posts, have been seriously cramped.  So anyways, back to the food…  some comfort food – a childhood favorite, cookies and ice cream.  This will soothe a crabby beast like me anytime.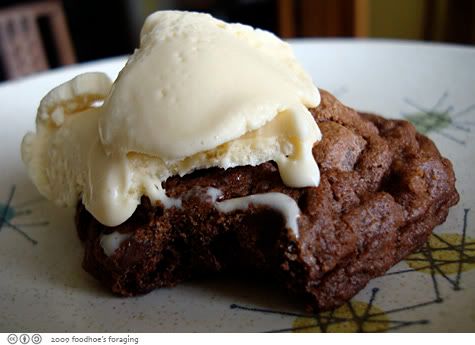 My cousins Sue and Judy visited from SoCal for the recent holidays and helped me make cookies for our Thanksgiving feast.  We made the delicious chocolate chocolate chip cookies that Samantha from Hungry Dog, ordered us to make now.  I'm on it!  The recipe is from Ina Garten's Barefoot Contessa Parties cookbook (thanks Samantha, these were delicious)!  I posted the recipe here.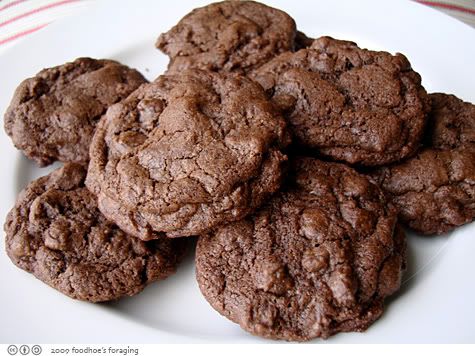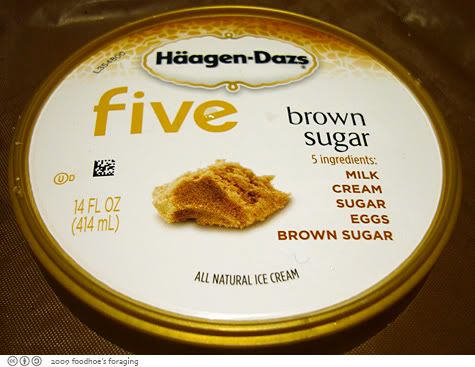 We made the cookies and bought the ice cream.  Häagen-Dazs goes back to basics with a line of ice cream introduced earlier in the year called Five, which are made of just five ingredients — milk, cream, eggs, sugar and the flavor, which in this case is brown sugar.  It's pure and clean tasting, just like dipping your spoon into a box of soft, fragrant brown sugar… but even better because it's ice cream.  A spoonful of rich creamy dairy bliss that fills your mouth with a rich brown sugar flavor with light caramelized aromas, dark mysterious molasses and the sappy aroma of maple syrup. Rather than making an ice cream sandwich, I scooped the ice cream onto the cookie.  It is an entirely pleasurable experience that I highly recommend.
p.s. can you tell that I am still obsessed by the ice cream sandwich from Humphry Slocombe?