2790 Harrison St (@24th St) SF, CA 94110 | 415.550.6971 | website | visited 6.16.09
Once again, I made the pilgrimage to the fabulous Humphry Slocombe Ice Cream Parlor, where you can transport your tastebuds out to whacked out and fearless frontiers with startling flavors like boccalone prosciutto, pear miso, red wine and cola, and the elusuive foie gras ice cream sandwiches.  These ice cream sandwiches are infrequently made and in such small quantities, so one must be diligent in the hunt.  I've been following them on twitter, just waiting for the word.  At long last, (seriously… it had to be months) I was sitting with my new co-workers eating lunch at Chipotle, when I happened to check and saw it:
On your marks! Get Ready! Get Set! Foie Gras Ice Cream Sandwiches today! 11:55 AM Nov 6th from web
I immediately called and asked that they hold one for me and gleefully skipped in to claim my sandwich the next day. It really was love at first bite…  I mean look at it, it is petite and cherubic and had a lopsided home made appeal… but one bite and you know that it is anything but humble…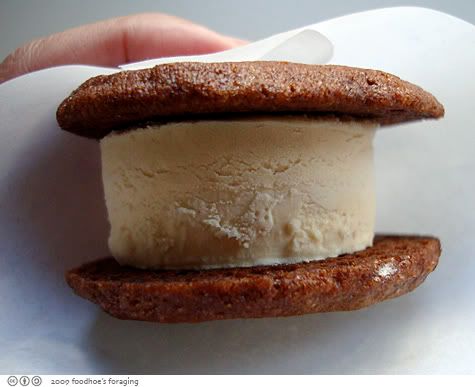 several bites in I realized that I had surrendered myself to devouring the worlds most delicious gingersnap cookie, barely noticing the ice cream.  My eager tastebuds were one hundred percent zeroed in on the snappy flavors of the cookie, which I think must always accompany every single scoop of ice cream consumed in the universe.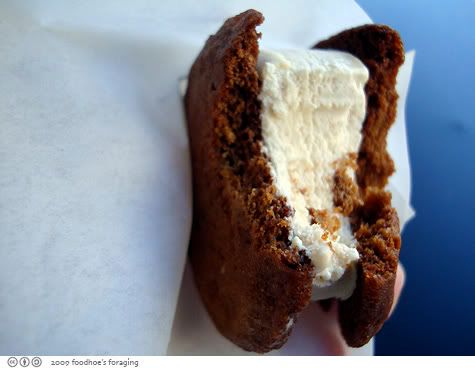 I had to stop and take a deep breath.  I decided to eat the top cookie so that I could focus on the foie gras ice cream…  The ice cream was rich and buttery, lightly salted with a nice fatty feel on the tongue… it certainly didn't taste like liver… it tasted like buttery toffee with a light cappuccino finish.  Strangely, it is the cookies that I'm thinking about… and I probably should have eaten another one, in the name of research.
The ever increasing lineup of Humphry Slocombe confections that have been made with Boccalone products: lard caramels, lard shortbread, and the devilishly addictive bacon peanut brittle.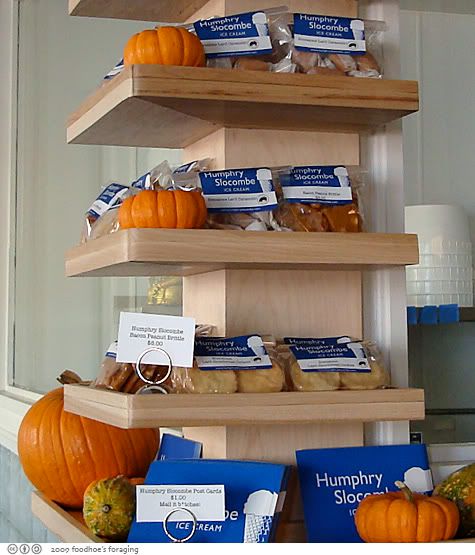 I noticed they had something new, Boccalone Lard Caramels.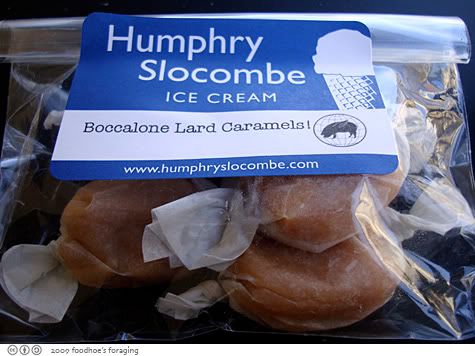 The lard leaves a greasy film on your fingers that you must immediately lick off… The caramels look remarkably like bacon drippings, there are little particles of pig suspended within.  These are absurdly delicious, sticky sweet, salty and rich.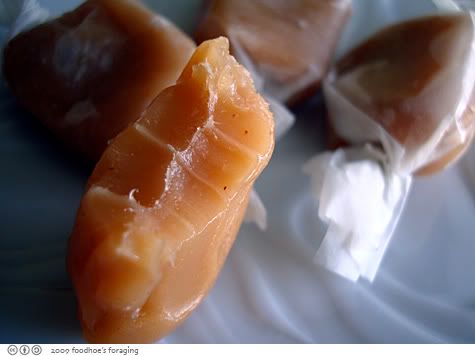 Mmmmm, I would love to find some of these treats tucked into my stocking…