2526 3rd St. (between 22nd St & 23rd St), SF, CA 94107 | 415.648.3770 | website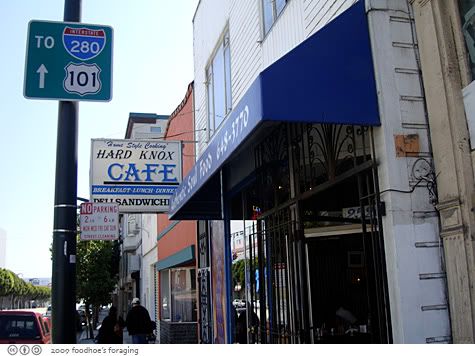 I have a backlog of SF posts in the queue that I'm still working on, so until I find some worthy spots out in Concord, I'll continue on with clearing out the memory cards…  On my first visit to the Potrero Hill branch of the Hard Knox Cafe in 2007, I was completely besotted with the magnificent oxtails in gravy; however, I returned recently with a group of people with the express intention to sample their famous fried chicken.  I love that the down home soul food is all cooked by chef Hua who is Vietnamese but grew up eating southern comfort food in Texas.  The restaurant is small and intimate, the walls are covered with a patchwork of rusting corrugated metal siding which evokes the semblance of an old automobile repair shop.  Red vinyl booths line the length of dining area and provide a very comfortable backdrop to enjoy big plates of delicious southern classics. The biggest draw is that most entrees are $10-14, which includes the cornbread, a generous entree and two sides.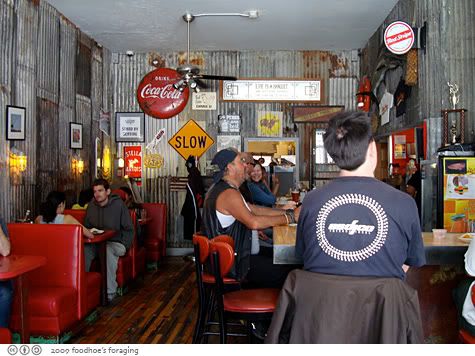 The corn muffins arrive gently steaming, the perfect temperature for the butter pats to melt on.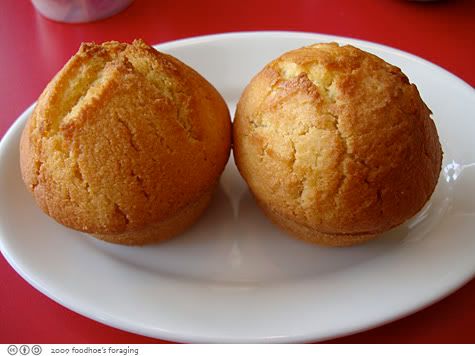 I was starving and inhaled one and then decided to save room for the main course…  shhh, I tucked it into my bag….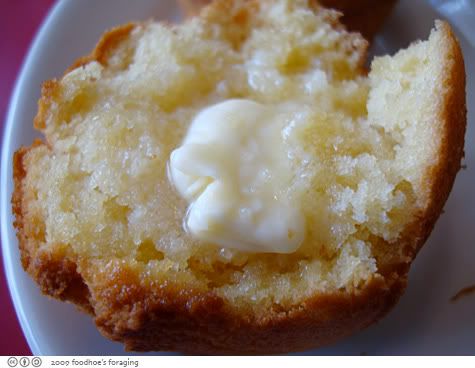 Here's my plate of Fried Chicken ($10 + $1 extra for all dark meat) which is served with two sides.  I chose mashed potatoes with gravy and macaroni and cheese, probably not the healthiest, but they were so good.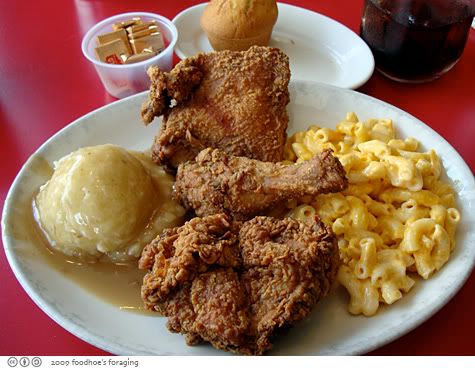 The chicken was perfect, the fried coating was crisp and savory and when I bit through that garlicky batter, the tender interior was bursting with juicy flavor.  And somehow it was not in the least bit greasy.
The mac & cheese is shiny and has a creamy slightly gummy texture.  It tasted just like the stuff I grew up on and I'll bet this doesn't congeal or get oily and separate into curds, it  stays creamy and smooth in the manner of processed cheese.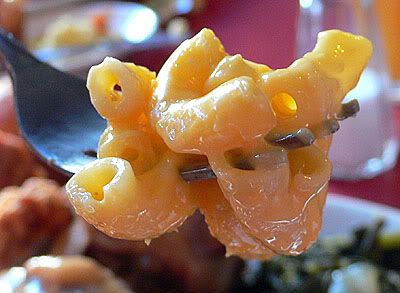 I don't even remember whether they have desserts on the menu or not, because I had to dash over to my friend Kathy's house for a jewelry party.  Fortunately she had tons of decadent sweets for us to enjoy while looking over shiny and enticing baubles…  But I can confirm that the fried chicken at Hard Knox Cafe is delicious and that I am glad that I didn't just order the oxtails again.