This weekend was the Foodbuzz First Annual Blogger Festival here in San Francisco which offered three days of food enthusiast networking, exhilarating activities and feasting opportunities for over 200 featured publishers (of which I am one).  I missed the opening reception and street food fest on Friday, but was able to enjoy a full day on Saturday, which was sunny and warm and provided the perfect backdrop for a festival.
I attended a Farm to Table discussion with chef Paul Arenstam of the Americano Restaurant and Bar, along with Brian J Kenny of Hearst Ranch.  The Hearst Ranch is one of the largest working ranches on the central coast, certified for its sustainable practices by the Food Alliance and thanks to one of the largest land conservation easements in California history, the Ranch will be forever preserved.  They had a spirited and frank discussion about the benefits of grass fed beef for the environment, the animals and the consumer, as well as the challenges and additional costs involved. Chef Arenstam talked about visiting the ranch which has a strong commitment to animal welfare and believes that healthy, happy animals living a low-stress life results in a superior product.   The bottom line Kenny said, is that the quality of the product dignifies what he does.  He mentioned several times that the Hearst Burger at the Americano is the best around – add that to the must try list!  Hot tip: you can get 30% plus free shipping if you use the code FOODBUZZ for a limited time on their website.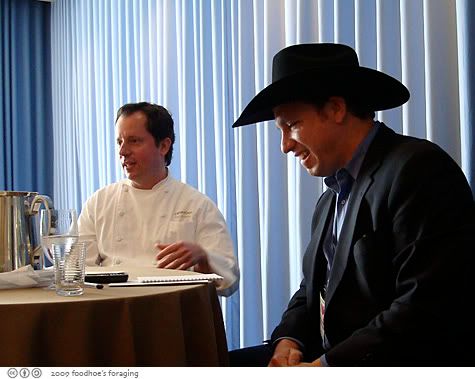 After this seminar, I made a quick dash to pickup a Foie Gras ice cream sandwich at Humphry Slocumbe (future post) and then headed over to the Metreon for an afternoon wandering around the Foodbuzz Taste Pavillion.  More than 50 local producers, brands, wineries and chefs waited to tempt us with tastes and sips, and share information about their products.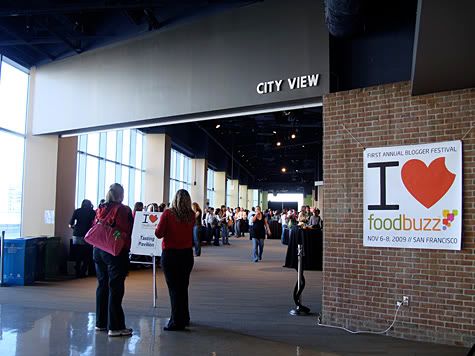 I kept snacking off the platter of Chicharrones, ethereal and gossamer thin crisps made from essence of pig that leaves you reaching for more.  Seriously, every time I passed the table I grabbed a piece or two.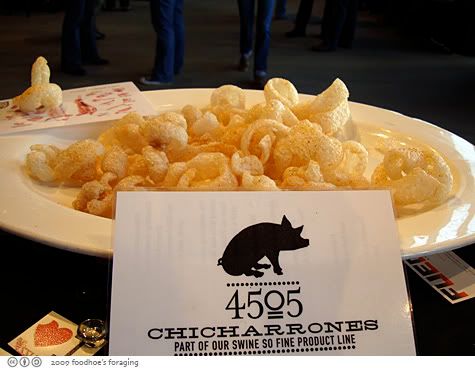 For some reason, after that rich foie gras ice cream I suppose, I was drawn to the rich sweet Kerrygold butter.  I just love bread and butter…
I met Morsinah Katimin, the founder of Sajen, which produces a delicious and refreshing beverage made with turmeric called JAMU.  I was interested to see this use of turmeric, which has many reported health benefits, especially for  being an antioxidant and anti-inflammatory.  It was very exciting to hear of another way to enjoy its benefits rather than eating lots of curry.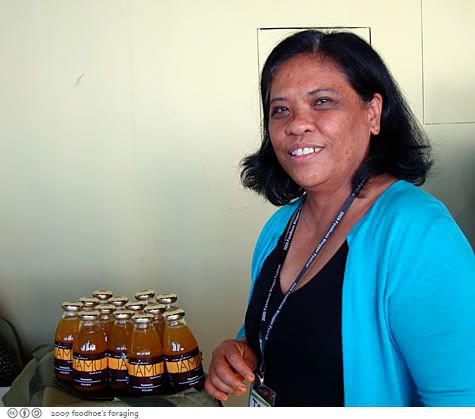 While she talked she gestured with her hands which were stained yellow from being immersed in the turmeric, her palms especially were bright yellow…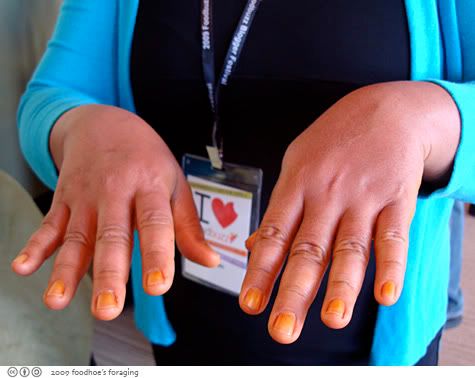 Here's Jeff Hertzberg, who signed and gave me a copy of his latest book, Healthy Bread in Five Minutes a Day
.   He said even I, maker of bricks and rocks, can make bread if I follow their simple instructions.  They had a plate of absurdly delicious Gluten-Free Rosemary Parmesan Bread Sticks, which is in the book and I suppose I must try because they were so delicious I'm still thinking about them.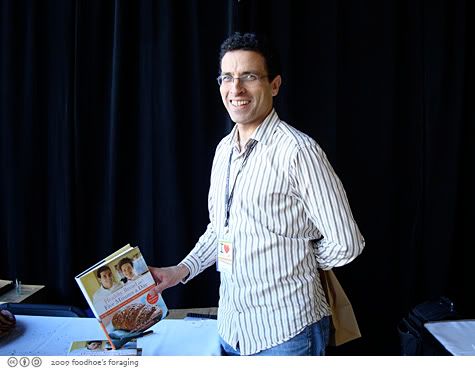 The 479° Popcorn table offered intriguing flavor combinations that caught my attention.  They make popcorn by hand using exotic seasonings like chipotle caramel with almonds, Pimentòn de La Vera, madras curry coconut and cashews to name a few.  I also learned that 479°F is the optimal temperature for popping corn!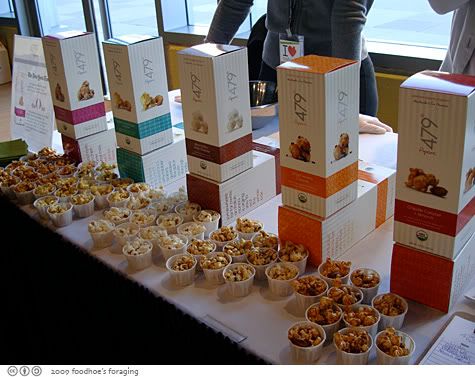 There were tables and tables of sweets and treats, delicious wines and artisan beers that became a woozy and hypoglycemic blur.   Here are a few more things I remember…  delectably crisp chocolate dusted caramel almonds by Au Coeur des Chocolates,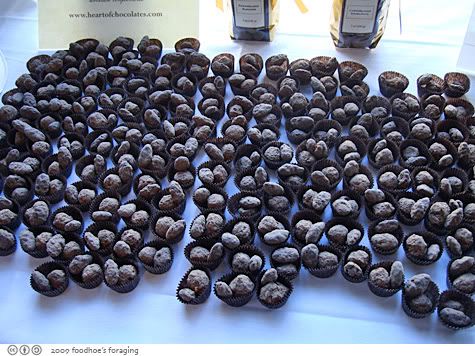 Seasonal marshmallows by Gâteau et Ganache, fine chocolates and confections, in a trio of flavors: Tahitian Vanilla, Pumpkin and Cranberry.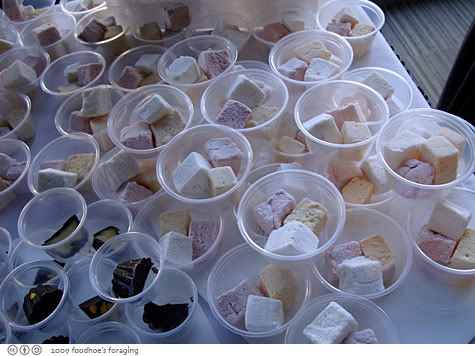 beef jerky and sticks from Prather Ranch,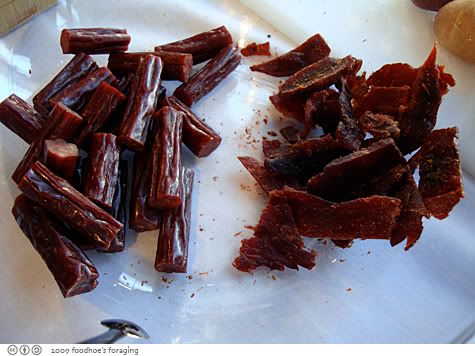 There were tiers and platters of Mini Cupcakes supplied by Mission Minis, an assortment that included aztec chocolate, pink lemonade, red velvet, and pumpkin with dolce de leche and toffee.  One of the title sponsors, Bertolli, set up a sauce kitchen where featured bloggers presented demonstrations of their winning recipes, and Natures Pride also presented recipes by foodbuzz bloggers featuring their products.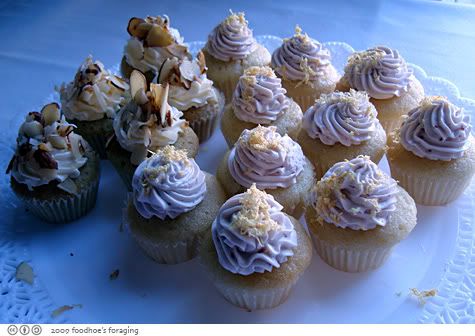 The feasting continued with a dinner at the Greenleaf Produce Warehouse where we shared a rambling Foodbuzz Community Table, which was organized with the crew from Outstanding in the Field.  Rather than dining in a field, the urban warehouse provided shelter from the chill autumn air, and we enjoyed a family-style feast prepared by Chef Dennis Lee of Namu, along with wines paired and provided by Randall Grahm of Boony Doon wines.  I have enjoyed Chef Lee's cooking at his restaurant, as well as their Thursday food booth at the Ferry building, and was looking forward to a feast with wine pairings with great anticipation.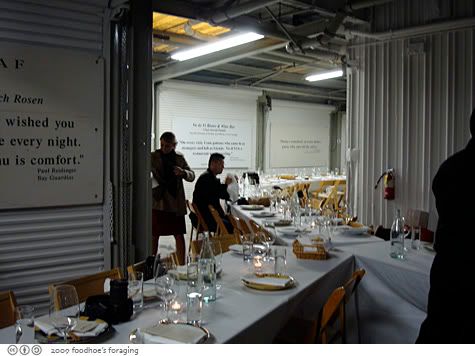 There was a stunning display of fresh and seasonal produce featuring brussel sprouts and the hand of buddha.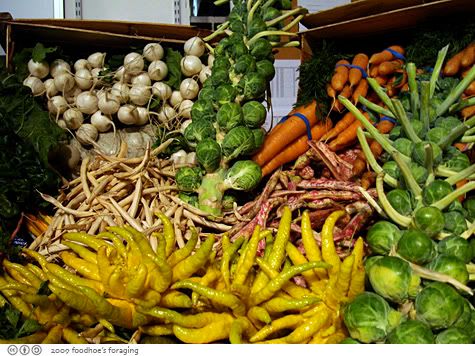 Here's the impromptu kitchen that was setup on the loading dock.  It boggles my mind to imagine that they cranked out all that delicious food to feed several hundred hungry people on the fly like this.
Servers walked around carrying platters of ahi tonnato on pain de mie with gochukaru and parsley, while we were served a refreshingly crisp 2008 Ca' del Solo Albarino.  I had several of the appetizers, which were small bite sized pieces of toasty bread topped with a creamy and tart dollop of whipped tonnato sprinkled with fiery chili flakes.  Very delicious.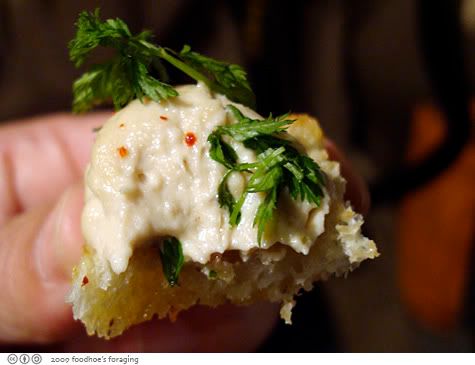 I was pumped to finally meet Cathy who pens one of my all time favorite blogs, gas.tron.o.my.  I have been a devoted reader ever since she and Vern went to live in Vietnam for a year.   I immediately recognized her because she had posted an interview from an episode of Rick Stein's Far Eastern Odyssey, along with many photos of  her beau on their website.  It was great fun to catch up and speak with them in real time.  They introduced me to some other SoCal bloggers, pepsimonster, Hong and Kim from ravenous couple, Liz from Fooding411, among others…  Once we were all seated, we began our family style meal by sharing a plate piled with kimchee and a variety of pickled vegetables.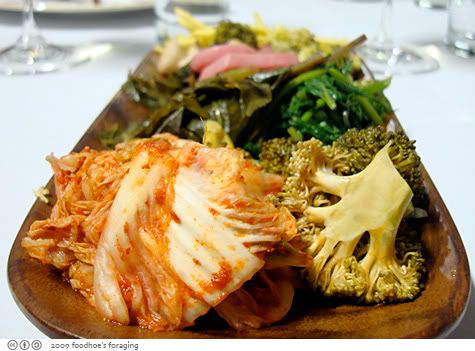 Next came wooden bowls containing a light and fragrant soup of Dashi with maitake, shieji, enoki mushrooms.  There were crunchy bits of pickled daikon infused with the bright flavor of meyer lemon that packed a pickly wallop.  My only complaint is that it was lukewarm… and the room was kind of chilly, it being a warehouse and all.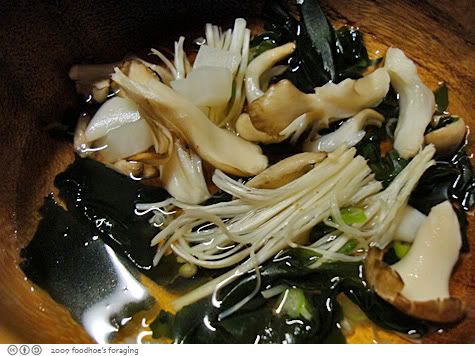 The next plate was a cold Udon with grilled calamari, cucumber, frisee and yellow pear tomato, tossed in a chojang and sesame vinaigrette.  The noodles were supple and elastic but very cold, as if they had come straight out of a icy bath…  I liked the pungent and spicy dressing, which was very garlicy.  This was served with 2007 Le Cigare Blanc that went surprisingly well with the spicy and acidic noodles.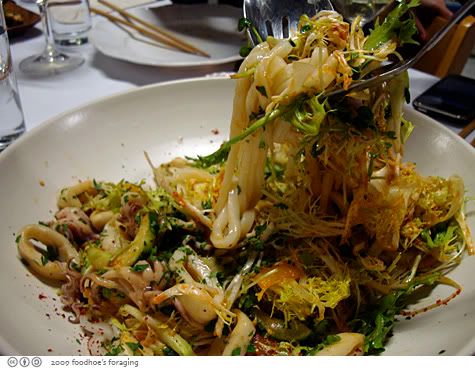 We devoured the Sea Trout that had been baked with dashi kombu, topped with fragrant fried garlic then sprinkled with Japanese curry powder.  This was light and flaky and even the crispy skin disappeared quickly.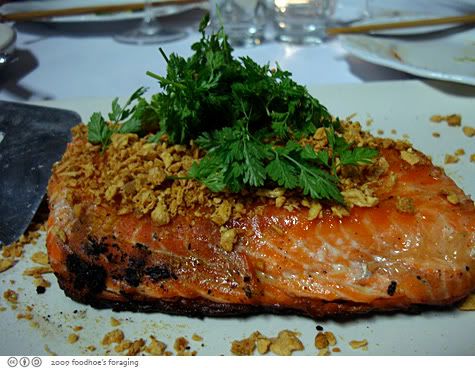 Our plate of Mushroom Risotto with koshihikari rice, topped with crispy maitake mushrooms was immediately inhaled.  Indeed, a calamity of the competitive family style feeding, I neglected to pay attention and consider myself lucky to get a few spoonfuls.  The few bites that I had were delicious… but I regret not being more aggressive and missing out on the crispy shroom topping.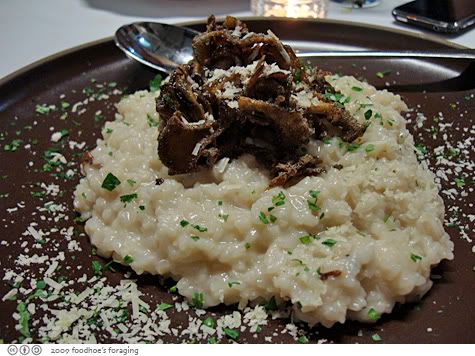 Soy braised beef cheeks and oxtails, baby carrots and fingerling potato, tossed with an OB beer and denjang demiglace.  The meat was all mixed in a heap over the potatoes, so I am not sure which was cheeks and which was tails, but it was fork tender and delicious and this plate was served steaming hot.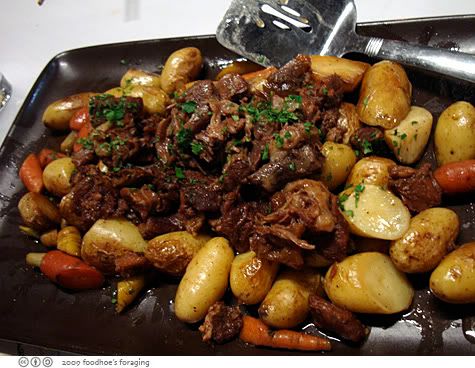 Roasted brussel sprouts, ponzu fried garlic, guanciale, topped with bonito flakes that undulated as if alive.  This mildly freaked out my neighbor Angela from Spinach Tiger.  We enjoyed the only red poured that evening, a rich and smooth Le Cigare Volant 2005.  This was my favorite dish of the evening, I didn't even know I liked brussel sprouts, but I was won over by the dense chewy texture and perhaps that guanciale had something to do with it as well…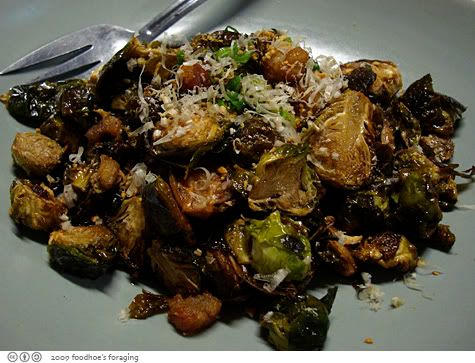 Dessert was Koshihikari rice pudding with poached pears topped with cookie crumbles, served with a sticky 2008 Vinferno.  I only ate the top and couldn't finish this although I do love rice pudding.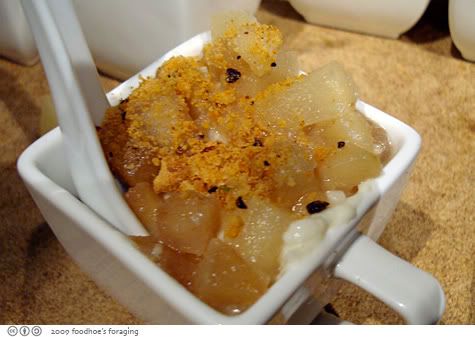 The Foodbuzz crew, led by Jenn the Leftover Queen, finished up a quick awards ceremony featuring many foodblogs I had never heard of, but I was glad to see a local favorite Lick My Spoon win  a couple of categories.  We kvetched that they focused on the recipe/cooking blogs and neglected our category of restaurant eaters, but this was a first time effort so we can only hope that they will expand the categories in the future.  The chef and staff are all taking a moment to chill while trying to pack things up.  There was a mad rush for everyone to leave before the 9:30 deadline.
The next day I couldn't believe all the stuff I had collected, here is all the loot …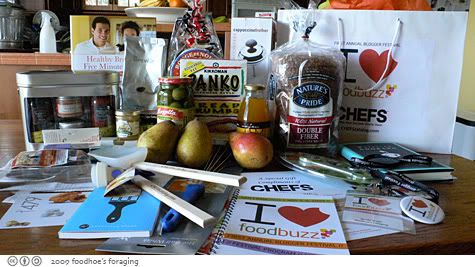 My favorite thing is the Knork, which is a fork with the functionality of a knife built in… which makes me wonder why they didn't design an all in one spork/knork.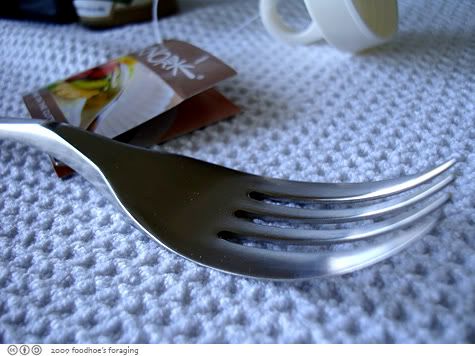 That was quite a day of nonstop feasting and talking about food with similarly obsessed bloggers.  It was grand and I hope that Foodbuzz does it again.