2534 Mission St (between 21st St & 22nd St) SF, CA 94110
| 415.648.7600| website | @ForeignCinemasf | reservations
I enjoyed a dine about town dinner almost two years ago and have always wanted to come here for brunch. The celebrated restaurant recently marked its 10 year anniversary and while still very popular, they were graciously able to accommodate our last minute reservations for a party of 8.  The dining room is a lovely spot with high ceilings, bright windows and light wells that let in lots of natural light that reflects off crisp white tablecloths.  We dined with a crowd of Mr. K's family: visiting parents, visiting childhood neighbor, and a variety of in-laws.  I left the battery for my camera in the charger at home, so all of these pics are from my camera phone…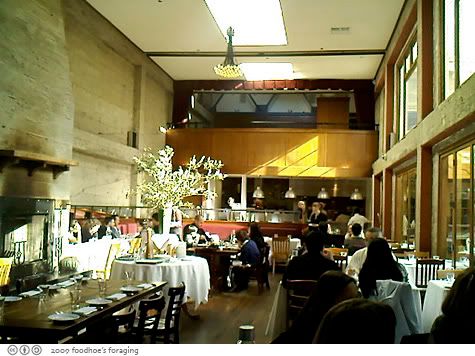 We met Mr. K's childhood pal Doug and his partner George, who were visiting from the east coast.  They were waiting in the long zinc covered bar, which is all the way at the end of the dining room and provides a dramatic backdrop with its spare minimalistic design.  The lofty cement walls with wood beams and sleek burnished metal trim are softened by stark organic forms that draw your eyes upward.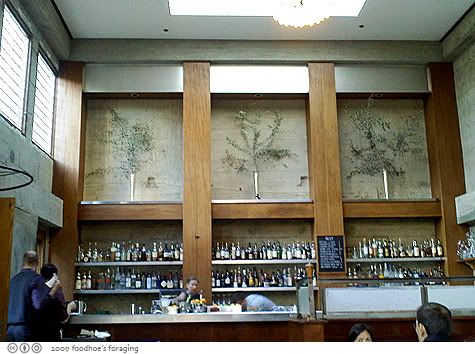 They may have a full bar, but we were interested in the fresh squeezed orange juice and a spicy spicy bloody mary.  My coffee arrived in a cavernous bowl which absorbed half of the tub of cream before it began to lighten in color…
I couldn't resist trying the house made organic Persimmon Pop Tart ($6.75).  It did indeed look home made with the mark of fork tines along the rough edges but the rustic exterior housed a masterfully buttery and flaky pastry dough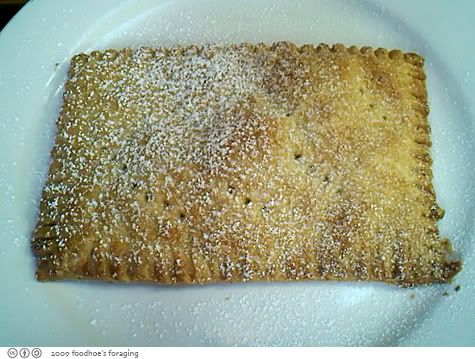 The persimmon filling was delicate and slightly spicy.  I always preferred the pop tarts with icing as a child, and I must admit that I my tastebuds haven't changed… the light dusting of confectioner's sugar helped though.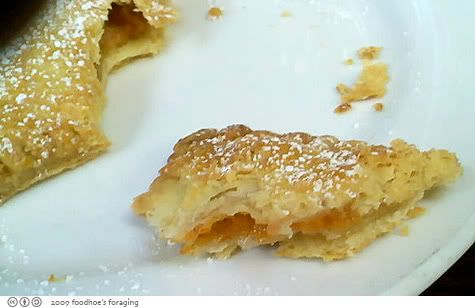 New Life Farm organic eggs whipped up in an omelet whipped up with golden chanterelles, lager and flagship cheddar cheese, lebnee (Lebanese yogurt) and crispy potatoes ($15).
Several of us ordered the Fried Eggs which are fried in olive oil and deglazed with a sweetly tart balsamic vinegar.  They are served with paper thin slices of sheer Prosciutto, grilled tender endive over roasted garlic potato hash ($13).  The eggs were well cooked, one dark golden yolk was cooked until it was soft but no longer runny, the other oozed thickly.  The combination of tastes and textures was very good, the only thing missing was toast, which wasn't mentioned anywhere on the menu, although I didn't really need it.
I sat next to Mank who ordered a side of the Slow-cooked brown sugar smoked bacon ($6.5) that he shared.  The thick slices of crispy, chewy bacon candy were finger licking good.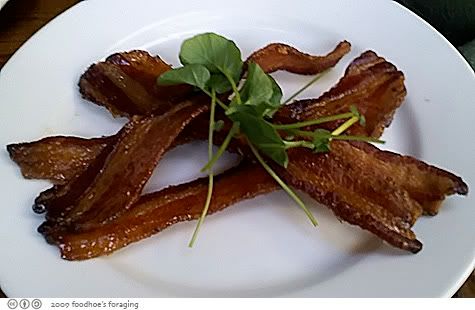 Mr. K enjoyed his Tunisian Chicken sandwich ($13), served with french fries and a small bowl of tarragon mayo.  The proportions of the sandwich were perfectly balanced, crisped buttery focaccia surrounding succulent strips of chicken breast that were infused with aromatic and exotic spices and a layer of peppery fresh arugula.  The french fries were well seasoned and crispy and my hand kept reaching over to pilfer more.
We thought we were too full for dessert, but Mr. K's dad Don ordered a satsuma and citrus granita that was very light and refreshing, a perfect ending.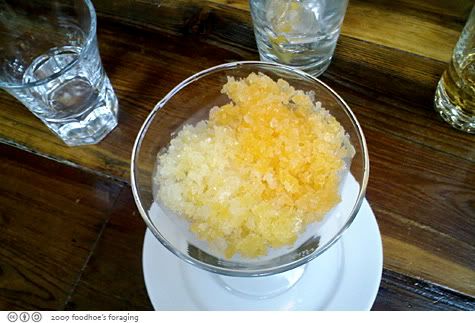 There was a festive group outside wearing party hats in honor of some exciting occasion.  We must come back on a warmer day and sit outside next time!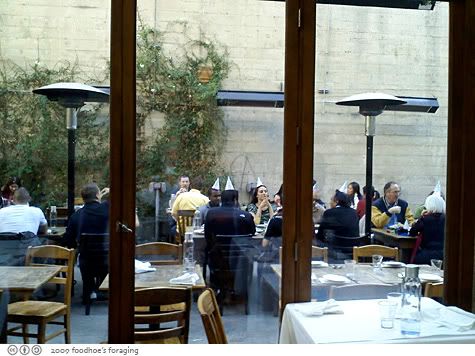 The kitchen which was still whirling with activity when we left.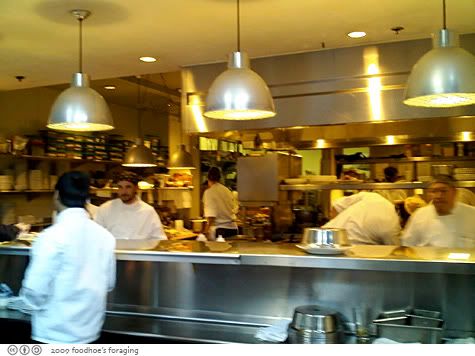 We took group photos out front on Mission Street and then proceeded towards bart, enjoying the cheesy monophonic christmas music emanating from LED encrusted santas hanging from storefronts as we walked by.  It's a short walk to the station and I am plotting my next visit already.