1298 Market St, SF, CA 94102 | 415.621.1994 | website
Years ago when I worked at a nonprofit agency on Mission Street, I was introduced to this unusual restaurant that is run by disciples of Sri Chinmoy, an Indian guru whose teachings focused on inner peace and world harmony. The dining room has an airy fairy atmosphere with high open ceilings and walls painted the color of a serene and peaceful blue sky.  There is a distinct new-age, celestial feeling about the place, but there is very little overt propaganda related to the guru/weight lifter/musician/poet/artist.  His framed artwork hangs on the walls and they sell books and videos of his teachings by the pastry counter/register area, but it's all very low key.  The restaurant is closed for a couple of weeks in the spring and fall because the staff goes on a the bi-annual pilgrimage to pay homage to the guru but you can check the website for the exact dates.
I convinced my friend DebbieG to meet me here for the neatloaf dinner, a longtime favorite of mine.  Both of us are omnivorous, but she was very intrigued with the menu and the very idea of  Nacon (non meat bacon) which looked like strips of doggie chews.  I suppose that for a vegetarian after many years of abstaining from meat that this might satisfy a basic need, but to me it is not the same.  However, if you were never going to eat the real thing, this could serve as a replacement to a very deprived appetite.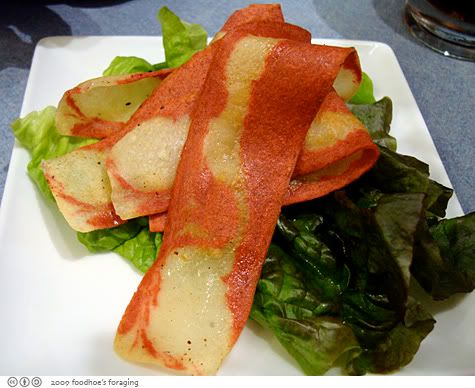 We loved the Samosas ($5.25) fried pastries filled with potato pea curry and served with a sweet and savory mango chutney.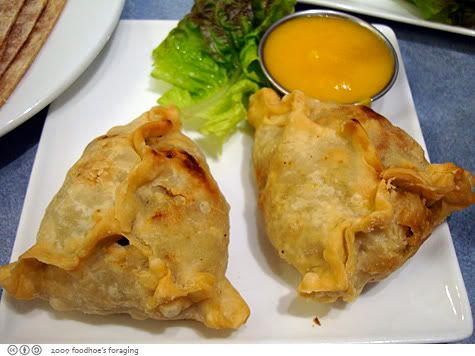 These were wrapped up in a deliciously light flaky fried dough and the curry infused filling was hearty and satisfying.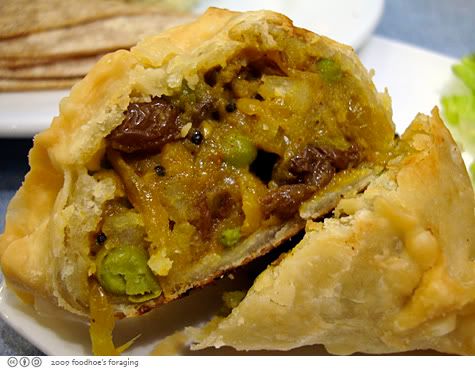 Hummus & Chapati (vegan) ($4.45) The hummus was garlicky and tasty, but the chapati were disappointing, as they were served cold and were essentially wheat tortillas.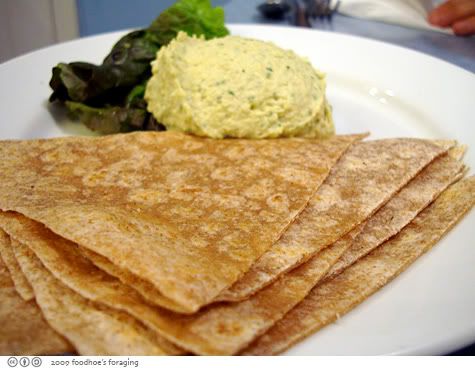 We both had the Neatloaf Dinner ($10.75), which is the house specialty and apparently now available vegan too.  The vegetarian loaf is made from grains, eggs, ricotta cheese, tofu and spices blended together and baked, topped with a tangy tomato-based sauce.   It is served with mashed potatoes that are topped with a thick mushroom gravy.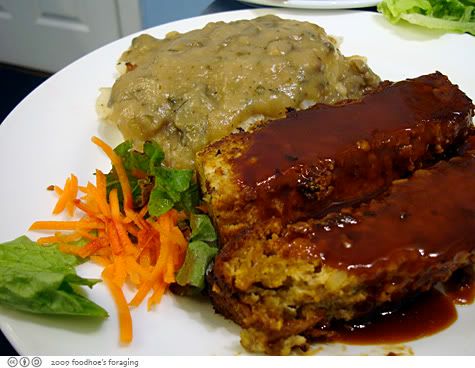 Now, I must admit that I did not grow up eating meatloaf, it was one of those dishes that my dad did not like and so therefore it did not appear on the dinner table.  Neatloaf was my first exposure to loaf cuisine and I was hooked from the first bite.  The texture is dense but tender and full of flavor and the chewy baked crust slathered with the tart barbecue sauce that is uplifting.  Sri Chinmoy, if you're up there listening, I'm all for world peace and I'm a devotee of your neatloaf!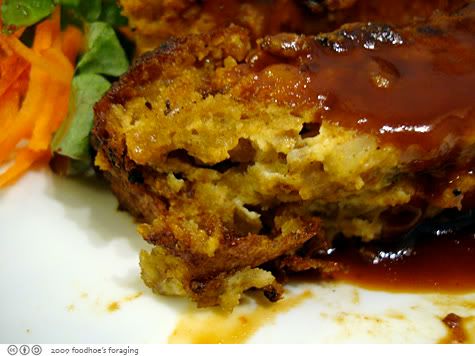 For dessert there is an entire case of cakes, cookies, and brownies, many of which are vegan.
We found the Rose Cardamom Cupcakes ($2.75) to be a bit bland, like spice cake topped with a one dimensionally sweet frosting.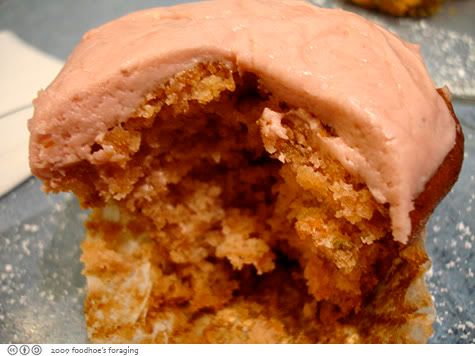 We both liked the Pumpkin Date Pecan Cake ($2.75) which had a heavier texture and was much more flavorful, both in regards to the spices and the frosting which tasted of maple and was topped with chopped pecans.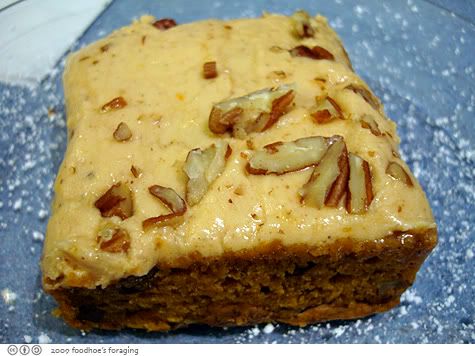 There are quite a few restaurants that are affiliated with Sri Chinmoy, Jyoti-Bihanga in San Diego, Silence-Heart Next in Seattle, the Oneness Fountain-Heart in NY, along with others in New Zealand and Canada, many of which serve the legendary neatloaf.  I was excited to find the recipe online and have posted it here, although I'm not sure I should have an entire loaf anywhere near in my hands.