1067 N San Antonio Rd, Los Altos, CA | 650.948.2696 | website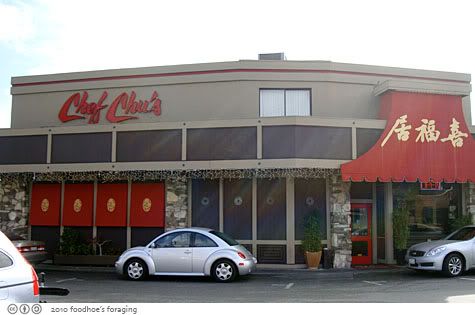 We had a family gathering last month in the area where I grew up, just blocks away from my first job ever as a floater clerk at the long closed Liberty House department store. Unfortunately I moved out of the area before I ever knew about Chef Chu's iconic restaurant, which opened in 1970. Over the years, people kept talking about it, but I never got a chance to eat there; however, I did pick up a copy of Chef Chu's cookbook, Distinctive Cuisine of China, which has a pretty good recipe for Kung Pao Chicken, one of their signature dishes.  The restaurant is a large two story building that has undergone several remodels and seats close to 300. From the bustling  main dining room you can peek through the glassed-in exhibition kitchen and watch the large kitchen staff busy at work preparing dishes.
We sat in one of their cozy private dining rooms, where cooking classes are held with overhead mirrors suspended overhead to better watch activity going on on the stoves.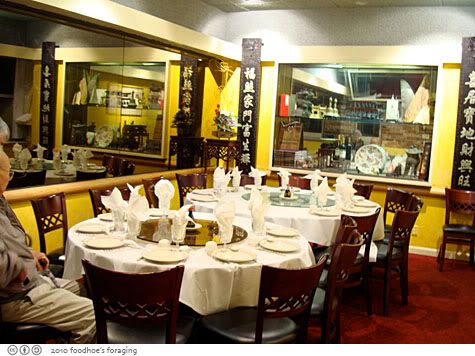 Chef Chu himself is often at the center of the activity, he spends a lot of his time in the kitchen as well as on the dining room floor.  The charismatic chef came in to serve some of the dishes and welcome us to his restaurant.  He participated as part of a team that was invited to cook at the James Beard Foundation in 2003 and the wall outside of our private dining room is covered with awards. His restaurant was named one of the top Chinese restaurants in the US earlier this month where he was also recognized with a lifetime achievement award.  He's set the standard for Chinese food on the peninsula with his restaurant, cookbooks and cooking classes over the years.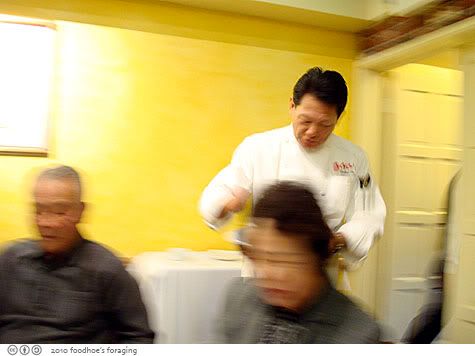 We had the Banquet Deluxe ($26.95 pp) which presents a sample of Chef Chu's culinary expertise. The dishes in the set banquets have been chosen to provide a symphony of flavors, where one can experience an abundance of tastes, textures and aromas. It is definitely an upscale dining experience, white tablecloths, tableside service and rather gaudy gold tableware alongside our chopsticks.

We began our meal with Crystal Shrimp in Lettuce Cup ($12.95), a refreshing appetizer of tender minced shrimp, bamboo shoots & water chestnuts tossed with bits of fried wonton wrappers, served in chilled lettuce cups. I am not a big fan of the texture of chilled iceberg, but the savory filling had a variety of crisp and crunch that offset the wateriness of the lettuce.
Won Ton Soup ($8.95), was full of shrimp, fresh snow peas and pork filled dumplings floating in a rich chicken broth.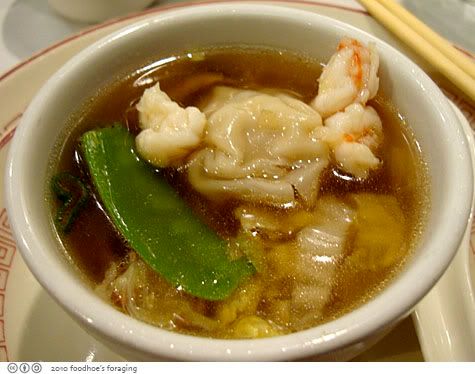 One of my favorites was the Peking Duck with soft steamed lotus buns, (requires a minimum of four hours advance notice. The servers prepared our dishes for us, with a soft fluffy bun dabbed with a bit of hoisin sauce, a section of fresh green onion and a pile of duck meat that included a flap of crispy skin.  (The skin is the best part)
The Exotic Lovers' Prawns ($14.95) is a composed plate of honey pecan prawns paired with  spicy prawns sauteed in chili paste and garlic sauce.  The dish is surrounded by paper thin sliced fresh vegetables and candied pecans.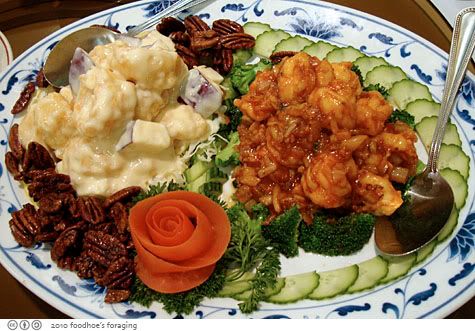 Hot & Sour Hunan-Style Beef ($11.95),  tender beef sautéed in a spicy-tart sauce with chili paste, garlic & ginger, served over fresh crunchy broccoli.
Snow White Chicken with Pine Nuts ($12.50), was a mound of thin slices of chicken breast sautéed with snow peas & black mushrooms topped with pine nuts.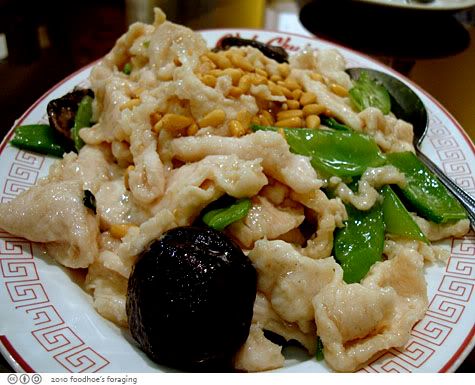 Braised Shiitake Mushrooms with Shanghai Baby Bok Choy ($8.95) was served in a visually appealing arrangement.
Poached Sea Bass ($18.95), Succulent, tender boneless fish filets, steamed with Ginger & Green Onions.  The poached fish dish always comes at the end and I am always a bit too full to appreciate it, which was too bad because the filets were ethereal and tender and the thin shreds of ginger, scallions and cilantro on top smelled wonderful.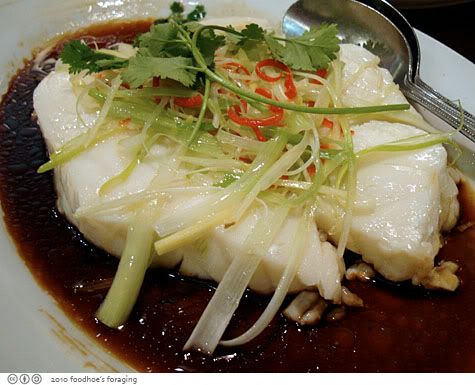 For dessert I found the Mango Sorbet to be very refreshing.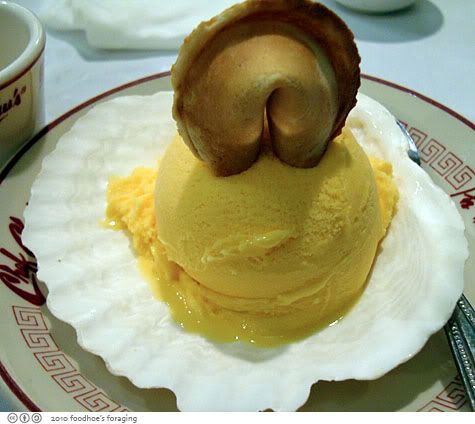 We enjoyed the grand feast, everything was fresh tasting and well prepared, the service was very attentive and our tastebuds and bellies were satisfied.  The care taken with the presentation of the dishes was far superior to most Chinese restaurants, which tend to serve things in sloppy mounds.  One day, I'm going back to try the Kung Pao Chicken…