I took this picture on the drive home last Thursday, which was New Year's Eve.  I know I'm not supposed to be rummaging through my purse and fumbling around with a camera while driving, but it was so stunning that I couldn't resist!  Nature put on such a dramatic visual display, it kind of shamed the puny fireworks that fizzled and popped to mark the transition from 2009 to 2010 which we watched from our deck later that night…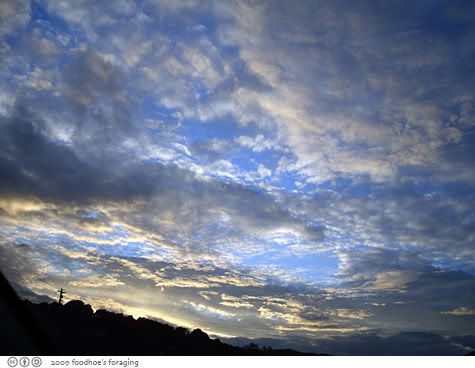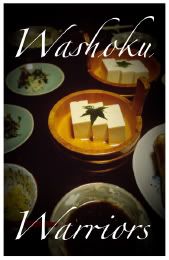 My family celebrates the new year with a feast that is inspired by our Japanese roots, although the fine art of cooking the traditional dishes has been lost through the generations.  In 2008, I posted about a very traditional New Years feast that my aunt Tomiko prepared where we enjoyed an epic spread that inspires me to this day.  The Washoku Warriors challenge for the month was to prepare a few New Year's dishes, and I found that old habits die hard.  It was as if I had reverted to childhood and studied for the wrong test!  Well, I did two of the correct recipes and this one Sweet and Sour Lotus Root, which I later realized wasn't on the list, but was a nice addition to the table…  I've always loved the delicate lacy appearance of lotus root and in this recipe they are just barely blanched so that they maintain their crisp texture and are very festive to look at.  Read about the Washoku Warriors challenge here.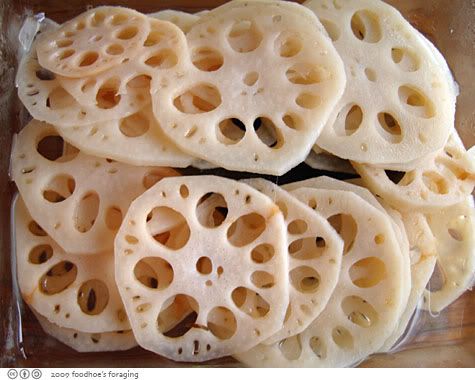 We all found the Fiery Parsnips (Kimpira), to be as delicious as the traditional burdock root, but Andoh sensei includes this as an alternative vegetable when burdock root can't be found.  A fiery blend of seven spices (shichimi togarashi) is added to the dish, which is named after a folk hero Kimpira who displayed a fiery determination.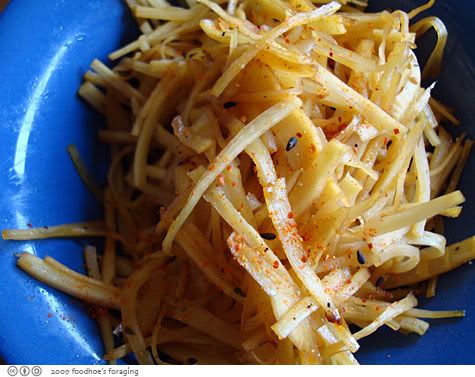 The final Washoku Warriors dish was the brightly colored New Year's Salad (Kohaku Namasu) which is a delightful palate cleanser and a staple for the holiday spread.  It's made of julienned strips of daikon radish and carrots, topped with grated lemon zest, fine shreds of dried apricot and then tossed with a marinade of sweet and sour sauce made from rice vinegar, sugar, salt and kombu.  I have to admit that I didn't plan very well for the time consuming preparation of these dishes which all required a lot of tenacious and repetitive chopping.  This reminds me of why it is that I usually go out for Japanese food…  This was the last of the traditional dishes that I made from the Washoku Warriors challenge, but I learned some new dishes and it added some traditional elements to round out the meal.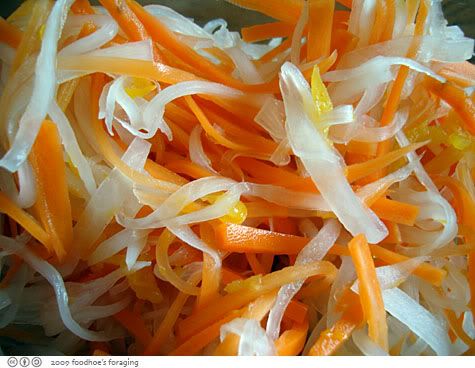 When I was at the Japanese market, I picked up a few other Japanese treats that I know my Mother loves and hasn't had in many years.  Did you know that Okame brand makes a non-stinky version of Natto?  This is a much reviled/loved dish that is visually repugnant to those who do not appreciate the stringy strands of slime that form a delicate spiderweb between the chopsticks and your mouth.  To the uninitiated, the texture and the malodorous ammonia odor can be a quite a turnoff in the same way that oozy stinky blue cheese or stilton can incite the gag reflex.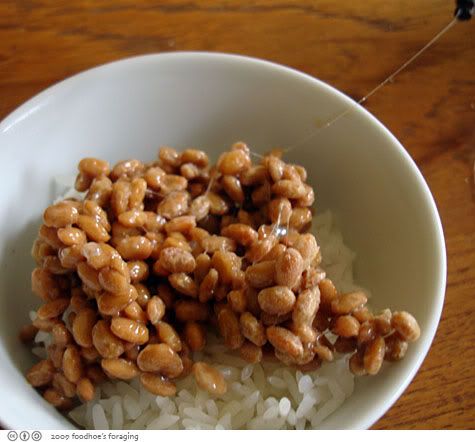 My grandmother used to always make Futomaki, which is another time consuming dish but one that was always at the New Year's table, so I couldn't resist picking one up at the market.  It was good but not as good as grandma used to make!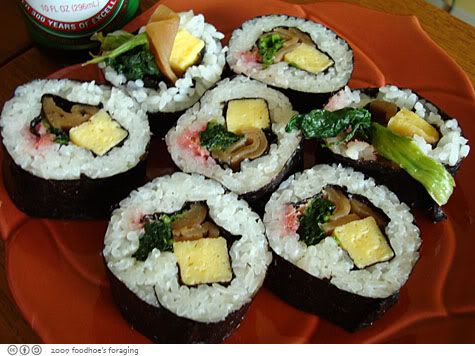 I'll digress here slightly to introduce the guests of honor…  This is not exactly traditional new year's fare, but around here it's crab season and Mr. K drove out to Half Moon Bay where he scored a lively crew of FOBs.  He made a slight detour on the way back and stopped off at Hog Island Oyster Bar in the city, so we had a lovely seafood feast of oysters on the halfshell, aand fresh cracked crab for our New Year's eve.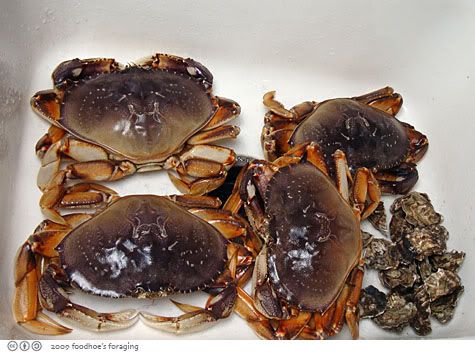 Anyways, so we gave these bad boys a good cleansing steambath and enjoyed the fresh and succulent meat in our feast, both as is and rolled up in our make your own sushi buffet…  Everyone loves fresh cracked crab as an appetizer.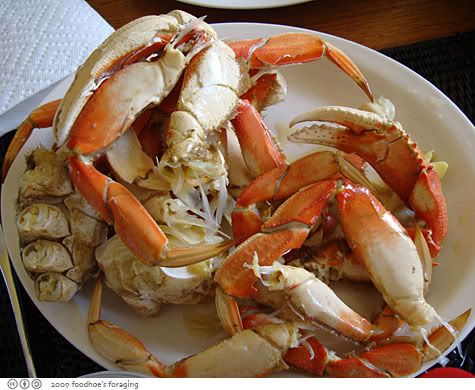 While you won't be able to find a Japanese restaurant that is open on New Year's day, the Japanese markets are bustling with shoppers getting fresh ingredients for their holiday spreads.  I drove over to Nijiya Market early to pick up a couple of sashimi platters.  It wasn't crazy busy, but there was competitive crowd waiting at the empty cases and each new stack of sashimi and sushi platters were quickly snatched up as they were put on the shelves.  It's worth getting up early to pick it up that day, the fish is sparkling fresh and the texture of the flesh is firm and supple.
The other part of the meal was a make your own handroll buffet which I have posted about before.  I cut the sashimi into smaller pieces so they would fit better into small handrolls.  Making your own handroll is so easy.  Pick up a hand sized sheet of dried roasted seaweed, spread some sushi seasoned rice over it, then go to town by piling on your favorite fish and vegetables.  Dunk into bowls of wasabi mixed with soy sauce and enjoy.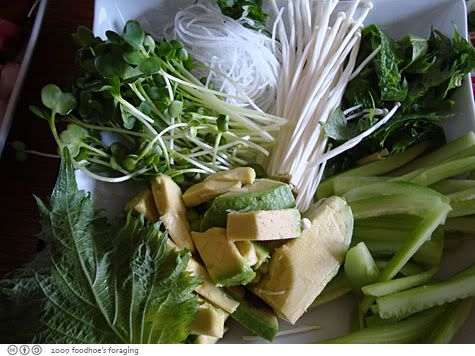 Here's my version of California Roll, with fresh crab, avocado and cucumber slices. I added a bit of green onion and some bright red pickled ginger.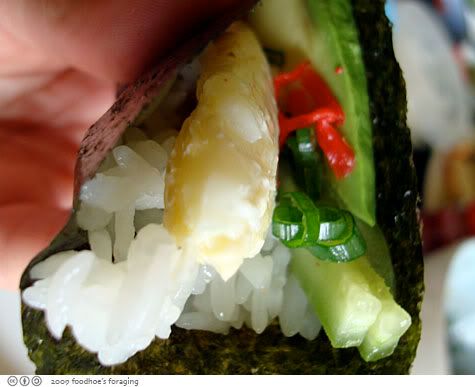 The Ika and Shiso Roll is my all time favorite combination for sushi.  Surely by now, you know that my cats are named after this fine synthesis of taste sensations.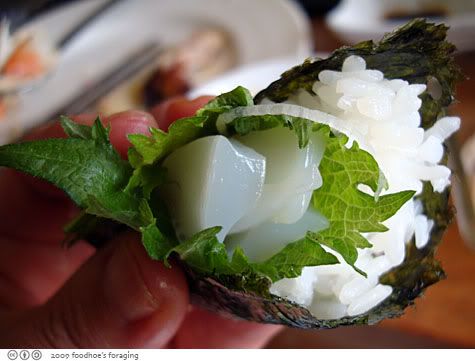 I made an Ahi Poke with sesame oil, dried chili flakes, salt and green onion that was delicious rolled up along with fresh shiso leaf.
Another handroll with salmon roe, avocado and shiso leaf.  The combinations are endless…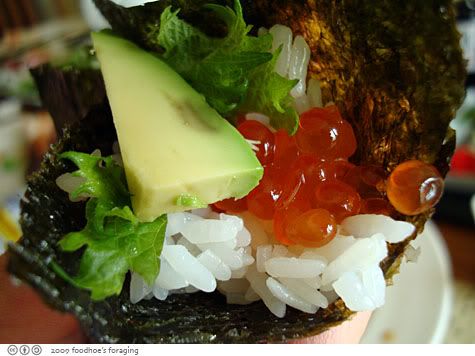 For dessert, I made Ginger Spice cookies which we enjoyed with ice cream that my cousin Megu brought…
along with her adorable son Ken.  He became tired watching us eat and began to droop.  Soon we all began to feel like this…  Can you believe he is only two months old?  Anyways, we had a lovely time and hope you did too!  Best wishes for 2010!