1835 Willow Pass Road, Concord, CA 94520 (925) 691-8888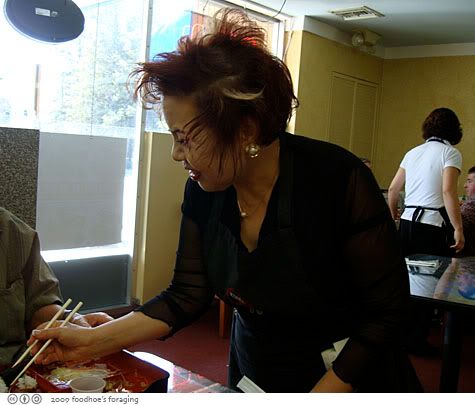 It's high time for me to begin chronicling my lunchtime foraging in Concord, so I'll begin with a favorite called Korea House.  I've posted about this before, but I keep getting recommendations for this place, and everyone mentions the lady with the hair who comes around to your table to feed you.  I furtively took a picture so that you can see her elaborately coiffed splendor… it's multihued, teased and defies gravity.  Secretly, I call her mama-san.  She comes around to the table, wielding  a pair of freshly opened chopsticks and generally targets a man at the table.  She picks up a bit of this and that and proceeds to feed a delicious taste to the lucky object of her attention.  She made an effort to figure out what kind of Asian we were and from then on, she spoke Japanese to us and now she always thanks us in Japanese when she brings the bill.
Anyways, onto the food.  One thing I've noticed is that they no longer give you a great variety of banchan, but the plates you get are large and they bring refills when you finish up one of the plates.  I think that they have narrowed down the dishes to suit the tastes of their customers, and we are generally content with this selection.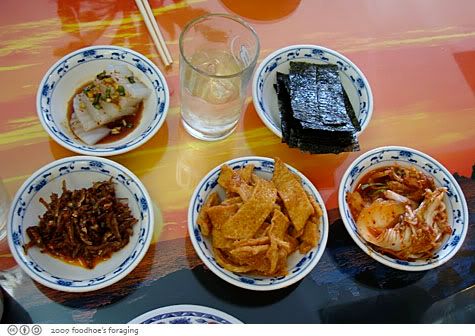 This is one of my favorites, it's called acorn jelly and has a buttery, silky texture that becomes fantastic when combined with soy, green onions, chili flakes, sesame oil and seeds.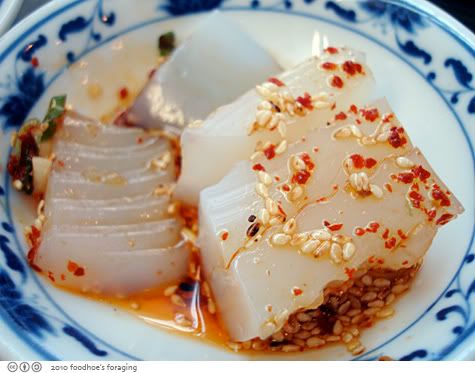 The thin strips of fried fish cakes are slightly sweet and very good combined with the other savory and salty items.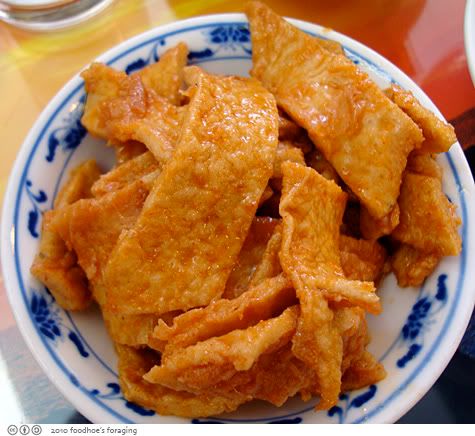 You can always count on getting a pile of pungent, spicy kimchee.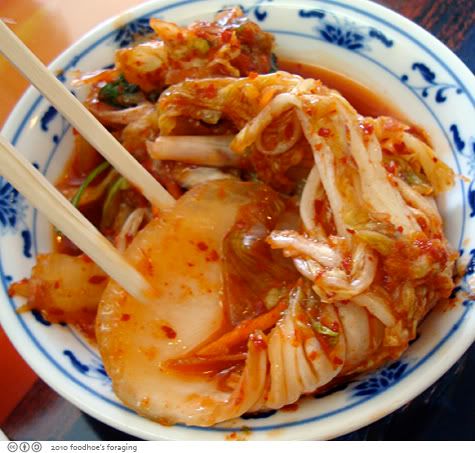 We also love the tiny dried anchovies that are sticky sweet and savory and mixed in with spicy red chili flakes – excellent on white rice.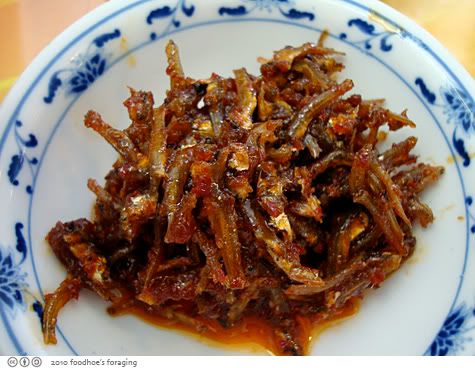 Once we got this nice plate of crunchy greens that was almost like a kimchee salad.  Very crisp and refreshing.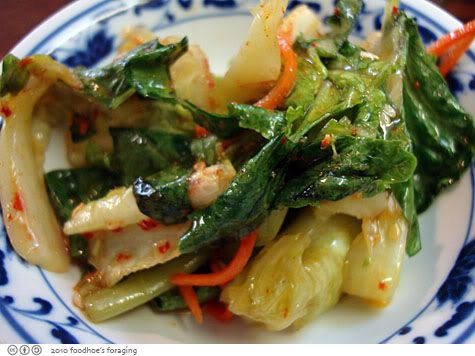 The stack of crisp toasted nori has a delicious coating of sesame oil and is sprinkled with salt which is addictive to snack on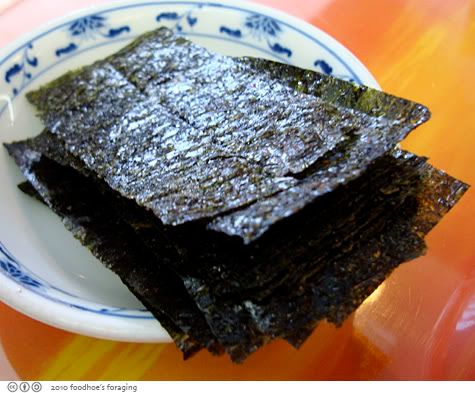 but even better used to roll up a little bit of rice, kimchee and stuff.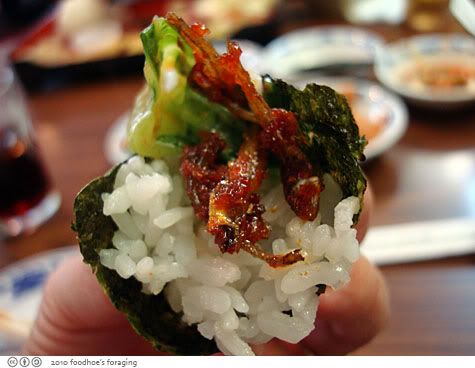 So, while the selection is a bit skimpy, it suffices.  We feasted like kings before the main dishes ever arrived.  The lunchtime bento special is quite a deal because you get the bento which includes jap chae noodles, tempura, marinated bean sprouts, salad and a big scoop of rice, and that's not all.  All this comes with a plate of grilled meat or fish for under $10.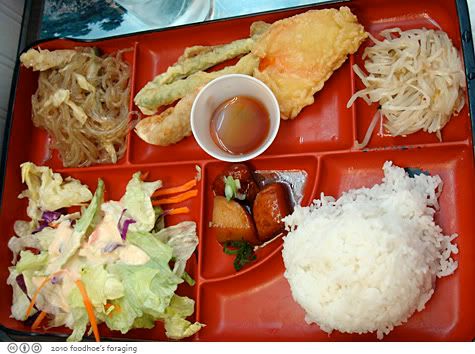 Grilled chicken, which I always think is coated with a little bit too much teriyaki like sauce.  It comes on a sizzling hot plate and is served over sliced onions.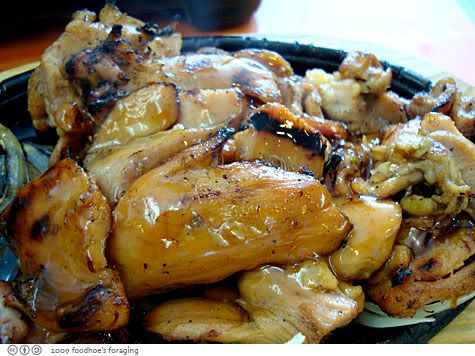 Thick meaty slices of beef short ribs, Kalbi.
Grilled Mackerel is seasoned simply with salt and then grilled.  I thought it was magnificent.  The outside is slightly crispy and the flesh was juicy and tender and very good with a squeeze of lemon and drizzled with soy sauce.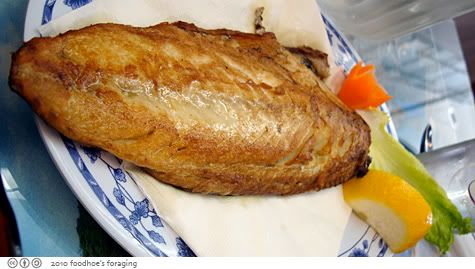 Fried Fish came with a sweet and sour dipping sauce.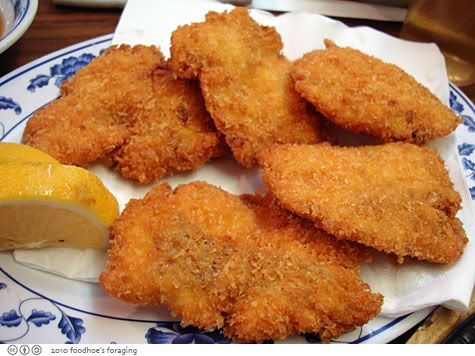 I like to order the Spicy Rice Cake with Beef, Dukbokki, which is the korean equivalent of macaroni and cheese.  The rice sticks are cooked until they are soft and squishy and absorb the garlicky spicy sauce.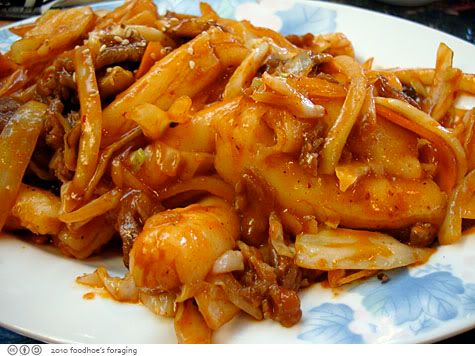 I love the mushroom tofu soup, Soondubu, especially in the winter when it's cold out.  It is a bubbling cauldron of spicy hot, soul-satisfying elixir that feels like it will burn out any possible chill in the air.  The server will crack open an egg into the soup, which adds a rich luxurious silky feel to the spicy stew.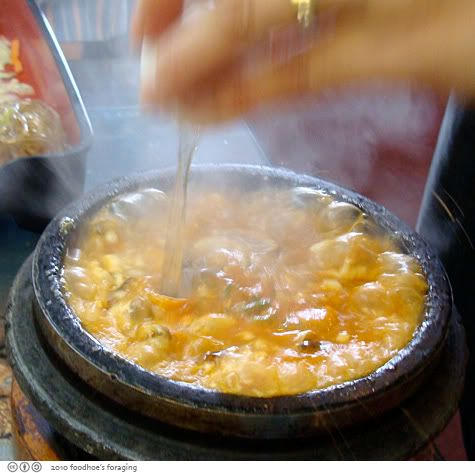 I always waddle out of here, there's more food than a person can realistically consume in one meal, and a bargain too for about $10.  The mama-san always yells out, "Thank you, see you tomorrow!!" when you walk out the door.