631 Larkin St, SF, CA 94109 | 415.409.3333 |  Hours: Mon-Sun. 8:30 am – 7:30 pm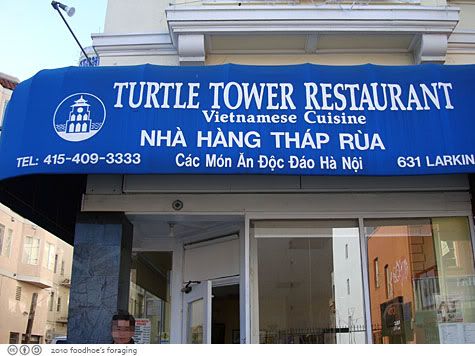 For a while now, it seems that anytime the topic of pho came up, I was asked if I had eaten at Turtle Tower.  And so, Mr. K and I finally made the pilgrimmage to the tower, which is named after a famous pagoda in the middle of Hanoi's Sword Lake.  The restaurant is in the Tenderloin along a stretch of Larkin Street that is designated as Little Saigon and is so popular that they have a list hanging by the door for you to pencil your name in if there is a line (ala burma superstar….)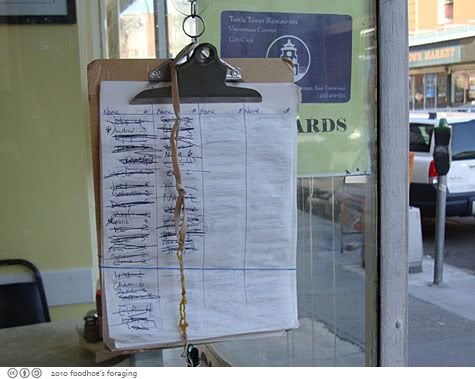 The interior is simple and bright and most importantly, the tabletops are devoid of the usual clutter of chopsticks, napkins, eating utensils and condiment trays.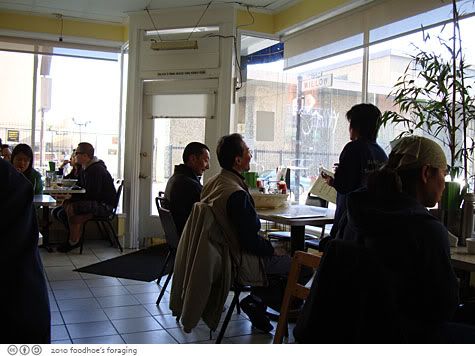 The house specialty is a northern-style chicken Phở Gà which features wide, flat noodles – made in-house – with only green onions and cilantro in the broth.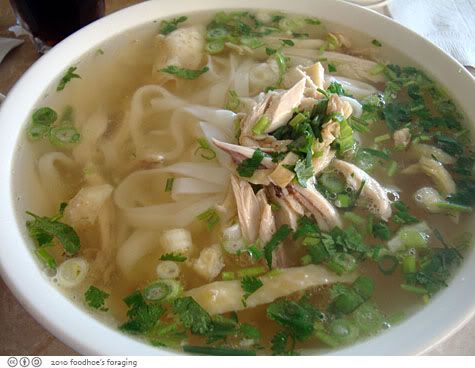 The noodles are wide and supple, silky smooth and seemed to expand and grow over time.  In fact, it seemed that my large bowl of noodles was something from a fairy tale and kept replenishing itself when I wasn't looking…  The broth is clean and fresh tasting, rich but not fatty and I swear I could hear chickens clucking while I busily slurped up the flavorful soup.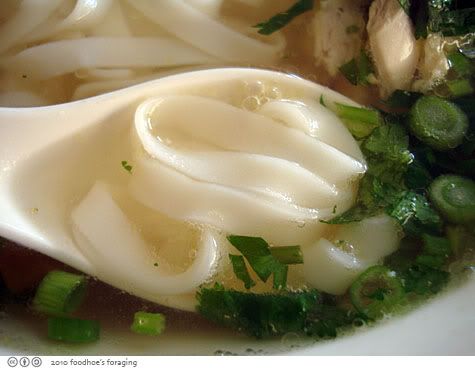 The Phở Gà, arrives in large steaming bowls without the usual accoutrement piles of vegetables like basil, cilantro and bean.  Instead you are served a small plate with some lemon and jalapeno slices, I think you get lime wedges when you order beef.  This was all we got for our table, along with a single bottle of sriracha chili sauce, there was no hoisin sauce in the house..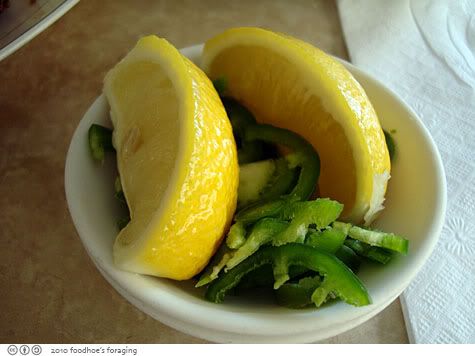 I must mention that Mr. K only ever orders Phở Gà with egg noodles, nothing else, and he was very impressed with the clarity of flavors in the soup.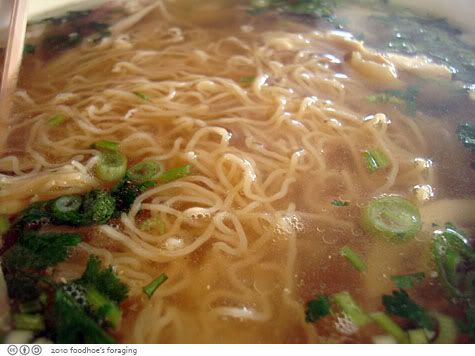 And the Imperial Rolls (Chả giò) are made with the thick rice paper wraps that forms a crisp blistered chewy crust in the fryer.   Mr. K thought these were as good as Tu Lan rolls (of which we are unabashed fans), filled with a steaming hot savory mixture of garlicy pork, vermicelli noodles, some vegetables and lots of black pepper.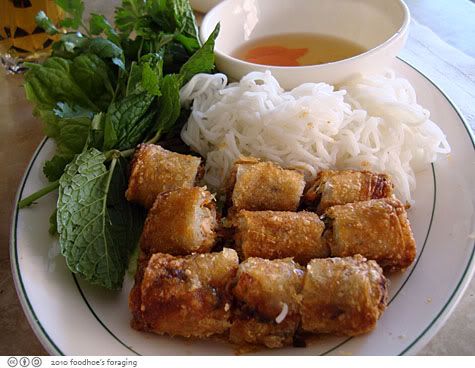 They are served with a plate of fresh vegetables: herbs and crisp lettuce leaves to roll them up in and then dip into the ubiquitous tangy sweet spicy Nước chấm sauce.
Oh and did I mention that this was yet another item I can now cross off the list of 100 things in SF to eat before you die...  Indeed, I agree that the chicken noodle soup here is not to be missed!