470 Pacific Avenue, SF, CA 94133 | 415.775.8500 | website | reservations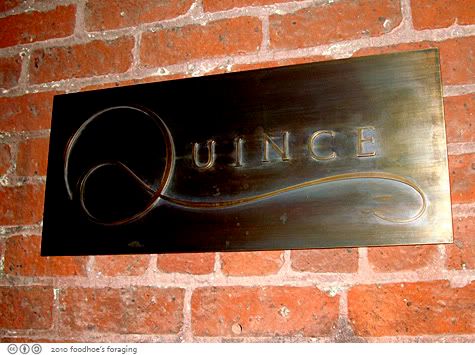 A while back, it was before the holidays last year, I met my friend Ben, of Cooking with the Single Guy for a delightful dinner at Quince Restaurant in the City.  I had been looking forward to the relocation of Michael Tusk's Quince to Pacific Avenue, which is an easy walk from public transportation (and my old stomping grounds).  The interior has been transformed into several sleek and elegant dining areas that are interconnected, dramatically lit with glowing venetian glass chandeliers that make everyone look good.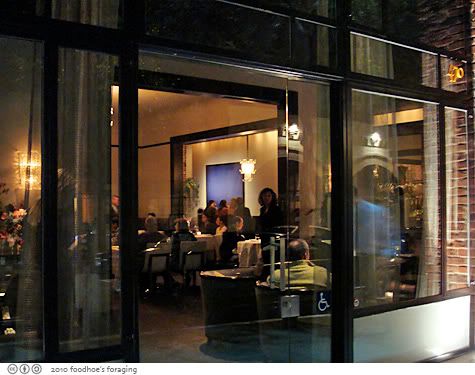 We were seated in the main dining room which has wide doorways that open into the other rooms, but feels intimate and cozy with velvet banquettes along the walls.  The chef/owner Michael Tusk has worked at Stars, Oliveto and Chez Panisse, and the menu reflects his dedication to cooking with seasonal ingredients and working with local organic farmers.  I debated between the chef's tasting menu ($85,) and the seasonal menu featuring porcini mushrooms, but in the end decided to go with the ala carte menu when I saw the scallop appetizer with sea urchin…  Our server was very patient and seemed to appear as soon as we looked up.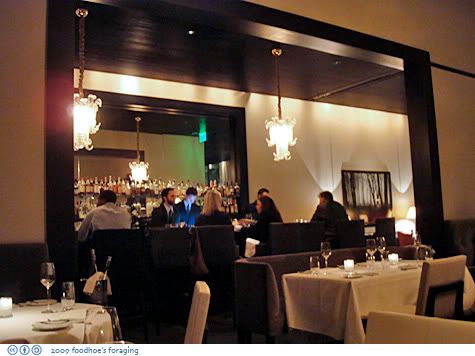 This plate of delectable breads with rustic crusts kept coming around and I helped myself to at least one of everything, slathered with butter.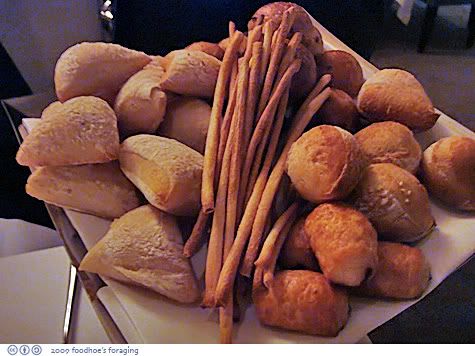 Here's my appetizer of  Sea Scallop ($17), served with pureed potato, sea beans and sea urchin.  The potato was so creamy (the soft mounds that look like aioli) and for once I liked how the foam reminded me of the ocean surf ,which along with the rich buttery urchin, bathed my tastebuds with a kiss from the sea.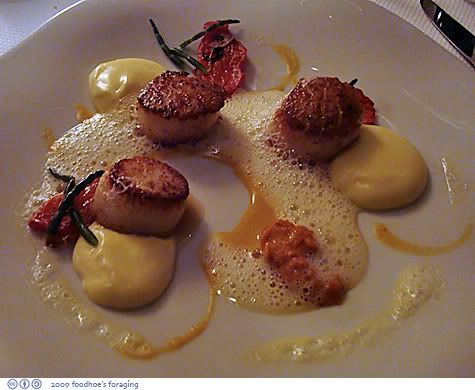 Ben enjoyed his Four Story Hill Farm Sweetbreads ($16), which looked crispy but apparently were not, along with pieces of parsnip, artichoke and paper thin slices of black truffle.  Underneath were artistic smears of pureed parsnips and the plate was dotted with drizzles of black truffle infused sauce.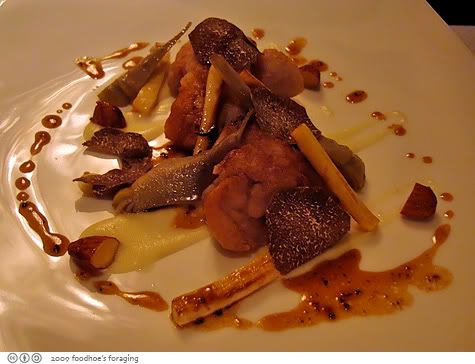 I couldn't resist the Raviolo di Ricotta della Casa ($17), when I saw it on the menu.  The housemade pasta was fantastic, drizzled with a browned butter and a handful of parmigiano reggiano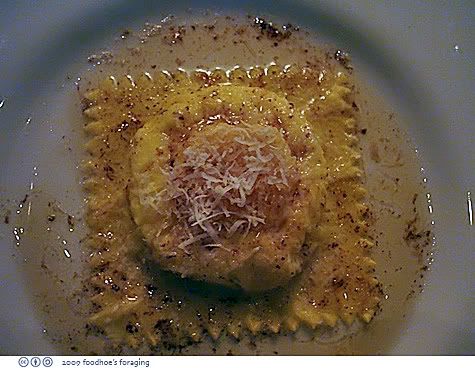 Inside was creamy ricotta and the golden egg yolk burst forth soft and silky.  I was glad that I hoarded a roll to wipe my plate with, there really is no neat and tidy way to eat this…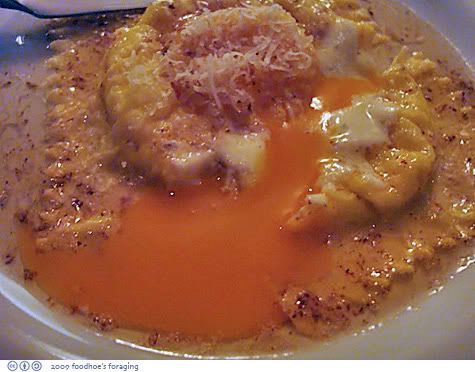 Ben had the Pappardelle Verde ($19) suckling pig and wild nettle pasta which was a gorgeous dark green color.  The texture of the pasta was incredible and generously piled with the rich flavorful meat sauce.  It was so good that I wished I had my own plate.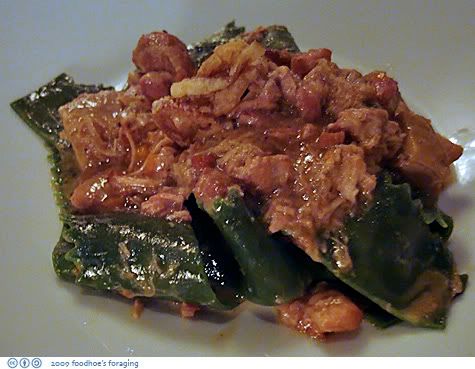 Instead, I had ordered the Chatham Haddock ($27) with porcini mushroom puree, the plate was exuberantly ringed with circles of sauces made with wild nettle and cippolini-speck crema.  The fish was tender and flaky but overall the serving was big and not so flavorful.  I would have been happier with a plate of that suckling pig…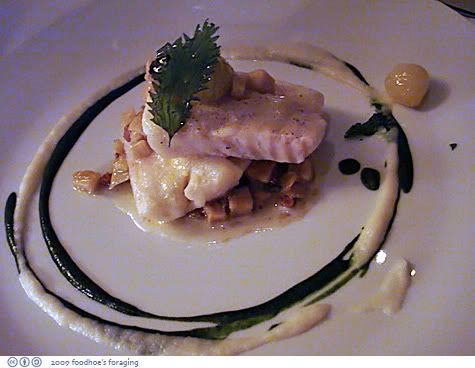 Single Guy's entree came piled with Watson Farm Lamb ($27) which was served three ways (leg, loin, and rack) over braised Dirty Girl Farm Cannelini Bean and escarole.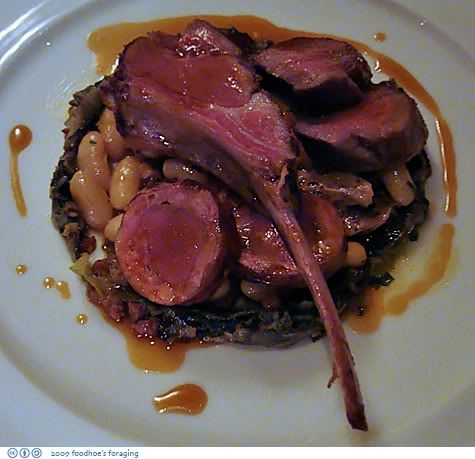 We were both full, but when our server mentioned the Quince Creme Chiboust, Single Guy couldn't resist trying this namesake dessert.  I think the chiboust cream is the toasted item on the far left.  It was an interesting assortment, the vanilla gelato introduced the element of the creamsicle when combined with the perfumed and fruity flavors of quince.
And after that plate, we heaved a sigh when they dropped off yet another, a beautiful display of tiny mignardise that were lovely to look at and I'm abashed to admit that we didn't finish… the opera cake with the gold leaf was beautiful and shiney.  What I liked the best was that for a time, I felt like one of the beautiful people…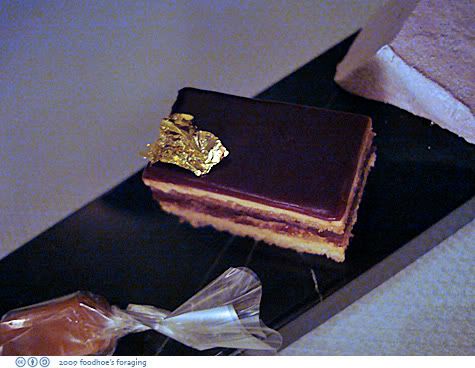 Outside you can peek in and watch the action in the kitchen, and gawk at the famous 3 ton Bonnet stove, a name so rarefied and highbrow most of us have never even heard it…  Bonnet is a French company, which custom-designs units for each customer, and they found it on eBay.
It was good, a bit pricey (over $100 each but that included a glass of wine each) and it was worth it.  You can read the Single Guy's post here.