306 Broderick Street (between Oak and Fell), SF, CA 94117 | 415.437.0303| website
This restaurant serves the kind of Mexican cuisine that leaves your tastebuds so entranced that you can't wait to return for more.  Nopalito is an offshoot of the restaurant Nopa and is actually closed today to celebrate its first anniversary.  It's located in an urban setting where parking can be quite competitive, so I was surprised to find that it shares a spacious parking garage with Falleti Foods and Dalessio Markets. I mean seriously, the plentiful parking that connects all three fine food destinations takes my breath away, making the prospect of a return visit even more certain.  The chefs Jose Ramos and Gonzalo Guzman originally worked at Nopa, where they often cooked the staff meals which so impressed the owner that he decided to showcase their talent at a new restaurant.  How cool is that…
I met my friend Chris for lunch last weekend, before we spent the afternoon at the museum.  We decided to sit in the outside covered patio which had a lovely succulent garden along the perimeter of the room, just behind the bench where I was sitting.  The atmosphere was convivial and casual, our waiter was effervescently fun and very helpful in narrowing down our choices because everything looked so dang good.
We were served a spicy roasted garbanzo bean snack while we perused the short menu.  They were dusted with guajillo chile and lime which immediately perked my tastebuds.
We split the Taquitos de Papas ($4.50) crispy rolled tortillas, potatoes, jalapenos, tomatoes, guacamole, queso fresco, crema and salsa cilantro.  Fried corn tortillas are pretty much mandatory for appetizers, and these were loaded on top with a piquant tomatilla salsa and dusted with salty crumbly cheese and fresh herbs.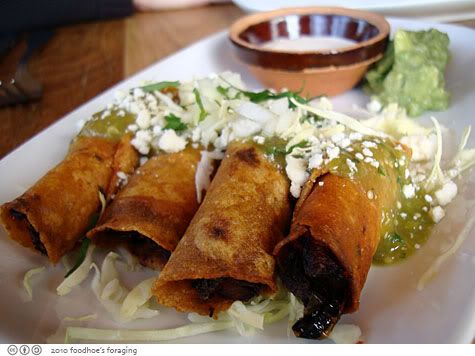 The plate came with a little pot of crema and a blob of guacamole to slather on, which helped to cool the heat from the chile infused potato filling.  These disappeared quickly.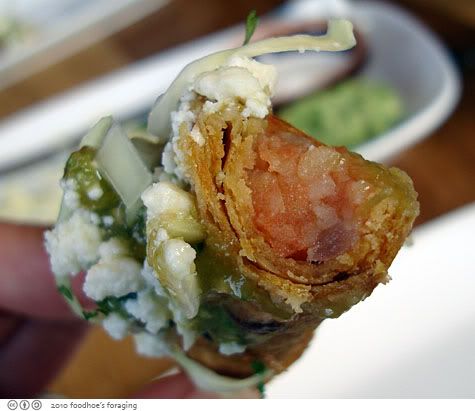 Chris had the Tamal Enpipianado de Puerco ($5) housemade masa, stewed pork, pumpkin seeds, sesame seeds, tomatillo, jalapeno and fine shavings of cotija cheese.  It was the perfect amount for her, but she thought it a bit bland.
Here is the Carnitas plate ($15) a hunk of pork braised with orange, bay leaf, cinnamon and beer.  Along with it is a lightly pickled cabbage salad, pickled jalapenos, salsa de tomatillo.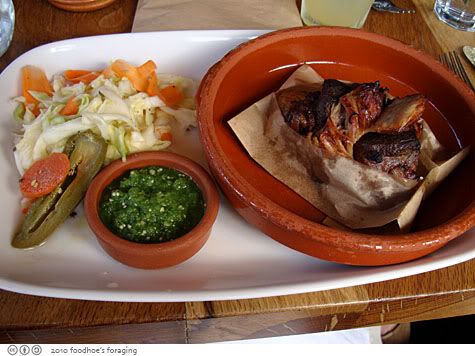 The carnitas was fragrant and tender enough to break apart with a fork.  It was amazing… succulent and flavorful, but not too fatty.  Don't get me wrong, it had just the right amount of fat that kept it luscious and moist; delivering a full flavored porcine experience that had me smacking my lips and swooning.  I daydream about that dish…. but that should come as no surprise…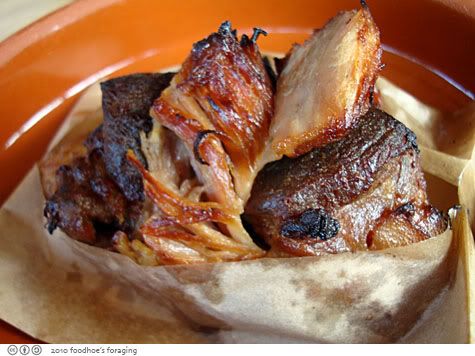 The corn tortillas were flavorful and had a wonderful dense handmade texture that was perfect to wrap around the carnitas and crunchy vegetables.  The pickles along with the spicy and fresh tomatillo salsa were a delightful foil to the rich fatty pork.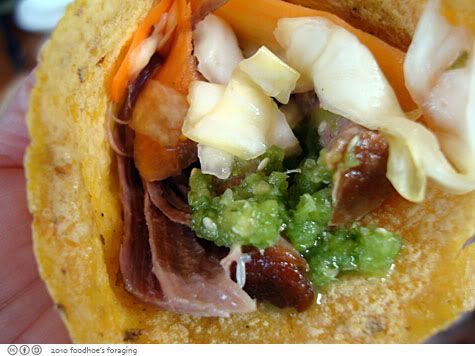 I had to try the Dark Chocolate Cinnamon paletas ($3) when I heard that it is non-dairy.  It reminded me of Mexican hot chocolate, with its grainy texture and deep chocolaty cinnamon-y flavors.  My dental state has changed much since I was a kid and it took me about 20 minutes to gum my way through the icy bar…  Next time I'll get whatever they have in a cup because the nerve ganglia deep down in my toothy roots were jangling for hours afterwards.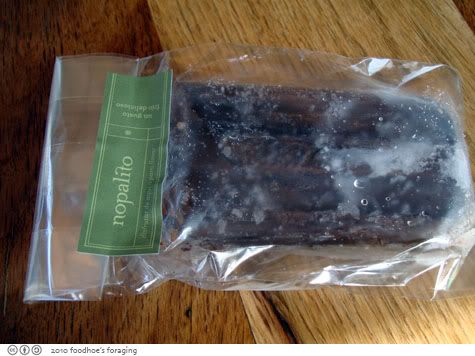 Chris had the Cafe con leche popsicle made with local favorite Blue Bottle coffee ($3)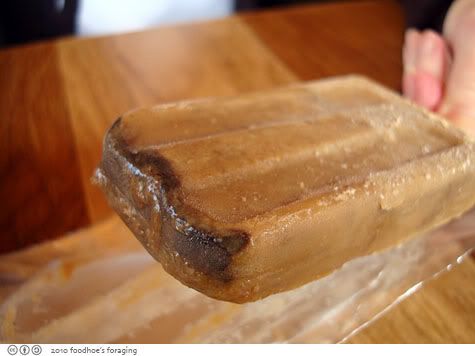 Along with the bill they served us two cherubic Mexican wedding cookies that were buttery and dusted with just enough powdered sugar to set me off coughing…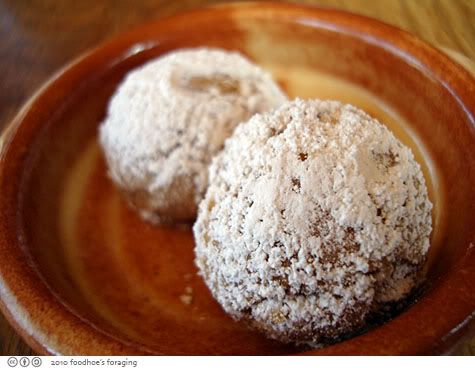 I enjoyed the folk-artsy display of mexican hot chocolate frothers or molinillo that sits above the to-go counter and waiting area for the single restroom.
It's not as easy to get to as the Mission, but parking is easy and the food still sends out its siren song pulling me back… I'm sure that Mr. K will enjoy it as he helped me gobble up the leftover carnitas the next day. Feliz aniversario Nopalito!