1701-F Willow Pass Rd. Concord, CA 94520 | 925.827.1231  | website | Mon-Sat: 10 am – 9 pm; Sun: 10 am – 8 pm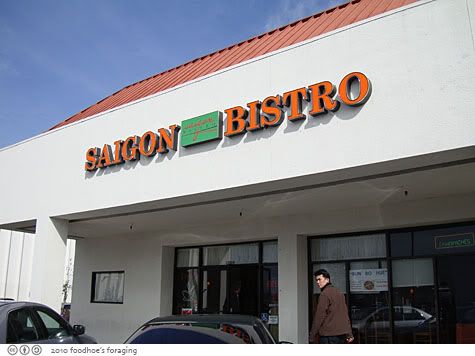 Saigon Bistro is tucked into the Park 'n Shop strip mall, close to Fry's Electronics, where technology geeks such as us like to wander through in an attempt to work off some of our mighty lunches.  We began to visit more often, once the winter temperatures began to drop because this is the place to go for Vietnamese noodle soups in Coco county.  The interior is modern with brightly painted walls and numerous flat panel televisions mounted on the walls playing sports channels for the most part.  The prices are a bit on the high end, but the restaurant is clean, service is fast and friendly and you can get free refills from the serve yourself soda machine.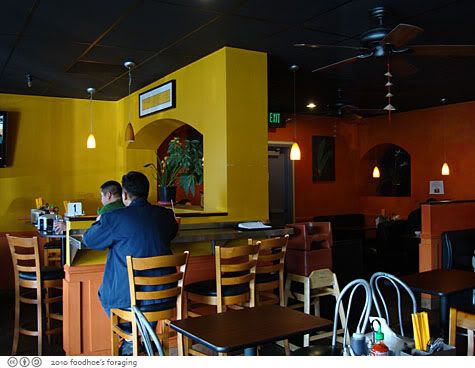 I love to order Phở Tái Gân, sliced steak with tendon ($6.95).  The broth is clean and agreeable with a liberal dose of cilantro and green onions.  It's a straightforward broth that needs brightening up with a squirt of Sriracha and hoisin, but is very satisfying.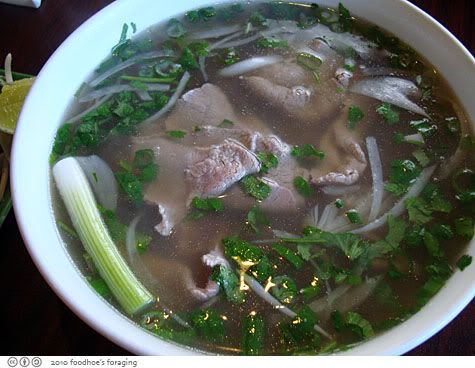 The pieces of tendon are large but tender, melting in your mouth and coating your tastebuds with fatty bovine bliss.
Each bowl comes with an individual small plate of fresh herbs, bean sprouts, a juicy wedge of lime and jalapeno slices.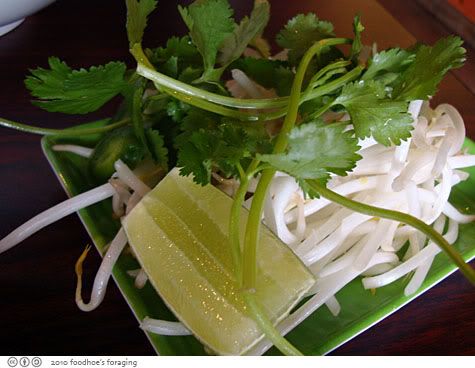 I had the Phở Gà, chicken noodle soup, which was the least exciting dish that I tried there.  It really couldn't compare with the bowl we had at Turtle Tower or the dazzling ginger scallion sauce that we enjoyed drizzled in our bowls at Phở Gà Huong Que Cafe.
Chris had the Seafood Noodle Soup ($7.95) which is a combination of fishballs, calamari,shrimp and sliced fishcake served with a chicken broth.
I was pleased to see that they had Bun Rieu ($8.95) on the menu, which is a dish that I think sounds wonderful but still haven't found the bowl.  The soup had some chopped tomato and sparkled with small globules of fluorescent orange chili oil but was a bit on the bland side.  I first read about this dish when Kirk described it on mmm-yoso!!! and drooled over the homemade version that Ravenous Couple made recently and yet, still find myself on the prowl to find a good bowl here in NoCal…  suggestions anybody?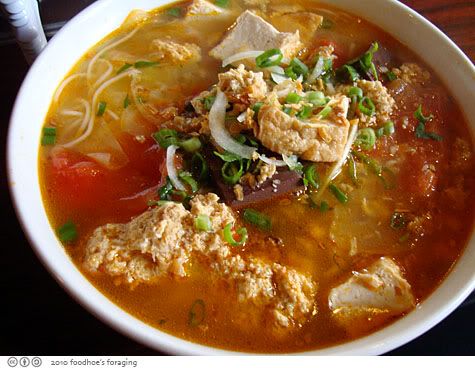 This was served with the requisite pile of vegetables, including thinly sliced cabbage.
The pork blood cubes were a little bit stiff and grainy, and I'm still not too keen about the metallic flavor.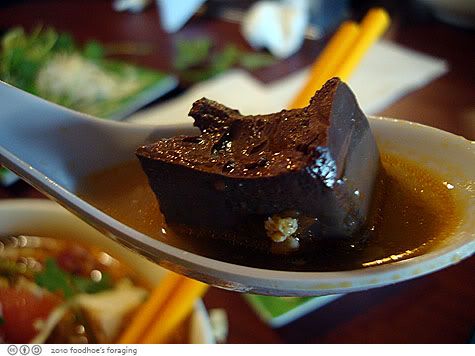 They also have Bánh xèo on the menu ($8.95), which I've had before and know as Vietnamese Crepe.  It's a huge thing, a large half moon pancake made from a mixture of rice flour, water and turmeric powder, stuffed with slivers of pork, shrimp and bean sprouts and pan fried until it is deliciously crisp on the outside. It's served with a pile of lettuce leaves and fresh herbs, pickled radish and carrots.  The bowl of the zesty nuoc cham fish sauce interacts most deliciously with the crispy pancake and fresh veggies.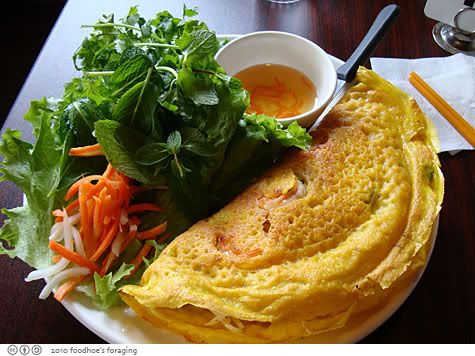 I loved how the plump shrimps were embedded deeply into the delicately browned pancake, which was folded over and filled with crunchy fresh bean sprouts.
I broke off a crispy bit of the crepe and rolled it up in the lettuce leaf along with some pickles and fresh herbs, then drizzled it with the nuoc cham which really made for a mouth watering combination of flavor and textures.
Dustin got gorgeous rolls of Grilled Beef over Rice ($7.25).  The beef was artfully rolled around slivers of grilled onion and topped with lightly sauteed green onions.
Chris ordered it in combination with imperial rolls and topped with a fried egg ($8.50).  This looked like a very good plate of food.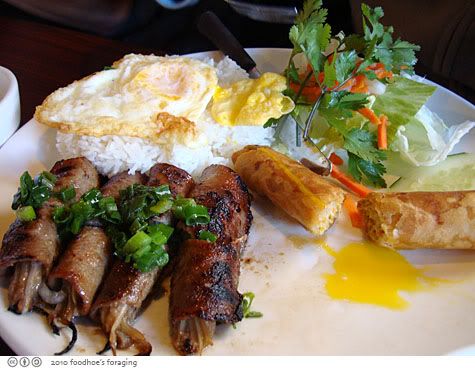 Another favorite is the Vermicelli bowl with grilled pork and imperial rolls ($7.95), which was topped with chopped peanuts, pickled carrots and daikon and chopped fresh herbs.  At the bottom of the bowl is a layer of thinly sliced lettuce and beansprouts which adds a crisp fresh element to the dish, especially when mixed up with the nuoc cham sauce. This is one of my favorite dishes during the warmer weather months.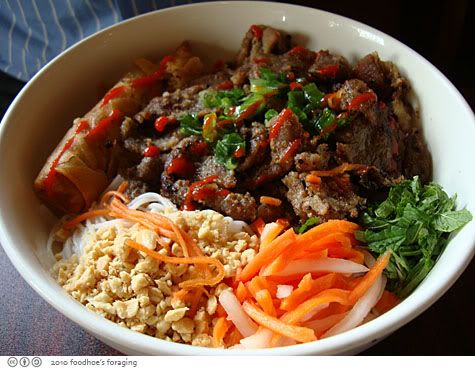 Vic tried a couple of sandwiches. The Bánh Mì Thịt Nguội, Ham Pate, headcheese ($4.50) looked like it was well proportioned and slathered with butter, pate and mayo.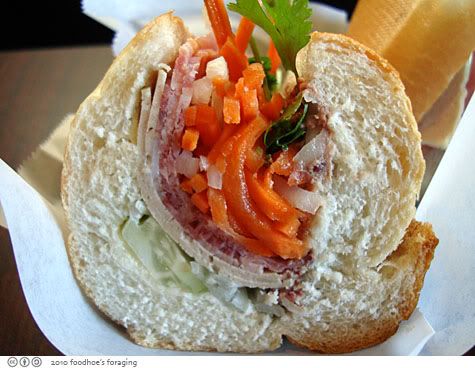 He also had the Bánh Mì Thịt Nướng, Grilled Pork ($4.50) sandwich, which comes stuffed with pickled and fresh vegetables, fresh herbs and slices of jalapeno.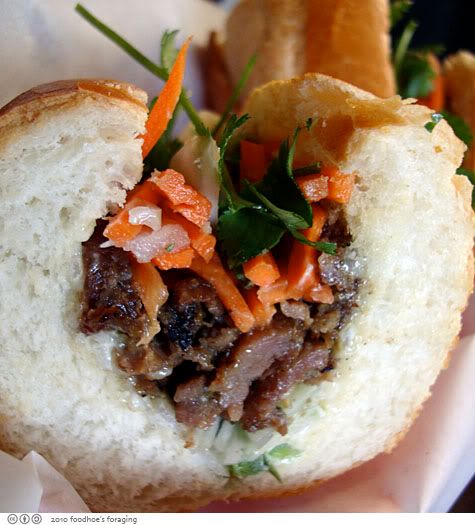 By the entrance is an exploding cymbidium orchid plant that is real, I checked… another nice touch.  I'm continually surprised by the variety and quality of ethnic foods out here in the farther reaches of the East Bay and this is solidly in the lunchtime rotation.