41 Woodsworth Lane (at Contra Costa Blvd.), Pleasant Hill; (925) 686-9828. Lunch daily 11:30 a.m.-3 p.m., lunch specials Mon.-Fri.; dinner daily 5-11 p.m.
I chose this restaurant because of its high ratings on Yelp, which is proving to be most helpful in finding good eats out in Coco County.  From outward appearances, it looks the same as any other Chinese restaurant, but the spicy Sichuan dishes are what make it stand out.  In fact, it's Mr. K's new favorite Chinese restaurant, especially since our favorite in the WC area, Tin's Tea House closed in 2009.  In 2007 Allen Shi opened Sichuan Fortune House, with chef/partner Shaobin Zhang, formerly of China Village of Albany.  The menu highlights Sichuan dishes, but offers a wide variety to suit everyone's tastes, with very generous portions.

We welcomed the plate of peanuts coated in a savory sweet glaze, sprinkled with sesame seeds, along with a bit of pickled cabbage that was crunchy, sweet and spicy.  An interesting combination that we enjoyed while perusing the rather extensive menu of dishes, many of which I had never heard of.  I haven't had much exposure to Sichuan cuisine, just a few meals at Z & Y Restaurant in the city, where we had the memorably named Chicken with exploding chili peppers and Spicy fish in flaming chili oil… Our server was very patient and enthusiastic in helping us decide what to order.
We watched mesmerized as the bowl of Dan Dan Mien was mixed up at the table for us.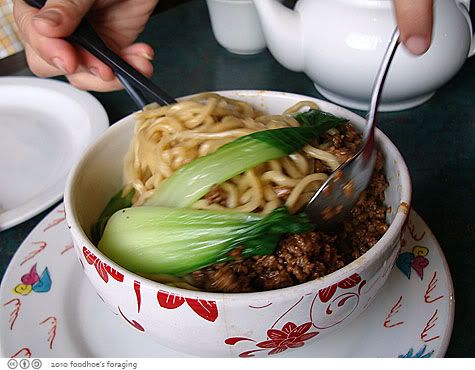 The thick chewy noodles were perfectly coated with the rich spicy meat sauce. It was similar to spaghetti bolognese but had a different set of spices, including the rich nutty flavor of sesame paste.  Mr. K found them to be uninteresting as he is not a noodle fan, which means more for everyone else!
He drizzled the housemade chili sauce over everything, which he said made it even better.
The Changsha Chicken Claypot arrived in a foil lined claypot and looked more like a stir fry.  I always thought claypot dishes were more like long cooked casseroles, but this was an interesting and delicious version, full of fresh vegetables and tossed in a spicy sauce.
The Cumin Lamb arrived and demanded everyone's attention with its tantalizing fragrance.  I love the funky combination of the flavorful lamb with the pungent aroma of cumin.  The thinly sliced lamb was tender and infused with the penetrating spices, fortified with sliced jalapeno, garlic and a few dried chili pods.
We also ordered the Tea-Smoked Duck, which was stir-fried with crisp bell pepper, cucumber, ginger and green onion.
The duck had a wonderful smoky flavor that infused the tender flesh and was brought out by the spicy marinade and crisp fresh vegetables.
The second time we visited was with my sister Barbara, who really enjoyed the Spicy General Zhangfei's beef which was completely different from any Chinese dish whose title includes the word General.  The server pointed out that the dish is made with brisket when we ordered it, so that we wouldn't be surprised.  It was long braised, tender and fatty and cooked in a sauce made with spicy chili, ginger, garlic and Sichuan pepper which makes your lips tingle.  It has the kind of spiciness that makes me want to keep eating, before the heat overcomes me… but you know I am on the wimpy side of the scovillian scale.
The Eggplant Pancakes were an unexpected novelty.  Thick slices of eggplant were stuffed with a savory ground pork filling, then battered and fried and then covered in a spicy garlicy sauce.
The eggplant was creamy and the combination of flavors and texture was truly delightful.
My parents loved the Pan Fried Crispy Noodles, which had a very nice crunchy texture and no chili peppers.  It seemed strangely bland in comparison to the rest of the dishes, but it's good to have balance.
The Dry Cooked Green Beans are vegetarian friendly but robustly flavored and cooked so that the skin is slightly blistered but the interior is still crisp and fresh tasting.
We enjoyed the Snowpea Leaf with Garlic which is similar to spinach, but a bit more robust and the stalks remain crunchy.
Every dish that we tried reflected a refined and nuanced hand in the kitchen, which makes me want to return to continue exploring the menu.  I'm especially interested in checking out the hotpot, which is not on the menu, while the weather is still winter chilly…