2200 Oxford Street, Berkeley, CA  94704 | 510.809.0400 | website |@gatherberkeley
The idea of Gather Restaurant was first conceived on a vision quest out in the desert and began first as an outdoor organization Back to Earth by owners Eric Fenster and Ari Derfel that served really good food.  With a focus on how food can bring people together, they developed into an organic catering company and are now finally, a restaurant, café and organic bar designed to inspire community.  Located in the David Brower Center, which resembles a high tech pagoda, the restaurant features a seasonally driven menu of locally sourced ingredients that has appeal to both vegetarians and omnivores.  Last month, I met up with my friend Ben, of Cooking With the Single Guy for dinner, you can read about his experience here.
It feels a bit like a temple of earth friendliness, many items are made from reclaimed wood and other materials that have literally been "gathered" from the local area. A former water tank from Marin County has been turned into tables, counter-faces and a door; bleachers from a Sonoma high school are now banquettes and tables; while the lights over the bar have been crafted out of recycled vodka bottles.  The open kitchen is ringed by a series of blackboards that feature quotes from famous people and some recommended reading.
Like all establishments who are committed to locally sourced products, they offer a choice between sparkling and still water with no extra charge.
The menu invites you to ask to see their source Book, which of course I did, and was duly impressed with the meticulous attention to detail.  The menu also notes that they use a selection of plateware from Heath in Sausalito.  Executive Chef Sean Baker, a Cordon Bleu grad,  has an affinity for working with impeccably fresh vegetables. Most recently, he was the chef at Gabriella Café in Santa Cruz, which partnered with nearby Lindencroft Farm who grow specialty crops for their kitchen.  Chef Baker worked at Zibibbo in Palo Alto and as sous chef working with famed Vegan Chef Eric Tucker at Millennium in SF.  As an obscure sidenote, I've love Gabriella Cafe alumni Rebecca King's  blog Ardi Gasna which chronicles her journey in starting a sheep dairy farm on the Central Coast of California.
I had to try the Vegan Charcuterie Plate ($14). Charcuterie literally means cooked meat  and usually centers around pork products.  I think of forcemeats, pâté, galantine and terrines topped with aspics, mousseline, cured meats and cheese. The vegan charcuterie plate is served on a large wooden plank and offers a plethora of vegan concoctions to nibble on in anticipation of the main courses.  Mushrooms were given a textural treatment to make them behave like Pate de Foie Gras, paired with pickled vegetables, and nuts are transformed into creamy cheese-like spreads… it's a tender, crunchy, salty, and pickled delight for the taste buds. Much of the selection were very salady; fresh greens tossed with a vinaigrette and fresh vegetables, which were refreshing, but not exactly what I think of as charcuterie…  The interpretation includes a lot of fresh, unprocessed items like nuts, fruits, vegetables and seaweeds.
Here are a couple of my favorites.  Hunks of juicy roasted beets, paired with chewy leaves of bitter tardivo (a type of radicchio), purple haze carrots cooked sous vide, gemlike globes of kumquats that were cut in half, topped with delicate shreds of mint, and served with a creamy cashew "ricotta."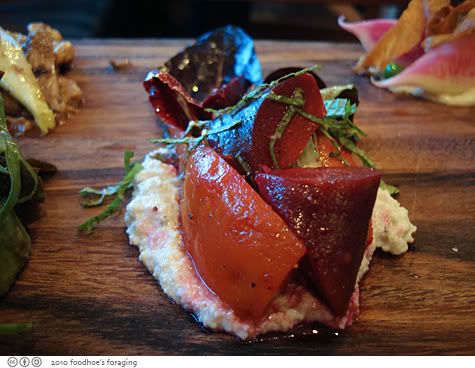 Chickpea puree, topped with crisp ribbons of fried parsnips, chunks of spicy watermelon radish, roasted brussel sprouts, drizzled with fresh lemon and paprika oil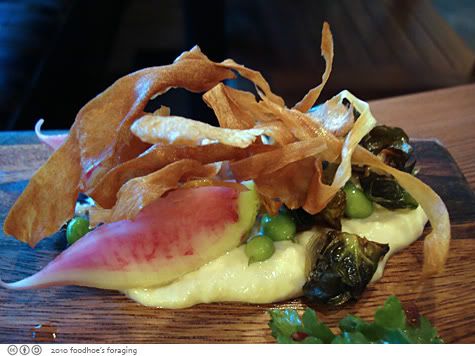 Single Guy wanted to sample the menu and barely touched the charcuterie.  Instead, he ordered the Cauliflower and Porcini Puree ($7.5), which was a surprisingly hearty soup topped with black trumpet mushroom and creme fraiche.  Now call me a weirdo, but the mushroom topping makes me think of frog spawn and the dribbles of olive oil on top remind me of tadpoles swimming in formation…
He also ordered Tomales Bay Mussels ($11), do you remember the goofy dinner scene in the movie Beetlejuice when the shrimp cocktail reached out and grabbed everyone's face?
He enjoyed the Braised Pork ($17) served over fresh milled creamy polenta, braised greens, and topped with crispy breadcrumbs.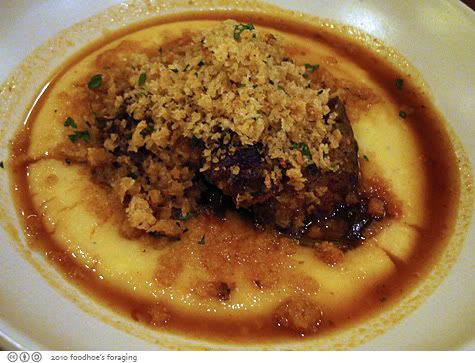 I love cioppino and had to try the Mushroom Cioppino ($16) when I saw it on the menu.  It was a hearty stew full of English peas, carrots and big chunks of mushroom, topped with a mound of beluga lentil caviar.  It was served with a yogurt sauce slathered on grilled bread that was surprising because the sauce was cold, like straight from the refrigerator cold, but I liked how it all combined.
I was too full to consider anything but the Blood Orange Sorbet ($3) for dessert, which was refreshingly light and tasted like I popped a fresh orange segment in my mouth.  The accompanying cookie was the kind of thing you get from a health food store that gives organic a bad name.  It was dry and gummy at the same time with an unpleasantly sticky exterior.
Throughout dinner my fingers kept tracing the interesting seams and lines along the soft leather upholstery on the banquette, later I learned that these are made from recycled leather belts!
The restaurant was bustling when we left and I remember thinking that the prices were very fair as we paid the bill.
As we walked out, I marveled at how the restaurant became transformed by the darkness outside.  The lighting made it look warm and inviting, not so much like a cafeteria as I had thought when I walked in earlier.
They are now open for lunch during the week, begin breakfast service tomorrow and there is a very reasonably priced parking lot next door.  I'm definitely going back.