2534 Mandela Pky, Oakland, CA 94607 | 510.839.7685 | website | @brownsugarkitch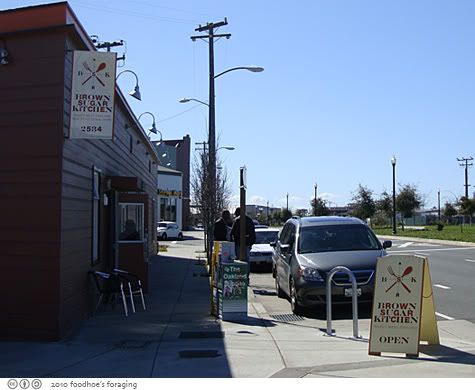 People kept asking me if I had eaten at Brown Sugar Kitchen, and finally I can say I have.  It's a great spot for breakfast, located along an industrial stretch in West Oakland, close to the freeways and with plenty of street parking.  Inside, the restaurant is bustling, filled with families and locals hungry for the good eats served up at Brown Sugar Kitchen, a cuisine that reflects a modern interpretation of soul food.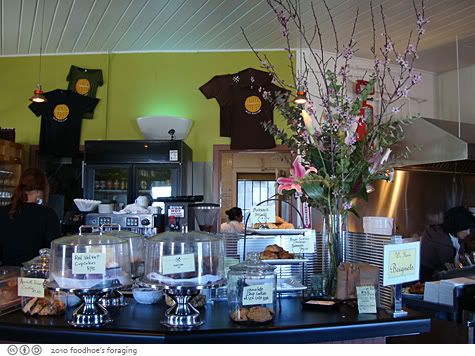 We had to wait about 10 minutes for a table and I passed the time reading the many framed reviews which were prominently displayed near the kitchen.  This was time well spent as I discovered that everyone raved about the cornmeal waffles and homemade jam, even Jonathan Gold made the 400 mile trek for them.  We were seated next to a big window that looked out on Mandela Parkway at a cozy granite topped two-seater, and I marveled to see joggers running along the now manicured path where the Cypress Structure used to be.  Menus and ice water were already waiting for us and our server quickly appeared to ask us if we wanted coffee  (Roast Coffee Co's "Brown Sugar Kitchen" blend) or juice.
Each table was equipped with the necessary condiments for breakfast, bottles of ketchup, Crystal Hot Sauce and Tabasco, salt and pepper
and our own little tub of home made jam, which was tart and bursting with fresh flavor.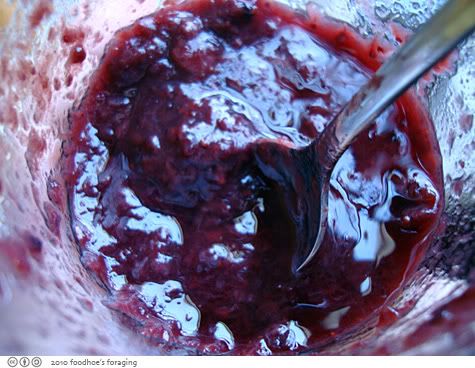 Our server suggested an order of beignets or biscuits to begin with, but I declined since I had ordered the famous Chicken and Waffles plate.  I regret that and am still thinking about how good the jam would have been on a biscuit along with that soul satisfying cuppa coffee…  next time, for sure.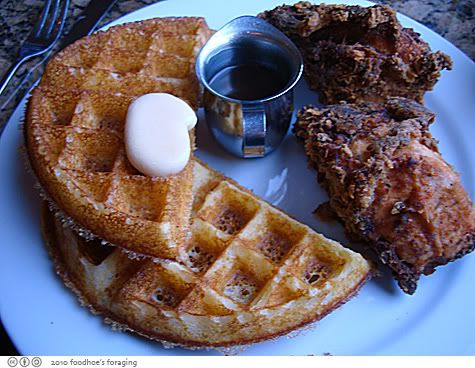 My plate came along with two large pieces of moist breast meat, I wished I had thought to order dark meat…  that would have knocked it out of the park for me.  But the chicken was well seasoned with a spicy crunchy batter crust that was addictive and finger licking good.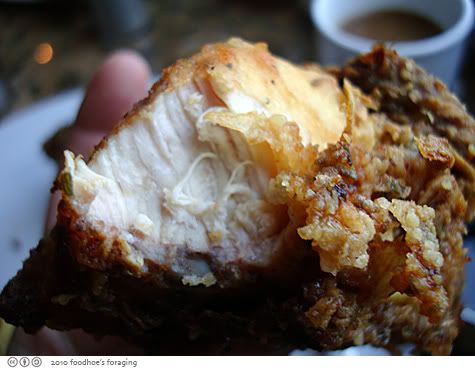 The texture of the waffles is hard to describe because they have an ethereal lacy appearance on the exterior that is disarmingly crisp, and belies the overall weight of the batter which is enhanced by the addition of cornmeal.  I'm not normally a waffle girl, (with the exception of the bacon waffle served at Al's in Dinkytown) and now this version has me obsessing over when my next visit will be…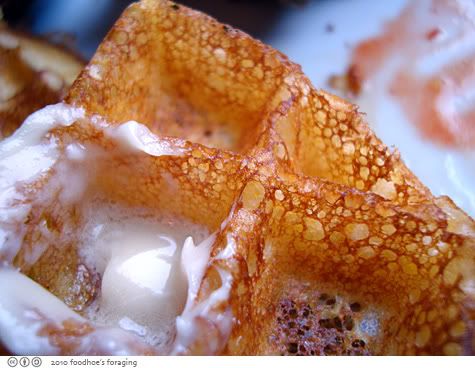 I was so entranced by the lacy appearance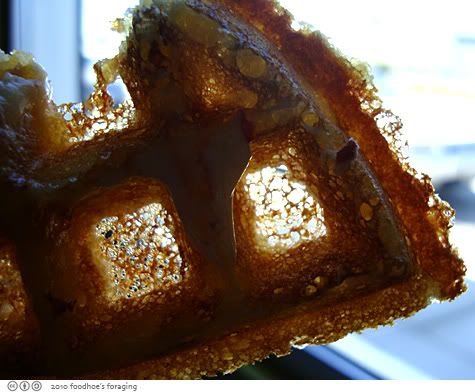 which helps soak up the melted butter and delicious apple cider syrup that comes with each waffle.  I ordered the additional maple syrup ($2 for a tiny little pitcher), but I found that I liked the apple cider syrup butter better.
Mr. K had the Vegetable Scramble which was a delicious combination of spinach, asparagus, green onion and  goat cheese.  It was well cooked and custardy and the melty cheese oozed out, creating a delectable tart sauce.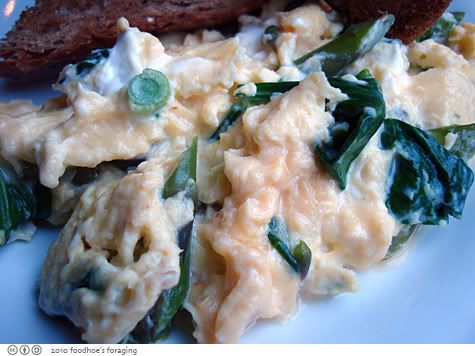 I sampled the toast which was thick cut wheat bread that seemed to have been toasted on the griddle as I discerned the delicious flavors of bacon and sausage infused within its buttery crisped surface.  The potatoes were rather dry, but I'm normally a hashbrowns girl, and always think that about homefries…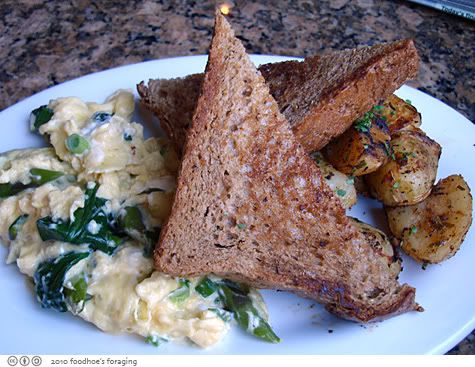 I spotted Chef/owner Tanya Holland focused and at work behind the counter.  She began her cooking career in NY including two years as line cook at Bobby Flay's Mesa Grill, studied in France at the La Varenne Ecole de Cuisine, was the host of Food Network's Melting Pot Soul Kitchen, and published a cookbook, New Soul Kitchen in 2003.  I was excited to read that they plan to expand the restaurant to include an outdoor dining area and also to open another restaurant in Jack London Square later in the year.