1148 Mission St  (between 7th St & Julia St), SF, CA 94103 | (415) 863-6008 | website | @HeavensDog | reservations
Dinner only.  Mon-Sat.  5 p.m. – 1:00 a.m.  Sun. 4:30 p.m. – 9:30 p.m.
I met up with a bunch of girlfriends for a pre-holiday happy hour to sample the small plates menu of Heaven's Dog, the latest endeavor of Charles Phan, the entrepreneurial chef/owner of The Slanted Door.  It occupies the ground floor of the SoMa Grand, a sleek modern residential tower next to the Federal Building on Mission Street.
The chef is Andy Wai who was previously the executive chef at Harbor Village in Embarcadero 4 and had his own restaurant in San Mateo.  Phan conceived of Heaven's Dog as an afterwork hangout and watering hole, with the noodle bar counter open during lunch. The menu focuses on Northern Chinese cuisine using the bountiful resources of the Greater Bay Area, and offers a variety of snacky appetizers, like dumplings, buns, wontons and lamb skewers and familiar standard stir fries like Cashew Chicken and Mapo Tofu. Throughout the restaurant are gigantic whacked out portraits of dogs.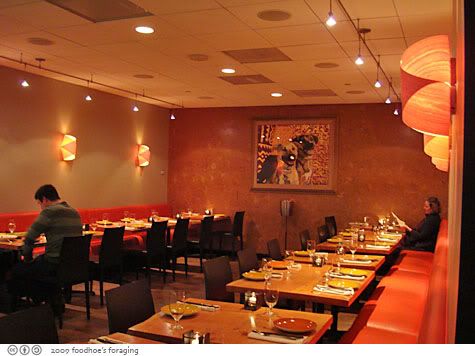 We were seated in a private room off to the side of the bar, at a long narrow table which felt very cozy and intimate, it was quiet and I loved that we could enjoy the food and be able to catch up and chat.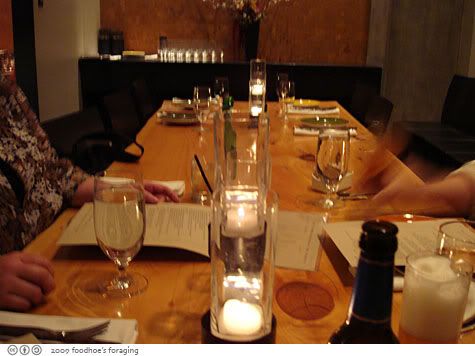 The lighting was not very bright, but since we were in our own little space, I busted out the flash.  We started off with the famous Braised Pork Belly in Clamshell bun ($9).  I especially wanted to try this dish which has become an obsession after reading about the infamous Momofuku buns and drooling over Foodgal's post here,  The plate came with four fluffy buns, smeared with hoisin and filled with a thick piece of pork that reminded me more of charsiu than bacon in texture and with a nice amount of slivered green onion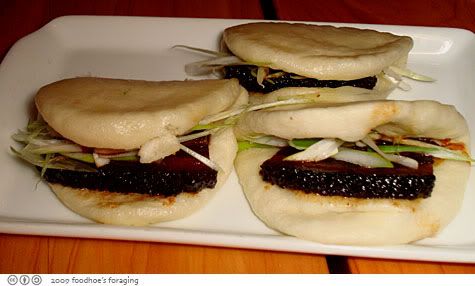 We shared a couple orders of Shanghai Dumplings ($9), plump little orbs filled with a savory pork mixture and a little bit of broth that is served with spoons so that you don't lose any of the liquid when you bite into it.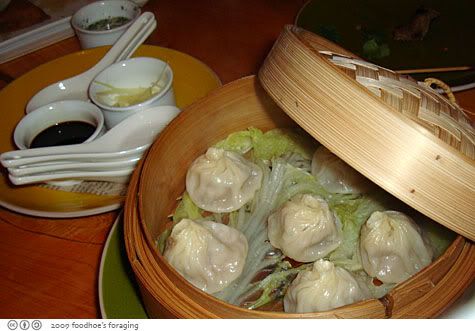 It comes with dark and mysterious rice vinegar, and fine shreds of fresh ginger that go perfectly with the rich meaty dumplings.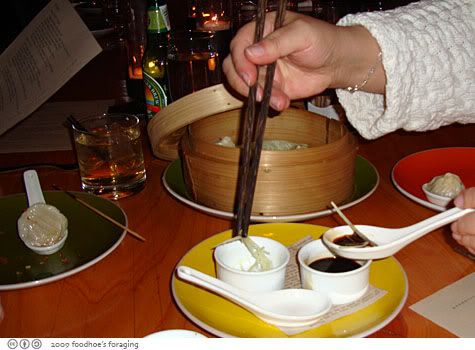 The Beef Curry Puffs with Mint Sauce ($7) reminded me of samosas, wrapped in puff pastry and deep fried.  The mint sauce was an unusual accompaniment, it was a simple acidic and minty mignonette that played well with the rich fried spicy puff.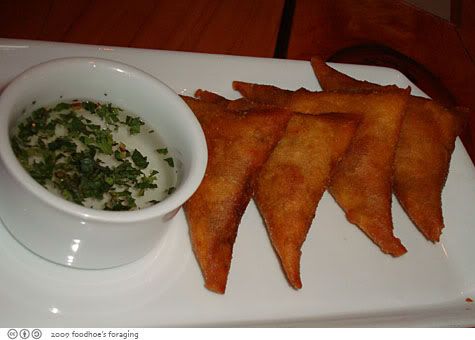 We devoured the Salt and Pepper Local squid ($13), which had a light crisp batter that was spicy and fragrant with red chili, toasted garlic and a handful of fresh cilantro.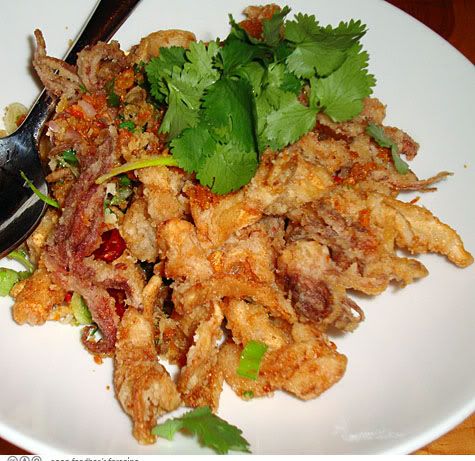 The Spicy Niman Lamb Skewers ($9), were very aromatic with cumin and chili powder, served with a few slices of pickled vegetables on the side.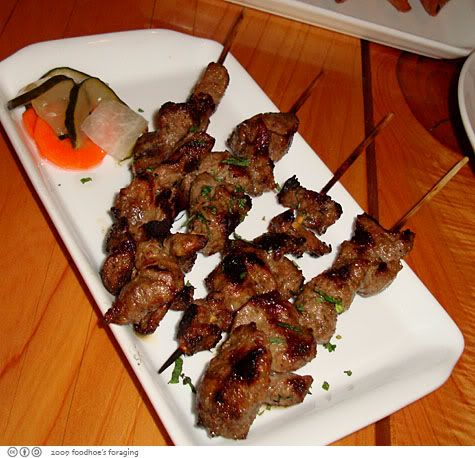 We tried one of the two noodle dishes on the menu, Vermicelli stir-fry, pork shoulder, shrimp, yellow curry ($12), which was full of light crisp julienne vegetables and infused with the heady aroma of curry.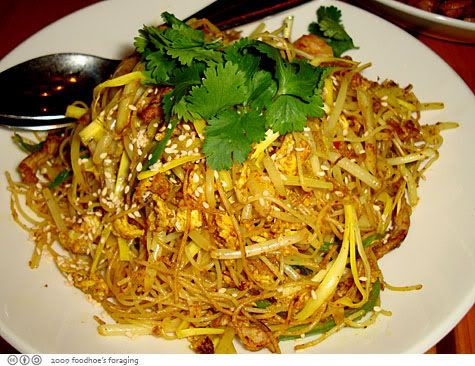 DebbieN zeroed in on the Spicy Chicken with fresh bamboo  and toasted cashew ($14) when she saw it on the menu because she loves fresh bamboo shoots, but it didn't seem to have the fresh stuff.
Ma Po Tofu ($12), was a generous mound of soft custardy chunks of tofu combined with a mixture of ground beef, chili paste, and szechuan peppers that was thick and spicy.  It was delicious served over hot steaming rice (you can also request brown rice).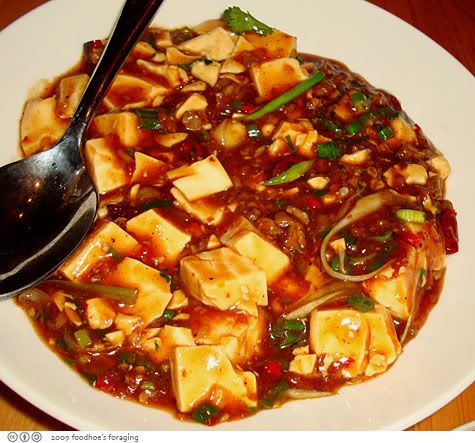 We shared one of the vegetable side dishes, which turned out to be one of the more intriguing taste combinations of the evening, Rodoni Farms organic brussels sprouts ($10), flavored with ginger and chinese sausage.  The brussel sprouts were tender and I wished there were more bits of the chinese sausage.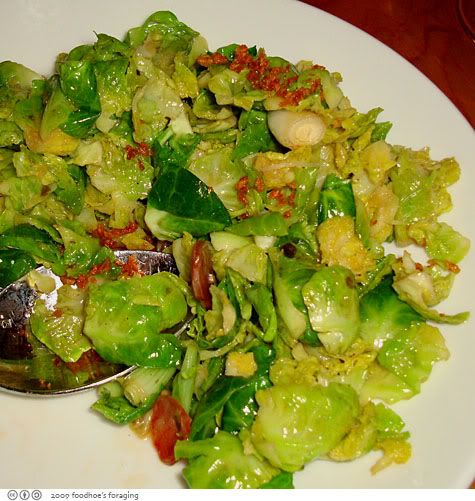 We saved enough room to share one dessert, a Red Bean Buckwheat Crepe served with a scoop of ginger ice cream. It was a subdued but delicious combination, I would have liked a bit of dark chocolate sauce drizzled over the crepe…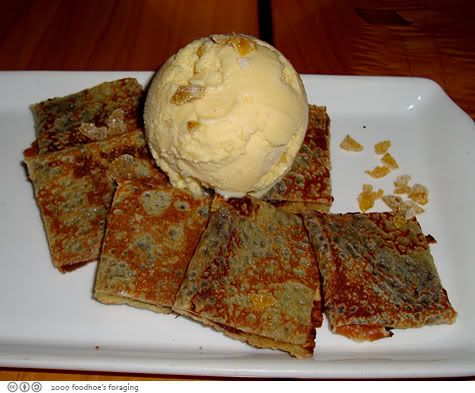 On the way out we walked by the actual noodle bar, which seemed serene from the outside.  When we went, there were only two noodle dishes on the dinner menu, and I was told that they had a much larger selection of noodles on the lunch menu.  Since then they changed their hours and are only open for dinner, so I wonder about that noodle bar… It sure looked empty.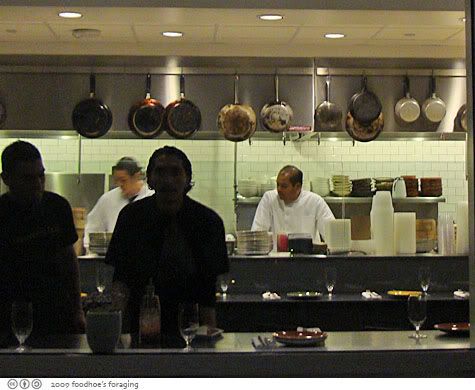 There are so few Asian restaurants that have embraced using local, organic and sustainable products, and while the food we were served stayed within the bounds of a traditional Chinese menu, the fresh quality and flavors were brilliant. It was around $35 per person including a drink each from the bar, which I need to mention serves fantastic sounding cocktails designed by Erik Adkins who hand cuts ice for rocks drinks.  They offer a beverage called "Freedom from Choice," where you tell the server your favorite spirit and let the bartenders do the mixing.  I thought the price was very fair for the quality of the food and excellent service, and being able to enjoy it all in such stylish surroundings.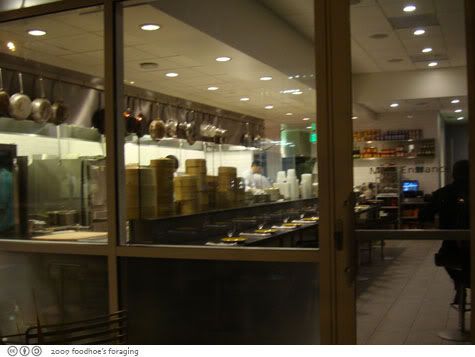 I haven't been to this part of town in quite a while and was pleasantly surprised at how clean and brightly lit the area is, especially with the Federal Building next door.