2026 University Avenue, Berkeley, CA 94704-1006 | 510.841.0884 | website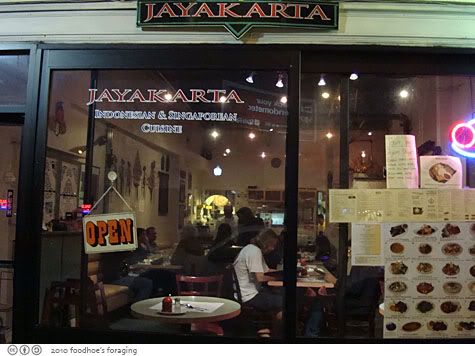 Last night I was fiddling with the words for this post and noticed something odd.  In my blogroll were some entries that I didn't put in there and couldn't figure out how to remove.  Foodhoe's been hacked!  The blogroll is down while I investigate further.  Onto the food…  Rijsttafel is a Dutch word that translates to "rice table," which is an elaborate banquet representing the multi-ethnic nature of the Indonesian archipelago. Years ago my good friend TKC travelled to Amsterdam and raved about this exotic sounding feast and since the prospects of a trip to Europe are pretty slim, I am thankful that we have Jayakarta Restaurant in Berkeley.  At last I was able to partake in this festive meal which is traditionally presented with bowls of rice surrounded by a number of  small dishes with contrasting textures and flavors.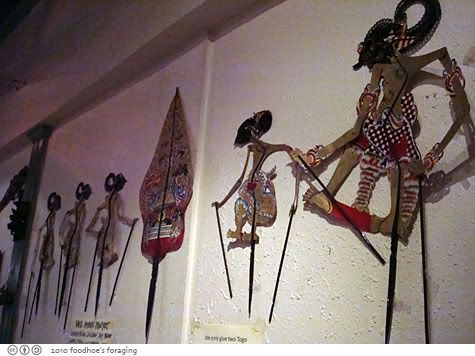 The restaurant is cozy and inobtrusively tucked in on University Avenue up near Shattuck.  I met up with a group of 12 seated along one side of the restaurant and the plates were set out on the table to serve groups of four.  Our scaled down twelve course feast began with Krupuk Udang, shrimp crackers that were thick and crunchy and not greasy at all.  They were quite different from the Japanese brand Orchid that I am used to, which are light and crisp and most likely coated in MSG.  If I hadn't checked the menu, I wouldn't have known that we had already begun the first course of our meal…
The next course was Emping, crackers made from melinjo bean, which tasted a bit like stale corn flakes, but all was not lost as these were served with the most delicious peanut dip I have ever tasted…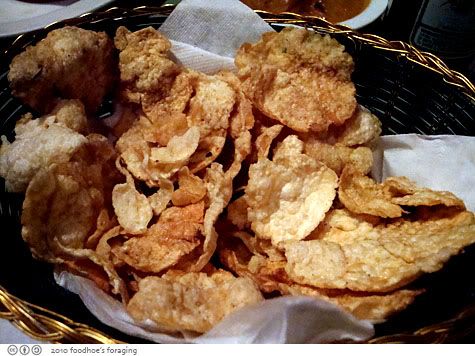 and it's a good thing that it is the most delicious peanut sauce in the world, because Jayakarta serves it with almost every dish, like the Vietnamese Nước chấm.  It is nutty, savory, a bit sweet, nicely spicy with a little bit of zest to captivate the tastebuds.  Both of the chips were on the bland side and a little bit of this really improved them both.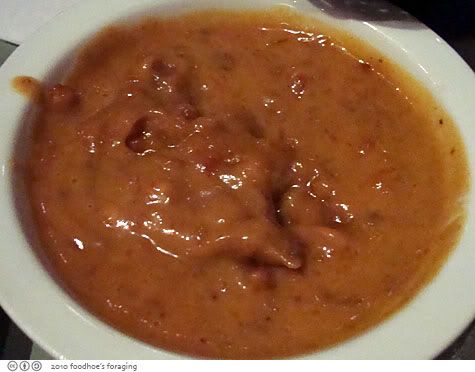 Bakso Sapi Dan Pangsit Kuah, was a surprisingly flavorful clear soup with fresh vegetable, beef balls and chicken wontons.  The meatballs reminded me of the ones served in Vietnamese pho, dense and rubbery, but the fresh greens and fried shallots scattered on top made it fragrant and lively.  The serving tureen was huge and we each could have had more than 2 cups.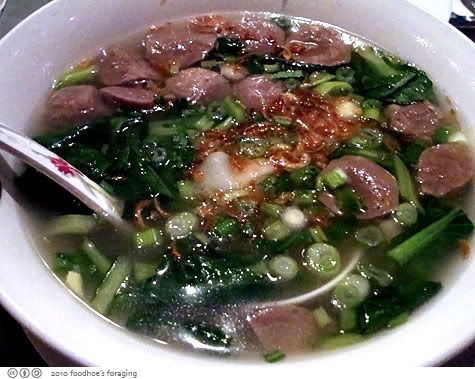 I really enjoyed the Lumpia Semarang, which are Indonesian-style spring rolls filled with chicken, fried tofu, carrot, bamboo shoots, vermicelli noodles and green onions.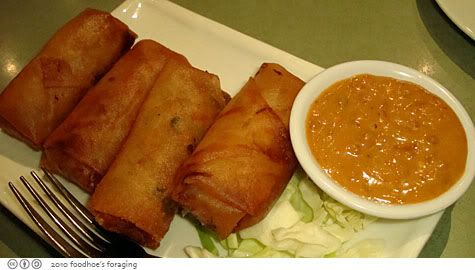 It was a very well balanced eggroll, I liked the sheer crispy delicate wrap and the filling had interesting textures and flavors that were more engaging than any eggroll I'd had in recent history.
The plate of Otak Otak Panggang arrived next, pale, cigar shaped shrimp cakes wrapped in banana leaf and grilled.  They were served with a bowl of peanut sauce.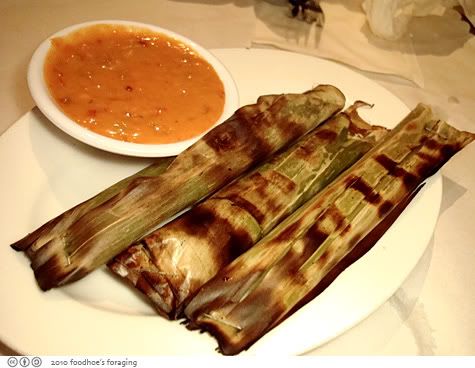 I inhaled as I unwrapped the steaming bundle, but was largely disappointed as they were limp and rubbery and and smelled vaguely fishy.  They might have been improved with something bracing like the Vietnamese Nước chấm.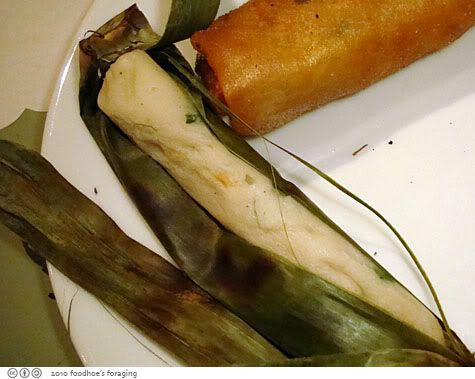 Gado Gado, a warm salad of crisp fresh vegetables tossed with slices of fried tofu, hard boiled egg and shrimp crackers topped with more of the peanut sauce with sweet black soy sauce drizzled on top.  It literally translates to mix mix, and is too substantial and hefty to be considered a salad, especially as it is topped with a thick layer of peanut sauce…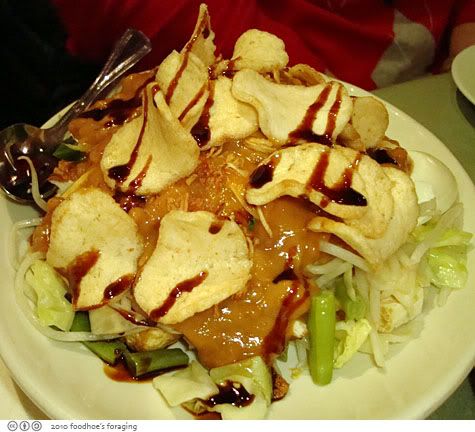 The Chicken Satay was very good.  The grilled meat was luscious and tender and served under mounds of the ubiquitous peanut sauce, then drizzled with sweetened soy sauce and handfuls of crispy fried shallots.  The aromatic shallots really enhanced this dish, and much as I liked it, I began to wonder if every dish would be served with the peanut sauce.
Mercifully, we moved on. The Beef Rendang dish had us all speculating on what spices were used to create such incredible flavors.  I had enjoyed this dish before and know that the beef  is slowly cooked in coconut milk and spices for several hours until the liquid is almost gone, which allows the meat to absorb all of the spices and to become very tender.  This dish was swimming in a thick aromatic sauce that was spicy and mysterious and had a compelling mixture of flavors that was delicious.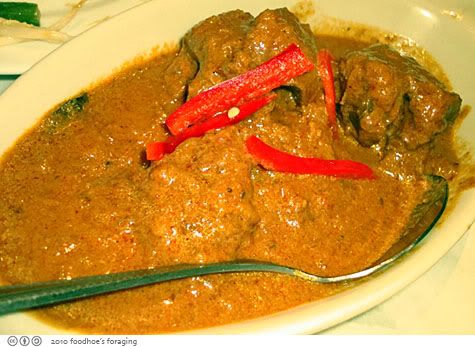 The Kari Udang and Telor was a Yellow Shrimp Curry mixed with egg and potatoes that had a light creamy texture which seemed bland in comparison to the Rendang.
The last plate was Ayam Kalasang, which is BBQ chicken marinated in palm sugar and grilled Javanese style.  I must admit that at first I thought i was eating pork, having picked up a fatty thigh piece and was gnawing my way through gooey fat and cartilage.  It was richly flavorful and had an addictive quality that I couldn't resist.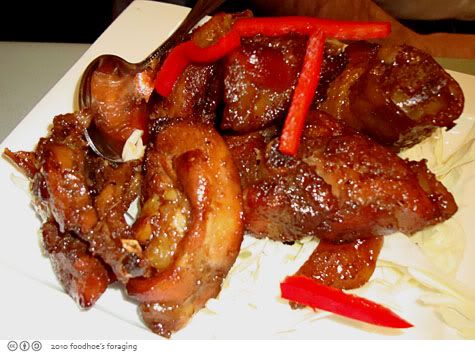 We split the Pisang Goreng Dessert which was a delicious pile of coconut ice cream drizzled with chocolate sauce, long strips of young coconut flesh, squares of jackfruit gelatin, and fried banana which was still warm from the fryer.  The exuberant hodgepodge reminded me a little of Halo Halo.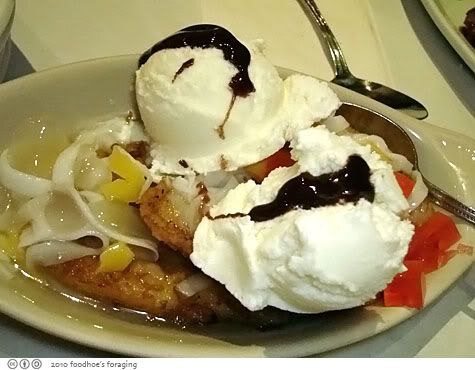 In comparison to feasts that I had in Asia, we felt were served an Americanized version with reverse proportions where we had small bowls of rice and huge tureens and platters.  I loved the flavors of the Rendang and would come back for that dish alone, and that javanese grilled chicken…  The rijstaffel feast is worth trying once, especially as an introduction to the cuisine and quite a steal at $30 a person.