20215, Highway 1, Marshall, CA |  415.663.9218 ext. 208 | website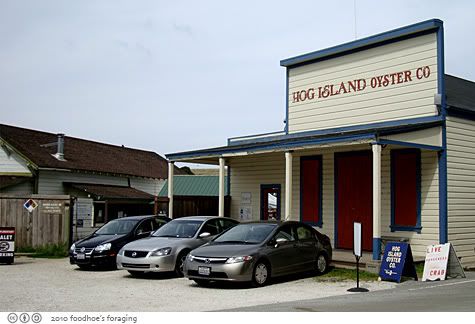 Around here the hills are green from the recent rain, the trees are flowering and I just love the longer days.  What better way to enjoy the gorgeous spring weather than a picnic at the Hog Island Oyster Farm in Marshall, which is about ten miles north of Point Reyes.  Over the past year they have made some improvements like restrooms with flushing toilets where you can wash your hands in blissfully hot soapy water.  This is important, believe me, after shucking piles of oysters, which also makes for messy finger food… They even offer valet parking!  Mr. K's sister Casey made reservations months ago, so we had a picnic table with a lovely view of Tomales Bay where we spent the afternoon stuffing ourselves silly with the bounty of the sea.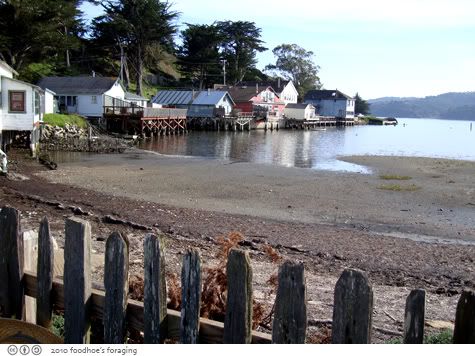 Alas, they were out of our favorite mollusk, the dainty kumamoto, but had a plentiful supply of extra small and small sweetwaters which are plump and sweet and deliciously creamy. First, we enjoyed them au naturel, fresh and briny like breathing in the fresh ocean breeze.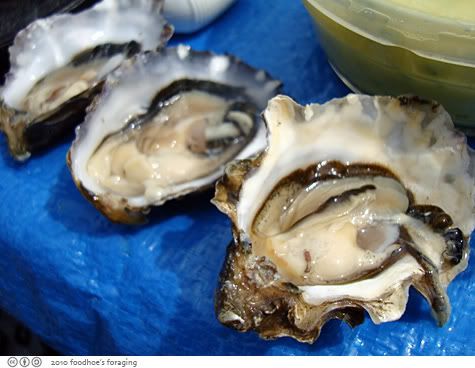 I prepared the Hogwash, the signature elixir made from shallots, jalapeno, cilantro, rice vinegar and lime juice that is curiously suited to any and all fresh seafoods.  We also love it drizzled over freshly steamed dungeness crab.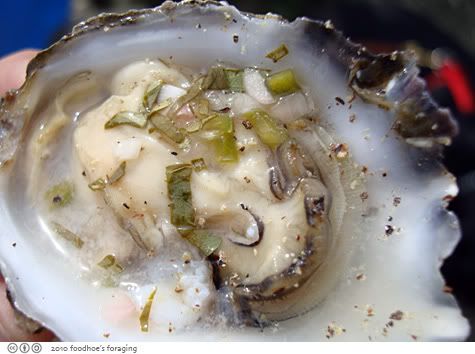 I branched out and brought a bottle of chili laced sesame oil and wasabi sauce that added a delightful pizazz to the mix.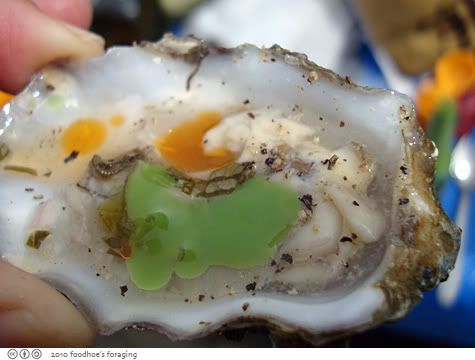 Here is the assortment of condiments that I brought along to use on the oysters….  talk about an embarassment of riches!  I remember the first time we came we didn't think to bring plates or even forks…  Along the way, we stopped off in Point Reyes at the Cowgirl Cheeseshop where I picked up a delicious Fra'Mani Salami, some cave aged gruyere, a nettle covered creamy cheese called appropriately St. Pat,  and some wine to drink and slosh into the steamed clams later.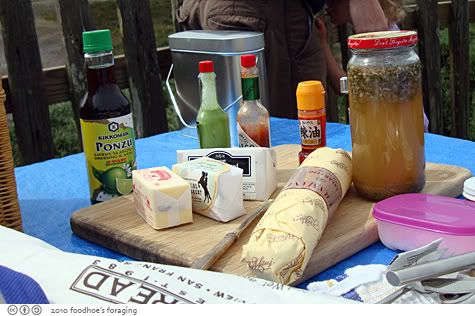 I made an herb butter that was very good on the grilled oysters, and Mank's wasabi butter was a brilliant idea.  Ahhh the unexpected and beloved nasal blast of wasabi… there's nothing better.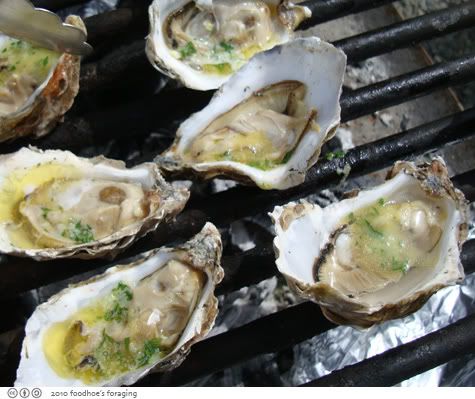 and Mr. K made an outrageous chili paste from smoked chilis and garlic that added an amazing depth and smoky rich flavor to the oysters – way better than bbq sauce.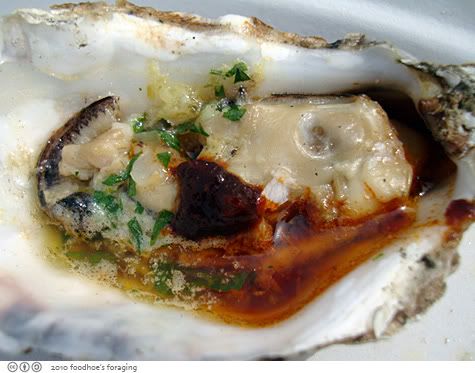 Laine brought a big pile of prawns that were tossed in olive oil, salt and pepper and grilled on the bbq, then finished with a dab of the herb butter.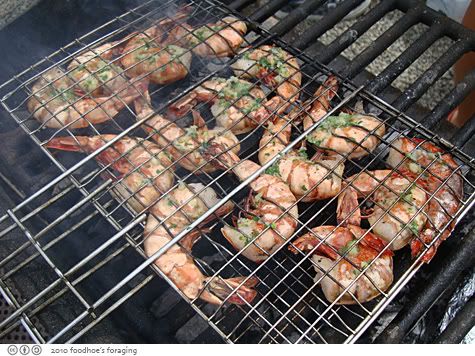 It was a delicious treat. Messy, and finger licking good.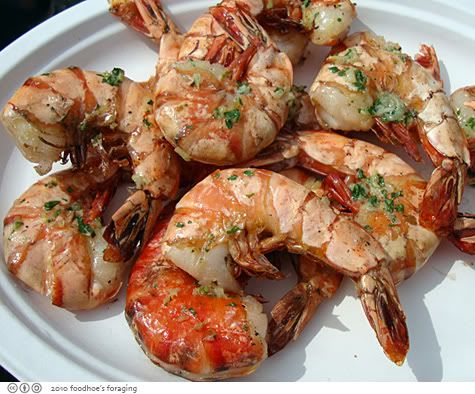 And I made Wad's Steamed Clams on the grill that had complete strangers coming up to introduce themselves and ask about what we were eating.  A simple recipe of clams steamed with garlic, shallots, butter, olive oil, white wine, and a few stalks of parsley.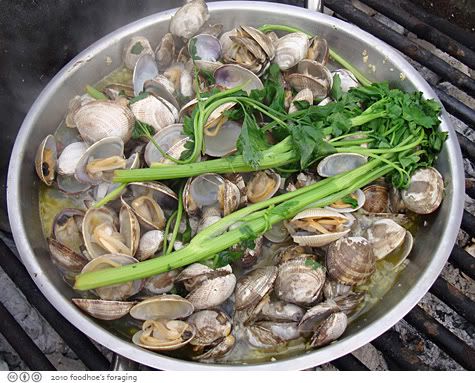 This is especially enjoyable served with a good french bread, like the epi loave from Acme Bakery in Berkeley (another stop along the way).  A little butter and dunked into the garlicky broth… just thinking about it makes me want to do it all over again.
There was an assortment of chips and dips along with duck pate among the piles of food and I didn't even take any pictures of the hot dogs, just of these two adorable pups…. otis and lily who are so well behaved and love hanging out at a picnic.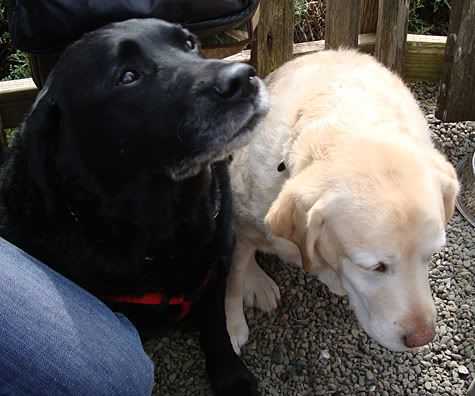 For so early in the year, I was surprised at how packed the picnic area was…  Reservations are hard to come by, and it seemed like each picnic table was packed to capacity.  It made for a very festive atmosphere, along with the reggae music playing in the background.
It's worth the effort, I love the fresh air and the lovely views and the plaintive call of the seagulls.  There are so many wonderful places to eat well in the Bay Area and this is definitely one of the best.
click here to peruse through some of our previous visits to Hog Island.