1550 Church St. (at Duncan Street), SF | 415.641.1500 | website
Incanto has been on my list of restaurants to try for a very long time, and I have to say it was worth the wait…  I've been tantalized and beguiled by regular visits to their temple of tasty salty pig parts, Boccalone in the Ferry Building, where you can explore delicious cured meats made from parts of the animals that go beyond bacon, like head cheese and guanciale (pork jowl).  Incanto takes the concept of sustainable eating seriously and serves parts of the animal that are often discarded, so that no animal part is wasted.  This includes organs and things like brains, ears, tongues, tails or feet, parts that are known as offal.  The Italian based menu features an adventurous variety of meats, including the famous house-cured stuff, pastas, fresh local seafood and a commitment to sustainably grown and harvested produce.
I noticed these cherubic boars heads smiling benevolently down as I walked up to the entrance.  The pig motif continues inside the main dining area with a large diptych featuring a trio of curly pigtails.  Since this was my first visit to the restaurant, which was recently refurbished, I can only say that it is lovely and felt spacious and that we enjoyed a pretty spectacular meal.
Incanto was one of the first restaurants to stop selling expensive bottled water to reduce their carbon footprint and serves only complimentary local water that is filtered and chilled and offered either still or sparkling.
The bread basket was madly delicious, slices of crusty baguette, savory focaccia and crisp breadsticks coated with seeds and glistening sea salt, all accompanied with an addictive olive tapenade.
Thanks to a hint from our supremely competent server we snagged the last order of Fish Bones and Chili made from the spine of yellowtail tuna which must be picked up in your hands and gnawed on like ribs.  This was remarkably delicious, although the gnawing required a certain amount of delicacy around sharp spiny bones.  It yielded tender bits of richly flavored meat that was incredibly finger licking good.  Now that I look at this picture, I wonder had we gnawed further, were those big tubular things filled with marrow?  Bones are bones after all.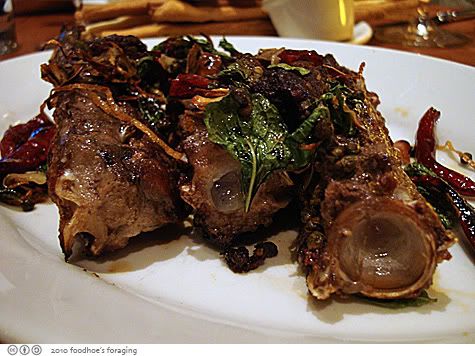 They brought us this plate of warmed moist towels to clean up with afterwards.  A very nice touch!  Our server, who happened to be a certified sommelier, helped us select exquisite wines that were amazingly affordable.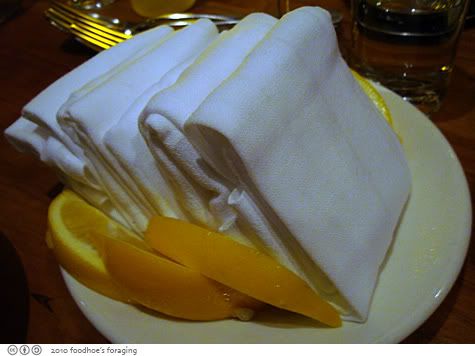 We sat near the rear of the dining room, close to the kitchen and although it was dark, I managed to snag a picture of the famous offal evangelist chef Chris Cosentino who we all know from his appearances on the Food Network in Chef vs. the City and as a contestant on Iron Chef America.
We split an order of Vitello Tonnato: roasted bone marrow and cured tuna heart ($11), which was mesmerizing to look at with chopped fresh herbs, flakes of dried red chili that glistened enticingly.
The bones were cut lengthwise (there is an actual term for this which I don't remember), which makes it much easier to scoop out all of the miraculous marrow.  The texture is rich and creamy and the cured tuna melts in adding to the umami.
JT had to order the Pork Belly and pickled green walnut salsa ($12) which was fabulously rich, gooey and tender and crisp in spots and the salsa added a lovely piquant counterpoint to the opulent flesh.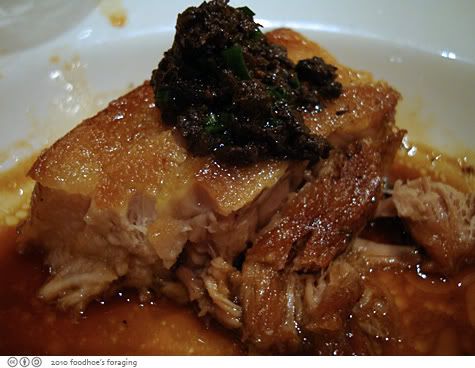 We debated about whether we wanted to eat family style, but I selfishly insisted that I wanted my plate to myself, although we did all share bites, us being us after all…  I had the full size plate of Pipe Rigate, with foie gras, trotters and mustard greens ($10/$16).  I loved the chewy tubes of pasta and how the wonderful brothy sauce coated them with a rich and savory flavor.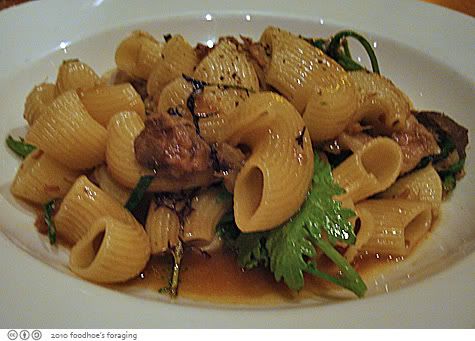 Does Foie gras actually fall under the category of offal?  Probably not, but I was bewitched by the plump morsels that abounded in the tangles of noodle and chunks of tender trotters, and which melted in my mouth.
P had the Lamb Neck with broccolini d'lacinato, polenta and gremolata ($24) which is topped with a pile of fresh herbs and served over creamy polenta that was ringed with a whisper of the savory juices.
The meat fell from the bone in tender chunks that reminded me of carnitas, and I thanked my lucky stars that I was sitting next to this delectable plate, and I must add that the polenta was really addictive too…
Daisy had the Spaghettini with Sardinian cured tuna heart, egg yolk and parsley ($10/16), which was surprisingly pungent and garlicky.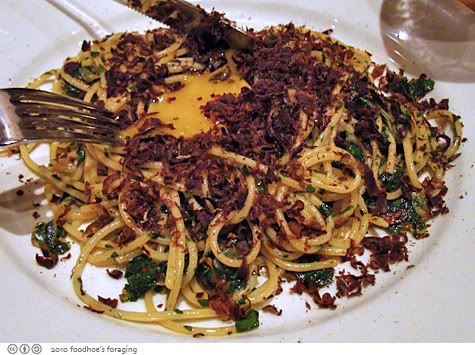 JT couldn't resist the Calves Sweetbreads and Kidney, lentils radish, molasses and lime ($21)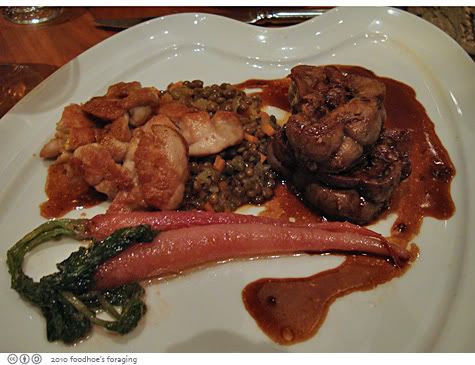 We were intrigued by the dessert menu and decided to split a Caramel Flan served with blue cheese and candied pistachios, and drizzled with truffled honey which was decadent and rich but overwhelmed by the cheese.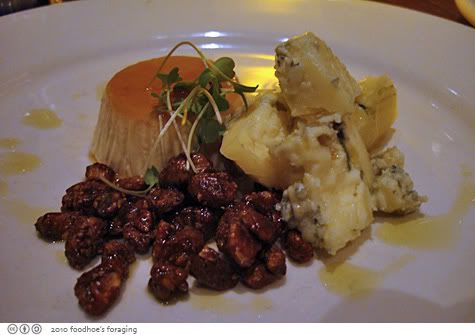 Our server recommended that we order the Panna Cotta, all she had to say was that Michael Bauer had raved about it.  And it was the clear winner.  The bay leaf panna cotta ($8) with Bearss lime curd was refreshing and rich and the perfect way to end the meal.
I'm sad that we didn't try the head to tail feast, but for some reason P had very strong objections to paying $75 for lips and assholes (those were his exact words, which just crack me up).  After this meal, I am determined to come back for the feast, which they offer only in the spring.  On the way out I noticed a small selection of tasty salty pig parts on display from Boccalone, and wished that Mr. K and I still lived in the neighborhood…  But this gives me a reason to come back for a visit and hopefully soon.