816 Folsom Street, SF, CA  94107 | online reservations | 415.495.5775 | website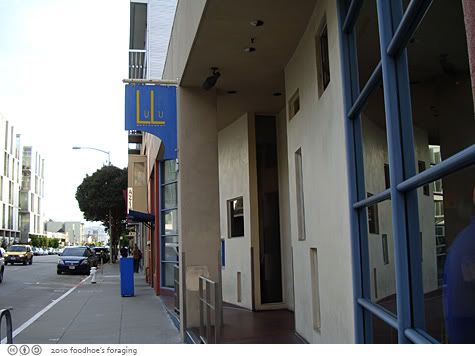 We celebrated JT's birthday here a couple weeks ago, it seems like I've been dining at some old favorites recently…  Reed Hearon opened LuLu over 17 years ago and the seasonal Provençal menu still showcases delicious items that have been cooked in their huge open hearth with wood-fired oven, rotisserie and grill. The  rustic fare is served family-style on large hand painted platters to encourage a communal atmosphere of good food in comfortable surroundings.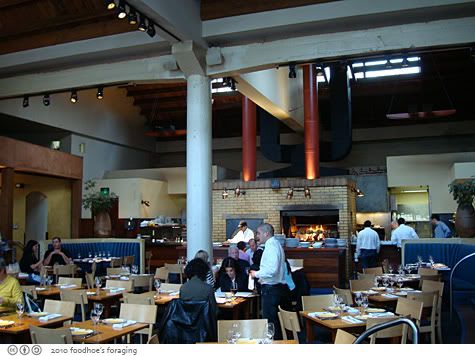 We were seated at one of the long communal tables in the auxiliary dining room where we shared an assortment of dishes.  I do want to comment that our server was pretty good, but not great.  She didn't write down our order and did not bring everything that we ordered.  It was all right though because the portions are very large and meant to be shared, so we ordered more than enough food.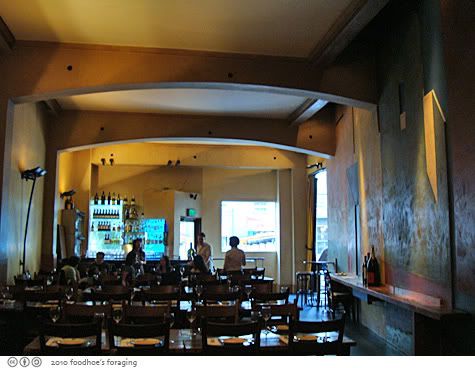 There were many dishes that I didn't even taste or photograph, and many pics that were too dark or unfocused, so here are some of my favorites:  Truffled Parmesan Fries ($8), with bits of red chili flakes and fresh parsley.  The fries were golden and tender, with a perfect delicate crisp crust and fresh out of the fryer.  My seat was strategically placed on the table so that I had access to three separate plates at one time!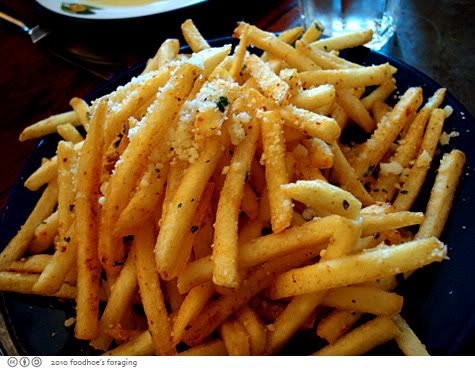 The Iron skillet roasted Mussels with Drawn Butter $15  were my favorite dish of the evening.  The pan arrived sizzling and popping with heat, the mussels were roasted directly in the pan without any liquid which concentrates the flavor.  Imagine my glee when they placed this directly next to me and while I practiced good behavior and tried to share, by the time the main dishes began to arrive I felt it was my civic duty not to let any of these delectable morsels go to waste.  Honestly, I could be happy with an order of the fries and mussels for my dinner.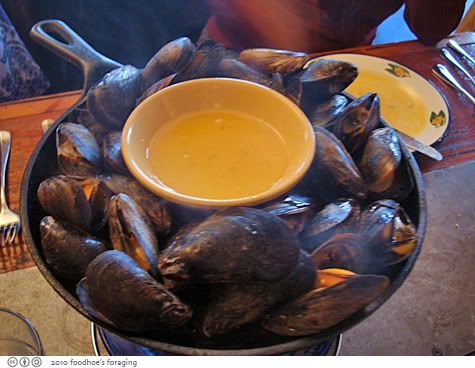 The preparation looks simple and I am going to have to try to make this on our next trip up to Hog Island next weekend.  The aroma from the freshly opened mussels was intoxicating and I loved them dipped in butter or eaten plain, the meat was so sweet and delicious.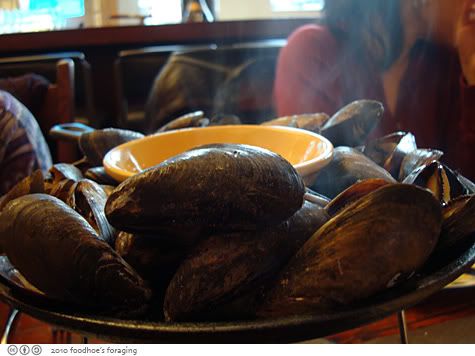 Grilled local sardines with tangerines, fennel, chilies and orange-white balsamic vinaigrette $11 were finger licking good and messy, and you really had to use your fingers because of the gazillion tiny bones.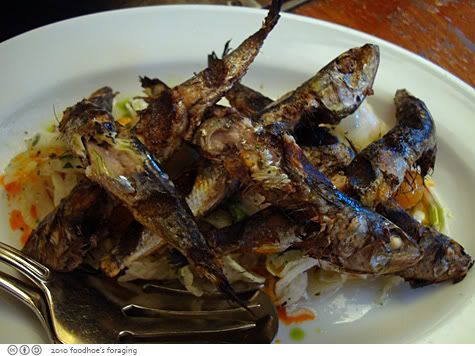 Romaine and Feta Salad with Strawberries and Pistachios ($9) was lightly dressed with a tart vinaigrette.  I sat next to this and I don't think I took even a bite…  too bad because it looks very good.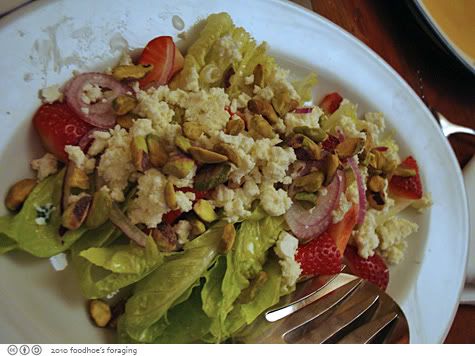 My attention was on the main courses which were all served on big platters for us to share from.  Leg of Lamb with ratatouille and rosemary ($26).  Fabulous, more words are unnecessary.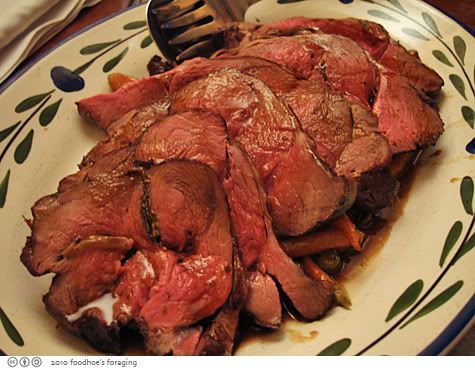 Grilled Bistro Filet Steak with lentils, fingerling potatoes and a rich bordelaise sauce $27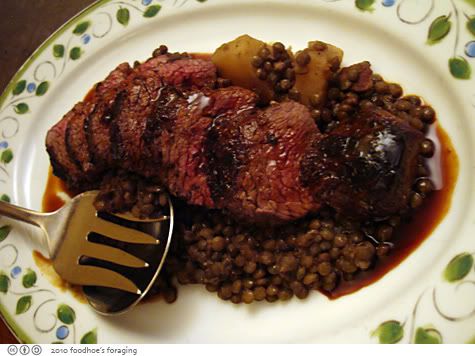 Here's a double order of Arctic Char topped with big juicy grapes in a tart mixture of shallots and fresh herbs, served over couscous and fresh pea puree. The skin was seared to a crisp and I loved the combination of texture and flavors.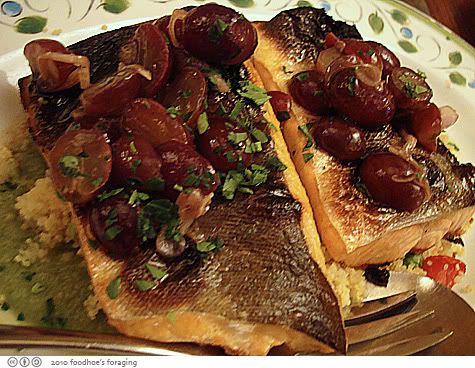 Here is JT getting ready to make a wish…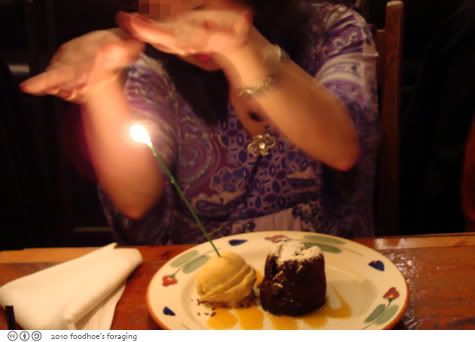 Molten Chocolate Cake with a liberal sprinkling of powdered sugar and served with butter toffee ice cream.  Again I found myself secretly glad that this dish was placed in front of the birthday girl, which just happened to be also in front of me!
  Dang, that ice cream was really good…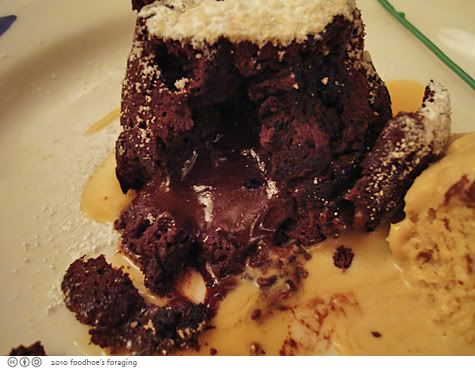 They also had Fresh Donuts with lemon sauce and fresh ollalieberries.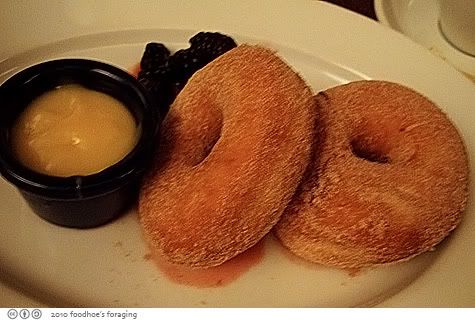 In the far back of our dining room was a brightly glowing fireplace that looked so inviting that I had to go check it out.  It was incandescent and radiating heat, functional and mesmerizing- it looked very, very hot and explains those amazingly seared textures that I enjoyed so much…