1658 Market Street, SF, CA  | 415.552.2522 | website | reservations
It's hard to believe that Zuni Cafe has been around since 1979.  Mr. K and I enjoyed our first dinner date here, back in the days when maître d's were cold and hostile, making you feel unworthy of entering the sanctity of its doors. I'm so glad that things have changed because despite the maltreatment, we've been coming here for over 17 years.  I don't consider myself a regular customer because there have been lengthy gaps between visits and I don't recognize any of the staff nor they us, but we come back to celebrate our anniversary once in a while.  We return because we love the food and the atmosphere and find that the experience has improved over time.  The lounge begins in a narrow wedge that expands to offer a shiny copper bar that is a lovely spot to hang out and wait for your table.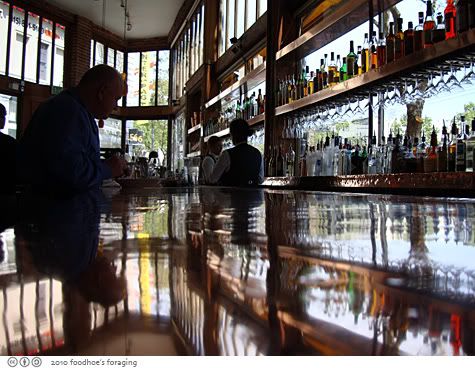 The oddly shaped building expands into a rambling two story dining area with plenty of cozy nooks.  This James Beard Award winning restaurant serves a menu that is inspired by traditional Italian and French recipes and nearly all of the produce, meat, and fish is farmed and harvested in a sustainable manner.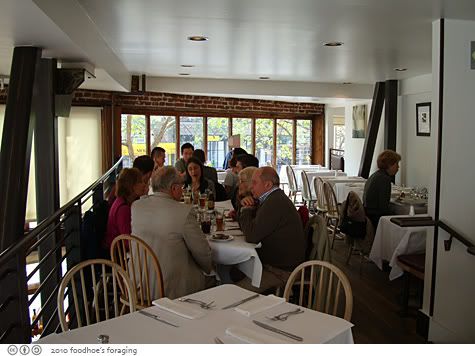 I met Mr. K here for a late lunch last weekend on a day that was sunny and warm and everything felt fresh and clean from the recent spring showers.  We had a table in the cozy upstairs that offered interesting views of the kitchen and the wood burning stove.  Once we were lucky and seated right across from the wood burning stove, where we watched a woman hacking up roasted chickens throughout the night, the roast chicken with panzanella salad being one of their signature dishes.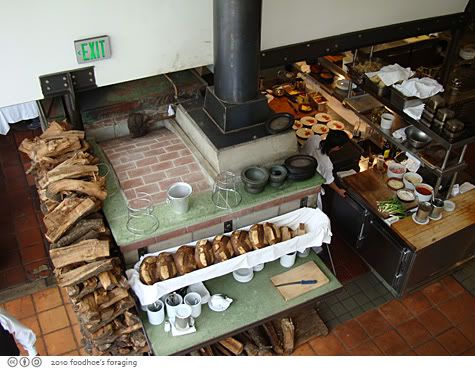 And on the other side is an equally interesting view of the beautiful copper lined bar that overlooks Market Street…  Just sitting there makes me wax nostalgic as I cast back in time and think back to my first meal here with Mr. K who had pulled a tweed jacket of dubious background out of the closet with sleeves that didn't quite cover his wrists… we had opted to cuddle together on the banquette and ordered random dishes off the menu, which had annoyed our server to no end…  eventually she huffed at us that she had no idea where we were in our meal, because we couldn't get over the prices and were stuck with ordering tentative amounts of oysters and clams from the raw bar, along with copious amounts of beer.
We started off with an assortment of oysters and clams served on the half shell.  They were served with a simple mignonette, made from red wine vinegar, shallots and coarsely ground black pepper.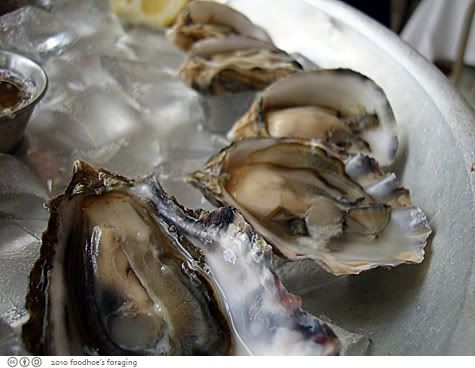 The manila clams were sweet and succulent, a real treat with just a squeeze of lemon juice and a dusting of freshly ground black pepper.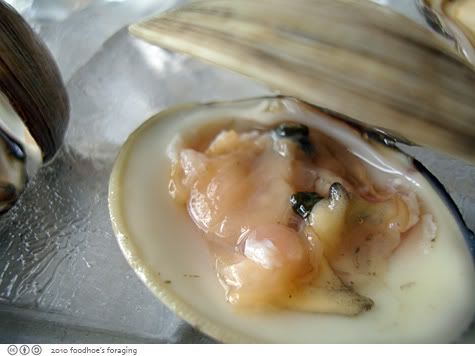 We split a bowl of the fresh Spinach soup ($8.25) that tasted green and fresh, popeye would have loved it.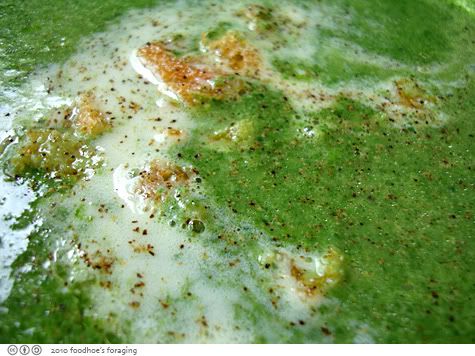 I adore the rustic sourdough bread which is served with a slab of fresh sweet creamery butter.  It's reassuring that this has not changed one bit over the years we have been coming here.
And then there's the Caesar Salad ($10), which is the flavor profile that I compare against whenever I order one elsewhere.  The lettuce is always impeccably fresh and dusted with just the right amount of salty pungent curls of parmigiano reggiano.  We always split the salad, which means it is served on separate plates, so I don't have to get competitive with the crouton count.  The leaves are served whole, which brings up a topic of interest.  Do you cut your leaves up or do you eat with your fingers?  After reading this article, I opted for fingers and am always interested to see what people do.  Most use a fork and knife…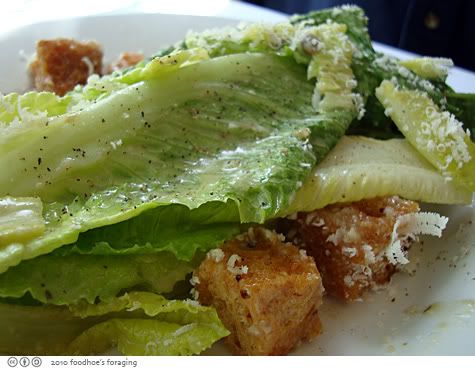 The whole leaves are drenched in the gorgeously rich and zesty dressing, that shimmers and reveals silvery bits of pungent anchovy and lots of cracked fresh black pepper.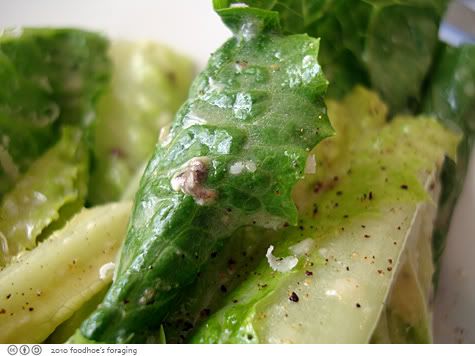 The Shoestring Potatoes ($6) were sublime, thin strings that were delicately crisp and tender and perfect.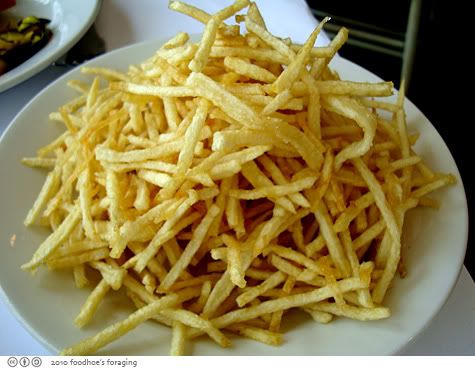 We also split the House-ground hamburger (15), with swiss cheese, on grilled focaccia and served with garden lettuces, aioli and house made pickles.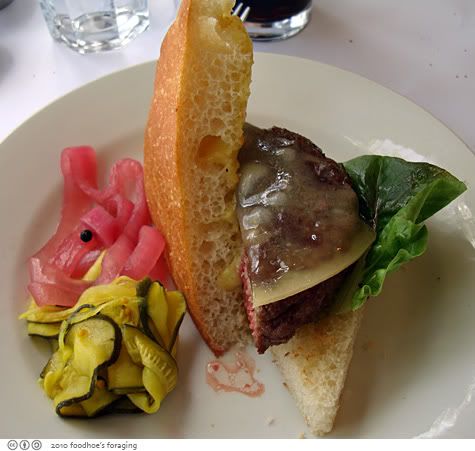 I don't know how it is possible, but the beef patty was deliciously juicy and had an ethereal beefy texture.  We ordered it medium and it was a perfect blend of well done on the outside and medium rare inside.  The pickles have very strong flavors, the onions are infused with the licorice tang of tarragon, which dazzled my tastebuds.
That was it, no room for dessert, but a very lovely lunch.  Now here's the clincher, and this is why I think that Zuni Cafe gets mixed reviews… we paid about $60 each, which included quite a few bottles of beer and a 20% tip (and the 4% health surcharge). But as I said, we have history with this place, the food is radiantly delicious and we know it's going to bite the wallet just as we so enthusiastically bite into the food.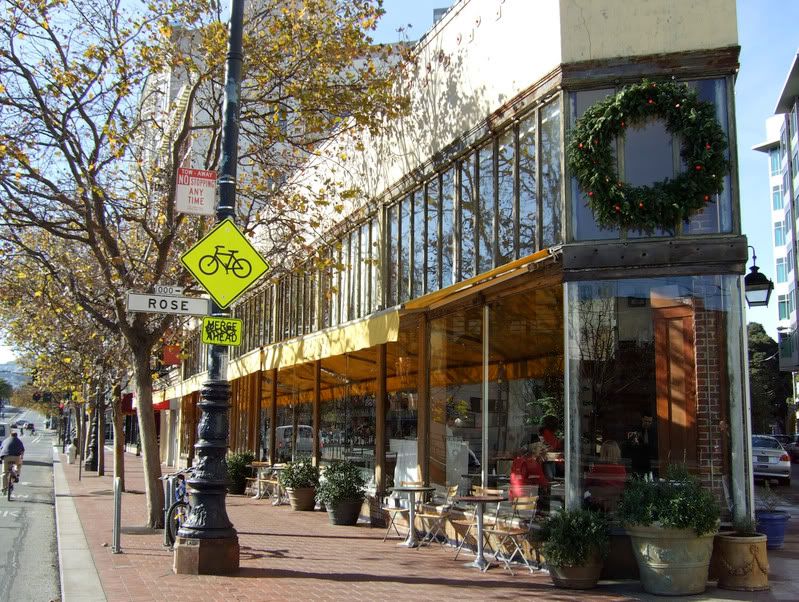 Incidentally, the photo above which I took last year, flashed momentarily on national TV on the pilot episode of The Best Thing I Ever Ate on the Food Network.