275 Joaquin Ave, San Leandro CA 94577 | 510-895-3234 | website
Alas, my lovely hometown, San Leandro is not known for its fine dining, but I have come to terms with that because I have found a place where I can get a delicious, kickass sammie.  That's all it takes, just the knowing that someone out there cares.  And this seems an unlikely spot, it is in a brightly painted converted house that is tucked away on a quiet residential street, several blocks away from the main thoroughfare.  But as soon as you step inside, you can tell these guys are serious about their business, which is sandwiches and lunchtime fare.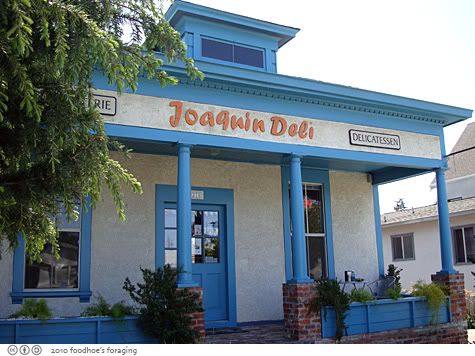 I posted about how much I love their sandwiches here, but it's spring and we always seem to visit when the weather is sunny and we've worked up an appetite laboring in the yard.  This is our spot, a cozy little table out in the front porch where we can enjoy a cool breeze.
Here is Rennie, sandwich maker extraordinaire!  I had to take a picture of her using the blowtorch to give the sandwich the appropriately charred appearance. 
This got the double treatment, blow torch to melt the cheese and char the onion and then into the panini grill to lightly crisp the wondeful ciabatta bread….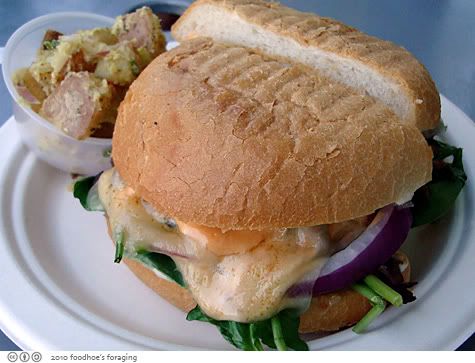 The sandwich was piled high with tender slices of roast beef, melted cheese, thick rings of sweet red onion, drizzled with a spicy sauce that set my tastebud tingling and the perfect amount of crisp fresh spinach.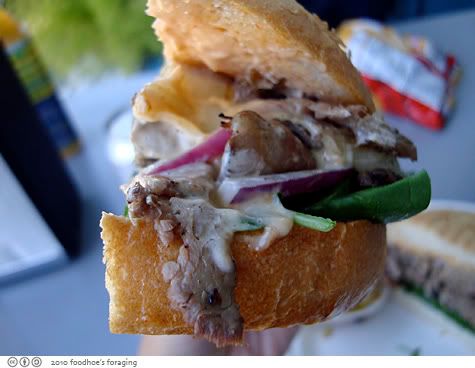 Here is a cross section to show you that this is no wimpy sandwich, no indeed.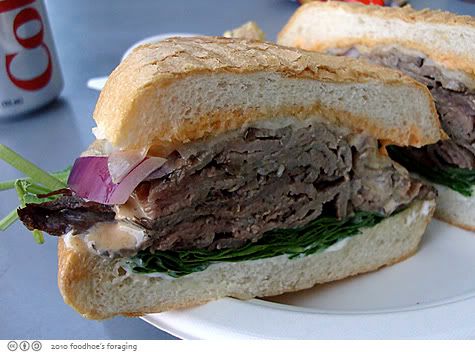 And I love the marvelous potato salad, it is bursting with flavor, full of crunchy pieces of onion and celery and flecks of fresh herbs.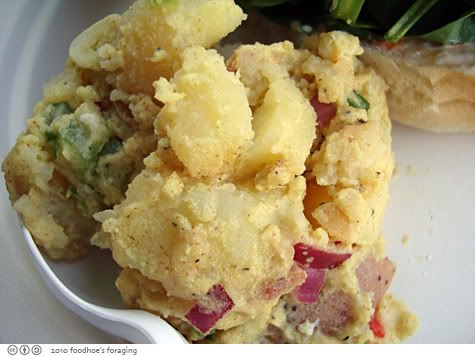 I was enticed to try this week's special, which included grilled bacon, asparagus, spinach, tomato and spicy ranch sauce.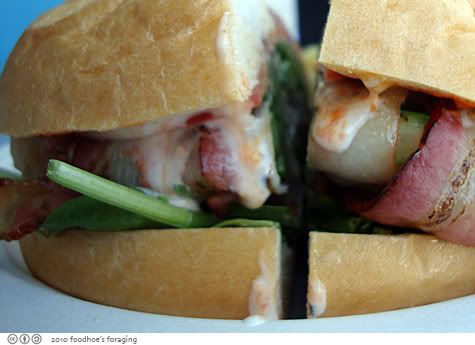 Here is a cross section, it is a work of art.  There's something about the thin slices of bacon which haven't been fried in the pan to a crisp, instead you can savor the rich flavors of the smoked meat and soft lacework of chewy fat.  The layers of fresh vegetables are surrounded by the rich bacon and combine to make a rich feast indeed.   The spicy ranch sauce was so good that Mr. K asked for some to put onto his sandwich, and came back with a tiny cup filled with that ubiquitous condiment of Asian restaurants, sriracha…  ahhhh, sriracha mixed into ranch dressing with that bacon…  sigh…
This is Mr. K's favorite sandwich, it's grilled chicken breast with aioli, spinach, lightly blanched asparagus and slivers of sundried tomato.  Now, the thing about the delicious succulent chicken is that Rennie cooks it fresh on the grill every day.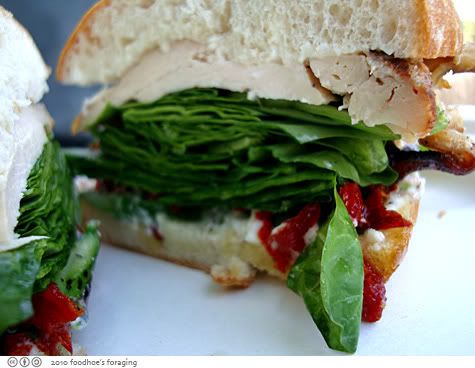 It is slathered with the perfect amount of garlicky aioli.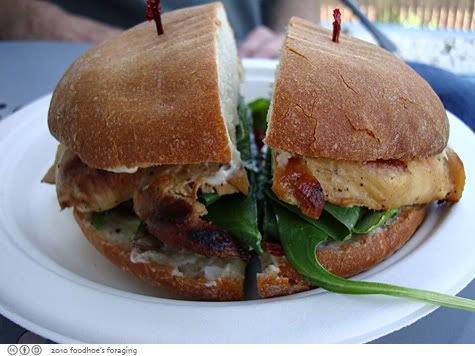 I signed up to be on their mailing list and get regular emails with the current week's special, you can too by sending an email to order@joaquindeli.com with subscribe in the subject.  I'm so glad they are open on Saturdays so we can be part of the sandwich club too (get your card stamped and after 10 sandwiches, you get one free) and they have free wifi, so you can get caught up online while you dine.